Where You Going?
A very small boy was trying to lead a big St. Bernard up the road.
"Where are you taking that dog, little man?" asked a man watching the struggle.
"I"m going to see where he wants to go," was the breathless reply.
Last pull-over
A new Mercedes owner was out on an interstate for a nice eveningdrive. The top was down, the breeze was blowing through what wasleft of his hair and he decided to open her up.
As the needle jumped up to 80mph he suddenly saw a flashing red andblue light behind him. "There ain't no way they can catch aMercedes," he thought to himself and opened her up further. Theneedle hit 90, 100 110 and finally 120 with the lights still behindhim.
"What in the world am I doing?" he thought and pulled over. The copcame up to him, took his license without a word, and examined it and the car. "I've had a tough shift and this is my last pull-over. Idon't feel like more paperwork so if you can give me an excuse foryour driving that I haven't heard before, you can go!"
"Last week my wife ran off with a cop," the man said, "and I wasafraid you were trying to give her back!"
#joke
Still single...
Fred is 32 years old and he is still single.
One day a friend asked, "Why aren't you married? Can't you find a woman who will be a good wife?"
Fred replied, "Actually, I've found many women I wanted to marry, but when I bring them home to meet my parents, my mother doesn't like them."
His friend thinks for a moment and says, "I've got the perfect solution, just find a girl who's just like your mother."
A few months later they meet again and his friend says, "Did you find the perfect girl? Did your mother like her?"
With a frown on his face, Fred answers, "Yes, I found the perfect girl. She was just like my mother. You were right, my mother liked her very much."
The friend said, "Then what's the problem?"
Fred replied, "My father doesn't like her."
#joke
Any plans to float a common cu...
Any plans to float a common currency are eurozoneous.
Three old men were sitting aro...
Three old men were sitting around and talking. The 80 year-old said, "The best thing that could happen to me would just to be able to have a good pee. I stand there for twenty minutes, and it dribbles and hurts. I have to go over and over again."
The 85 year-old said, "The best thing that could happen to me is if I could have one good bowel movement. I take every kind of laxative I can get my hands on and it's still a problem."
Then the 90 year-old said, "That's not my problem. Every morning at 6:00 am sharp, I have a good long pee. At around 6:30 am I have a great bowel movement. The best thing that could happen to me would be if I could wake up before 7:00 am.
#joke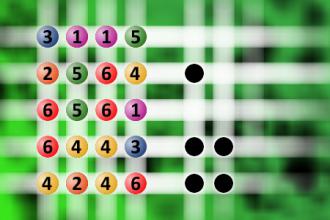 Find the right combination
The computer chose a secret code (sequence of 4 digits from 1 to 6). Your goal is to find that code. Black circles indicate the number of hits on the right spot. White circles indicate the number of hits on the wrong spot.
The flood of Trump-fearing Ame
The flood of Trump-fearing American liberals sneaking across theborder into Canada has intensified beginning early yesterday morning.
Trump's victory is prompting an exodus among left-leaning Americans
who fear they'll soon be required to hunt, pray, pay taxes, and live according to the Constitution.
Canadian border residents say it's not uncommon to see dozens ofsociology professors, liberal arts majors, global-warming activists,and "green" energy proponents crossing their fields at night.
"I went out to milk the cows the other day, and there was a Hollywoodproducer huddled in the barn," said southern Manitoba farmer RedGreenfield, whose acreage borders North Dakota. "He was cold,exhausted and hungry, and begged me for a latte and some free-rangechicken.
In an effort to stop the illegal aliens, Greenfield erected higherfences, but the liberals scaled them. He then installed loudspeakersthat blared Rush Limbaugh across the fields, but they just stuck theirfingers in their ears and kept coming. Officials are particularlyconcerned about smugglers who meet liberals just south of the border,pack them into electric cars, and drive them across the border, wherethey are simply left to fend for themselves after the battery dies.
"A lot of these people are not prepared for our rugged conditions," anAlberta border patrolman said. "I found one carload without a singlebottle of Perrier water, or any gemelli with shrimp and arugula. Allthey had was a little Napa Valley cabernet and some kale chips.When liberals are caught, they're sent back across the border, oftenwailing that they fear persecution from Trump high-hairers.
Rumors are circulating about plans being made to build re-educationcamps where liberals will be forced to drink domestic beer, study theConstitution, and find jobs that actually contribute to the economy.
Canadian citizens have complained that the illegal immigrants arecreating an organic-broccoli shortage, are buying up all the BarbaraStreisand CD's, and are overloading the internet while downloadingjazzercise apps to their cell phones.
"I really feel sorry for American liberals, but the Canadian economyjust can't support them," an Ottawa resident said. "After all, howmany art-history majors does one country need?"
An old, tired-looking dog wand...
An old, tired-looking dog wandered into the yard. I could tell from his collar and well-fed belly that he had a home.
He followed me into the house, down the hall, and fell asleep on the couch. An hour later, he went to the door, and I let him out. The next day he was back, resumed his position on the couch and slept for an hour. This continued for several weeks. Curious, I pinned a note to his collar: "Every afternoon your dog comes to my house for a nap."
The next day he arrived with a different note pinned to his collar: "He lives in a home with four children -- he's trying to catch up on his sleep. Can I come with him tomorrow?"
#joke
Sergeants
Two boys from the mountains, Leroy and Jasper have been promoted from privates to sergeants.
Not long after, they're out for a walk and Leroys says, "Hey, Jasper, there's the NCO Club. Let's you and me stop in."
"But we's privates," protests Jasper. "We's sergeants now," says Leroy, pulling him inside.
"Now, Jasper, I'm a-gonna sit down and have me a drink."
"But we's privates," says Jasper.
"You blind, boy?" asks Leroy, pointing at his stripes. "We's sergeants now."
So they have their drink, and pretty soon a hooker comes up to Leroy. "You're cute," she says, "and I'd like to date you, but I've got a bad case of gonorrhoea."
Leroy pulls his friend to the side and whispers, "Jasper, go look in the dictionary and see what gonorrhoea means. If it's okay, give me the okay sign."
So Jasper goes to look it up, comes back, and gives Leroy the big okay sign.
Three weeks later Leroy is laid up in the infirmary with a terrible case of gonorrhoea.
"Jasper," he says, "what fo' you give me the okay?"
"Well, Leroy, in the dictionary, it say gonorrhoea affects only the privates." He points to his stripes. "But we's sergeants now!"
#joke
A lawyer was cross-examining t...
A lawyer was cross-examining the doctor about whether or not he had checked the pulse of the deceased before he signed the death certificate. "No," the doctor said. "I did not check his pulse." "And did you listen for a heartbeat?" asked the lawyer. "No I did not," the doctor said. "So," said the lawyer, "when you signed the death certificate, you had not taken steps to make sure he was dead." The doctor said, "Well, let me put it this way. The man's brain was in a jar on my desk but, for all I know, he could be out practicing law somewhere."