Billy Idol tried to clean up h
Billy Idol tried to clean up his act, but then was accused of Mony laundering.
There was a fly buzzing around
There was a fly buzzing around a barn one day when he happened on a pile of fresh cow manure. Due to the fact that it had been hours since his last meal, he flew down and began to eat. He ate and ate and ate. Finally, he decided he had eaten enough and tried to fly away. He had eaten too much though, and could not get off the ground. As he looked around wondering what to do now, he spotted a pitchfork leaning up against the wall. He climbed to the top of the handle and jumped off, thinking that once he got airborne, he would be able to take flight. Unfortunately he was wrong and dropped like a rock, splatting when he hit the floor.
The moral to the story is: Never fly off the handle when you're full of sh*t.
#joke
They Enjoy Their Coffee
Why do Dasher and Dancer enjoy coffee so much?
Because they're Santa's star bucks!
Not So Long Ago...
A window was a pane of glass you always had to clean. And a hacker had a lousy swing and could never hit the green.
Meg was the name of a girlfriend and a Gig was played on stage.
Memory was what our elders lost in their golden age.
An application was for employment and a program was a show.
A cursor used to cuss a lot and mail didn't seem that slow.
A CD was for money in a long term bank account. And if you had a floppy you hoped that nobody ever found out.
Compress was something you did to garbage not something you did to a file. And if you unzipped in public you'd be in jail a while.
A keyboard was on a piano, a hard drive was down a long road.
A mouse pad was where Mighty Mouse lived and a backup involved a commode.
Cut you did with a pocket knife, paste you did with glue.
A web was what a spider wove and a virus meant the flu.
Nobody gets killed in a computer crash but some would've rather been dead, I guess I'll stick to pen and paper and the memory still in my head.
If I could ever go back in time and start all over again, I'd make sure that I grew up as Bill Gate's closest friend.
#joke
Shhhhh....
A woman who plays cards once a month with a group of friends was concerned that she always woke her husband when she came home around 11:30.
One night she decided to try not to rouse him. She undressed in the living room and, purse over arm, tiptoed nude into the bedroom - only to find her husband sitting up in bed reading.
"Darn it woman!" he exclaimed. "Did you lose everything?"
#joke
An Irishman is walking along t...
An Irishman is walking along the beach one day, and he sees a bottle laying in the sand. He picks it up and starts to brush it off, and out pops a genie.
The genie says, "Since you have freed me from the bottle, I will grant you three wishes."
The Irishman thinks for a moment and says, "I'm feeling a might thirsty, I think I'll be wishing for a pint of stout."
POOF! There is a pint of stout in his hand. He drinks it down, and starts to throw the bottle, when the genie says, "I'd look at that bottle again before I threw it if I were you." So he looks at the bottle, and it is magicaly filling back up with stout. The genie told him, "That is a magic bottle, and it will always fill back up after you finish it." The genie then asked, "What other two wishes can I grant for you?"
The Irishman looks at the bottle in his hand and says, "I'll be taking two more of these."
#joke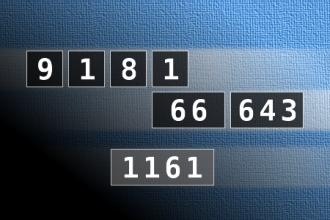 Calculate the number 1161
NUMBERMANIA: Calculate the number 1161 using numbers [9, 1, 8, 1, 66, 643] and basic arithmetic operations (+, -, *, /). Each of the numbers can be used only once.
Jo Koy: My Inspiration
A lot of people are wearing t-shirts with pictures of people that inspire them to do stuff. I wear a picture of my son cause no one inspires me to work harder than my son. Its also a constant reminder to wear a condom.
Hari Kondabolu: Vegan Thanksgiving
I have had vegan Thanksgiving of tofurkey and soy gravy. And its not to say that Thanksgiving will ever justify the genocide of the Native Americans. But vegan Thanksgiving -- thats just spitting on the graves, isnt it?
White hairs
One day, a girl walks to her mother and look at her mother's hair and sadly said: "Why are some of your hair white mom?"
The mother replied, "Well, every time that you do something wrong and make me cry or unhappy, one of my hairs turns white.
The girl thought about this revelation a while, and then said, "Momma, how come *all* of grandma's hairs are white?"
#joke
Knock-knock...
Knock-knock.
Who's there?
Dishes.
Dishes who?
Dishes the police! Come out with your hands up!