A man, his head seriously mis-
A man, his head seriously mis-shapen, stood drinking in a bar in Johannesburg. A youngster started to laugh and point at the man.
The barman said "Don't you EVER laugh at that man. He is a national hero. There was a mining disaster, and that man stood with a wooden beam on his head for 4 hours whilst rescue workers rescued 34 other miners. That is why is head is flat".
"Wow", said the youngster,"that is really impressive. But what about his cauliflower ears?"
"Oh, that is where they hammered him in."
#joke
I Caught Six
It was enough to startle the little old lady out of her roots. There was the fish market person tossing trout clear across his shop to a man in fisherman uniform.
The fishermen caught six fish and then said: "All right Joe. Now I can truthfully tell my wife I caught six fish today."
#joke
A monkey is sitting in a tree
A monkey is sitting in a tree smoking a joint when a lizard walkspast and looks up and says to the monkey, "Hey! What are you doing?"
The monkey says, "Smoking a joint, come up and have some."
So the lizard climbs up and sits next to the monkey and they have afew tokes together.
After a while the lizard says his mouth is 'dry' and that he's goingto get a drink from the river.
The lizard climbs down the tree, ditty bops on thru the jungle tothe river and leans over the river to get his drink.
Well, the lizard is so stoned that he leans too far over and fallsinto the river.
A Crocodile sees this and swims over to the lizard and helps him tothe side, then asks the lizard, "What's the matter with you?"
The lizard explains to the crocodile that he was sitting in a treeand smoking a joint with the monkey and got too stoned and then fellinto the river while taking a drink.
The crocodile says he's gotta check this hippie monkey out and walksoff into the jungle where he finds the tree where the monkey isstill sitting and toking on the joint.
He looks up and says "hey you!"
The Monkey looks down and says, "wwoooowww dude.............how much water did you drink?!!"
#joke
To win at intramural prison so
To win at intramural prison softball your team needs to jail at the right time.
A woman goes into Wal-Mart...
A woman goes into Wal-Mart to buy a rod and reel. She doesn't know which one to get so she just grabs one and goes over to the register. There is a Wal-Mart "associate" standing there with dark shades on. She says, "Excuse me sir...can you tell me anything about this rod and reel?" He says, "Ma'am I'm blind but if you will drop it on the counter I can tell you everything you need to know about it from the sound that it makes." She didn't believe him, but dropped it on the counter anyway. He said, "That's a 6' graphite rod with a Zebco 202 reel and 10 lb. test line...It's a good all around rod and reel and it's $20.00". She says, "Thats amazing that you can tell all that just by the sound Of it dropping on the counter. I think it's what I'm looking for so I'll take it." He walks behind the counter to the register, and in the meantime the woman farts. At first she is embarrassed but then realizes that there is no way he could tell it was her..being blind he wouldn't know that she was the only person around. He rings up the sale and says, "That will be $25.50." She says, "But didn't you say it was $20.00?" He says, "Yes ma'am, the rod and reel is $20.00, the duck call is $3.00, and the stink bait is$2.50."
#joke
The Sharkeisha super falcon pu...
The Sharkeisha super falcon punch is as close as anyone has ever gotten to the force of a Chuck Norris roundhouse kick.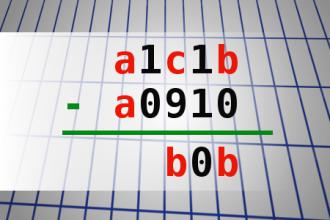 Find number abc
If a1c1b - a0910 = b0b find number abc. Multiple solutions may exist.
An old cowboy sat down at the
An old cowboy sat down at the Starbucks and ordered a cup of coffee. As he sat sipping his coffee, a young woman sat down next to him.
She turned to the cowboy and asked, 'Are you a real cowboy?' He replied, 'Well, I've spent my whole life breaking colts, working cows, going to rodeos, fixing fences, pulling calves, bailing hay, doctoring calves, cleaning my barn, fixing flats, working on tractors, and feeding my dogs, so I guess I am a cowboy..'
She said, 'I'm a lesbian. I spend my whole day thinking about naked women. As soon as I get up in the morning, I think about naked women. When I shower, I think about naked women. When I watch TV, I think about naked women. It seems everything makes me think of naked women.'
The two sat sipping in silence.
A little while later, a man sat down on the other side of the old cowboy and asked, 'Are you a real cowboy?'
He replied, 'I always thought I was, but I just found out I'm a lesbian.'
Adam Ferrara: Love This Girl
The biggest thing in my life right now is my girlfriend. I love this girl. I know I love her because she told me.
A doctor and a lawyer were att...
A doctor and a lawyer were attending a cocktail party when the doctor was approached by a man who asked advice on how to handle his ulcer. The doctor mumbled some medical advice, then turned to the lawyer and remarked, 'I never know how to handle the situation when I'm asked for medical advice during a social function. Is it acceptable to send a bill for such advice?'
The lawyer replied that it was certainly acceptable to do so.
The next day, the doctor sent the ulcer-stricken man a bill. The lawyer also sent one to the doctor.