A man goes into hospital for a
A man goes into hospital for a vasectomy. When he wakes up he's surrounded by several anxious looking doctors and asks nervously, "Is there a problem?"
The head surgeon says gently, with tears in his eyes, "I'm afraid so...I'm sorry but your notes got mixed up and we've given you a sex change rather than a vasectomy."
The patient is devastated and shockingly replies, "Do you mean to say I'll never experience another erection?"
The surgeon pauses for a moment then says, "Well, you might, but it won't be yours."
Talking to Her Cat
This morning I saw a neighbor talking to her cat. It was obvious she thought her cat understood her.
I came into my house and told my dog... we laughed a lot.

If we go to Louisiana I'
If we go to Louisiana I'll Bayou something nice.
When I go to casinos, the most...
When I go to casinos, the most ridiculous sign I see is the one that says: "If you have a gambling problem, call 1-800-GAMBLER."
I thought about it for a moment and dialed the number. When they answered I said, "I have an ace and a six. The dealer has a seven. What do I do?"
#joke
A married couple went to the h...
A married couple went to the hospital together to have their baby delivered.
Upon their arrival, the doctor said he had invented a new machine that would transfer a portion of the mother's labor pain to the father of the baby. He asked if they were willing to try it out. They were both very much in favor of it.
The doctor set the knob to 10 percent for starters, explaining that even 10 percent was probably more pain than the father had ever experienced before. But as the labor progressed, the husband felt fine, so he asked the doctor to go ahead and bump it up a notch. The doctor then adjusted the machine to 20 percent pain transfer. The husband was still feeling fine.
The doctor checked the husband's blood pressure and pulse and was amazed at how well he was doing. At this, they decided to try for 50 percent.
The husband continued to feel quite well. Since it was obviously helping out his wife considerably, he encouraged the doctor to transfer ALL the pain to him.
The wife delivered a healthy baby with virtually no pain. She and her husband were ecstatic. When they got home, the mailman was dead on their porch.
An enterprising, but bashful s...
An enterprising, but bashful sailor finds himself on shore leave in Korea for his first time. While the rest of the guys are out having a jolly good time in the red light district of Pusan, our hero just can't get up the nerve to ask the local girls how much it costs for a good time.
He sits at his table for a moment watching the girls, and devises a get laid plan.
One of the local girls approaches him and asks, "Wat is you name?"
He replies, "Rick Venus"
She says, "Lick Penus?"
He says, "Sure how much?"
#joke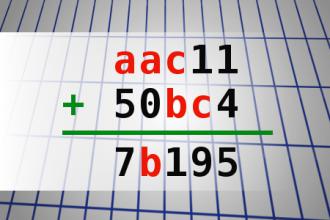 Find number abc
If aac11 + 50bc4 = 7b195 find number abc. Multiple solutions may exist.
One man said to the other, "Yo...
One man said to the other, "You know, there are really only three kinds of people in the world: those who can count, and those who can't.
Pregnant Tree
How does a tree get pregnant?
By a woodpecker!
Chris Rock: Invading a Country with Oil
Let me get this straight. We invade a country with oil, but gas costs more? That dont make no f**king sense! Now I didnt go to no fancy school or nothing, but Ill tell you this right now -- if I invade Kentucky Fried Chicken, wings will be cheap at my house.