Class action case
There's a class action case against the government, over Sudafed.
An 87 year old man is celebrat
An 87 year old man is celebrating his birthday with all the members ofhis family at the Old Folks Home when in walks a Kissagram Lady. She walkssexily up to the old Guy and announces that she is going to give himSuper Sex.
The old man looks shocked, but replies " Would you mind if I onlyhad the soup"!!
#joke
The Complete Examination
As the doctor completed an examination of the patient, he said, ''I can't find a cause for your complaint. Frankly, I think it's due to drinking.''
''In that case,'' said the patient, ''I'll come back when you're sober''
A man took his son to the zoo.
A man took his son to the zoo. They found the monkey cage very entertaining until the father noticed two monkeys in a compromising position which embarrassed him to no end because his son was watching.
He walked up to the keeper and asked if he could stop them. The keeper told him that they are in their natural habitat and could not do anything about it. The father asked the keeper, "If I throw peanuts at them, do you think they would stop?"
The keeper looked at the father in the eye and said, "Would you?"
#joke
You know that you are living in 2009 when...
1. You accidentally enter your PIN on the microwave.
2. You haven't played solitaire with real cards in years.
3. You have a list of 15 phone numbers to reach your family of three.
4. You e-mail the person who works at the desk next to you.
5. Your reason for not staying in touch with friends and family is that they don't have e-mail addresses.
6. You pull up in your own driveway and use your cell phone to see if anyone is home to help you carry in the groceries.
7. Every commercial on television has a web site at the bottom of the screen
8. Leaving the house without your cell phone, which you didn't even have the first 20 or 30 (or 60) years of your life, is now a cause for panic and you turn around to go and get it.
10. You get up in the morning and go on line before getting your coffee.
11. You start tilting your head sideways to smile. : )
12 You're reading this and nodding and laughing.
13. Even worse, you know exactly to whom you are going to send this list.
14. You are too busy to notice there was no #9 on this list.
15. You actually scrolled back up to check that there wasn't a #9 on this list.
#joke
A Guy was staying in a fancy h...
A Guy was staying in a fancy hotel and was enjoying the pool when the manager told him quite bluntly to get out. When asked for the reason, the manager said, "Because you peed in the pool."
"Well," replied the swimmer, "lots of people do that."
"True," answered the manager, "but you did it from the diving board."
#joke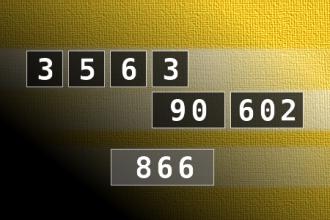 Calculate the number 866
NUMBERMANIA: Calculate the number 866 using numbers [3, 5, 6, 3, 90, 602] and basic arithmetic operations (+, -, *, /). Each of the numbers can be used only once.
What Will The Neighbors Think?
Jack was living in Arizona during a heat wave when the following took place.
"It's just too hot to wear clothes today," complained Jack as he stepped out of the shower. "Honey, what do you think the neighbors would think if I mowed the lawn like this?"
"Probably that I married you for your money."
#joke
Finally, the good-natured boss...
Finally, the good-natured boss was compelled to call Smith into his office.
"It has not escaped my attention," he pointed out, "that every time there's a home game at the stadium, you have to take your aunt to the doctor."
"You know you're right, sir," exclaimed Smith, "I didn't realize it. You don't suppose she's faking, do you?"
Carlos Mencia: Super-Fence
You know what they said in California? I saw it on C-Span -- people we vote for -- this is what they said, I propose that we kick all of the illegal aliens out of this country. Then we build a super-fence so they cant get back in. And I went, Um, whos gonna build it?
He Remembered
A Canadian tourist is fascinated by the Native American way of life and culture, so he decides to visit a reservation in the United States to find out more.
After a long and dusty drive through the Arizona desert, he finally arrives at the reservation.
Soon after his arrival, the tourist meets an old chief, who claims to remember everything that ever happened in his life.
The tourist is curious and asks the chief: "What did you have for breakfast on your fifth birthday?"Without hesitation, the chief replies: "eggs".
The tourist was very impressed by this, and he never forgot the chief's words, even after his visit had long since ended.
Ten years later, he returns to the reservation and is surprised to see the same old chief again.
He approaches the chief, puts his hand up flat and greets him with "how".
"Scrambled," the old chief replied.
#joke