Hamas was elected in the Pales
Hamas was elected in the Palestinian territories after promising not to implement environmental measures, such as the controversial
car-bomb tax
.
The shopkeeper was dismayed wh
The shopkeeper was dismayed when a brand new business much like his own opened up next door and erected a huge sign which read "Best Deals".
He was horrified when another competitor opened up on his right, and announced its arrival with an even larger sign, reading "Lowest Prices".
The shopkeeper was panicked, until he got an idea. He put the biggest sign of all over his own shop. It read... "Main Entrance".
#joke
Never Been Married
I've never been married...
... but I've had a few near Mrs.!!!
A college pizza delivery boy a
A college pizza delivery boy arrived at the house of Mr.Smith. He delivered the pizza to his trailer. After giving it to him, Mr. Smith asked: "What is the usual tip?"
"Well," replied the youth, "this is my first trip here, but the other guys say if I get a quarter out of you, I'll be doing great."
"Is that so?" snorted Mr. Smith. "Well, just to show them how wrong they are, here's five dollars."
"Thanks," replied the youth, "I'll put this in my school fund."
"What are you studying in school?" asked Larry.
The lad smiled and said: "Applied psychology."
#joke
Head hog....
One day a man called the church office and said, "Can I speak to the head hog at the trough?"
The secretary thought she heard what he said, but said, "I'm sorry, who?
The caller repeated, "Can I speak to the head hog at the trough?"
She said, "Well, if you mean the preacher, then you may refer to him as 'Pastor,' or 'Brother,' but I prefer that you not refer to him as the 'head hog at the trough'!"
To this, the man replied, "Well, I was planning on giving $100,000 to the church building fund . . ."
To this, the secretary quickly responded, "Hang on, I think the big fat pig just walked in!"
#joke
There was a blonde driving ...
There was a blonde driving in her car on the highway.She crashed into the car infront of her and a cop came over to her and said mam what is wrong? She said officer no matter where i turn there is a tree if i turn left,right, there is a tree. The officer leaned over and said mam that is your air freshener.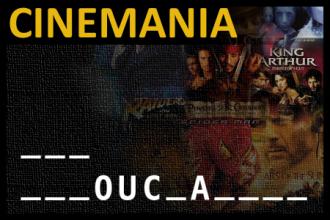 CINEMANIA: Guess the movie title
Film was made in 2011.
Father/Son
A father passing by his son's bedroom was astonished to see the bed was nicely made and everything was picked up. Then he saw an green envelope propped up prominently on the center of the bed. It was addressed, "Dad".
With the worst premonition, he opened the envelope and read the letter with trembling hands:
Dear Dad, It is with great regret and sorrow that I'm writing you. I had to elope with my new girlfriend because I wanted to avoid a scene with mom and you.
I've been finding real passion with Mariel and she is so nice-even with all her piercing, tattoos, and her tight Motorcycle clothes. But it's not only the passion dad, she's pregnant and Mariel said that we will be very happy.
Even though you don't care for her as she is so much older than I, she already owns a trailer in the woods and has a stack of firewood for the whole winter. She wants to have many more children with me and that's now one of my dreams too.
Mariel taught me that marijuana doesn't really hurt anyone and we'll be growing it for us and trading it with her friends for all the cocaine and ecstasy we want. In the meantime, we'll pray that science will find a cure for AIDS so Mariel can get better; she sure deserves it!!
Don't worry Dad, I'm 15 years old now and I know how to take care of myself. Someday I'm sure we'll be back to visit so you can get to know your grandchildren.
Your son, Tom
PS: Dad, none of the above is true. I'm over at the neighbor's house. I just wanted to remind you that there are worse things in life than my report card that's in my desk center drawer. I love you! Call when it is safe for me to come home.
#joke
Chuck Norris got his drivers l...
Chuck Norris got his drivers license at the age of 16. Seconds.
Your car in heaven....
Three guys died and when they got to the pearly gates, St. Peter met them there. St. Peter said, "I know that you guys are forgiven because you're here. Before I let you into Heaven, I have to ask you something. You have to have a car in Heaven because Heaven is so big, what kind of car you get will depend on your answer."
The first guy walks up and Peter asks him, "How long were you married?"
The first guy says, "24 years."
"Did you ever cheat on your wife?", Peter asked. The guy said, "Yeah, 7 times...but you said I was forgiven."
Peter said, "yeah, but that's not too good. Here's a Pinto to drive."
The second guy walks up and gets the same question from Peter.
The second guy said, "I was married for 41 years and cheated on her once, but that was our first year and we really worked it out good."
Peter said, "I'm pleased to hear that, here's a Lincoln."
The third guy walked up and said, "Peter, I know what you're going to ask. I was married for 63 years and didn't even look at another woman! I treated my wife like a queen!"
Peter said, "That's what I like to hear. Here's a Jaguar!"
A few days later, the two guys with the Lincoln and the Pinto saw the guy with the Jaguar crying on the golden sidewalk. When they asked the guy with the Jaguar what was wrong, he said, "I just saw my wife, she was on a skateboard!"
#joke
Anthony Jeselnik: Christmas Gifts
This past Christmas, I told my girlfriend for months in advance, Baby, all I want from you this year is an Xbox. Thats it. Beginning and end of list: Xbox. You know what she got me? A homemade frame with a picture of us from our first date together. Which was fine -- because I got her an Xbox.