Gloves Off
What did the former boxer-turned-barista ask his patrons?
"Ya want one lump or two???"
Men are a misunderstood lot, w
Men are a misunderstood lot, which all in all is probably for the best. Women are better off not knowing that we eat with our hands the minute they leave the room or that we use their nail clippers to trim our nose hair. Better for them, better for us. Still, it's annoying that women spend more time and money trying to understand the minds of cats than they do wondering about what makes men tick. Which is why they'll never understand...
Our consuming need to own the biggest and most expensive version of just about everything.Our compulsive desire to drive off-road vehicles in cities and use corkscrews that resemble offshore drilling equipment is well documented. As marketing targets, men are suckers for terms like "professional" or "industrial strength," because inside every man is the germ of every profession he ever imagined himself one day excelling at. Most of these purchases are harmless, little more than childish wish fulfillment played out at a higher testosterone level. But occasionally we go too far. The guy upstairs from me once boasted that he had a filter which filled his flat with "operating theater quality air." I kept him away from my surgical steel steak knives.
Why we are so bad at shopping.We've never been trained to do it the right way. Supermarkets are like giant booby traps for males -- which is why if you send a man out to get eggs, sugar and bread, you should not be surprised if he returns home with a case of beer, a pair of jeans and a tree.
The reason why we don't like to discuss The Relationship.Most of us will find any excuse to dodge those conversations that start with questions like "Are you really happy?" and "Where do you see us going?" A relationship is a delicate thing, like an antique clock, and we know what will happen if we start picking it apart. Often our reticence will result in a lengthy conversation about why we have trouble talking about... "The Relationship."
Why we think we can fix things.Almost all men believe they can repair virtually anything with a little patience. In reality, we're only half right. Men are extremely good at taking things apart: whether it's a dishwasher or an antique clock, a man can break it down to its most basic components in no time. Unfortunately, this is where our expertise usually leaves off, and we're mostly satisfied with leaving bits and pieces spread all over newspaper on the kitchen table.
Men and video games.Women cannot understand how grown men can waste huge chunks of their lives zapping things off a screen. When a man repeatedly rings his girlfriend to say he has to work late and routinely comes home at two in the morning all glassy eyed, she will usually take this as evidence of an affair -- when it's more likely that a pirated copy of Streetfighter II is making the rounds at the office.
Professional Worrier
David had been extremely anxious for years. It got to the point where his compulsive worrying was ruining his life, so he went to a psychiatrist, who recommended that David hire a professional worrier.
After he'd been working with the specialist for a few months, David's friend John noticed a change. "What happened?" John asked. "You don't worry about anything anymore."
"I hired a professional worrier!" David answered.
"That must cost a fortune," John said.
"Yes, he charges $3,000 a month," David said sheepishly.
"Three thousand dollars! How can you ever afford to pay him?" John exclaimed.
"I don't know," David said. "That's his problem."
#joke
Use these words in a sentence....
Children were called upon a classroom to make sentences with words chosen by the teacher. The teacher smiled when Jack, a slow learner, raised his hand to participate during the challenge of making a sentence with the words "Defeat," "Defense," "Deduct," and "Detail."
Jack stood thinking for a while, all eyes focused on him while his classmates awaited his reply. Smiling, he then proudly shouted out, "Defeat of deduct went over defense before detail."
#joke
Greece is known for its ron
Greece is known for its Aegean population.
There was a competition to cro...
There was a competition to cross the English channel doing only the breaststroke, and the three women who entered the race were a brunette, a redhead and a blonde.
After approximately 14 hours, the brunette staggered up on the shore and was declared the fastest. About 40 minutes later, the redhead crawled up on the shore and was declared the second place finisher.
Nearly 4 hours after that, the blonde finally came ashore and promptly collapsed in front of the worried onlookers.
When the reporters asked why it took her so long to complete the race, she replied, "I don't want to sound like I'm a sore loser, but I think those two other girls were using their arms..."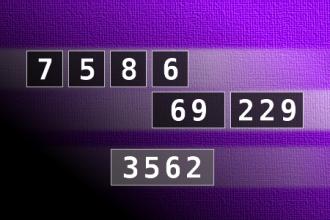 Calculate the number 3562
NUMBERMANIA: Calculate the number 3562 using numbers [7, 5, 8, 6, 69, 229] and basic arithmetic operations (+, -, *, /). Each of the numbers can be used only once.
Guns don't kill people. Chuck ...
Guns don't kill people. Chuck Norris kills people.
Matt's dad picked him up from...
Matt's dad picked him up from school one afternoon. Knowing the parts for the school play were supposed to be posted today, he asked his son if he got a part. Matt enthusiastically announced that he'd gotten a part. "I play a man who's been married for twenty years."
"That's great, son. Keep up the good work and before you know it they'll be giving you a speaking part."
#joke
Burning Calories
Me: "I just burned 2000 calories in 20 minutes."
Friend: "How?"
Me: "I forgot to take my brownies out of the oven."
Santa accessed someones facebook account
Somebody forgot to set his privacy settings.... Think this is how he got the red nose?