Some media outlets produce twi
Some media outlets produce twice as much crap as normal. Especially when they're biassed.
Christmas Return
Friend: "What are you going to give your mother-in-law for Christmas?"
Me: "Her son back!"
How was your golf game, dear?
"How was your golf game, dear?" asked Jack's wife.
"Well I was hitting pretty well, but my eyesight's gotten so bad I couldn't see where the ball went."
"Well you're 75 years old now, Jack, why don't you take my brother Scott along?" suggested his wife.
"But he's 85 and doesn't even play golf anymore," protested Jack.
"But he's got perfect eyesight. He could watch your ball," his wife pointed out.
The next day Jack teed off with Scott looking on. Jack swung, and the ball disappeared down the middle of the fairway.
"Do you see it?" asked Jack.
"Yup," Scott answered.
"Well, where is it?" yelled Jack, peering off into the distance.
"I forgot."
#joke
A gynecologist who had lost in...
A gynecologist who had lost interest in his medical practice decided to change careers and enrolled in auto mechanic school.
He performed well in the course but was still shocked when he got an off-the-chart 200 on his final exam. He asked the instructor to explain the grade.
"I gave you 50 points for taking the engine apart correctly," the teacher said, "50 points for putting it back together correctly -- and an extra 100 points for doing it all through the muffler."
#joke
Police Dog
A police dog responds to an ad for work with the FBI. "Well," says the personnel director, "You'll have to meet some strict requirements. First, you must type at least 60 words per minute."
Sitting down at the typewriter, the dog types out 80 words per minute.
"Also," says the director, "You must pass a physical and complete the obstacle course."
This perfect canine specimen finishes the course in record time.
"There's one last requirement," the director continues; "you must be bilingual."
With confidence, the dog looks up at him and says, "Meow!"
#joke
A blonde and a redhead met in ...
A blonde and a redhead met in a bar after work for a drink, and were watching the 6 O'clock news. A man was shown threatening to jump from the Brooklyn Bridge.
The blonde bet the redhead $50 that he wouldn't jump, and the redhead replied, 'I'll take that bet!'
Anyway, sure enough, he jumped, so the blonde gave the redhead the $50 she owed. The redhead said 'I can't take this, you're my friend.'
The blonde said 'No. A bet's a bet'.
So the redhead said 'Listen, I have to admit, I saw this on the 5 O'clock news, so I can't take your money'.
The blonde replied, 'Well, so did I, but I never thought he'd jump again!'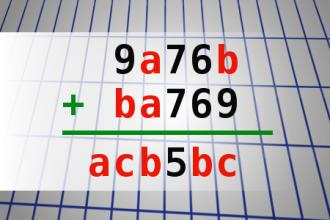 Find number abc
If 9a76b + ba769 = acb5bc find number abc. Multiple solutions may exist.
The will to live
A man went to his lawyer and said "I would like to make a will but I don't know exactly how to go about it."
The lawyer says "No problem, leave it all to me".
The man looks somewhat upset ... "Well I knew you were going to take the biggest slice, but I'd like to leave a little to my children too!
Christmas Eve Accident
Three men die in a car accident Christmas Eve. They all find themselves at the pearly gates waiting to enter Heaven. On entering they must present something related to or associated with Christmas.
The first man searches his pockets and finds mistletoe, so he is allowed in.
The second man presents a candy cane, so he is also allowed in.The third man pulls out a pair of stockings.
Confused at this last gesture, St. Peter asks, "How do these represent Christmas?"
"They're Carol's."

Dwayne Kennedy: Christmas Shopping
I tried to go Christmas shopping last year, but I didnt have no money. I just went window-shopping with a brick.
Two elderly gentlemen from a r
Two elderly gentlemen from a retirement center were sitting on a bench under a tree when one turns to the other and says: "John, I'm 83 years old now and I'm just full of aches and pains. I know you're about my age. How do you feel?"
John says, "I feel just like a newborn baby."
"Really!? Like a newborn baby!?"
"Yep. No hair, no teeth, and I think I just pooped my pants."
#joke