Not Good At My Job
People are usually shocked when they find out I am not a good electrician.
A motorist, driving by a Texas
A motorist, driving by a Texas ranch, hit and killed a calf that was crossing the road. The driver went to the owner of the calf and explained what had happened. He then asked what the animal was worth.
"Oh, about $200 today," said the rancher. "But in six years it would have been worth $900. So $900 is what I'm out."
The motorist sat down and wrote out a check and handed it to the farmer.
"Here," he said, "is the check for $900. It's postdated six years from now."
#joke
A woman was found guilty in tr...
A woman was found guilty in traffic court and when asked for her occupation she said she was a schoolteacher. The judge rose from the bench. "Madam, I have waited years for a schoolteacher to appear before this court."
He smiled with delight. "Now sit down at that table and write 'I will not run a red light' five hundred times."
#joke
What happend here???
A guy comes home in the middle of the day, finds his wife standing in the middle of their deluxe apartment wearing a red G-string, high heels, and the whole apartment is flooded.
"What happened here?" he asks.
"I think the waterbed busted," says the trembling wife.
Just then a guy floats by.
"Who's that?" demands the husband.
"I dunno. Must be a lifeguard."
#joke
A man wakes up one morning to...
A man wakes up one morning to find a bear on his roof. So he looks in the yellow pages and sure enough, there's an ad for "Bear Removers."
He calls the number, and the bear remover says he'll be over in 30 minutes. The bear remover arrives, and gets out of his van. He's got a ladder, a baseball bat, a shotgun and a mean old pit bull.
"What are you going to do," the homeowner asks?
"I'm going to put this ladder up against the roof, then I'm going to go up there and knock the bear off the roof with this baseball bat. When the bear falls off, the pit bull is trained to grab his testicles and not let go. The bear will then be subdued enough for me to put him in the cage in the back of the van."
He hands the shotgun to the homeowner.
"What's the shotgun for?" asks the homeowner.
"If the bear knocks me off the roof, shoot the dog."
#joke
A Great Salesman
A man named Donald bought a horse from a farmer for $250. The farmer agreed to deliver the horse the next day. The next day, the farmer drove up to Donald's house and said, "Sorry, son, but I have some bad news. The horse died."
Donald replied, "Well, then just give me back my money."
The farmer said, "Can't do that. I went and spent it already."
Donald said, "Ok, then just bring me the dead horse."
The farmer asked, "What ya gonna do with him?"
Donald said, "I'm going to raffle him off."
The farmer said, "You can't raffle off a dead horse!"
Donald said, "Sure I can! Watch me.
A month Later, the farmer met up with Donald and asked, "What happened with that dead horse?"
Donald said, "I raffled him off. I sold 500 tickets at five dollars apiece and made a profit of $2495."
The farmer said, "Didn't anyone complain?"
Donald said, "Just the guy who won. So I gave him back his five dollars."
Donald is moving into the White House later this month.
#joke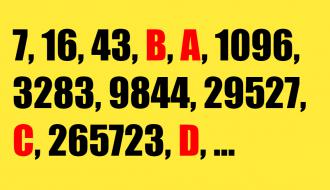 Calculate A+B-C+D
Look at the series (7, 16, 43, B, A, 1096, 3283, 9844, 29527, C, 265723, D, ...), determine the pattern, and find the unknown values (A, B, C and D) and calculate A+B-C+D!
Church Sign Chuckles
Some favorite messages spotted on church signs or billboards, submitted by Beliefnet members:
-Fire Insurance Inside
-This Church Is Prayer Conditioned
-God Answers Knee Mail
-PRAY NOW! Avoid Christmas Rush!
-Sign broken, come inside for message
-This is a ch--ch. What's missing? U R!
-Stop in the name of love and meet the Supreme
-Wal-Mart's not the only savings place
-The best position is on your knees!
More Hilarious Al Gore Quotes And Blunders
"I am not part of the problem. I am a Democrat."
-- Vice President Al Gore
---
"A low voter turnout is an indication of fewer people going to the polls."
-- Vice President Al Gore
---
"Illegitimacy is something we should talk about in terms of not having it."
-- Vice President Al Gore, 5/20/996
---
"Democrats understand the importance of bondage between a mother and child."
-- Vice President Al Gore
---
"Welcome to President Clinton, Mrs. Clinton, and my fellow astronauts."
-- Vice President Al Gore
---
"Mars is essentially in the same orbit... Mars is somewhat the same distance from the Sun, which is very important. We have seen pictures where there are canals, we believe, and water. If there is water, that means there is oxygen. If oxygen, that means we can breathe."
-- Vice President Al Gore
---
"What a waste it is to lose one's mind. Or not to have a mind is being very wasteful. How true that is."
-- Vice President Al Gore
---
"People that are really very weird can get into sensitive positions and have tremendous impact on history."
-- Vice President Al Gore
(Ed note. Hmmmm, anyone in particular come to mind?)
---
"When I have been asked who caused the riots and the killing in L.A., my answer has been direct and simple: Who is to blame for the riots? The rioters are to blame. Who is to blame for the killings? The killers are to blame."
-- Al Gore
---
"The American people would not want to know of any misquotes that Al Gore may or may not make."
-- Vice President Al Gore
#joke
JB Smoove: Sound System
I did a club one night -- the speakers were old as hell. My jokes were coming out in black and white.