There were two elderly people
There were two elderly people living in Trailer Estates, a Florida mobile home park. He was a widower and she a widow. They had known one another for a number of years.
One evening there was a community supper in the big activity center. The two were at the same table, across from one another. As the meal went on, he made a few admiring glances at her and finally gathered his courage to ask her, "Will you marry me?"
After about six seconds of 'careful consideration', she answered. "Yes. Yes, I will." The meal ended and, with a few more pleasant exchanges, they went to their respective places.
Next morning, he was troubled. "Did she say 'yes' or did she say 'no'?" He couldn't remember. Try as he would, he just could not recall. Not even a faint memory. With trepidation, he went to the telephone and called her. First, he explained that he didn't remember as well as he used to. Then he reviewed the lovely evening past. As he gained a little more courage, he inquired, "When I asked if you would marry me, did you say 'Yes' or did you say 'No'?"
He was delighted to hear her say, "Why, I said, 'Yes, yes I will' and I meant it with all my heart." Then she continued, "I am so glad that you called, because I couldn't remember who had asked me."
#joke
Rain Or Shine Test
Dick: Great News! Teacher said we would have a test rain or shine.
Jane: What's so great about that?
Dick: It's snowing.
A man walks into the toy store
A man walks into the toy store to get a Barbie doll for his daughter. So he asks the assistant, as you would, "How much is Barbie?"
"Well," she says, "we have Barbie Goes to the Gym for $19.95, Barbie Goes to the Ball for $19.95, Barbie Goes Shopping for $19.95, Barbie Goes to the Beach for $19.95, Barbie Goes Nightclubbing for $19.95, and Divorced Barbie for $265.00."
"Hey, hang on," the guy asks, "why is Divorced Barbie $265.00 when all the others are only $19.95?"
"Yeah, well, it's like this ... Divorced Barbie comes with Ken's house, Ken's car, Ken's boat, Ken's furniture ..."
#joke
Single,huh?
A guy walks into a supermarket and buys the following:
--------------------
1 bar of soap
1 toothbrush
1 tube of toothpaste
1 loaf of bread
1 pint of milk
1 single serving of cereal
1 single frozen dinner
The checkout girl looks at him, smiles, and says, 'Single,huh?'
The guy smiles sheepishly and replies, 'How'd you guess?'
She says, 'Because you're ugly.'
#joke
Sheng Wang: Toilet With No Water
I took a dump in a toilet with no water. I had to tell my friends, Yeah, I dropped the kids off at the skate park.
Brian Regan: New Baby Greeting Cards
They have a section called, New Baby. I dont think you need the word new. Theyd have to clear up confusion. Do you have an Old Baby section? Cause my friends had a baby, and I let time get away from me, and hes 12.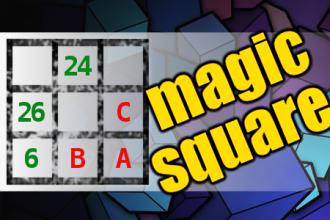 MAGIC SQUARE: Calculate A*B-C
The aim is to place the some numbers from the list (6, 7, 8, 24, 25, 26, 64, 65, 66) into the empty squares and squares marked with A, B an C. Sum of each row and column should be equal. All the numbers of the magic square must be different. Find values for A, B, and C. Solution is A*B-C.
Love and Cherish till …..
A husband died. A few weeks later the wife died. As she got to heaven she saw her husband. She ran up to him with tears in her eyes.
'Darling, how I've missed you!'
The husband extends his arms stopping her from embracing him and says, 'Whoa there woman, the contract was until death!'
#joke
Leaving Dan In My Will
A lawyer meets with the family of a recently deceased millionaire for the reading of the will.
'To my loving wife, Rose, who always stood by me, I leave the house and $2 million,' the attorney reads.
'To my darling daughter, Jessica, who looked after me in sickness and kept the business going, I leave the yacht, the business and $1 million.'
'And finally,' the lawyer concludes, 'to my cousin Dan, who hated me, argued with me and thought I would never mention him in my will. Well, you were wrong. Hi Dan!'