Not so famous last words Not so famous last words
1. It's fireproof.
2. He's probably just hibernating.
3. What does this button do?
4. It's probably just a rash.
5. Are you sure the power is off?
6. The odds of that happening have to be a million to one!
7. Pull the pin and count to what?
8. Which wire was I supposed to cut?
9. I wonder where the mother bear is.
10. I've seen this done on TV.
11. These are the good kind of mushrooms.
12. I'll hold it and you light the fuse.
13. Let it down slowly.
14. It's strong enough for both of us.
15. This doesn't taste right.
16. I can make this light before it changes.
17. Nice doggie.
18. I can do that with my eyes closed.
19. I've done this before.
20. What duck?
21. Well, we've made it this far.
22. That's odd.
23. Don't be so superstitious.

#joke
Have To Leave the Room
My office was so small...
I had to leave the room to change my mind.
Attached is some correspondence
Attached is some correspondence which actually occurred between a Londonhotel's staff and one of its guests. The London hotel involvedsubmitted this to the Sunday Times.
WHAT TO DO WITH ALL THOSE "FREE" SOAPS WHEN TRAVELLING
***
Dear Maid,
Please do not leave any more of those little bars of soap in my bathroomsince I have brought my own bath-sized Dial. Please remove the sixunopened little bars from the shelf under the medicine chest and anotherthree in the shower soap dish. They are in my way. Thank you,S. Berman
---
Dear Room 635,
I am not your regular maid. She will be back tomorrow, Thursday, fromher day off. I took the 3 hotel soaps out of the shower soap dish asyou requested. The 6 bars on your shelf I took out of your way and puton top of your Kleenex dispenser in case you should change your mind.This leaves only the 3 bars I left today which my instructions from themanagement is to leave 3 soaps daily.
I hope this is satisfactory.
Kathy, Relief Maid
---
Dear Maid -- I hope you are my regular maid.
Apparently Kathy did not tell you about my note to her concerning thelittle bars of soap. When I got back to my room this evening I foundyou had added 3 little Camays to the shelf under my medicine cabinet. Iam going to be here in the hotel for two weeks and have brought my ownbath-size Dial so I won't need those 6 little Camays which are on theshelf. They are in my way when shaving, brushing teeth, etc. Pleaseremove them.
S. Berman
---
Dear Mr. Berman,
My day off was last Wed. so the relief maid left 3 hotel soaps which weare instructed by the management. I took the 6 soaps which were in yourway on the shelf and put them in the soap dish where your Dial was. Iput the Dial in the medicine cabinet for your convenience.I didn't remove the 3 complimentary soaps which are always placed insidethe medicine cabinet for all new check-ins and which you did not objectto when you checked in last Monday. Please let meknow if I can of further assistance. Your regular maid,
Dotty
---
Dear Mr. Berman,
The assistant manager, Mr. Kensedder, informed me this A.M. that youcalled him last evening and said you were unhappy with your maidservice. I have assigned a new girl to your room. I hope you willaccept my apologies for any past inconvenience. If you have anyfuture complaints please contact me so I can give it my personalattention. Call extension 1108 between 8AM and 5PM. Thank you.
Elaine Carmen
Housekeeper
---
Dear Miss Carmen,
It is impossible to contact you by phone since I leave the hotel forbusiness at 745 AM and don't get back before 530 or 6PM. That's thereason I called Mr. Kensedder last night. You were already off duty.I only asked Mr. Kensedder if he could do anything about those littlebars of soap. The new maid you assigned me must have thought I was anew check-in today, since she left another 3 bars of hotel soap in mymedicine cabinet along with her regular delivery of 3 bars on thebath-room shelf. In just 5 days here I have accumulated 24 little barsof soap. Why are you doing this to me?
S. Berman
---
Dear Mr. Berman,
Your maid, Kathy, has been instructed to stop delivering soap to yourroom and remove the extra soaps. If I can be of further assistance,please call extension 1108 between 8AM and 5PM. Thank you,
Elaine Carmen,
Housekeeper
---
Dear Mr. Kensedder,
My bath-size Dial is missing. Every bar of soap was taken from my roomincluding my own bath-size Dial. I came in late last night and had tocall the bellhop to bring me 4 little Cashmere Bouquets.
S. Berman
---
Dear Mr. Berman,
I have informed our housekeeper, Elaine Carmen, of your soap problem. Icannot understand why there was no soap in your room since our maids areinstructed to leave 3 bars of soap each time they service a room. Thesituation will be rectified immediately. Please accept my apologies forthe inconvenience.
Martin L. Kensedder
Assistant Manager
---
Dear Mrs. Carmen,
Who the hell left 54 little bars of Camay in my room? I came in lastnight and found 54 little bars of soap. I don't want 54 little barsof Camay. I want my one damn bar of bath-size Dial. Do you realize Ihave 54 bars of soap in here. All I want is my bath size Dial.Please give me back my bath-size Dial.
S. Berman
---
Dear Mr. Berman,
You complained of too much soap in your room so I had them removed. Thenyou complained to Mr. Kensedder that all your soap was missing so Ipersonally returned them. The 24 Camays which had been taken and the 3Camays you are supposed to receive daily (sic). I don't know anythingabout the 4 Cashmere Bouquets. Obviously your maid, Kathy, did not knowI had returned your soaps so she also brought 24 Camays plus the 3 dailyCamays. I don't know where you got the idea this hotel issues bath-sizeDial. I was able to locate some bath-size Ivory which I left in yourroom.
Elaine CarmenHousekeeper
---
Dear Mrs. Carmen,
Just a short note to bring you up-to-date on my latest soap inventory.As of today I possess:
- On shelf under medicine cabinet - 18 Camay in 4 stacks of 4 and 1stack of 2.
- On Kleenex dispenser - 11 Camay in 2 stacks of 4 and 1 stack of 3.
- On bedroom dresser - 1 stack of 3 Cashmere Bouquet, 1 stack of 4hotel-size Ivory, and 8 Camay in 2 stacks of 4. - Inside medicinecabinet - 14 Camay in 3 stacks of 4 and 1 stack of 2.
- In shower soap dish - 6 Camay, very moist.
- On northeast corner of tub - 1 Cashmere Bouquet, slightly used. - Onnorthwest corner of tub - 6 Camays in 2 stacks of 3.
Please ask Kathy when she services my room to make sure the stacks areneatly piled and dusted. Also, please advise her that stacks of morethan 4 have a tendency to tip. May I suggest that my bedroom windowsill is not in use and will make an excellent spot for future soapdeliveries. One more item, I have purchased another bar of bath-sizedDial which I am keeping in the hotel vault in order to avoid furthermisunderstandings.
There were four men, one from ...
There were four men, one from China, Greenland, America and one
from Australia.
One night they were bragging on how good their country are. The
Chinese said, "my country is the best cause we have the great
wall."
The Greenlander said, "no, mine is the best as we have the
greenest greenest grass."
The American said, "no, mine is the best as we have our flag 50
stars and 50 stripes."
The Australian said, "no, mine is the greatest country as we
have the kangaroo which will jump over the great wall, shit on
the greenest greenest grass and wipe its ass on the American
flag."
#joke
Angry Witch
Q. What do you call an angry Witch?
A. Ribbit

Head Goes To The Bar
A man is waiting for wife to give birth. The doctor comes in and informs the dad that his son was born without torso, arms or legs. The son is just a head! But the dad loves his son and raises him as well as he can, with love and compassion. After 21 years, the son is old enough for his first drink. Dad takes him to the bar and tearfully tells the son he is proud of him.
Dad orders up the biggest, strongest drink for his boy. With all the bar patrons looking on curiously and the bartender shaking his head in disbelief, the boy takes his first sip of alcohol. Swoooop! A torso pops out!
The bar is dead silent; then bursts into a whoop of joy. The father, shocked, begs his son to drink again. The patrons chant "Take another drink"! The bartender still shakes his head in dismay.
Swoooop! Two arms pops out. The bar goes wild. The father, crying and wailing, begs his son to drink again. The patrons chant, "Take another drink"! The bartender ignores the whole affair. By now the boy is getting tipsy, and with his new hands he reaches down, grabs his drink and guzzles the last of it. Swoooop! Two legs pop out.
The bar is in chaos. The father falls to his knees and tearfully thanks God. The boy stands up on his new legs and stumbles to the left.... then to the right.... right through the front door, into the street, where a truck runs over him and kills him instantly.
The bar falls silent. The father moans in grief. The bartender sighs and says, "That boy should have quit while he was a head."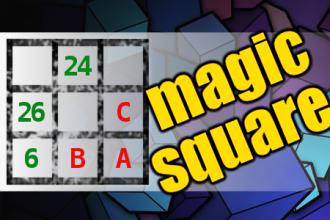 MAGIC SQUARE: Calculate A*B-C
The aim is to place the some numbers from the list (6, 7, 8, 24, 25, 26, 64, 65, 66) into the empty squares and squares marked with A, B an C. Sum of each row and column should be equal. All the numbers of the magic square must be different. Find values for A, B, and C. Solution is A*B-C.
An old man goes to the Wizard ...
An old man goes to the Wizard to ask him if he can remove a curse he has been living with for the last 40 years.
The Wizard says, "Maybe, but you will have to tell me the exact words that were used to put the curse on you."
The old man says without hesitation, "I now pronounce you man and wife."
#joke
Son of a lawyer
While two families were waiting in line to see the Washington Monument, their two 5-year-old boys were getting acquainted.
"My name is Joshua. What's yours?" asked the first boy.
"Adam," replied the second.
"My daddy is a doctor. What does YOUR daddy do for a living?" asked Joshua.
Adam proudly replied, "My daddy is a lawyer."
"Honest?" asked Joshua.
"No, just the regular kind," replied Adam.