It's Saturday morning and Bob
It's Saturday morning and Bob's just about to set off on his round of golf, when he realizes that he forgot to tell his wife that the guy who fixes the washing machine is coming around at noon. So he heads back to the clubhouse and phones home.
"Hello?" says a little girl's voice.
"Hi, honey, it's Daddy," says Bob. "Is Mommy near the phone?"
"No, Daddy. She's upstairs in the bedroom with Uncle Frank."
After a brief pause, Bob says, "But you haven't got an Uncle Frank, honey!"
"Yes, I do, and he's upstairs in the bedroom with Mommy!"
"Okay, then. Here's what I want you do. Put down the phone, run upstairs and knock on the bedroom door and shout in to Mommy and Uncle Frank that my car's just pulled up outside the house."
"Okay, Daddy!" A few minutes later, the little girl comes back to the phone. "Well, I did what you said, Daddy."
"And what happened?"
"Well, Mommy jumped out of bed with no clothes on and ran around screaming, then she tripped over the rug and went out the front window and now she's Just laying there crying"
"Oh, my God! What about Uncle Frank?"
"He jumped out of bed with no clothes on too, and he was all scared and he jumped out the back window into the swimming pool. But he must have forgot that last week you took out all the water to clean it, so he hit the bottom of the swimming pool and now he's just laying there not moving."
There is a long pause.
"Swimming pool? Is this 854-7039?"
#joke
Some guy called me a tool.
Some guy called me a tool. So I got hammered and nailed his girlfriend. Guess he was right.
Loud Laughing
Do they allow loud laughing in Hawaii...
Or just a-low-ha?
What Children Do.............
** For those who already have children past this age, this is hilarious. ** For those who have children this age, this is not funny. ** For those who have children nearing this age, this is a warning. ** For those who have not yet had children, this is birth control.
The following came from an anonymous Mother in Austin, Texas:
Things I've learned from my Children (honest & no kidding):
1. A king size waterbed holds enough water to fill a 2000 sq. ft house 4 inches deep.
2. If you spray hair spray on dust bunnies and run over them with rollerblades, they can ignite.
3. A 3-year old's voice is louder than 200 adults in a crowded restaurant.
4. If you hook a dog leash over a ceiling fan, the motor is not strong enough to rotate a 42 pound boy wearing Batman underwear and a Superman cape. It is strong enough, however, if tied to a paint can, to spread paint on all four walls of a 20x20 ft. room.
5. You should not throw baseballs up when the ceiling fan is on. When using a ceiling fan as a bat, you have to throw the ball up a few times before you get a hit. A ceiling fan can hit a baseball a long way.
6. The glass in windows (even double-pane) doesn't stop a baseball hit by a ceiling fan.
7. When you hear the toilet flush and the words "uh oh," it's already too late.
8. Brake fluid mixed with Clorox makes smoke, and lots of it.
9. A six-year old can start a fire with a flint rock even though a 36-year old man says they can only do it in the movies.
10. Certain Legos will pass through the digestive tract of a 4-year old.
11. Play dough and microwave should not be used in the same sentence.
12. Super glue is forever.
13. No matter how much Jell-O you put in a swimming pool you still can't walk on water.
14. Pool filters do not like Jell-O.
15. VCR's do not eject PB&J sandwiches even though TV commercials show they do.
16. Garbage bags do not make good parachutes.
17. Marbles in gas tanks make lots of noise when driving.
18. You probably do not want to know what that odor is.
19. Always look in the oven before you turn it on. Plastic toys do not like ovens.
20. The fire department in Austin, TX has a 5-minute response time.
21. The spin cycle on the washing machine does not make earthworms dizzy.
22. It will, however, make cats dizzy.
23. Cats throw up twice their body weight when dizzy.
24. The mind of a 6-year old is wonderful. First grade...true story:
One day the first grade teacher was reading the story of the Three Little Pigs in her class. She came to the part of the story where the first pig was trying to accumulate the building materials for his home. She read, "...And so the pig went up to the man with the wheelbarrow full of straw and said, Pardon me sir, but may I have some of that straw to build my house?'" The teacher paused then asked the class, "And what do you think that man said?"
One little boy raised his hand and said, "I think he said...'Holy sh_t! A talking pig!'"
The teacher was unable to teach for the next 10 minutes.
25. 60% of men who read this will try mixing the Clorox and brake fluid.
#joke
Back a few years ago, I went o...
Back a few years ago, I went over to my neighbors house.(She was a blonde), and for some reason she was mad at the world. She had locked herself in the bathroom and was threatening suicide.I said, "Come on, you know you don't want to do this!"
She said, "I damn well do wanna do this, nobody wants me alive anyways."
For some reason I actually believed her and pushed through the door, and saw she had a rope tied to around her ankles.I asked "Are you really trying to hang yourself?"
"Yeah, so what?"
"Well, usually when people hang themselves they tie the rope around their necks"
"Yeah, well, I tried that, but then I couldn't breathe."
All of his life Len from Cape...
All of his life Len from Cape Breton had heard stories of an amazing family tradition. It seems that his father, grandfather and great-grandfather had all been able to walk on water on their 21st birthday. On that day, they'd walk across the lake to the boat club for their first legal drink.
So when Len's 21st birthday came around, he and his pal Corky took a boat out to the middle of the lake. Len stepped out of the boat and nearly drowned!
Corky just managed to pull him to safety. Furious and confused, Len went to see his grandmother. "Grandma, it's my 21st birthday, so why can't I walk across the lake, like my father, his father, and his father before him?"
Granny looked Len straight in the eyes, and said, "Because, you idiot, your father, grandfather and great grandfather was born in January, you were born in July."
#joke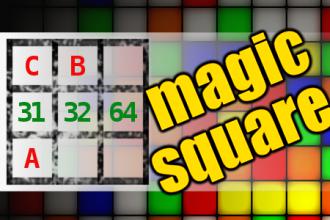 MAGIC SQUARE: Calculate A+B-C
The aim is to place the some numbers from the list (3, 21, 26, 27, 31, 32, 34, 37, 48, 64, 69, 74) into the empty squares and squares marked with A, B an C. Sum of each row and column should be equal. All the numbers of the magic square must be different. Find values for A, B, and C. Solution is A+B-C.
How Many Wives?
Two little boys were at a wedding when one leaned over to the other and asked, "How many wives can a man have?"
His friend answered, "Sixteen... four better, four worse, four richer, and four poorer."

The old hotdog trick
We've all seen him, the party drunk/asshole. He has too much to drink, makes an ass out of himself, barfs all over the rug, then passes out on your bed.
We had a guy on the boat (I'm in the USN sub force) who would get so drunk when we pulled into a liberty port the asshole had to be carried back and dumped in his rack. We didn't want the MP's to snag him because that makes the boat look bad and our dickhead CO might have secured everyone's liberty.
To take care of this once and for all, we brought him back one night, out cold of course, and placed him in his rack on his side with his ass pointing to us. One person pulled down is pants and underwear while another person ran to the freezer and Doc's office. The second person came back with a frozen hotdog and a condom.
Here is how you do this little stunt:
1. Unwrap the condom and place it over the frozen hotdog. A lubricated one works best.
2. Shove the device up the guys ass and leave it there for a second or two. The condensation from the hotdog will allow it to be removed from the condom while leaving the rubber in the asshole.
3. Pull the victims pants up and leave them unbuttoned and unbuckled.
(OPTIONAL)
The less people involved the better. When our victim woke up and went to the head we all had to leave to keep from cracking up. When he was done with his shit, shower, and shave, he came to the mess decks for chow. He sat next to a friend of mine who was involved with the shen and asked, "Hey man, what happened last night?"
"I was going to ask you the same thing. You started drinking with some dork from a skimmer and the next thing we knew you guys were off to the bars out in town. Why?"
He had a mortified look on his face.
"Uhh, just wondering."
He never got trashed again while on that deployment.
#joke
Why does the bride always wear...
Why does the bride always wear white? Because it's good for the dishwasher to match the cooker and the fridge.