Ted and Julie go to bed with e
Ted and Julie go to bed with each other for the first time.
Julie: "I should warn you, Ted -- I've got acute angina."
Ted: "Your breasts aren't bad either."

Handy Man 'To Do' List
Hired a handy man and gave him a list. When I got home, only items #1, 3, & 5 were done.
Turns out, he only does odd jobs.
How do white fairytales st
How do white fairytales start? "Once upon a time,"
How do black fairytales start? "N*** you ain't gonna believe this!"
Facts of life...
Morris asks his son, now aged 13, if he knows about the birds and the bees. "I don't want to know!" the child said, bursting into tears. Confused, the father asked his son what was wrong.
"Oh dad," he sobbed, "at age six I got the 'there's no Santa' speech. At age seven I got the 'there's no Easter bunny' speech. Then at age 8 you hit me with the 'there's no tooth fairy' speech! If you're going to tell me now that grown-ups don't really have sex, I've got nothing left to live for!"
#joke
A few years ago, the Sierra Cl
A few years ago, the Sierra Club and the U.S. Forest Service were presenting an alternative to Wyoming ranchers for controlling the coyote population. It seems that after years of the ranchers using the tried and true methods of shooting and/or trapping the predator, the tree-huggers had a "more humane" solution.
What they proposed was for the animals to be captured alive, the males castrated and let loose again and the population would be controlled. This was ACTUALLY proposed to the Wyoming Wool and Sheep Grower's Association by the Sierra Club and the USFS.
All of the ranchers thought about this amazing idea for a couple of minutes. Finally, an old boy in the back stood up, tipped his hat back and said, "Son, I don't think you understand the problem. Those coyotes ain't f*ckin' our sheep - they're eatin' 'em."
#joke
A man sits down at a bar and o...
A man sits down at a bar and orders a double martini. After he finishes, he peeks inside his shirt pocket, then orders another. After he finishes that, he again peeks inside his shirt pocket and orders another double martini. The barman says: "I'll bring you martinis all night but why do you look inside your shirt pocket before you order a refill." The customer replies: "I'm peeking at a photo of my wife. When she starts to look good, I know it's time to go home."
#joke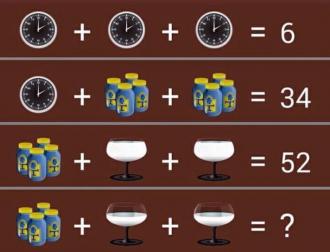 Can you replace the question mark with a number?
MATH PUZZLE: Can you replace the question mark with a number?
Winning toast
Patrick  hoisted his beer and said: "Here's to spending the rest of my life between the legs of me wife!"
And with that he took home the top prize for the best toast of the night.
In bed later that night, he told his wife: "Mary, I won the prize for the best toast of the night."
She said: "Aye, Paddy, what was your toast?"
So he told her: "Here's to spending the rest of my life sitting in church beside me wife."
"Oh," she said, "that is very nice, dear."
The next day, Mary ran into one of Paddy's drinking partners in the street.
Mischievously, the man said: "Did you hear about your husband winning a prize in the pub the other night for a toast about you, Mary?"
She replied: "Aye, and I was a bit surprised. Till now, he's only been down there twice. Once he fell asleep, and the other time I had to pull him by the ears to make him come."
A woman goes into a dentist...
A woman goes into a dentist's office, and after her examination, the dentist says, I'm sorry to tell you this, but I am going to have to drill that tooth.
Horrified, the woman replies, Oh, no! I'd rather have a baby.
To which the dentist replies, Make up your mind, I have to adjust the chair.
#joke
Bill Gates Can Choose His Punishment
Bill Gates suddenly dies and finds himself face to face with God. God stood over Bill Gates and said, "Well Bill, I'm really confused on this one. It's a tough decision; I'm not sure whether to send you to Heaven or Hell. After all, you helped society enormously by putting a computer in almost every home in America, yet you also created that ghastly Windows '95 among other indiscretions. I believe I'll do something I've never done before; I'll let you decide where you want to go."
Bill pushed up his glasses, looked up at God and replied, "Could you briefly explain the difference between the two?" Looking slightly puzzled, God said, "Better yet, why don't I let you visit both places briefly, then you can make your decision. Which do you choose to see first, Heaven or Hell?"
Bill played with his pocket protector for a moment, then looked back at God and said, "I think I'll try Hell first." So, with a flash of lightning and a cloud of smoke, Bill Gates went to Hell.
When he materialized in Hell, Bill looked around. It was a beautiful and clean place, a bit warm, with sandy beaches and tall mountains, clear skies, pristine water, and beautiful women frolicking about. A smile came across Bill's face as he took in a deep breath of the clean air. "This is great," he thought, "if this is Hell, I can't wait to see heaven."
Within seconds of his thought, another flash of lightning and a cloud of smoke appeared, and Bill was off to Heaven. Heaven was a place high above the clouds, where angels were drifting about playing their harps and singing in a beautiful chorus. It was a very nice place, Bill thought, but not as enticing as Hell.
Bill looked up, cupped his hands around his mouth and yelled for God and Bill Gates was sent to Hell for eternity.
Time passed, and God decided to check on the late billionaire to see how he was progressing in Hell. When he got there, he found Bill Gates shackled to a wall in a dark cave amid bone thin men and tongues of fire, being burned and tortured by demons.
"So, how is everything going?" God asked.
Bill responded with a crackling voice filled with anguish and disappointment, "This is awful! It's nothing like the Hell I visited the first time!! I can't believe this is happening! What happened to the other place....with the beaches and the mountains and the beautiful women?
"That was the demo," replied God.
#joke