A soldier at the Pentagon got
A soldier at the Pentagon got out of the shower, and realized that his clothes were missing. While searching around for them, he accidentally locked himself out of the locker room, and he found himself completely naked in the halls of the world''s most powerful military organization HQ. But, luckily, no one was around to see him.
So, he ran as fast as he could to the elevator. When it arrived, it was empty. He breathed a sigh of relief and got in. When the doors opened on his floor, there was no one waiting outside. "This must be my lucky day," he said to himself. He was now only a few yards from his office.
Suddenly, he heard footsteps coming from around the corner. He heard the General's voice. There was no way he'd make it to his door in time, so he ducked into the closest office available, and found himself in the laboratory for Research & Development. The Head Scientist looked up from one of her experiments with puzzled interest.
The soldier thought quickly, stood up straight and saluted.
"I am here to report the partial success of the Personal Invisibility Device," he said.
"I see," the Head Scientist said. "But the Shrink Ray seems to be working perfectly."
#joke
Thanksgiving Weather Forecast
In the pre-Thanksgiving rush, we have received an early weather report from our in-house weather reporters. This is one you should be sure to email to your Mom. Turkeys will thaw in the morning, then warm in the oven to an afternoon high near 190F. The kitchen will turn hot and humid, and if you bother the cook, be ready for a severe squall or cold shoulder.
During the late afternoon and evening, the cold front of a knife will slice through the turkey, causing an accumulation of one to two inches on plates. Mashed potatoes will drift across one side, while cranberry sauce creates slippery spots on the other. Please pass the gravy.
A weight watch and indigestion warning have been issued for the entire area, with increased stuffiness around the beltway. During the evening, the turkey will diminish and taper off to leftovers, dropping to a low of 34F in the refrigerator.
Looking ahead to Friday and Saturday, high pressure to eat sandwiches will be established. Flurries of leftovers can be expected both days with a 50 percent chance of scattered soup late in the day. We expect a warming trend where soup develops. By early next week, eating pressure will be low as the only wish left will be the bone.
A husband is at home watching...
A husband is at home watching a football game when his wife interrupts, "Honey, could you fix the light in the hallway? It's been flickering for weeks now."
He looks at her and says angrily, "Fix the light? Now? Does it look like I have a G.E. logo printed on my forehead? I don't think so."
"Well then, could you fix the fridge door? It won't close right." To which he replied, "Fix the fridge door? Does it look like I have Westinghouse written on my forehead? I don't think so."
"Fine," she says, "Then could you at least fix the steps to the front door? They're about to break."
"I'm not a damn carpenter and I don't want to fix the steps," he says. "Does it look like I have Ace Hardware written on my forehead? I don't think so. I've had enough of you. I'm going to the bar!"
So he goes to the bar and drinks for a couple hours. He starts to feel guilty about how he treated his wife, and decides to go home and help out. As he walks into the house, he notices the steps are already fixed. As he enters the house, he sees the hall light is working. As he goes to get a beer, he notices the fridge door is fixed. "Honey, how'd this all get fixed?"
She said, "Well, when you left, I sat outside and cried. Just then a nice young man asked me what was wrong, and I told him. He offered to do all the repairs, and all I had to do was either screw him or bake him a cake."
He said, "So, what kind of cake did you bake him?"
She replied, "Hellooooo... Do you see Betty Crocker written on my forehead?"
Pupil: Please Miss, would you...
Pupil: Please Miss, would you punish someone for something they didn't do?
Teacher: No, Of course not!!
Pupil: Oh good, Because i haven't done my homework!!!
A woman was out golfing one da...
A woman was out golfing one day when she hit her ball into the woods. She went into the woods to look for it and found a frog in a trap.
The frog said to her, "If you release me from this trap, I will grant you 3 wishes."
The woman freed the frog and the frog said, "Thank you, but I failed to mention that there was a condition to your wishes - that whatever you wish for, your husband will get 10 times more or better!"
The woman said, "That would be okay," and for her first wish, she wanted to be the most beautiful woman in the world.
The frog warrned her, "You do realize that this wish will also make your husband the most handsome man in the world, an Adonis, that women will flock to."
The woman replied, "That will be okay because I will be the most beautiful woman and he will only have eyes for me."
So, KAZAM - she's the most beautiful woman in the world!
For her second wish, she wanted to be the richest woman in the world.
The frog said, "That will make your husband the richest man in the world, and he will be ten times richer than you."
The woman said, "That will be okay because what is mine is his and what is his is mine."
So, KAZAM she's the richest woman in the world!
The frog inquired about her third wish, and she answered, "I'd like a mild heart attack."
#joke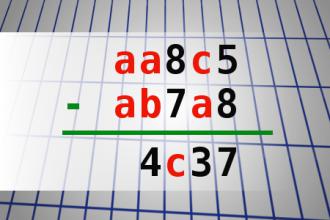 Find number abc
If aa8c5 - ab7a8 = 4c37 find number abc. Multiple solutions may exist.
Entrance Exam
A Christian, a Muslim and a Buddhist die and arrive at the Gate of Heaven. An angel (or deva) stops them and asks, "Why do you come here? Can you tell me the reasons why you are allowed to enter Heaven?"
The Christian replies, "My ancestors disobeyed God, and I sinned all my life: I killed, I lied, I cheated my wife and I was greedy. However, Jesus died for me and all my sins are forgiven. So I deserve to enter Heaven."
"OK," replies the Angel. "Sounds good, but I must give you an entrance examination before you can enter." The Christian promptly agrees and the Angel asks him: "How do you spell God?" It is an easy question, and the Christian passes through the Gate.
Next came the Muslim, who says, "I did not do any especially good or evil things during my life but I was very devout. I prayed to God five times a day. So, I too should enter Heaven." The Angel replies, "It sounds OK to me, but I have to give you a test also. How do you spell Allah?" The Muslim passes the test and enters Heaven.
Finally, it is the Buddhist's turn. He tells the Angel, "I've done all the good things in my life and I followed Buddha's five precepts: I never killed, I donated to charities, I meditated every day, and I never cheated my boss nor my customers." The Angel replies, "That is very good, but there are no exceptions. You must pass the entrance test also in order to get in." Thinking that the test should be simple, the Buddhist happily agrees.
The Angel then asks him: "How do you spell Avalokitesvara Bodhisattva?"
#joke
Sam has been in business for 2...
Sam has been in business for 25 years and is finally sick of the stress. He quits his job and buys 50 acres in Alaska as far from humanity as possible. He sees the postman once a week and gets groceries once a month. Otherwise it's total peace and quiet. After six months or so of almost total isolation, someone knocks on his door. He opens it and there's a big, bearded man standing there.
"Name's Lars ...Your neighbor from forty miles away....Having a birthday party Friday ... Thought you might like to come. About 5...
"Great," says Sam, "after six months out here I'm ready to meet some local folks. Thank you."
As Lars is leaving, he stops. "Gotta warn you...There's gonna be some drinkin'."
"Not a problem... after 25 years in business, I can drink with the best of em."
Again, as he starts to leave, Lars stops. "More'n'likely gonna be some fightin' too."
Sam says, "Well, I get along with people. I'll be there. Thanks again."
Once again Lars turns from the door. "I've seen some wild sex at these parties, too."
"Now that's really not a problem," says Sam. "I've been all alone for six months! I'll definitely be there. By the way, what should I bring?"
Lars stops in the door again and says, "Whatever you want, just gonna be the two of us".