A man walks into a pharmacy an
A man walks into a pharmacy and wanders up and down the aisles. The sales girl notices him and asks him if she can help him. He answers that he is looking for a box of tampons for his wife. She directs him down the correct aisle. A few minutes later, he deposits a huge bag of cotton balls and a ball of string on the counter.
She says, confused, "Sir, I thought you were looking for some tampons for your wife?"
He answers, "You see, it's like this, yesterday, I sent my wife to the store to get me a carton of cigarettes, and she came back with a tin of tobacco and some rolling papers; cause it's so much cheaper. So, I figure if I have to roll my own ... so does she."
#joke
Encourage Someone Today
A young seminary student went home for Christmas break. A horrible snowstorm stranded the regular minister in another town. The leaders of the congregation asked the young man to substitute for the regular minister.

The young preacher started his sermon by explaining the meaning of a substitute. "If you break a window," he said, "and then place a piece of plywood over the hole -- that's a substitute."

After the sermon, a well-intentioned woman wished to compliment the young man. As she enthusiastically shook his hand, she said: "You were no substitute. You were a real pane!"

The magical frog....
One day in the great forest a magical frog was walking down to a water hole. This forest was so big that the frog had never seen another animal in all his life.
By chance today a bear was chasing after a rabbit to have for dinner. The frog called for the two to stop. The frog said "Because you are the only two animals I have seen, I will grant you both three wishes... Bear, you go first."
The bear thought for a minute, and being the male he was, said "I wish for all the bears in this forest, besides me, to be female." For his wish, the rabbit asked for a crash helmet, and immediately put it on.
The bear was amazed at the stupidity of the rabbit, wasting his wish like that. It was the bear's second turn for a wish. "Well, I wish that all the bears in the next forest were female as well." Rabbit asked for a motorcycle and immediately hopped on it and gunned the engine. The bear was shocked that the rabbit was asking for these stupid things, after all, he could have asked for money and bought the motorcycle.
For the last wish the bear thought for awhile and then said, "I wish that all the bears in the world, besides me, were female."
The rabbit grinned, gunned the engine, and said, "I wish that the bear was gay..."
#joke
It's the Spring of 1957 and B
It's the Spring of 1957 and Bobby goes to pick up his date. He's a pretty hip guy with his own car. When he goes to the front door, the girl's father answers and invites him in.
"Carrie's not ready yet, so why don't you have a seat?" he says.
"That's cool," says Bobby.
Carrie's father asks Bobby what they're planning to do. Bobby replies politely that they will probably just go to the soda shop or a movie.
Carrie's father responds, "Why don't you two go out and screw? I hear all the kids are doing it."
Naturally, this comes as quite a surprise to Bobby, so he asks Carrie's dad to repeat it.
"Yeah," says Carrie's father, "Carrie really likes to screw; she'll screw all night if we let her!"
Well, this just made Bobby's eyes light up, and his plan for the evening was beginning to look pretty good.
A few minutes later, Carrie comes downstairs in her little poodle skirt and announces that she's ready to go. Almost breathless with anticipation, Bobby escorts his date out the front door.
About 20 minutes later, Carrie rushes back into the house, slams the door behind her, and screams at her father: "DARN IT, DADDY! IT'S CALLED THE TWIST!"
#joke
Two prisoners are talking abou...
Two prisoners are talking about their crimes:
George: 'I robbed a bank, and they gave me 20 years'
Herman: 'Hmm. I killed a man, and I'm here for 3 days'
George: 'WHAT!? I rob a bank and get 20 years; you kill a man and get 3 days!?'
Herman: 'Yeah, it was a lawyer.'
Apple Does It Again!
Apple announced today that it has developed a breast implant that can store and play music.
The iTit will cost from $499 to $699, depending on cup size, speaker size, and storage capacity.
This is considered a major social breakthrough, because women are always complaining about
men staring at their breasts and not listening to them.
#joke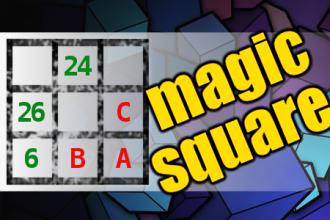 MAGIC SQUARE: Calculate A*B-C
The aim is to place the some numbers from the list (6, 7, 8, 24, 25, 26, 64, 65, 66) into the empty squares and squares marked with A, B an C. Sum of each row and column should be equal. All the numbers of the magic square must be different. Find values for A, B, and C. Solution is A*B-C.
Popular Sayings, modified by the Internet
- Home is where you hang your @
- The E-mail of the species is more deadly than the mail.
- A journey of a thousand sites begins with a single click.
- You can't teach a new mouse old clicks.
- Great groups from little icons grow.
- Speak softly and carry a cellular phone.
- C: is the root of all directories.
- Don't put all your hypes in one home page.
- Pentium wise; pen and paper foolish.
- The modem is the message.
- Too many clicks spoil the browse.
- The geek shall inherit the earth.
- A chat has nine lives.
- Don't byte off more than you can view.
- Fax is stranger than fiction.
- What boots up must come down.
- Windows will never cease.
- In Gates we trust.
- Virtual reality is its own reward.
- Modulation in all things.
- A user and his leisure time are soon parted.
- Give a man a fish and you feed him for a day; teach him to use the Net and he won't bother you for weeks.
- There's no place like http://www.home.com
- Know what to expect before you connect.
- Oh, what a tangled Web site we weave when first we practice.
- Speed thrills.
#joke