The doctor had just completed
The doctor had just completed his examination of the gorgeous red haired beauty.
"I would suggest to you, young lady," began the medic, as he regained some of his professional dignity, "that you discontinue some of your running around. Stop drinking so much, cut down on your smoking, and above all you will have to start eating properly and getting to bed early."
Then, as a pleasant afterthought, he added: "Why not have dinner with me tonight? I'll see to it that you have the proper food and that you'll be in bed by 9:00!"
Bob, a lawyer, was driving hom
Bob, a lawyer, was driving home over the Golden Gate Bridge after spending a great day on the ocean fishing. His catch, cleaned and filleted, was wrapped in newspaper on the passenger-side floor. He was late getting home and was speeding... Wouldn't you know that a cop jumped out, radar gun in hand, and motioned him to the side of the bridge. Bob pulled over like a good citizen.
The cop walked up to the window and said, "You know how fast you were going, boy?"
Bob thought for a second and said, "Uh, 60?"
"67 miles per hour, son! 67 miles per hour in a 55 zone!" said the cop.
"But if you already knew, officer," replied Bob, "why did you ask me?"
Fuming over Bob's answer, the officer growled and said in his sarcastic fashion, "That's speeding, and you're getting a ticket and a fine!"
The cop took a good close look at Bob in his stained fishing attire and said, "You don't even look like you have a job! Why, I've never seen anyone so scruffy in my entire life!"
Bob answered, "I've got a job! I have a good, well-paying job!"
The cop leaned in the window, smelling Bob's fish, and said, "What kind of job would a bum like you have?"
"I'm a rectum stretcher!" replied Bob.
"What did you say, boy?" asked the patrolman.
"I'm a rectum stretcher!"
The cop, scratching his head, asked, "What does a rectum stretcher do?"
Bob explained, "People call me up and say they need to be stretched, so I go over to their house. I start with a couple of fingers, then a couple more, then one whole hand, and then two. Then I slowly pull them farther and farther apart until it's a full six feet across."
The cop, absorbed with these bizarre images in his mind, asked, "What the hell do you do with a six-foot assh*le?"
Bob said, "You give him a radar gun and place him by a bridge!"
True Love
Boyfriend: Honey, on this Valentine's Day, I want to tell you something... I'm not rich like Robert. I don't have a mansion like Gary. I don't have a Porsche like Martin. But I do love you and I want to marry you.
Girlfriend: Oh dear, I love you too! What was that you said about Martin?
#joke
Fat free....
I stopped at a fast-food restaurant recently. I was fascinated by a sign which offered Fat-Free French Fries. I decided to give them a try.
I was dismayed when the clerk pulled a basket of fries from the fryer, which was dripping with fat. He filled a bag with these fries and put them in my order.
"Just a minute!" I said. "Those aren't fat-free."
"Yes, they are. We only charge for the potatoes . . . the fat is free!"
#joke
The Florist
A new business was opening and one of the owner's friends wanted to send him flowers for the occasion. They arrived at the new business site and the owner read the card, which said: 'Rest in Peace.'
The owner was angry and called the florist to complain. After he had told the florist of the obvious mistake and how angry he was, the florist replied:
'Sir, I'm really sorry for the mistake, but rather than getting angry, you should imagine this - somewhere, there is a funeral taking place today, and they have flowers with a note saying: 'Congratulations on your new location!''
#joke
Tech line
The prime minister of India was at the White House.
One embarrassing moment was when President Bush said to the prime minister, 'Could you take a look at my computer?'
'I'm having some problems with it, I can't seem to get through on the tech line.'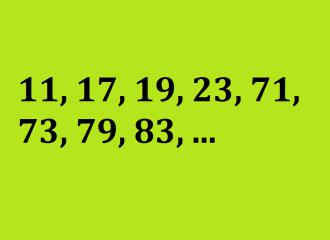 What number comes next in th...
What number comes next in the following series 11, 17, 19, 23, 71, 73, 79, 83, ?
A little boy comes down for br...
A little boy comes down for breakfast and his mother asks if he had done his chores. "Not yet," says the little boy.
His mother tells him that until he completes them, he won't be getting any breakfast.
Well, he's a little angry, so he goes to feed the chickens and kicks one. He goes to feed the cows, and kicks a cow as well. He goes to feed the pigs, and he kicks a pig.
He goes back in for breakfast and his mother gives him a bowl of dry cereal. "How come I don't get any eggs and bacon? Why don't I have any milk in my cereal?" he asks.
"Well," his mother says, "I saw you kick a chicken, so you don't get any eggs for a week. I saw you kick the pig, so you don't get any bacon for a week either. I also saw you kick the cow, so for a week you aren't getting any milk."
Just then, his father comes down for breakfast and kicks the cat half way across the kitchen.
The little boy looks up at his mother with a smile and says, "Are you going to tell him, or shall I?"
#joke
Natasha Leggero: Male Comics
Male comics are always coming up to me, and theyre like, Hey, Natasha, dont you think youre a little attractive to be a comedian? And Im like, Dont you think youre a little ugly to be talking to me?
The Israeli Archaeologist
An archaeologist was digging in the Negev Desert in Israel and came upon a casket containing a mummy, a rather rare occurrence in Israel, to say the least. After examining it, he called Abe, the curator of the Israel museum in Jerusalem.
"I've just discovered a 3,000 year old mummy of a man who died of heart failure!" the excited scientist exclaimed. Abe replied, "Bring him in. We'll check it out."
A week later, the amazed Abe called the archaeologist. "You were right about both the mummy's age and cause of death. How in the world did you know?"
"Easy. There was a piece of paper in his hand that said, '10,000 Shekels on Goliath'."
#joke