Speaking to her two daughters,
Speaking to her two daughters, a mother said, "When we get home you need to clean your bedrooms. Your grandmother is coming to visit us tonight and I want the whole house to look tidy."
The younger daughter answered, "We will, Mommy. But isn't that kind of like, lying?"

Answer Machine Greeting
"I am not available right now, but thank you for caring enough to call. I am making some changes in my life...
Please leave a message after the beep. If I do not return your call, you are one of the changes."
New secretary
A guy walked into his friend's office, he found him sitting at his desk, looking very depressed.
"Hey, what's up with you?", he asks.
"Oh, its my wife," replied the man sadly. "She's hired a new secretary for me."
"Well, nothing wrong in that. Is she blonde or brunette?"
"Neither, He's bald."
One of the airlines recently i
One of the airlines recently introduced a special half-fare rate for wives accompanying their husbands on business trips.
Anticipating some valuable testimonials, the publicity department of the airline sent out letters to all the wives of businessmen who used the special rates, asking how they enjoyed their trip.
Responses are still pouring in asking, "What trip?"
#joke
The Marriage of Miss Bad Breath and Mr. Smelly Feet
A young couple, madly in love, decided to get married. But as the wedding day neared, both grew increasingly nervous over secret problems they had never shared with anyone. Privately, the groom-to-be approached his minister.
"I'm really concerned about this marriage," the young man said.
"Don't you love her?" the pastor asked in surprise.
"Of course," the groom said. "But I have unbelievably smelly feet—and I'm afraid my fiancée won't be able to stand them."
"Oh, is that all?" the pastor replied. "Look, all you need to do is wash your feet twice a day and wear socks all the time."
The groom thought it over and decided it just might work.
Meanwhile, the nervous bride had privately approached the minister's wife. "I'm so worried," she sobbed. "I have really bad breath when I wake up each day!"
"Oh, dear," the pastor's wife replied," everyone has bad breath in the morning. Don't worry about it."
"No, you don't understand," the bride implored. "My morning breath is so awful, my fiancé won't even want to be near me!"
"Well, I have an idea," the pastor's wife said soothingly. "Set your alarm just a few minutes before your husband wakes up. Run to the bathroom, brush your teeth, and gargle with mouthwash before he gets out of bed. The key is not to say anything until you've taken care of your breath."
The bride thought it over and decided it just might work.
In time, a beautiful wedding was held and the bride and groom enjoyed the day without once worrying about their secret problems. For several months they managed to keep their issues to themselves.
They one morning, the husband awoke before dawn to find that one of his socks had come off in the night. Frantic, he searched the bed, afraid of what might happen if he didn't find his sock soon. His bride woke with a start, and, without thinking, blurted out, "What in the world are you doing?"
"Oh, dear!" the young man wailed. "You swallowed my sock!"
From "The Book of Church Jokes," published by Barbour Publishing, Inc., Uhrichsville, Ohio. Copyright 2009. Used by permission of Barbour Publishing, Inc.
#joke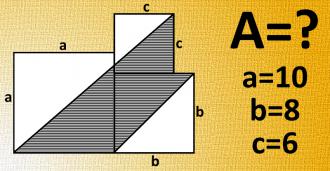 Find the area of the shaded ...
Find the area of the shaded region accurate up to 3 decimal places. (a=10, b=8, c=6)
During a terrible storm, all t...
During a terrible storm, all the highway signs were covered with snow. The following spring, the state decided to raise all the signs twelve inches at a cost of six million dollars. "That's an outrageous price!" said a local farmer, "but I guess we're lucky the state handled it instead of the federal government." "Why's that?"
"Because knowing the federal government, they'd decided to lower the highways."
#joke
Mom Would Never Say
Things Mom Would Never Say


"How on earth can you see the TV sitting so far back?"

"Yeah, I used to skip school a lot, too"

"Just leave all the lights on ... it makes the house look more cheery"

"Let me smell that shirt -- Yeah, it's good for another week"

"Go ahead and keep that stray dog, honey. I'll be glad to feed and walk him every day"

"Well, if Timmy's mom says it's OK, that's good enough for me."

"The curfew is just a general time to shoot for. It's not like I'm running a prison around here."

"I don't have a tissue with me ... just use your sleeve"

"Don't bother wearing a jacket - the wind-chill is bound to improve"

#joke
Myq Kaplan: Long Distance Relationship
The best part about dating someone who is overweight is, if its long distance, the distance is slightly less long. And gravity pulls you even closer. So, science really working for you.