Mother: "When I was your age,
Mother: "When I was your age, my mother used to hide money around the house for me that I would find only if I performed my chores particularly well. One time when I was cleaning out the cupboards for her, I found $20 under the old shelf paper."
Daughter: "Wow! What a cool idea! Why didn't you ever do that with me?"
Mother: "But my dear ... I have been."
#joke
Limousine Driver
Just spent $300 on a limousine and discovered that the fee doesn't include a driver...
Can't believe I've spent all that money and have nothing to chauffeur it!
Old is when...
Your sweetie says, 'Let's go upstairs and make love,' and you answer, 'Honey, I can't do both!'
Your friends compliment you on your new alligator shoes and you're barefoot.
A sexy babe catches your fancy and your pacemaker opens the garage door.
You don't care where your spouse goes, just as long as you don't have to go along.
You are cautioned to slow down by the doctor instead of by the police.
'Getting a little action' means, 'I don't need to take any fiber today.'
'Getting lucky' means you find your car in the parking lot.
You start saying things like, 'Gee, this sebaceous cyst is killing me!'
Someone mistakes you for a sun-dried tomato while you're shopping at the grocery store.
An 'all nighter' means not getting up to pee!
The elderly priest, speaking t...
The elderly priest, speaking to the younger priest, said, "It was a good idea to replace the first four pews with plush bucket theater seats. It worked like a charm. The front of the church always fills first now."
The young priest nodded, and the old priest continued, "And you told me adding a little more beat to the music would bring young people back to church, so I supported you when you brought in that rock'n'roll gospel choir. Now our services are consistently packed to thebalcony."
"Thank you, Father," answered the young priest. "I am pleased that you are open to the new ideas of youth."
"All of these ideas have been well and good," said the elderly priest, "but I'm afraid you've gone too far with the drive-thru confessional."
"But, Father," protested the young priest, "my confessions and the donations have nearly doubled since I began that!"
"Yes," replied the elderly priest, "and I appreciate that.
But the flashing neon sign, 'Toot 'n Tell or Go to Hell' cannot stay on the church roof.
#joke
If God Had Voice Mail
Thank you for calling heaven.
I am sorry, all of our angels and saints are busy helping other sinners right now. However, your prayer is important to us and we will answer it in the order it was received. Please stay on the line.
If you would like to speak to:
God, press 1.
Jesus, press 2.
The Holy Spirit, press 3.
If you would like to hear King David sing a Psalm while you are holding, press 4.
To find a loved one who has been assigned to Heaven, press 5, then enter his or her social security number followed by the pound sign. (If you get a negative response, please hang up and try area code 666.)For reservations in heaven, please enter J-O-H-N 3:16
For answers to nagging questions about dinosaurs, the age of the earth, life on other planets, and where Noah's Ark is, please wait until you arrive.
If you are calling after hours and need emergency assistance, please contact your local pastor.
#joke
Should Have Glasses
A policeman stops a lady and asks for her license. He says "Lady, it says here that you should be wearing glasses."
The woman answered "Well, I have contacts."
The policeman replied "I don't care who you know! You're getting a ticket!"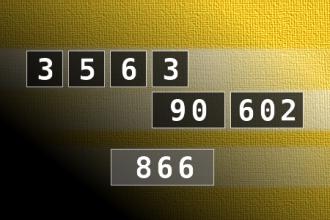 Calculate the number 866
NUMBERMANIA: Calculate the number 866 using numbers [3, 5, 6, 3, 90, 602] and basic arithmetic operations (+, -, *, /). Each of the numbers can be used only once.
In a certain suburban neighbor
In a certain suburban neighborhood, there were two brothers, 8 and 10 years old, who were exceedingly mischievous. Whatever went wrong in the neighborhood, it turned out they had had a hand in it. Their parents were at their wit's end trying to control them.
Hearing about a priest nearby who worked with delinquent boys, the parents thought that they should ask the priest to talk with the boys. The priest agreed to talk with the boys and asked to see the younger boy first. So the mother sent him to the priest.
The priest sat the boy down across a huge, impressive desk he sat behind. For about five minutes they just sat and stared at each other. Finally, the priest pointed his forefinger at the boy and asked, "Where is God?"
The boy looked under the desk, in the corners of the room, all around, but said nothing.
Again, louder, the priest pointed at the boy and asked "Where is God?"
Again the boy looked all around but said nothing.
A third time, in a louder, firmer voice, the priest leaned far across the desk and put his forefinger almost to boy's nose, and asked, "Where is God? The boy panicked and ran all the way home.
Finding his older brother, he dragged him upstairs to their room and into the closet, where they usually plotted their mischief.
He finally said, "We are in BIIIIG trouble."
The older boy asked, "What do you mean, BIIIIG trouble?"
His brother replied, "God is missing and they think we did it."
#joke
I Want This Done Right
A man with a piece of paper in his hand comes into an office where another man is sitting next to a shredding machine.
"Do you know how to operate this thing?" he asks. "I have an important paper here and I want to make sure this is done right."
"Sure," the other man answers. "Just put the paper in here and press this button."
The first man does so, saying, "Great. And where do the copies come out?"
#joke