A man walks up to the drugstor
A man walks up to the drugstore counter and asks for some condoms. The man behind the counter tells him to go see Edna in aisle 4.
So the man finds Edna. Edna grabs him by the crotch, then gets on the PA system and says, "Medium condom. Medium condom."
The man is very embarrassed, but goes to the counter to get his condoms.
Later, a second man goes up to the counter to get some condoms. The druggist tells him to go see Edna in aisle 4.
Same thing happens, Edna grabs his crotch, gets on the PA and says, "Large condom, this man needs a large condom."
The man is quite pleased, and goes to pick up his condoms.
Next a teenager goes into the drugstore to buy some condoms for the very first time. He's told to go see Edna is aisle 4.
Edna grabs his crotch, gets on the PA and says, "Clean-up in aisle 4, clean-up in aisle 4."
#joke
The Perfect Poem...
I have a spelling checker,
It came with my PC;
It plainly marks four my revue,
Mistakes I cannot sea;
I've run this poem threw it,
I'm sure your please to no;
Its letter perfect in it's weigh,
My checker tolled me sew.
The day care teacher holds up
The day care teacher holds up a picture and asks, "What's this?" "A horsy," one child answers.
"And this?" the teacher asks. "A piggy," replies another youngster."
And now this one?" asks the teacher, holding up a picture of a male deer with a beautiful rack of antlers. There was no answer, only total silence. "Come now, children," she coaxes, "I'll give you a little hint".
What does your Mommy call your Daddy when he hugs and kisses her a lot? "I know! I know!!" exclaims one little girl.
"It's a horny bastard!"
#joke
Moral of the story
O n elephant and a mouse are walking together through the jungle when the elephant falls into a very large hole. The hole is so large that try as he might, the elephant is unable to climb out.
So the mouse says, "Hang around, I'll get something to drag you out with" and leaves. A little while later the mouse returns driving a Porsche and with a rope tied to the bumper bar and he drags the elephant out of the hole.
The two friends continue their stroll through the jungle when all of a sudden, the mouse falls into a hole. The elephant immediately stands over the hole and squatting over it, lowers his penis so the mouse can grab it and lift himself out of the hole.
The moral of this story is that "If your dick is long enough you dont need a Porsche."
#joke
Circle of flies....
A farmer got pulled over by a state trooper for speeding, and the trooper started to lecture the farmer about his speed, and in general began to throw his weight around to try to make the farmer uncomfortable. Finally, the trooper got around to writing out the ticket, and as he was doing that he kept swatting at some flies that were buzzing around his head.
The farmer said, 'Having some problems with circle flies there, are ya?' The trooper stopped writing the ticket and said, 'Well yeah, if that's what they are, but I never heard of circle flies.'
So the farmer says, 'Well, circle flies are common on farms. See, they're called circle flies because they're almost always found circling around the back end of a horse.'
The trooper says, 'Oh,' and goes back to writing the ticket. Then after a minute he stops and says, 'Hey...wait a minute, are you trying to call me a horse's ass?'
The farmer says, 'Oh no, officer. I have too much respect for law enforcement and police officers to even think about calling you a horse's ass.'
The trooper says, 'Well, that's a good thing,' and goes back to writing the ticket.
After a long pause, the farmer says, 'Hard to fool them flies though...'
#joke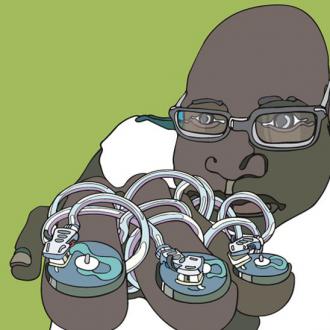 Guess the name of musician
Look carefully caricature and guess the name of musician.
The Marriage of Miss Bad Breath and Mr. Smelly Feet
A young couple, madly in love, decided to get married. But as the wedding day neared, both grew increasingly nervous over secret problems they had never shared with anyone. Privately, the groom-to-be approached his minister."I'm really concerned about this marriage," the young man said."Don't you love her?" the pastor asked in surprise."Of course," the groom said. "But I have unbelievably smelly feet—and I'm afraid my fiancée won't be able to stand them.""Oh, is that all?" the pastor replied. "Look, all you need to do is wash your feet twice a day and wear socks all the time."The groom thought it over and decided it just might work.Meanwhile, the nervous bride had privately approached the minister's wife. "I'm so worried," she sobbed. "I have really bad breath when I wake up each day!""Oh, dear," the pastor's wife replied," everyone has bad breath in the morning. Don't worry about it.""No, you don't understand," the bride implored. "My morning breath is so awful, my fiancé won't even want to be near me!""Well, I have an idea," the pastor's wife said soothingly. "Set your alarm just a few minutes before your husband wakes up. Run to the bathroom, brush your teeth, and gargle with mouthwash before he gets out of bed. The key is not to say anything until you've taken care of your breath."The bride thought it over and decided it just might work.In time, a beautiful wedding was held and the bride and groom enjoyed the day without once worrying about their secret problems. For several months they managed to keep their issues to themselves. They one morning, the husband awoke before dawn to find that one of his socks had come off in the night. Frantic, he searched the bed, afraid of what might happen if he didn't find his sock soon. His bride woke with a start, and, without thinking, blurted out, "What in the world are you doing?""Oh, dear!" the young man wailed. "You swallowed my sock!"From "
The Book of Church Jokes
," published by
Barbour Publishing, Inc.
, Uhrichsville, Ohio. Copyright 2009. Used by permission of Barbour Publishing, Inc.
#joke
Juston McKinney: Stay Off My Wall
My wife is actually a little upset with me right now because I wont approve her as a friend on my Facebook. Im like, You got every wall in the house. Can I have one wall without you popping up on and ruining it? Stay off my wall.