A new widow requested the epit
A new widow requested the epitaph "Rest in Peace" for her husband's tombstone. When she later found he had left his fortune to his mistress, she attempted to get the engraver to change the carving. This was impossible; the words were chiseled and could not be changed.
"In that case," she said, "please add Until We Meet Again."
#joke
The Slammer
Prison is just one word to you...
But for some people, it's a whole sentence.

Advice from children...
1. Never trust a dog to watch your food. - Patrick, age 10
2. When your dad is mad and asks you, 'Do I look stupid?' don't answer him. - Michael, 14
3. Never tell your mom her diet's not working. - Michael, 14
4. Stay away from prunes. - Randy, 9
5. Never pee on an electric fence. - Robert, 13
6. Don't squat with your spurs on. - Noronha, 13
7. Don't pull dad's finger when he tells you to. - Emily, 10
8. When your mom is mad at your dad, don't let her brush your hair. - Taylia, 11
9. Never allow your three-year old brother in the same room as your school assignment. - Traci, 14
10. Never hold a dust buster and a cat at the same time. - Kyoyo, 9
11. You can't hide a piece of broccoli in a glass of milk. - Armir, 9
12. Felt markers are not good to use as lipstick. - Lauren, 9
13. Don't pick on your sister when she's holding a baseball bat. - Joel, 10
14. When you get a bad grade in school, show it to your mom when she's on the phone. - Alyesha, 13
15. Never try to baptize a cat. - Eileen, 8
#joke
A Silent Bomb in Church
An elderly couple were in church. The wife leaned over and whispered to her husband, "I just let out a long silent fart... what should I do?"
The husband replied, "Replace the batteries in your hearing aid."
- Joke shared by Beliefnet member eyesoftheworld
#joke
Looking for a Lumberjack...
A large, well established, Canadian lumber camp advertised that they were looking for a good Lumberjack.
The very next day, a skinny little man showed up at the camp with his axe, and knocked on the head lumberjacks' door. The head lumberjack took one look at the little man and told him to leave.
"Just give me a chance to show you what I can do," said the skinny man.
"Okay, see that giant redwood over there?" said the lumberjack. "Take your axe and go cut it down."
The skinny man headed for the tree, and in five minutes he was back knocking on the lumberjack's door.
"I cut the tree down," said the man.
The lumberjack couldn't believe his eyes and said, "Where did you get the skill to chop down trees like that?"
"In the Sahara Forest," replied the puny man.
"You mean the Sahara Desert," said the lumberjack.
The little man laughed and answered back, "Sure, that's what they call it NOW!"
#joke
A pregnant woman went to the g...
A pregnant woman went to the gynecologist, and when asked that was the problem, she responded, "Well, whenever I take off my clothes, my nipples get hard."
Shocked, the doctor took a deep breath, then asked, "Your nipples get hard?"
"Yes" quite innocently came her reply.
"Undress so I can check" replied the still amazed doc.
So, she undressed, and he got down to the feeling and massaging, trying to reach an answer.
After some considerable time, the doctor, still looked puzzled, said, "Well madame, I don't know what you have, but it sure as hell is contagious!"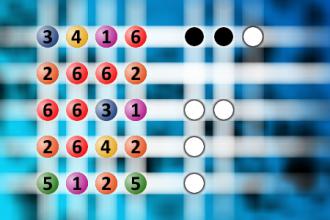 What a winning combination?
The computer chose a secret code (sequence of 4 digits from 1 to 6). Your goal is to find that code. Black circles indicate the number of hits on the right spot. White circles indicate the number of hits on the wrong spot.