Two delicate blossoms of South
Two delicate blossoms of Southern femininity, one from Mississippi and the other from Texas, were conversing on the porch swing of a large white-pillared mansion. The Mississippian said, "When my first child was born, my husband built this beautiful mansion for me."
The Texan lady commented, "Well, isn't that nice?"
The lady from Mississippi continued, "When my second child was born, my husband bought me that fine Cadillac automobile you see parked in the drive."
Again, the Texas lady commented, "Well, isn't that nice?"
The first woman boasted, "Then, when my third child was born, my husband bought me this exquisite diamond bracelet."
Yet again, the Texas lady commented, "Well, isn't that nice?"
The first woman then asked her companion, "What did your husband buy for you when you had your first child?"
The Texas lady replied, "My husband sent me to charm school."
"Charm school!" the first woman cried. "Land sakes, child, what on Earth for?"
The Texas lady responded, "So that instead of saying, 'Who gives a crap', I learned to say, 'Well, isn't that nice?'"
#joke
Stranded Salesman
A traveling salesman was held up by a bad storm in the Hawaiian Islands.
He sent an e-mail to his corporate headquarters advising them that he was stranded for a few days and requested instructions.
The reply came back shortly: "Begin vacation as of yesterday."
#joke
Things you don't want to hear from tech support...
'Do you have a sledgehammer or a brick handy?'
'...that's right, not even McGyver could fix it.'
'So... what are you wearing?'
'Duuuuuude! Bummer!'
'Press 1 for Support. Press 2 if you're with 60 Minutes. Press 3 if you're with the FTC.'
'We can fix this, but you're gonna need a butter knife, a roll of duct tape, and a car battery.'
'In layman's terms, we call that the Hindenburg Effect.'
'Hold on a second... Mom! Timmy's hitting me!'
'Okay, turn to page 523 in your copy of Dianetics.'
'Please hold for Mr. Gates' attorney.'
#joke
The Sklar Brothers: Aggressive Advertising
Jason Sklar: It was the most aggressive advertisement weve ever seen. It was a bus bench ad advertising bus bench ads.
Randy Sklar: It was like the M.C. Escher of advertising
Answering Machine Message 251

Alpha Centauri Space Station. Commander Marlin can't come to the phone right now. He's either saving the universe from some dread, unnamed peril, or perhaps taking a nappie. Leave your name and number after the beep and he will return your call.


Chelsea Peretti: Getting Attacked
I always think, what would I do if someone tried to get me? My first thought is just something dumb, like Id try to pick my nose and just be gross. In my mind a rapist is just some white hat frat boy whod just be like, Ugh nasty, forget it. Learn some manners.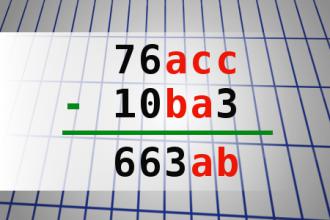 Find number abc
If 76acc - 10ba3 = 663ab find number abc. Multiple solutions may exist.
School Report
Our 15-year-old daughter, Melanie, had to write a report for school about World War II, specifically D-Day and the invasion of Normandy.
"Isn't there a movie about that?" she asked.
I told her there was, but I couldn't think of the name.
Then it came to her, "Oh, I remember! Isn't it something like 'Finding Private Nemo'?"
#joke
Our Favorite Lightbulb Jokes
HOW MANY ZEN BUDDHISTS DOES IT TAKE TO CHANGE A LIGHTBULB?
A: Three. One to change the lightbulb, one NOT to change the lightbulb, and one to neither change nor not change the lightbulb.
HOW MANY EPISCOPALIANS DOES IT TAKE TO CHANGE A LIGHTBULB?
A: Eight. One to call the electrician, and seven to say how much they liked the old one better.
HOW MANY UNITARIANS DOES IT TAKE TO CHANGE A LIGHTBULB?
A: The Unitarians wish to issue the following statement:
"We choose not to make a statement either in favor of or against the need for a lightbulb; however, if in your own journey you have found that lightbulbs work for you, that is fine. You are invited to write a poem or compose a modern dance about your personal relationship with your lightbulb, and present it next month at our annual lightbulb Sunday service, in which we will explore a number of lightbulb traditions, including incandescent, fluorescent, three-way, long-life and tinted, all of which are equally valid paths to luminescence."
HOW MANY PENTECOSTALS DOES IT TAKE TO CHANGE A LIGHTBULB?
A: Ten. One to change the bulb and nine to pray against the spirit of darkness.
#joke