Have a great time for
Christmas
, check out our latest
Christmas jokes of 2022
on:
Christmas jokes collection
A man travels to Spain and goe
A man travels to Spain and goes to a Madrid restaurant for a late dinner. He orders the house special and he is brought a plate with potatoes, corn, and two large meaty objects. "What's this?" he asks.
"Cojones, senor," the waiter replies.
"What are cojones?" the man asks.
"Cojones," the waiter explains, "are the testicles of the bull who lost at the arena this afternoon."
At first the man is disgusted, but being the adventurous type, he decides to try this local delicacy. To his amazement, it is quite delicious. In fact, it is so good that he decides to come back again the next night and order it again.
After dinner the man informed the waiter that these were better than the pair he had the previous afternoon but the portion was much smaller.
"Senor," the waiter explains, "the bull does not lose every time."
#joke
My Child
I was dismayed this afternoon when my wife told me my 6-year-old son wasn't actually mine.
She then said I need to pay more attention at school pick up.

Deserted island
Harry was shipwrecked on a deserted island. For several months, he longed for someone to talk to; searched the horizons for even the suggestion of a ship.
One day, his committment was rewarded: A beautiful woman was washed up onto the beach, floating on a large steamer trunk. Harry got her all settled, and fed, and dried off and they started talking.
April asked Harry, "what is something you've REALLY missed being out here on a desserted island for so long?"
"A clean shirt," was Harry's response. With a huff, April reached into the steamer trunk and tossed Harry a shirt.
April let out a short huff, but persevered: "Surely there's SOMETHING you've really missed out here...all alone...on an island with NOBODY all this time?"
"Oh wow, YEAH, there sure is: I'd REALLY like a dry pillow to sleep on."
April reached into her steamer trunk once again and tossed Harry a pillow; and she would not be put off. Striking her most alluring pose, she asked in her most provocative voice, "C'mon, Harry, wouldn't you like to play around?"
Harry got all excited and started jumping up and down. "Don't tell me you have a set of GOLF CLUBS in there, too?!???!?!"
#joke
A blonde is terribly overweigh...
A blonde is terribly overweight, so her doctor put her on adiet. "I want you to eat regularly for 2 days, then skip a day,and repeat this procedure for 2 weeks. The next time I see you,you'll have lost at least 5 pounds."
When the blonde returned, she shocked the doctor by losingnearly 20 pounds.
"Why, that's amazing!" the doctor said, "Did you follow myinstructions?"
The blonde nodded... "I'll tell you though, I thought I wasgoing to drop dead that 3rd day."
"From hunger, you mean?", asked the doctor."
"No, from skipping."
A man with a bag of Lays potat...
A man with a bag of Lays potato chips taunted Chuck Norris: "Betcha can't eat just one!" Chuck Norris ate the chips, the bag, and the man.
A Puzzle for Darwin
On the sixth day, God created the platypus. And God said: Let's see the evolutionists try and figure this one out.
FLEX WORDLE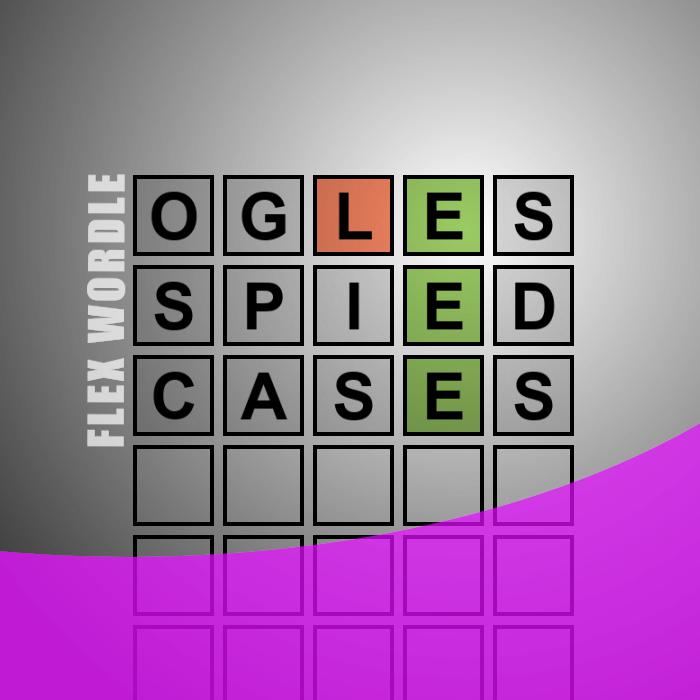 Guess the
WORDLE
in 3 tries. After each guess, the color of the tiles will change to show how close your guess was to the solution.
One day a little girl was sitt...
One day a little girl was sitting and watching her mother do the dishes at the kitchen sink. She suddenly noticed that her mother had several strands of white hair sticking out in contrast on her brunette head.
She looked at her mother and inquisitively asked, "Why are some of your hairs white, Mom?"
Her mother replied, "Well, every time that you do something wrong and make me cry or unhappy, one of my hairs turns white."
The little girl thought about this revelation for a while and then said, "Momma, how come ALL of grandma's hairs are white?"
#joke
Helicopter Flying Lessons
A blonde went to a flight school insisting she wanted to
learn to fly.
As all the planes were currently in use, the owner agreed to
instruct her by radio on how to pilot the solo helicopter.
He took her out, showed her how to start it and gave her the
basics, and sent her on her way. After she climbed 1000
feet, she radioed in. "I'm doing great! I love it! The view
is so beautiful, and I'm starting to get the hang of this."
After 2000 feet, she radioed again, saying how easy it was
to fly. The instructor watched her climb over 3000 feet, and
was beginning to worry that she hadn't radioed in.
A few minutes later, he watched in horror as she crashed
about half a mile away. He ran over and pulled her from the
wreckage.
When he asked what happened, she said, "I don't know!
Everything was going fine, but as I got higher, I was
starting to get cold. I can barely remember anything after I
turned off the big fan!"