Math On the Floor
My math teacher asked me why I was doing my math homework on the floor.
I said: "You told us to do them without using tables."
A man was sitting in a bar and
A man was sitting in a bar and noticed a group of people using sign language. He also noticed that the bartender was using sign language to speak to them.
When the bartender returned to him, the man asked how he had learned to use sign language. The bartender explained that these were regular customers and had taught him to speak in sign. The man thought that was great.
A few minutes later the man noticed that the people in the group were waving their hands around very wildly. The bartender looked over and signed, "Now cut that out! I warned you!" and threw the group out of the bar.
The man asked why he had done that and the bartender said, "If I told them once I told them 100 times - no singing in the bar!"
#joke
Prove your identity...
George W. Bush, Albert Einstein and Pablo Picasso have all died.
Due to a glitch in the mundane/celestial time-space continuum, all three arrive at the Pearly Gates more or less simultaneously, even though their deaths have taken place decades apart.
The first to present himself to Saint Peter is Einstein. Saint Peter questions him. "You look like Einstein, but you have NO idea the lengths certain people will go to, to sneak into Heaven under false pretenses. Can you prove who you really are?"
Einstein ponders for a few seconds and asks, "Could I have a blackboard and some chalk?" Saint Peter complies with a snap of his fingers.
The blackboard and chalk instantly appear. Einstein proceeds to describe with arcane mathematics and symbols his special theory of relativity.
Saint Peter is suitably impressed. "You really *are* Einstein! Welcome to heaven!"
The next to arrive is Picasso. Once again Saint Peter asks for his credentials. Picasso doesn't hesitate. "Mind if I use that blackboard and chalk?" Saint Peter says, "Go ahead."
Picasso erases Einstein's scribbles and proceeds to sketch out a truly stunning mural. Bulls, satyrs, nude women: he captures their essences with but a few strokes of the chalk.
Saint Peter claps. "Surely you are the great artist you claim to be! Come on in!"
The last to arrive is George W. Bush. Saint Peter scratches his head. "Einstein and Picasso both managed to prove their identity. How can you prove yours?"
George W. looks bewildered, "Who are Einstein and Picasso?"
Saint Peter sighs, "Come on in, George."
#joke
The dean of women at an exclus...
The dean of women at an exclusive girl's college was lecturing her students on sexual morality.
"In moments of temptation," said the speaker to the class, "ask yourselfjust one question: Is an hour of pleasure worth a lifetime of shame?"
A sweet young thing in the back of the room rose to ask: "How do youmake it last an hour?"
#joke
Todd Barry: Book Lights
They sell book lights now, a little spotlight you attach to your book. You know, I actually thought about buying one of these, and then I remembered, I own a lamp.
Don't Step on the Ducks
Three guys die together in an accident and go to heaven. When they get there, St. Peter says, "We only have one rule here in heaven: Don't step on the ducks!"
So they enter heaven, and sure enough, there are ducks all over the place. It is almost impossible not to step on a duck, and although they try their best to avoid them, the first guy accidentally steps on one.
Along comes St. Peter with the ugliest woman he has ever seen. St. Peter chains them together and says, "Your punishment for stepping on a duck is to spend eternity chained to the ugly woman!"
The next day, the second guy steps accidentally on a duck, and along comes St. Peter, who doesn't miss a thing, and with him is another extemely ugly woman. He chains them together with the same admonishment as for the first guy.
The third guy has observed all this and not wanting to be chained for all eternity to an ugly woman, is very, VERY careful where he steps. He manages to go months without stepping on any ducks, but one day St. Peter comes up to him with the most gorgeous woman he has ever laid eyes on: a very tall, tan, curvaceous, sexy blonde. St. Peter chains them together without saying a word.
The guy remarks, "I wonder what I did to deserve being chained to you for all of eternity?"
She says, "I don't know about you, but I stepped on a duck!"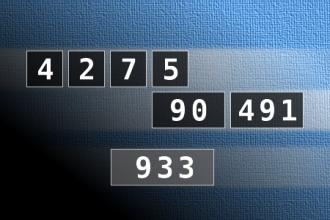 Calculate the number 933
NUMBERMANIA: Calculate the number 933 using numbers [4, 2, 7, 5, 90, 491] and basic arithmetic operations (+, -, *, /). Each of the numbers can be used only once.
Dream
After she woke up, a woman told her husband,
"I just had a dream that you gave me the most beautiful diamond necklace. What do you think it means?"
"You'll know tonight." he said with a smile.
The woman could hardly think of anything else all day and she couldn't wait for her husband to return home.
That evening, the man finally came home with a small package and gave it to his wife.
Delighted, she opened it excitedly to find a book entitled…
"The Meaning of Dreams"
#joke
Chuck Norris can win a game of...
Chuck Norris can win a game of Connect Four in only three moves.
Peanut Butter Rooster
Q: What do you get when you cross a rooster with a jar of peanut butter?
A: A cock that sticks to the roof of your mouth.