Drum Solo
The longest drum solo was 10 hours and 26 minutes...
And it was performed by the child sitting behind me on Delta flight 963 from LA to Tokyo.
Harmonica
"Thanks for the harmonica you gave me for Christmas," little Joshua said to his uncle the first time he saw him after the holidays. "It's the best present I ever got."
"That's great," said his uncle. "Do you know how to play it?"
"Oh, I don't play it," the little fellow said. "My mom gives me a dollar a day not to play it during the day and my dad gives me five dollars a week not to play it at night.
YOU know you need a Different Lawyer ...
YOU know you need a Different Lawyer when ......
* You met him in prison.
* During your initial consultation he tries to sell you Amway.
* He tells you that his last good case was a Budweiser.
* When the prosecutors see who your lawyer is, they high-five each other.
* He picks the jury by playing "duck-duck-goose."
* He tells you that he's never told a lie.
* He asks a hostile witness to "pull my finger."
* A prison guard is shaving your head.
Answering Machine Message 225
(Oriental voice:) Hello, you have reached honorable Chan's residence. I, Kato, will go and get honorable Chan. (Godzilla scream.) Oh no! Godzilla coming! Please leave name and number at gong and Chan will call back if house still here.
Salvation by Annoyance
An exasperated mother, whose son was always getting into mischief, finally asked him, "How do you expect to get into Heaven?"
The boy thought it over and said, "Well, I'll run in and out and in and out and keep slamming the door until St. Peter says, 'For Heaven's sake, Dylan, come in or stay out!'"
#joke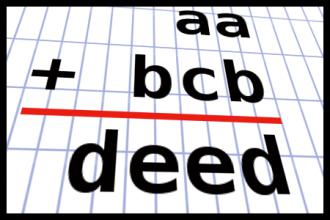 Determine the value of the number ABCDE
Determine the value of the number ABCDE
Shy guy in bar
A very shy guy goes into a bar and sees a beautiful woman sitting at the bar.
After an hour of gathering up his courage he finally goes over to her and asks, tentatively, "Um, would you mind if I chatted with you for a while?"
To which she responds by yelling, at the top of her lungs, "No, I won't sleep with you tonight!"
Everyone in the bar is now staring at them.
Naturally, the guy is hopelessly and completely embarrassed and he slinks back to his table.
After a few minutes, the woman walks over to him and apologizes. She smiles at him and says, "I'm sorry if I embarrassed you. You see, I'm a graduate student in psychology and I'm studying how people respond to embarrassing situations."
To which he responds, at the top of his lungs, "What do you mean $200 for a blowjob?"
#joke
Every time a bell rings Chuck ...
Every time a bell rings Chuck Norris kills a bear.
Chicken Gun
Scientists at Rolls Royce built a gun specifically to launch dead chickens at the windshields of airliners and military jets all travelling at maximum velocity. The idea was to simulate the frequent incidents of collisions with airborne fowl to test the strength of the windshields.
American engineers heard about the gun and were eager to test it on the windshields of their new high speed trains. Arrangements were made, and a gun was sent to the American engineers.
When the gun was fired, the engineers stood shocked as the chicken hurled out of the barrel, crashed into the shatterproof shield, smashed it to smithereens, blasted through the control console, snapped the engineer's back-rest in two and embedded itself in the back wall of the cabin like an arrow shot from a bow..
The horrified engineers sent Rolls Royce the disastrous results of the experiment, along with the designs of the windshield and begged the British scientists for suggestions.
Rolls Royce responded with a one-line memo:
Defrost the chicken..
#joke