Be rady for Thanksgiving
, check out our latest
Thanksgiving jokes of 2021
on:
Thanksgiving jokes collection
A man took off with his family
A man took off with his family to tour the country. When he returned, his next door neighbour asked how he enjoyed the vacation.
"Well," he replied, "have you ever spent three weeks in a mini-van with those you thought you loved?"
Dentist Knows Best
Dentist: "You need a crown."
Patient: "Finally, someone who understands me."
The Vase
A guy goes to a girl's house for the first time, and she shows him into the living room. She excuses herself to go to the kitchen to make them a few drinks, and as he's standing there alone, he notices a cute little vase on the mantel. He picks it up, and as he's looking at it, she walks back in.
He says "What's this?"
She says, "Oh, my father's ashes are in there."
He says, "Jeez...oooh....I..."
She says, "Yeah, he's too lazy to go to the kitchen to get an ashtray."
#joke
The only way down...
Two Roofers, Bob and Dan, were putting a new roof on a barn when a bundle of shingles slid down the slope and knocked the ladder over. Bob and Dan decided since it was early they would continue working because someone would surely come around by quitting time.
It was nearing 5 PM and they hadn't seen hide nor hair of anyone. So, they walked around the roof a few times and finally decided there was only one way down. On the West side of the barn was a big manure pile.
Bob says, "It's the only way down. I will go first." Bob jumped.
Dan heard the squishy landing and yelled, "Hey Bob! How deep did you go?"
Bob yells back, "I went to my ankles Dan, come on JUMP!" Dan jumps and goes clear up to his neck in manure.
He says to Bob, "I thought when you jumped you went up to your ankles?"
Bob replies, "I did, but I landed head first!"
#joke
A drunk stumbles along a bapti
A drunk stumbles along a baptismal service on Sunday afternoon down by theriver. He proceeds to walk down into the water and stand next to thePreacher.
The minister turns and notices the old drunk and says, "Mister, Are youready to find Jesus?"
The drunk looks back and says, "Yes, Preacher... I sure am."
The minister then dunks the fellow under the water and pulls him right backup. "Have you found Jesus?" the preacher asked.
"No, I didn't!" said the drunk.
The preacher then dunks him under for quite a bit longer, brings him up andsays, "Now, brother, have you found Jesus?"
"No, I did not Reverend."
The preacher in disgust holds the man under for at least 30 seconds thistime, brings him out of the water and says in a harsh tone, "My Good man,have you found Jesus yet?"
The old drunk wipes his eyes and asks the preacher... "Are you sure this iswhere he fell in?"
#joke
Computer Movers
Dick and Dirk are employed in a computer hardware store as movers.
One day both of them are asked to move some computers. Dick being energetic that day doesn't feel the computer to be heavy at all. At the same time he sees that Dirk is struggling very hard to lift his computer.
At this Dick says, "What Dirk, my comp has 500 MB HardDisk and yours has just 250, even then you cannot lift it ???"
At this Dirk thinks for a while and replies, "Thats right, but my HardDisk is full and yours is empty"
#joke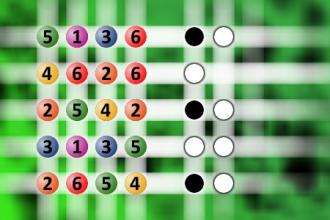 Which is a winning combination of digits?
The computer chose a secret code (sequence of 4 digits from 1 to 6). Your goal is to find that code. Black circles indicate the number of hits on the right spot. White circles indicate the number of hits on the wrong spot.
Chuck Norris' pulse is measure...
Chuck Norris' pulse is measured on the richter scale.
I Own The Fastest Car
A man goes out and buys the best car available in the US or Europe, a 2001 Turbo BeepBeep. It is the best and most expensive car in the world, and it runs him $500,000. He takes it out for a spin and, while doing so, stops for a red light. An old man on a moped, both looking about 90 years old, pulls up next to him.
The old man looks over the sleek, shiny surface of the car and asks "What kind of car ya got there, sonny?".
The dude replies "A 2001 Turbo BeepBeep. They cost $500,000."
"That's a lotta money!" says the old man, shocked. "Why does it cost so much?"
"Cause this car can do up to 320 miles an hour!" states the cool dude proudly.
The old man asks "Can I take a look inside?"
"Sure" replies the owner.
So the old man pokes his head in the window and looks around. Leaning back on his moped, the old man says "That's a pretty nice car, alright!"
Just then the light changes, so the guy decides to show the old man what his car can do. He floors it, and within 30 seconds the speedometer reads 320. Suddenly, the guy notices a dot in his rear view mirror. It seems to be getting closer!
Whhhoooooooooossssshhhhhh! Something whips by him! Going maybe three times as fast!
The guy wonders "what on earth could be going faster than my Turbo BeepBeeP?" Then, ahead of him, he sees a dot coming toward him.
Whooooooooooosh! Goes by again! And, it almost looked like the old man on the moped! Couldn't be thinks the guy. How could a moped outrun a Turbo BeepBeep? Again, he sees a dot in his rearview mirror!
WhoooooooshhhhhhhhKa-BbbbblaMMMMM! It plows into the back of his car, demolishing the rear end.
The guy jumps out and discovers it is the old man! Of course, the moped and the old man are hurting for certain. The guy runs up to the dying old man and asks "You're hurt bad! Is there anything I can do for you?"
The old man replies "Yeah. Unhook my suspenders from the side-view mirror on your car!"
#joke
Praying for a Parking Space
A laywoman was driving down the street in a sweat because she had an important meeting and couldn't find a parking space. Looking up toward heaven, she said, "Lord, take pity on me. If you find me a parking place I'll go to Mass every Sunday for the rest of my life and give up drinking wine."
Miraculously, a parking space opened up right in front of her destination.
The woman looked up to heaven and said, "Never mind, Lord; I found one on my own."
#joke
Adam Strays
When Adam stayed out very late for a few nights, Eve became upset. "You're running around with other women," she told her mate.
"Eve, honey, you're being unreasonable," Adam responded. "You know you're the only woman on earth."
The quarrel continued until Adam fell asleep, only to be awakened by a strange pain in the chest. It was his darling Eve poking him rather vigorously about the torso.
"What do you think you're doing?" Adam demanded.
"Counting your ribs," said Eve.
#joke