A little Native American boy a
A little Native American boy asks his chief how babies in their tribe get their names.
The chief replies, "When a baby is born, the father takes him outside of the teepee, holds him over his head, and names him after the first thing he sees - like 'Running-Wolf' or 'Flying-Cloud'. Why do you ask, Two-Dogs-Screwing?"
#joke
My First Shot
Took my first shot today! So excited, and my next one is in 2 weeks.
It was a hard choice with so many options.
I chose the tequila one.
Why did the chicken cross the road?
(FORMER) VICE PRESIDENT GORE
I fight for the chickens and I am fighting for the chickens right now. I will not give up on the chickens crossing the road! I will fight for the chickens and I will not disappoint them.
PRESIDENT GEORGE W. BUSH
I don't believe we need to get the chickens across the road. I say give the road to the chickens and let them decide. The government needs to let go of strangling the chickens so they can get across the road.
SENATOR LIEBERMAN
I believe that every chicken has the right to worship their God in their own way. Crossing the road is a spiritual journey and no chicken should be denied the right to cross the road in their own way.
VICE PRESIDENT CHENEY
Chickens are big-time because they have wings. They could fly if they wanted to. Chickens don't want to cross the road. They don't need help crossing the road. In fact, I'm not interested in crossing the road myself.
RALPH NADER
Chickens are misled into believing there is a road by the evil tiremakers. Chickens aren't ignorant, but our society pays tiremakers to create the need for these roads and then lures chickens into believing there is an advantage to crossing them. Down with the roads, up with chickens.
PAT BUCHANAN
To steal a job from a decent, hardworking American.
ERNEST HEMINGWAY
To die. In the rain.
FREUD
The fact that you are at all concerned that the chicken crossed the road reveals your underlying sexual insecurity.
BILL GATES
I have just released eChicken 2000, which will not only cross roads, but will lay eggs, file your important documents, and balance your checkbook. Internet Explorer is an inextricable part of eChicken.
BILL CLINTON
I did not cross the road with THAT chicken. What do you mean by 'chicken'? Could you define 'chicken' please?
COLONEL SANDERS
I missed one?
#joke
Dentist
A guy and a girl meet at a bar. They get along so well that they decide to go to the girl's place.
A few drinks later, the guy takes off his shirt and then washes his hands.
He then takes of his trousers and washes his hands again.
The girl has been watching him and says, "You must be a dentist."
The guy, surprised, says "Yes! How did you figure that out?"
"Easy," she replied, "you keep washing your hands."
One thing led to another and they make love.
After they have done, the girl says, "You must be a good dentist."
The guy, now with a boosted ego says, "Sure, I'm a good dentist, How did you figure that out?"
"Didn't feel a thing!"
#joke
Some people get lucky and kill...
Some people get lucky and kill two birds with one stone. Chuck Norris once killed four birds with half a stone. What's that? You say there's no such thing as half a stone? The four dead birds didn't think so either.
Chuck Norris can speak braille...
Chuck Norris can speak braille.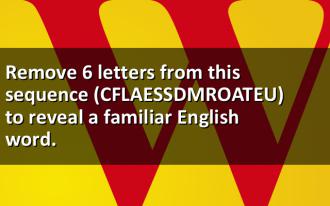 Remove 6 letters from this seq...
Remove 6 letters from this sequence (CFLAESSDMROATEU) to reveal a familiar English word.
An Unusual Vet
There was once an aspiring veterinarian who put himself
through veterinary school working nights as a taxidermist.
Upon graduation, he decided he could combine his two
vocations to better serve the needs of his patients and their
owners, while doubling his practice and, therefore, his
income.
He opened his own offices with a shingle on the door saying,
"Dr. Jones, Veterinary Medicine and Taxidermy -- Either way,
you get your dog back!"
#joke
Four legs
A wife comes home late one night and quietly opens the door to her bedroom.
From under the blanket, she sees four legs instead of just her husband's two.
She reaches for a baseball bat and starts hitting the blanket as hard as she can.
Once she's done, she goes to the kitchen to have a drink.
As she enters, she sees her husband there, reading a magazine.
He says, "Hi darling, your parents have come to visit us, so I let them stay in our bedroom. Did you say hello?"
#joke