NED: He
NED: Hear about my rich friend, Herb?
ED: No…
NED: He's a cilantropist!
One day Bill complained to his
One day Bill complained to his friend that his elbow really hurt. His friend suggested that he go to a computer at the drug store that can diagnose anything quicker and cheaper than a doctor.
"Simply put in a sample of your urine and the computer will diagnose your problem and tell you what you can do about it. It only costs $10."
Bill figured he had nothing to lose, so he filled a jar with a urine sample and went to the drug store. Finding the computer, he poured in the sample and deposited the $10. The computer started making some noise and various lights started flashing. After a brief pause out popped a small slip of paper on which was printed: "You have tennis elbow. Soak your arm in warm water. Avoid heavy lifting. It will be better in two weeks."
Later that evening while thinking how amazing this new technology was and how it would change medical science forever, he began to wonder if this machine could be fooled. He mixed together some tap water, a stool sample from his dog and urine samples from his wife and daughter. To top it off, he masturbated into the concoction. He went back to the drug store, located the machine, poured in the sample and deposited the $10.
The computer again made the usual noise and printed out the following message:
"Your tap water is too hard. Get a water softener. Your dog has worms. Get him vitamins. Your daughter is using cocaine. Put her in a rehabilitation clinic. Your wife is pregnant with twin girls. They aren't yours. Get a lawyer. And if you don't stop jerking off, your tennis elbow will never get better."

The Only One
I asked my wife if I am the only one she has ever been with.
She said, "Yes, all the others were nines and tens."
Mellowing mother...
I have five siblings . . . three sisters and two brothers.
One night I was chatting with my mom about how she had changed as a mother from her first child to her last.
She told me she really had mellowed quite a lot over the years . . .
"When your oldest sister coughed or sneezed, I called the ambulance. When your youngest brother swallowed a dime, I just told him it was coming out of his allowance."
#joke
Horse Tears
A fellow walks into a bar very down on himself. As he walks up to the bar the bartender asks, "what's the matter?"
The fellow replies, "well I've got these two horses (sniff,sniff), and well... I can't tell them apart. I don't know if I'm mixing up riding times or even feeding them the right foods."
The bartender, feeling sorry for the guy, tries to think of somthing he can do.
"Why don't you try shaving the tail of one of the horses?"
The man stops crying and says, "that sounds like a good idea, I think I'll try it."
A few months later he comes back to the bar in worse condition than he was before.
"What's the matter now?"
the bartender asks.
The fellow, in no condition to be in public, answers, "I shaved the tail of one of the horses (sob, sob), but it grew back and I can't tell them apart again!"
The bartender, now just wanting him to shut up or leave says, "why don't you try shaving the mane, maybe that will not grow back."
The fellow stops crying, has a few drinks, and leaves. A few months later the fellow is back in the bar. The bartender has never seen anybody in this sorry of a state. Without the bartender even asking the fellow breaks into his problems. "I.. I shaved the (sob) mane of one of the (sniff) horses, and... it... it... grew back!"
The bartenter, now furious at the guy's general stupidity, yells, "for crying out loud, just measure the stupid horses. Perhaps one is slightly taller that the other one!" The fellow can not believe what the bartender has said and storms out of the bar.
The next day the fellow comes running back into the bar as if he had just won the lottery.
"It worked, it worked!" he exclaims.
"I measured the horses and the black one is two inches taller than the white one!"
#joke #walksintoabar
The Bored Man
There's a man named Ralph that goes into a bar, looking very depressed. A friend approaches him and asks, "Why the long face, Ralph?"
"Oh, I'm just bored. I know every person in the entire world now, and there's just nothing left to challenge me."
His friend says, "No, you can't know everyone. Do you know Paul McCartney?"
He says, "Sure, Paul's an old friend of mine. Here, I'll show you." He goes over to a phone, dials a number. His friend overhears a British accent, "Hey Ralph, how ya doing?"
He talks for a while, but when Ralph hangs up, his friend is not really sure that it was Paul McCartney on the other end of the line, so he asks him if he knows the president.Ralph says, "Sure, we go way back." This time he lets him listen in as he calls a private number. It sounds like the president on the other end of the line, and they go into a big discussion of the current economic scene, and Ralph offers a few suggestions. Drawing the conversation to a close, Ralph wishes him well and hangs up.
His friend is a little dumbfounded at this point. "Well, there must be someone that you don't know." He goes over a few more people in his mind, and thinks, 'He can't possibly know the Pope. After all, he's a Protestant.'
But Ralph claims to know him, so to convince himself otherwise, his friend desides to fly both himself and Ralph to the Vatican to get positive proof of Ralph's conviction.
So they arrive at the Vatican, and Ralph suggests that his friend wait out in St. Peter's Square until Ralph has cleared things with the Pope. He's standing in the courtyard, when who walks out onto the balcony of the private residence, arm in arm with the Pope, but Ralph.
Ralph looks down, sees that his friend has apparently passed out, and runs down to see what can be done for him. "What happened to you? Couldn't you accept the fact that I really do know the Pope?"
"No, I'd begun to accept that possibility. But what really took my breath away was some stranger standing next to me who said, 'Who's that guy standing there with Ralph?'"
#joke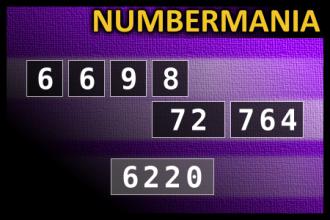 Calculate the number 6220
NUMBERMANIA: Calculate the number 6220 using numbers [6, 6, 9, 8, 72, 764] and basic arithmetic operations (+, -, *, /). Each of the numbers can be used only once.
Rabbi in the Catholic Hospital
Rabbi Levy had to spend time in a Catholic hospital. He became friends with the Sister who was a nurse there. One day, she came into his room and noticed that the crucifix on the wall was missing. She asked him good-naturedly, "Rabbi, what have you done with the crucifix?"
"Oh, sister," chuckled Rabbi Levy, "I just figured one suffering Jew in this room was enough."
#joke
Mike Birbiglia: Crying Over a Book
I was on the subway the other day, and the guy next to me was crying over a book. He was actually crying. So, I leaned over -- I go, You dont know how to read, either?
Who Would Steal?

The two partners in a law firm were having lunch when suddenly one of them jumped up and said, "I have to go back to the office - I forgot to lock the safe!"
The other partner replied, "What are you worried about? We're both here."