During a funeral, the organist
During a funeral, the organist played a beautiful rendition of Bach's "Sheep May Safely Graze" as the casket was carried out of the church. After the service, the minister complimented him on his performance.
"Oh, by the way," the minister asked, "Do you know what the deceased did for a living?"
"No idea," said the organist as he began packing up.
The minister smiled, "He was a butcher."
#joke
The Preacher and the Frog Princess
An old country preacher was fishing one afternoon when he noticed a frog sitting next to him. The frog said, "Mister, I've had a spell cast on me. If you'll kiss me, I'll turn into a beautiful princess and I'll make you happy for the rest of your life."The old preacher smiled, picked up the frog, and put it in his pocket. After a while, he looked into his pocket to see how the frog was doing.The frog said again, "Mister, I've had a spell cast on me. If you'll kiss me, I'll turn into a beautiful princess and I'll make you happy for the rest of your life."The preacher just smiled and kept on fishing. When he checked on the frog again, it said, "What's wrong with you, fella? I said I've been bewitched. Just kiss me and I'll turn back into a beautiful princess and make you the happiest man on earth for the rest of your life!"The old preacher just smiled and said, "Frog, I'm sorry to tell you this…but at my age, I'd rather have a talking frog than a beautiful princess!"
#joke
Playing the Game
Our computers went down at work today, so we had to do everything manually...
It took me twenty minutes to shuffle the cards for solitaire.
Facts of life...
A man walks into a drug store with his 8-year old son. They happen to walk by the condom display, and the boy asks, "What are these, Dad?" To which the man matter-of-factly replies, "Those are called condoms, son.... Men use them to have safe sex."
"Oh I see," replied the boys pensively. "Yes, I've heard of that in health class at school." He looks over the display and picks up a package of 3 and asks, "Why are there 3 in this package."
The dad replies, "Those are for high school boys. One for Friday, one for Saturday, and one for Sunday."
"Cool!" says the boy. He notices a 6 pack and asks, "Then who are these for?" "Those are for college men." the dad answers, "TWO for Friday, TWO for Saturday, and TWO for Sunday."
"WOW!" exclaimed the boy, "then who uses THESE?" he asks, picking up a 12 pack. With a sigh, the dad replied, "Those are for married men. One for January, one for February, one for March........"
Here's a prime example of "Me
Here's a prime example of "Men Are From Mars, Women Are From Venus" offered by an English professor from the University of Phoenix:
The professor told his class one day: "Today we will experiment with a new form called the tandem story. The process is simple. Each person will pair off with the person sitting to his or her immediate right. As homework tonight, one of you will write the first paragraph of a short story. You will e-mail your partner that paragraph and send another copy to me. The partner will read the first paragraph and then add another paragraph to the story and send it back, also sending another copy to me. The first person will then add a third paragraph, and so on back-and-forth. Remember to re-read what has been written each time in order to keep the story coherent. There is be absolutely NO talking outside of the e-mails and anything you wish to say must be written in the e-mail. The story is over when both agree a conclusion has been reached."
The following was actually turned in by two of his English students: Rebecca and Gary.
THE STORY:
(first paragraph by Rebecca)
At first, Laurie couldn't decide which kind of tea she wanted. The chamomile, which used to be her favorite for lazy evenings at home, now reminded her too much of Carl, who once said, in happier times, that he liked chamomile. But she felt she must now, at all costs, keep her mind off Carl. His possessiveness was suffocating, and if she thought about him too much that her asthma started acting up again. So chamomile was out of the question.
(second paragraph by Gary)
Meanwhile, Advance Sergeant Carl Harris, leader of the attack squadron now in orbit over Skylon 4, had more important things to think about than the neuroses of an air-headed asthmatic bimbo named Laurie with whom he had spent one sweaty night over a year ago. "A.S. Harris to Geostation 17," he said into his transgalactic communicator. "Polar orbit established. No sign of resistance so far..." But before he could sign off a bluish particle beam flashed out of nowhere and blasted a hole through his ship's cargo bay. The jolt from the direct hit sent him flying out of his seat and across the cockpit.
(Rebecca)
He bumped his head and died almost immediately, but not before he felt one last pang of regret for psychically brutalizing the one woman who had ever had feelings for him. Soon afterwards, Earth stopped its pointless hostilities towards the peaceful farmers of Skylon 4. "Congress Passes Law Permanently Abolishing War and Space Travel," Laurie read in her newspaper one morning. The news simultaneously excited her and bored her. She stared out the window, dreaming of her youth, when the days had passed unhurriedly and carefree, with no newspaper to read, no television to distract her from her sense of innocent wonder at all the beautiful things around her. "Why must one lose one's innocence to become a woman?" she wondered wistfully.
(Gary)
Little did she know, but she had less than 10 seconds to live. Thousands of miles above the city, the Anu'udrian mothership launched the first of its lithium fusion missiles. The dim-witted wimpy peaceniks who pushed the Unilateral Aerospace disarmament Treaty through the congress had left Earth a defenseless target for the hostile alien empires who were determined to destroy the human race. Within two hours after the passage of the treaty the Anu'udrian ships were on course for Earth, carrying enough firepower to pulverize the entire planet. With no one to stop them, they swiftly initiated their diabolical plan. The lithium fusion missile entered the atmosphere unimpeded. The President, in his top-secret mobile submarine headquarters on the ocean floor off the coast of Guam, felt the inconceivably massive explosion, which vaporized poor, stupid, Laurie and 85 million other Americans. The President slammed his fist on the conference table. "We can't allow this! I'm going to veto that treaty! Let's blow 'em out of the sky!"
(Rebecca)
This is absurd. I refuse to continue this mockery of literature. My writing partner is a violent, chauvinistic semi-literate adolescent.
(Gary)
Yeah? Well, you're a self-centered tedious neurotic whose attempts at writing are the literary equivalent of Valium. "Oh, shall I have chamomile tea? Or shall I have some other sort of F--KING TEA??? Oh no, I'm such an air headed bimbo who reads too many Danielle Steele novels!"
(Rebecca)
A-hole.
(Gary)
B*tch
(Rebecca)
F__K YOU - YOU NEANDERTHAL!
(Gary)
Go drink some tea - *****.
(TEACHER)
A+ - I really liked this one
#joke
My bizarre plans to become a m...
My bizarre plans to become a marsupial are finally koalaescing.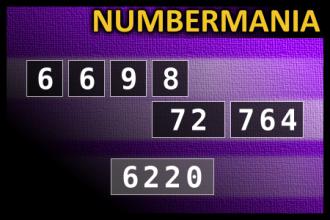 Calculate the number 6220
NUMBERMANIA: Calculate the number 6220 using numbers [6, 6, 9, 8, 72, 764] and basic arithmetic operations (+, -, *, /). Each of the numbers can be used only once.
1st Grader Answers
A first-grade teacher had twenty-five students in her Clarkston, MI class.
She presented each child in her class the first half of a well-known proverb and asked them to come up with the remainder of the proverb.
It's hard to believe these were actually done by first graders. Their insight may surprise you.
While reading, keep in mind that these are just 6-year-olds because the last one is classic… although sad to see it said!
#joke
Chuck Norris sleeps with a pil...
Chuck Norris sleeps with a pillow under his gun.
AOL Support Call
AOL: America Online, this is Sue speaking.
Caller: Hi, I have some questions about American Online
before I join.
AOL: Okay, ma'am, what's your question?
Caller: Well, some of my friends who have AOL say they get
something called "cybersex". Does this cost extra?
AOL: :::quiet laugh in the background::: Well ma'am... I
don't know how to explain this, but cybersex is not part of
America Online.
Caller: Oh really? My friends said they got it from AOL.
AOL: Well it's something members typically do when they go
to a chat room.
Caller: Hmmmm . . . I don't understand, what is cybersex??
AOL: I'm sorry, I really don't know how to explain it.
Caller: Hmmm . . . well, have you ever had cybersex?
AOL: Ma'am, I don't think that's an appropriate question to
be asking me. Is there anything else you need?
Caller: Sorry, like I said I don't even know what it is.
AOL: That's okay ma'am, anything else?
Caller: Yes, I have one more question.
AOL: Go ahead . . .
Caller: What are you wearing?
AOL:
#joke
Talking Dog For Sale
This guy sees a sign in front of a house "Talking Dog for Sale." He rings the bell and the owner tells him the dog is in the back yard. The guy goes into the back yard and sees a mutt sitting there."You talk?" he asks."Yep," the mutt replies."So, what's your story?"The mutt looks up and says "Well, I discovered this gift pretty young and I wanted to help the government, so I told the CIA about my gift, and in no time they had me jetting from country to country, sitting in rooms with spies and world leader, cause no one figured a dog would be eavesdropping. I was one of their most valuable spies eight years running. The jetting around really tired me out, and I knew I wasn't getting any younger and I wanted to settle down. So I signed up for a job at the airport to do some undercover security work, mostly wandering near suspicious characters and listening in. I uncovered some incredible dealings there and was awarded a batch of medals.Had a wife, a mess of puppies, and now I'm just retired."The guy is amazed. He goes back in and asks the owner what hewants for the dog. The owner says "Ten dollars." The guy says he'll buy him but asks the owner, "This dog is amazing. Why on earth are you selling him?" The owner replies, "He's such a fucking liar."
#joke