The Search for a Pastor During Bible Times
Dear Member,We do not have a happy report, as we have not been able to find a suitable candidate for pastor of our church thus far. We do, however, have one promising prospect. The following is our confidential report on the candidates:
Adam: Good man, but has problems with his wife.
Noah: Former pastorate of 120 years with no converts. Prone to unrealistic building projects.
Joseph: A big thinker, but a braggart. Interprets dreams. Has a prison record.
Moses: Modest and meek, but poor communicator; even stutters at times. Sometimes blows his stack and acts rashly in business meetings.
Deborah: One word—female.
David: The most promising candidate of all, until we discovered the affair he had with a neighbor's wife.
Solomon: Great preacher, but serious woman problems.
Elijah: Prone to depression; collapses under pressure.
Jonah: Told us he was swallowed by a huge fish.
He said the fish later spit him out on the shore near here. We hung up.
Amos: Backward and unpolished.
With some seminary training, he might have promise; but he has a problem with wealthy people.
John: Says he's a Baptist, but doesn't dress like one. Sleeps in the outdoors, has a weird diet, and provokes denominational leaders.
Paul: Powerful CEO type and fascinating preacher.
But he's short on tact, unforgiving with young ministers, harsh, and has been known to preach all night.
Timothy: Too young.
Judas: His references are solid. A steady plodder. Conservative. Good connections. Knows how to handle money. We're inviting him to preach this Sunday with great hopes that he will accept our offer!
She'll Break Many Hearts
Girlfriend: "One day I will marry and a lot of men will be sad that day."

Boyfriend: "Wow, how many men do you plan to marry?"
A group of bats, hanging at th
A group of bats, hanging at the ceiling of a cave, discovers a single bat standing upright underneath on the floor of the cave.
Surprised by this unusual behavior, they ask this fellow: "What the heck are you doing down there?"
And the fellow shouts back: "Yoga!"

How much?
A man meets a woman at a bar and asks her
"Would you have sex with me for 10 million dollars?"
Without skipping a beat she screams
"Yes!"
The man then asks
"What about for $20?"
She looks at him sideways and says
"What do you think I am, a whore?"
The man says
"We've already established that you are, now we're just negotiating."
#joke
Man on the ladies tee...
It was a sunny Saturday morning on the course, and I was beginning my pre-shot routine on #1, visualizing my upcoming shot, when a voice came over the clubhouse loudspeaker.
"Would the gentleman on the Ladies Tee back up to the Men's Tee, please!!"
I was still deep in my routine, seemingly impervious to the interruption. Again the announcement--"Would the MAN on the WOMEN'S Tee kindly back up to the Men's Tee."
I finally stopped, turned, looked through the clubhouse window directly at the person with the mike and shouted back, "Would the person in the clubhouse kindly shut up and let me play my second shot?!"
#joke
The owner of a drug store walk...
The owner of a drug store walks in to find a guy leaning heavily against wall.The owner asks the clerk, "What's with that guy over there by the wall?"
The clerk says, "Well, he came in here this morning to get something for his cough. I couldn't find the cough syrup, so I gave him an entire bottle of laxative."
The owner says, "You idiot! You can't treat a cough with laxatives!"
The clerk says, "Oh yeah? Look at him, he's afraid to cough!"
#joke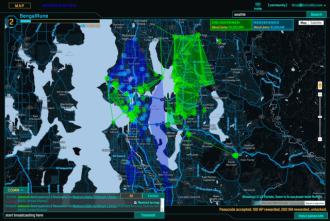 Guess the Game Name
Look carefully the picture and guess the game name.
The man with pickle breath liv...
The man with pickle breath lived in a very dill adapted house, near Ogorki Park. He grew pink cornichons in his garden.
Two Lions
Once upon a time, long, long ago there were two unique lions in the jungles of Africa. Both, it seems, had human-like qualities that made them claim territory, daring the other to cross over the line. Strange as it seems, the boundary between their turf was a well traveled trail through the jungle.
All day every day, both lions lay in the brush staring across the trail at their compatriot, daring him to cross into their territory.
The local natives knew of this animal feud, but all this was unbeknown to African Jack, a well-known and must publicized guide who did not speak Lionese and was unfamiliar with the territory.
While he was leading a safari through the jungle, walking all day and cutting vines with their machetes, all this constant hacking brush had them worn to a frazzle. After seeing two or three of his safari drop from exhaustion, African Jack decided to stop on the trail between these two lions and camp for the night.
After sitting up camp, eating, and getting his safari settled African Jack sat on a stump and began reading. While he was busily engaged in the printed page, the two lions, simultaneously, pounced on African Jack and ate him on the spot.
When the 6 o'clock news heard of the tragedy, they reported, "African Jack killed this evening. The motive is unclear, but it is reported he was reading between the lions."
#joke
Chuck Norris ordered a Big Mac...
Chuck Norris ordered a Big Mac at Burger King, and got one.
Take Your Kid To Work Day
An 8 year old girl went to the office with her father on 'Take your kid to work Day'.
As they walked round the office she started crying and getting cranky.
Her father asked what was wrong.
As the staff gathered round she sobbed loudly, "Daddy, where are all the clowns you said you worked with?"
#joke
Donald Glover: We Get It
Its kind of redundant -- have a black dude wearing an Obama shirt. Everybodys like, Yeah, we know. You like Obama; we get it. Its just like, I would do the same thing. I realize that its kind of redundant. I dont go up to white people wearing Coldplay shirts. You like Coldplay? For how long? Forever?
#joke
Martha Kelly: Preparing for Office Work
Its been a couple of years since I actually worked in an office, so I thought I should do something to prepare to get back into the typing, filing and phone answering, and what not. So what I did was I had a friend of mine go with me down to the local swimming pool, and I had him tie me up in a burlap sack and sink me to the bottom of the pool. And then just as I was about to suffocate, he yanked me up and gave me a lunch break.
#joke