Why did the bitter former soun
Why did the bitter former sound-effects technician lose his hair?
The Insecure Husband
My wife left me because I'm insecure...
No wait, she's back, she just went to get coffee.
What would be different if
What would be different if men really ruled the world
Any fake phone number a girl gave you would automatically forward your call to her real number.
Nodding and looking at your watch would be deemed an acceptable response to "I love you."
Hallmark would make "Sorry, what was your name again" cards.
When your girlfriend really needed to talk to you during the game, she'd appear in a little box in the corner of the screen during a time-out.
Breaking up would be a lot easier. A smack to the ass and a "Nice hustle, you'll get 'em next time" would pretty much do it.
Birth control would come in ale or lager.
The funniest guy in the office would get to be CEO.
At the end of the workday, a whistle would blow and you'd jump out your window and slide down the tail of a brontosaurus and right into your car like Fred Flintstone.
Lifeguards could remove citizens from beaches for violating the "public ugliness" ordinance.
Tanks would be far easier to rent.
Garbage would take itself out.
Instead of beer belly, you'd get "beer biceps."
Instead of an expensive engagement ring, you could present your wife-to-be with a giant foam hand that said, "You're #1!"
Valentine's Day would be moved to February 29th so it would only occur in leap years.
On Groundhog Day, if you saw your shadow, you'd get the day off to go drinking. Mother's Day, too.
St. Patrick's Day, however, would remain exactly the same. But it would be celebrated every month.
Cops would be broadcast live, and you could phone in advice to the pursuing cops. Or to the crooks.
The victors in any athletic competition would get to kill and eat the losers.
The only show opposite Monday Night Football would be Monday Night Football from a Different Camera Angle.
It would be perfectly legal to steal a sports car, as long as you returned it the following day with a full tank of gas.
Every man would get four real Get Out of Jail Free cards per year.
When a cop gave you a ticket, every smart-aleck answer you responded with would actually reduce your fine. As in: Cop: "You know how fast you were going" You: "All I know is, I was spilling my beer all over the place." Cop: "Nice one. That's $10 off."
People would never talk about how fresh they felt.
Telephones would automatically cut off after 30 seconds of conversation.

Shack It to Me...in Heaven
A wealthy man died and went to heaven. He was met at the Pearly Gates by Saint Peter who led him down the streets of gold. They passed mansion after mansion until they came to the very end of the street. Saint Peter stopped the rich man in front of a little shack."This belongs to you," said Saint Peter."Why do I get this ugly thing when there are so many mansions I could live in?" the man demanded."We did the best we could with the money you sent us!" Saint Peter replied.
#joke
Under the kilt...
The American tourist stood staring at the highland sentry standing guard outside Edinburgh Castle.
After a few minutes she went up to the sentry and asked 'I've always wanted to find out what's worn under the kilt'.
The sentry replied: 'There is nothing worn, Ma'am, its all in perfect working order'.
#joke
Mitch Hedberg: Fore!
I never got a hole in one -- but I did hit a guy, and thats way more satisfying. Youre supposed to yell Fore, but I was too busy mumbling There aint no way thats gonna hit him.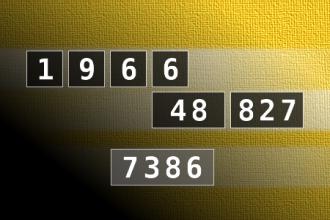 Calculate the number 7386
NUMBERMANIA: Calculate the number 7386 using numbers [1, 9, 6, 6, 48, 827] and basic arithmetic operations (+, -, *, /). Each of the numbers can be used only once.
Son : Mom, when I was on the b...
Son : Mom, when I was on the bus with Dad this morning, he told me to give up my seat to a lady.

Mom : Well, you have done the right thing.

Son : But Mom, I was sitting on Daddy's lap!
Lawyer Vacancy
There was a job opening in the country's most prestigious law firm and it finally comes down to Robert and Paul.
Both graduated magna cum laude from law school. Both come from good families. Both are equally attractive and well spoken. It's up to the senior partner to choose one, so he takes each aside and asks, "Why did you become a lawyer?"
In seconds, he chooses Paul.
Baffled, Robert takes Paul aside.
"I don't understand why I was rejected. When Mr. Armstrong asked me why I became a lawyer, I said that I had the greatest respect for the law, that I'd lay down my life for the Constitution and that all I wanted was to do right by my clients. What in the world did you tell him?"
"I said I became a lawyer because of my hands," Robert replies.
"Your hands? What do you mean?"
"Well, I took a look one day and there wasn't any money in either of them!"
What she Really Means...
What she Really Means
I need = I want
We need = I want
It's your decision = The correct decision should be obvious by now
Do whatever you want = You are going to pay for this later
We need to talk = I need to complain
Sure...go ahead = I don't want you to
I'm not upset = Of course I'm upset, you moron!
You're so manly = You need a shave and you sweat a lot
You're certainly attentive tonight = Is sex all you ever think about?
I'm not emotional! And I'm not overreacting! = I have a severe case of PMS
Be romantic, turn out the lights = I have flabby thighs
This kitchen is so inconvenient = I want a new house
I want new curtains = I want new curtains, new carpeting, new furniture, new wallpaper...
I need new shoes = the other 40 pairs are simply the wrong shade
I heard a noise = I noticed you were almost asleep
Do you love me? = I'm going to ask for something expensive
How much do you love me? = I did something today you're really going to hate
I'll be ready in a minute = Kick off your shoes and find a good game on T.V.
Is my butt fat? = Tell me I'm beautiful
You have to learn to communicate = Just agree with me
Are you listening to me? = Too late, you're dead
Yes = No
No = No
Maybe = No
I'm sorry = You'll be sorry
I was wrong = Not as wrong as you
Do you like this recipe? = It's easy to fix, so you'd better get used to it
Was that the baby? = Why don't you get out of bed and walk him until he goes to sleep
I'm not yelling! = Of course I'm yelling, this is important!
#joke
Kangaroo + Leap Year =
What do you get when you cross a kangaroo with a calendar?
A leap year!