I hate Twitter. It's so
I hate Twitter. It's so meme-spirited.
A Canadian customer was callin
A Canadian customer was calling to find out if there was a faster way to trigger menu commands than mousing up to the menus.
Agent: "Certainly, sir. There are keyboard shortcuts for many of those commands. For example, suppose you want to trigger the Select All command."
Caller: "Yes, I use that one all the time! How do I do it?"
Agent: "Well, you just press Control-A."
Caller (after a pause): "Well, that's not working for me."
Agent: "Do you have a text document open in front of you?"
Caller: "Yes, I sure do."
Agent: "OK, now press Control-A."
Caller: "I am, but nothing happens."
Agent: "The text isn't highlighted?"
Caller: "No, there's no change at all."
Agent: "That's odd. If you press Control-A the whole document should be highlighted. Try it again. Press Control-A. Tell me exactly what's happening."
Caller (nearing his Canadian breaking point): "Listen. I'm pressing Control, eh? And nothing's happening, eh?"
#joke
The Preacher and the Friendly Ghost
A new preacher wanted to rent a house in the country but the only one available was rumored to be haunted. That didn't bother the preacher since he didn't believe in such things. He went ahead and rented the place.Soon the ghost made its appearance. The preacher told his friends about the ghost, but they didn't believe him. They told him the only way they would believe was if he took a picture of the ghost.The preacher went home and called for the ghost. When it appeared, the preacher explained the situation and asked the ghost if it would mind having its picture taken. The ghost agreed.When the picture was developed, the ghost wasn't visible. Feeling disappointed, the preacher called again for the ghost. When it appeared, the preacher showed it the picture and wanted to know why the ghost wasn't in it. The ghost thought a minute and replied, "Well, I guess the spirit was willing, but the flash was weak."
#joke
Death and Taxes
Death and taxes are inevitable...
But at least death doesn't get worse every year!
The mural
Every newspaper in New York sent a reporter and a staff photographer to the office of a local ophthalmologist when it was learned that he recently performed a successful sight- saving operation on the wife of the country's most celebrated mural artist, who, in addition to paying the doctor's usual fee, had gratefully insisted on painting one of his contemporary masterpieces across an entire wall of the doctor's waiting room.
The mural turned out to be an immense multicolored picture of a human eye, in the center of which stood a perfect miniature likeness of the good doctor himself.
While cameras clicked and most of the newsmen crowded around the famous artist for his comments, one cub reporter drew the eye specialist aside and asked:
"Tell me, if you can, Doctor-what was your first reaction on seeing this fantastic artistic achievement covering an entire wall of your office?"
"To tell the truth," the physician replied, "my first thought was, thank goodness I'm not a hemorrhoid specialist!"
Match
A redneck farmer from back in the hills walked twelve miles, one way, to the general store. "Heya, Wilbur," said Sam, the store owner. "Tell me, are you and Myrtle still making fires up there by rubbing stones and flint together?"
"You betcha, Sam. Ain't no 'tother way. Why?"
"Got something to show you. Something to make fire. It's called a Match."
'Match? Never heard of it."
"Watch this. If you want a fire you just do this," Sam says, taking a match and striking it on his pants."
"Huh. Well, that's something, but that ain't for me, Sam."
"Well, why not?"
"I can't be walking twelve miles to borrow your pants every time I want a fire."    
#joke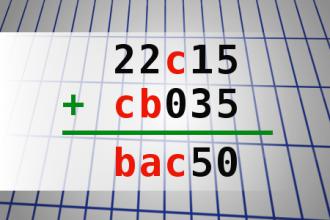 Find number abc
If 22c15 + cb035 = bac50 find number abc. Multiple solutions may exist.
How to Produce Ugly Children
Q: Which sexual position produces the ugliest children?
A: Ask your Mom.
Unlucky Parachutist
A man is skydiving, enjoying his free-fall, when he realizes that he has reached the altitude where he must open his parachute. So he pulls on the rip cord, but nothing happens.
"No problem," he says to himself, "I still have my emergency chute." So he pulls the rip cord on his emergency parachute, and once again, nothing happens.
Now the man begins to panic. "What am I going to do?" he thinks, "I'm a goner!"
Just then he sees a man flying up from the earth toward him. He can't figure out where this man is coming from, or what he's doing, but he thinks to himself, "Maybe he can help me. If he can't, then I'm done for."
When the man gets close enough to him, the skydiver cups his hands and shouts down, "Hey, do you know anything about parachutes?"
The other man replies, "No! Do you know anything about gas stoves?"
#joke
Lewis Black: Absolute Faith
You cant deny the faith of these people that we fight: its absolute. They believe that if they kill themselves, theyll be met in heaven with 70-some-odd virgins. Imagine that kind of faith -- to think that that would happen, when I havent met one on earth.
Neal Brennan: Shut It Down
If you work in porn, I dont know if you and your coworkers know this, but we have enough porn. You dont have to keep making it. You did a great job, we appreciate your service, but you can shut it down.