Can a mathematician marry his
Can a mathematician marry his cosin?
Senior Citizen
Two businessmen in Florida were sitting down for a break in their soon-to-be new store. As yet, the store wasn't ready, with only a few shelves set up. One said to the other, ' I bet any minute now some senior citizen is going to walk by, put his face to the window, and ask what we're selling.'
No sooner were the words out of his mouth when, sure enough, a curious senior citizen walked to the window, had a peek, and in a soft voice asked
"What are you sellin' here?"
One of the men replied sarcastically, "We're selling assh*les."

Without skipping a beat, the old timer said, "You're doing well. Only two left."
#joke
A wife arrived home after a lo
A wife arrived home after a long shopping trip, and was horrified to find her husband in bed with a young, lovely thing.
Just as she was about to storm out of the house, her husband stopped her with these words: "Before you leave, I want you to hear how this all came about. Driving home, I saw this young girl, looking poor and tired, I offered her a ride. She was hungry, so I brought her home and fed her some of the roast you had forgotten about in the refrigerator. Her shoes were worn out so I gave her a pair of your shoes you didn't wear because they were out of style. She was cold so I gave her that new birthday sweater you never wore even once because the color didn't suit you. Her slacks were worn out so I gave her a pair of yours that you don't fit into anymore.
Then as she was about to leave the house, she paused and asked, 'Is there anything else that your wife doesn't use anymore?' And so, here we are!"
#joke
Keep Get Well Cards
Always keep several get well cards on the mantel...
If unexpected guests arrive, they'll think you've been sick and unable to clean.
Your chances are better...
An enormously wealthy 65-year-old man falls in love with a young woman in her twenties and is contemplating proposing.
"Do you think she'd marry me if I tell her I'm 45?" he asked a friend.
"Your chances are better," said the friend, "if you tell her you're 90."
#joke
Life cycle of software
The Life Cycle of Software
Programmer produces code he believes is bug-free.
Product is tested. 20 bugs are found.
Programmer fixes 10 of the bugs and explains to the testing department that the other 10 aren't really bugs.
Testing department finds that five of the fixes didn't work and discovers 15 new bugs.
See 3.
See 4.
See 5.
See 6.
See 7.
See 8.
Due to marketing pressure and an extremely pre-mature product announcement based on over-optimistic programming schedule, the product is released.
Users find 137 new bugs.
Original programmer, having cashed his royalty check, is nowhere to be found.
Newly-assembled programming team fixes almost all of the 137 bugs, but introduce 456 new ones.
Original programmer sends underpaid testing department a postcard from Fiji. Entire testing department quits.
Company is bought in a hostile takeover by competitor using profits from their latest release, which had 783 bugs.
New CEO is brought in by board of directors. He hires programmer to redo program from scratch.
Programmer produces code he believes is bug-free.
See step 2
#joke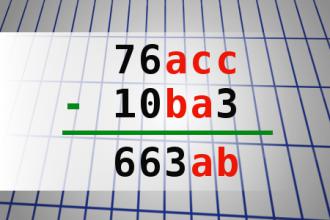 Find number abc
If 76acc - 10ba3 = 663ab find number abc. Multiple solutions may exist.
Potatoes!
One night there was three fugitives escaping from jail. One was blonde, one was brunette and the other was a red-head. They had the police hot on their trail and quickly thinking the brunette points out an old, abandoned factory perfect for hiding in. When all three were inside the red-head, quickly thinking said they should all hid in old potatoe sacks in the corner as they could hear the police approaching the factory. They all got in their little potatoe sacks and barely a minute later the police came crashing through the door. They looked at the sacks and said 'Hmm maybe they are hiding in these' The officer kicks the Red-head's sack and she makes whimpering noises. 'Hmm just puppies in that sack' The officer kicks the Brunette's sack and she makes mewing noises. 'Hmm just kittens in that sack' He says. He finally kicks the blonde's sack and he hears....
'POTATOES POTATOES!'
John Mulaney: Women Friends
I think that women can be friends with each other, but I think it can be tricky sometimes when you try and force women to hang out with each other. You could never put together a heist of women. Like Oceans 11 with women wouldnt work cause two would keep breaking off to talk sh*t about the other nine.
#joke
One day, a guy went into a sto...
One day, a guy went into a store, just browsing.
He suddenly saw a statue of a rat made of bronze, and thought that it was interesting. He decided to buy it, and so he did.
The guy walked out of the store, carrying the statue in his arms. Suddenly some rats started following him.
He shrugged it off, and continued on his way.
As he walked along, more and more rats started following him, until all the rats in the city were behind him.
He suddenly realized that it was the statue that was doing this.
He headed towards the bay that resided next to the city, and threw the statue in. The rats followed, not caring about their immediate deaths.
The guy ran back to the store, and when he reached it, the store owner said, "No refunds".
The guy shook his head, and said, "No, no, I was wondering if you had any statues like the one I bought, only, shaped like a lawyer."