I'm bed
I'm bed to the bone – I committed mattresscide.
There are two blondes and a br
There are two blondes and a brunette on an island. One of the blondes finds a bottle and a genie pops out. The genie says he will grant them one wish each.
The first blonde says, "I need to get off this island, I wish for a rowboat." With a flash, a rowboat appears and she rushes out into the ocean.
The second blonde says, "I need to get off this island, I need jetski." With a flash, a jetski appears and she rushes out into the ocean, soon overtaking the first blonde.
The genie looks enquiringly toward the brunette, who with raised eyebrows, smiles and says, "Just give me a million dollars, I'll take the bridge."
The Fortune Cookies
After finishing our Chinese food, my husband and I cracked open our fortune cookies.
Mine read, "Be quiet for a little while."
His read, "Talk while you have a chance."
Senior Citizen
Two businessmen in Florida were sitting down for a break in their soon-to-be new store. As yet, the store wasn't ready, with only a few shelves set up. One said to the other, ' I bet any minute now some senior citizen is going to walk by, put his face to the window, and ask what we're selling.'
No sooner were the words out of his mouth when, sure enough, a curious senior citizen walked to the window, had a peek, and in a soft voice asked
"What are you sellin' here?"
One of the men replied sarcastically, "We're selling assh*les."

Without skipping a beat, the old timer said, "You're doing well. Only two left."
#joke
Being the boss
A henpecked husband was advised by a psychiatrist to assert himself. "You don't have to let your wife bully you," he said. "Go home and show her you're the boss."
The husband decided to take the doctor's advice. He went home, slammed the door, saw his wife and growled, "From now on you're taking orders from me. I want my supper right now, and after you get it on the table, go upstairs and lay out my clothes. Tonight I am going out with the boys. You are going to stay at home where you belong. Another thing, you know who is going to tie my bow tie?"
"I certainly do," said his wife calmly, "the undertaker."
Growing penis
When the man first noticed that his penis was growing longer, he was delighted.
But several weeks and several inches later, he became concerned and went to see a urologist.
While his wife waited outside, the physician examined him and explained that, thought rare his condition could be corrected by minor surgery.
The patient's wife anxiously rushed up to the doctor after the examination and was told of the diagnosis and the need for surgery.
"How long will he be on crutches?" she asked.
"Crutches???" the doctor asked.
"Well, yes," the woman said "You are going to lengthen his legs, aren't you?"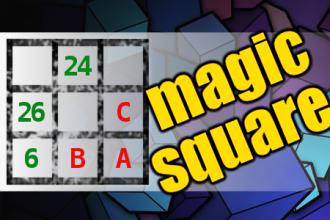 MAGIC SQUARE: Calculate A*B-C
The aim is to place the some numbers from the list (6, 7, 8, 24, 25, 26, 64, 65, 66) into the empty squares and squares marked with A, B an C. Sum of each row and column should be equal. All the numbers of the magic square must be different. Find values for A, B, and C. Solution is A*B-C.
John Caparulo: Airport Security Inspection
I had my dog in one of those kennel carrier things, you know those boxes... They made me take the dog out of the carrier, so they could inspect it for explosives. Who bombs a f**king puppy? Really, who does that? Bin Laden would be like, Youre a dick, dude. I cant believe you -- thats too far.
A dietitian was once addressin...
A dietitian was once addressing a large audience in Chicago:
"The material we put into our stomachs is enough to have killed most of us sitting here, years ago. Red meat is awful. Soft drinks erode your stomach lining. Chinese food is loaded with MSG. Vegetables can be disastrous, and none of us realizes the long-term harm caused by the germs in our drinking water.
"But there is one thing that is the most dangerous of all and we all have eaten or will eat it. Can anyone here tell me what food it is that causes the most grief and suffering for years after eating it?"
A 75-year-old man in the front row stood up and said, "Wedding cake."
#joke
Last requests
Mary Clancy goes up to Father McGuire after his Sunday morning service, and she's in tears. He says, "So what's bothering you, Mary my dear?"
She says, "Oh, Father, I've got terrible news. My husband passed away last night."
The priest says, "Oh, Mary, that's terrible. Tell me, Mary, did he have any last requests?"
She says, "That he did, Father."
The priest says, "What did he ask, Mary? "
She says, "He said, 'Please Mary, put down that damn gun.' "
#joke
Knock Knock Collection 097
Knock Knock
Who's there?
Isaiah!
Isaiah who?
Isaiah nothing till you open this door!
Knock Knock
Who's there?
Istvan!
Istvan who?
Istvan to be alone!
Knock Knock
Who's there?
Italy!
Italy who?
Italy be a big job!
Knock Knock
Who's there?
Ivan!
Ivan who?
Ivan enormous snake in my pocket!
Knock Knock
Who's there?
Ivana!
Ivana who?
Ivana be rich!
#joke