NED: I refuse to write poetry
NED: I refuse to write poetry about pigs' knees.
ED: Why's that?
NED: It's against my religion. I don't do pigs' knees. Is that controversial?
ED: Well, you sure have a hardline stanza on a boar shin!
Charlie's wife, Lucy, had bee
Charlie's wife, Lucy, had been after him for several weeks to paint the seat on their toilet. Finally, he got around to doing it while Lucy was out. After finishing, he left to take care of another matter before she returned.
She came in and undressed to take a shower. Before getting in the shower, she sat on the toilet. As she tried to stand up, she realized that the not-quite-dry epoxy paint had glued her to the toilet seat.
About that time, Charlie got home and realized her predicament.
They both pushed and pulled without any success whatsoever.
Finally, in desperation, Charlie undid the toilet seat bolts. Lucy wrapped a sheet around herself and Charlie drove her to the hospital emergency room.
The ER Doctor got her into a position where he could study how to free her.
Lucy tried to lighten the embarrassment of it all by saying, "Well, Doctor, I'll bet you've never seen anything like this before."
The Doctor replied, "Actually, I've seen lots of them. I just never saw one mounted and framed."
Sodium Hypobromite
Science teacher: "Does anyone here know what sodium hypobromite is?"
Student: "NaBrO!"
The Preacher and the Frog Princess
An old country preacher was fishing one afternoon when he noticed a frog sitting next to him. The frog said, "Mister, I've had a spell cast on me. If you'll kiss me, I'll turn into a beautiful princess and I'll make you happy for the rest of your life."The old preacher smiled, picked up the frog, and put it in his pocket. After a while, he looked into his pocket to see how the frog was doing.The frog said again, "Mister, I've had a spell cast on me. If you'll kiss me, I'll turn into a beautiful princess and I'll make you happy for the rest of your life."The preacher just smiled and kept on fishing. When he checked on the frog again, it said, "What's wrong with you, fella? I said I've been bewitched. Just kiss me and I'll turn back into a beautiful princess and make you the happiest man on earth for the rest of your life!"The old preacher just smiled and said, "Frog, I'm sorry to tell you this…but at my age, I'd rather have a talking frog than a beautiful princess!"
#joke
This little piggy...
When my wife quit work to take care of our new baby daughter, countless hours of peek-a-boo and other games slowly took their toll.
One evening my wife smacked her bare toes on the corner of a dresser and, grabbing her foot, sank to the floor.
I rushed to her side and asked what she hurt.
She looked at me through tear-filled eyes and managed to moan, "It's the piggy that ate roast beef."
#joke
New Gorilla in Bar
A black man enters a bar with his gorilla. He says to the bartender, "I would like a beer, and a gin and tonic for my girlfriend here."
The bartender looks at him like he's nuts and says, " I sorry but I don't serve Gorillas in this bar."
The man has an idea. He takes his girlfriend home and shaves her head, gives her a wig, dress, and makeup. Then he returns to the same bar. He places the same order and this time the bar tender gives it to them.
They go and sit in a corner while the bartender turns to his friend and says, "Damn! Did you ever notice how all the good looking Iraqi ladies that come in here, always seem to be with black men.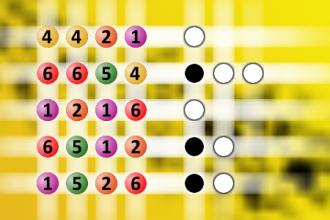 Which is a winning combination of digits?
The computer chose a secret code (sequence of 4 digits from 1 to 6). Your goal is to find that code. Black circles indicate the number of hits on the right spot. White circles indicate the number of hits on the wrong spot.
A fellow bought a new Mercedes...
A fellow bought a new Mercedes and was out on the interstate for a nice evening drive. The top was down, the breeze was blowing through what was left of his hair and he decided to open her up. As the needle jumped up to 80 mph, he suddenly saw flashing red and blue lights behind him. "There's no way they can catch a Mercedes," he thought to himself and opened her up further. The needle hit 90, 100.... Then the reality of the situation hit him. "What am I doing?" he thought and pulled over. The cop came up to him, took his license without a word and examined it and the car. "It's been a long day, this is the end of my shift and it's Friday the 13th. I don't feel like more paperwork, so if you can give me an excuse for your driving that I haven't heard before, you can go."
The guy thinks for a second and says, "Last week my wife ran off with a cop. I was afraid you were trying to give her back!"
"Have a nice weekend," said the officer.
Why God Created Eve
10. God was worried that Adam would frequently become lost
in the Garden.
9. God knew that one day Adam would require someone to
locate and hand him the remote.
8. God knew Adam would never go out and buy himself a new
fig leaf when his wore out and would therefore need Eve to
buy one for him.
7. God knew Adam would never be able to make a doctor's,
dentist, or haircut appointment for himself.
6. God knew Adam would never remember which night to put the
garbage on the curb.
5. God knew if the world was to be populated, men would
never be able to
handle the pain and discomfort of childbearing.
4. As the Keeper of the Garden, Adam would never remember
where he left his tools.
3. Apparently, Adam needed someone to blame his troubles on
when God caught him hiding in the garden.
2. As the Bible says, It is not good for man to be alone!
And finally, the Number 1 reason why God created Eve...
1. When God finished the creation of Adam, He stepped back,
scratched his head, and said, "I can do better than that."
In A Bad Nursing Home
The Top Signs You're In A Bad Nursing Home


Its named Heaven's Waiting Room.

Cheap TV antenna can't pick up Xena: Warrior Princess.

Defibrilator doubles as a remote control.

Its named Matlock Manor.

No furniture in it outside of beds and lots of caskets.

Radio stations alternate between Glenn Miller and broadcasting Last Rites in every language known to man.

You can't ring a nurse but you can page the attorney's office down the hall.

Rectal thermometers made of wood.

Two words: Community Bedpan.

#joke
Steve Byrne: Half-Korean, Half-Irish
Its weird when youre a mix. People just want to play detective with your face. Nine times out of 10, theyre polite: Where are you from? Im like, Pittsburgh. Theyre like, Pittsburgh, right. Seriously though, where are you from? Pittsburgh. Like Im from some mutant island south of the Philippines, the island of Half Asia. Its just me, Keanu Reeves and Tiger Woods on a beach all day playing volleyball.
#joke