Eye Glass Confessions
As the three ladies picked up a menu, each put on a pair of glasses.
"I really only need mine for close reading," explained the first.
Remarked the second, "I only use mine when the light is bad."
The third confessed, "I rarely wear mine - except when I want to see."
#joke
Testicle Therapy
Two women were playing golf. One teed off and watched in horror as her ball headed directly toward a foursome of men playing the next hole.

The ball hit one of the men. He immediately clasped his hands together at his groin, fell to the ground and proceeded to roll around in agony. The woman rushed down to the man, and immediately began to apologise. 'Please allow me to help. I'm a Physical Therapist and I know I could relieve your pain if you'd allow me, she told him.

'Oh, no, I'll be all right. I'll be fine in a few minutes,' the man replied. He was in obvious agony, lying in the fetal position, still clasping his hands there at his groin. At her persistence, however, he finally allowed her to help. She gently took his hands away and laid them to the side, loosened his pants and put her hands inside..

She administered tender and artful massage for several long moments and asked, 'How does that feel'?

Feels great, he replied; but I still think my thumb's broken!
#joke
Two old friends met for the fi
Two old friends met for the first time in several years. They had a good talk and one asked, "Is your wife still as pretty as ever?"
"She sure is," the other replied. "It just takes her longer."

The Search for a Pastor During Bible Times
Dear Member,We do not have a happy report, as we have not been able to find a suitable candidate for pastor of our church thus far. We do, however, have one promising prospect. The following is our confidential report on the candidates:
Adam: Good man, but has problems with his wife.
Noah: Former pastorate of 120 years with no converts. Prone to unrealistic building projects.
Joseph: A big thinker, but a braggart. Interprets dreams. Has a prison record.
Moses: Modest and meek, but poor communicator; even stutters at times. Sometimes blows his stack and acts rashly in business meetings.
Deborah: One word—female.
David: The most promising candidate of all, until we discovered the affair he had with a neighbor's wife.
Solomon: Great preacher, but serious woman problems.
Elijah: Prone to depression; collapses under pressure.
Jonah: Told us he was swallowed by a huge fish.
He said the fish later spit him out on the shore near here. We hung up.
Amos: Backward and unpolished.
With some seminary training, he might have promise; but he has a problem with wealthy people.
John: Says he's a Baptist, but doesn't dress like one. Sleeps in the outdoors, has a weird diet, and provokes denominational leaders.
Paul: Powerful CEO type and fascinating preacher.
But he's short on tact, unforgiving with young ministers, harsh, and has been known to preach all night.
Timothy: Too young.
Judas: His references are solid. A steady plodder. Conservative. Good connections. Knows how to handle money. We're inviting him to preach this Sunday with great hopes that he will accept our offer!
Name The States
Mr. Jones, the elementary school principal, made it a practice to visit the classes from time to time. One day he walked into Miss Sandy Smith's 4th grade class, where the children were studying American History. Mr. Jones asked the class how many states they could name.
They came up with about 40 names. Miss Sandy Smith came up with four more.
Not impressed, Mr Jones told them that in his day students knew the names of all the states.
From the back of the room Little Johnny yelled, "Yeah, but in those days there were only 13!"
#joke
Things in Libya
Things in Libya are getting Mo ammar crazy. Every time their leader speaks he Tripolis over his words. It's a Gadafestrophe.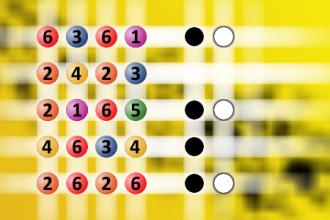 Find the right combination
The computer chose a secret code (sequence of 4 digits from 1 to 6). Your goal is to find that code. Black circles indicate the number of hits on the right spot. White circles indicate the number of hits on the wrong spot.
Church Cake!
Have you ever told a white lie? You are going to love this — especially all the ladies who bake for church events
Alice was to bake a cake for the church ladies' group bake sale, but she forgot to do it until the last minute.
She baked an angel food cake and when she took it from the oven, the center had dropped flat.
She said, "Oh dear, there's no time to bake another cake."
So, she looked around the house for something to build up the center of the cake.
Alice found it in the bathroom … a roll of toilet paper.
She plunked it in and covered it with icing.
The finished product looked beautiful, so she rushed it to the church. Before she left the house, Alice had given her daughter some money and specific instructions to be at the bake sale the minute it opened, and to buy that cake and bring it home.
When the daughter arrived at the sale, the attractive cake had already been sold.
Alice was beside herself.
The next day, Alice was invited to a friend's home where two tables of bridge were to be played that afternoon.
After the game, a fancy lunch was served, and to top it off, the cake in question was presented for dessert.
Alice saw the cake, she started to get out of her chair to rush into the kitchen to tell her hostess all about it, but before she could get to her feet, one of the other ladies said, "What a beautiful cake!"
Alice sat back in her chair when she heard the hostess (who was a prominent church member) say,
"Thank you, I baked it myself."
#joke
Answering Machine Message 97
"Camptown Races":
I can't come to the telephone; doo-dah, doo-dah.
Leave your message when you hear the tone; oh, de doo-dah day.
Might be gone all night... Might be gone all day...
So leave a message when you hear the tone.
I'll call you back someday...
#joke
How good was I?
A guy meets a girl out at a nightclub and she invites him back to her place for the night, her parents are out of town and this is the perfect opportunity.
They get back to her house and they go into her bedroom, and when the guy walks in the door he notices all these fluffy toys.
There's hundreds of them, fluffy toys on top of the wardrobe, fluffy toys on the bookshelf and window sill, there's more on the floor, and of course fluffy toys all over the bed.
Later, after they've had sex, he turns to her and asks, "So, how was I?"
She says, "Well, you can take anything from the bottom shelf."
#joke
New Secretary
The real estate boss got a hot new secretary. Afraid of sexual harrassment issues he held himself off for a week, but finally overcome with lust, he decided to put some moves on her. But within a few weeks, he is feeling displeased at the way she is working, not caring, coming to work late, and so on. So, he pulls her aside, and has a little talk with her. "Listen, baby, we may have gone to bed together a few times, but who said you could start coming in late and slacking off?" Looking him in the eyes, she replied, "My lawyer!"
Bumper Stickers in Heaven
Honk if you ARE Jesus
Ask Me About My Previous Lives
I Brake For Celestial Choirs
I Died and Went To Heaven and All I Got Was This Lousy Halo