A Publicist for Moses
Moses: "How are we going to get across the sea? The Egyptians are close behind us!"General of the army: "Normally, I'd recommend that we build our own bridge to carry us across. But there's not enough time for that."Admiral of the navy: "Normally, I'd recommend that we build barges to carry us across. But time is too short."Public relations officer: "I don't have a solution, but I can promise you this: If you can find a way out of here, I'll get you two or three pages in the Old Testament!"
#joke
A couple had not been married
A couple had not been married for long, when the husband came home one day to find that his bride had disappeared. He got very worried and gathered up all his friends to search for his wife with no success.
Two days after his wife disappeared the man returned home to find her in the kitchen. He asked her what she had been up to and why she hadn't been home for so long.
She replied, "These four men kidnapped me and had wild sex with me for a week."
The husband answered, "But it's only been two days what do you mean a week?"
"I am just here to get something to eat."
#joke
Cannibals
One day three people were stuck on an island with cannibals.
The cannibals said, "If you do what we say, we won't kill you".
So the 3 people followed the orders which were to go into the forest and pick 10 fruits of your choice.
So the first person came back out of the forest with 10 apples. The cannibals said, "put the apples up your ass without making a facial expression". The person held his composure however then made a facial expression after the second apple, so the cannibals killed him.
The second person came back out of the forest with 10 cherries. The cannibals said, "put the cherries up your ass without making a facial expression". However as much as he tried to restrain himself the person burst into tears laughing on the tenth cherry, so they killed him.
In heaven, the person with apples asked the person with cherries "why did you start laughing?"
The person replied, "I saw the third person come out with pineapples."
#joke
Making money
Three boys are in the school yard bragging about their fathers. The first boy says, "My Dad scribbles a few words on a piece of paper, he calls it a poem, they give him $50."
The second boy says, "That's nothing. My Dad scribbles a few words on a piece of paper, he calls it a song, they give him $100."
Little Johnny says, "I got you both beat. My Dad scribbles a few words on a piece of paper, he calls it a sermon, and it takes eight people to collect all the money!"
#joke
Do manatees t
Do manatees tempt sailors?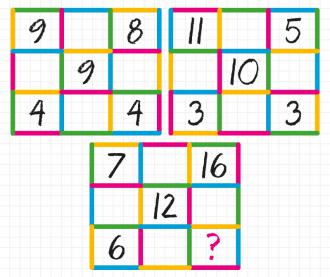 Replace the question mark with a number
MATH PUZZLE: Can you replace the question mark with a number?
Barfing
George was planning on going out with "The Boys" when his wife told him that he wasn't leaving the house.
George's Wife: "The last time you went out with your friends you got so drunk that you puked on your shirt."
George: "But Honey, I promise that I wont drink a drop of alcohol all night!"
So after begging his old lady for an hour, George got the OK the go out with the guys as long as he stayed off of the booze.
George met up with the guys at a local bar and proceeded to get shit-faced. After about 3 hours of guzzling liquor, George blew chow all over his shirt.
George: "Shit! The old lady is going to throw my ass out of the house for getting drunk and puking on my new shirt!"
Bill, George's best pal, gave drunk ass George an idea of how to keep from getting in trouble with the wife.
Bill: "All you got to do is have a $20 bill in your hand when you walk through the door. Then, when she accuses you of barfing all over yourself, just tell her that some other drunk puked on you and that he gave you 20 bucks to get the shirt cleaned."
So, when drunk ass George walked into the house with money in hand, his wife was waiting for him in the living room.
Georges wife: "I knew that your drunk ass would spew bile and booze all over that new shirt!"
George: "Honey, let me explain! This drunken fool at the bar puked on me and gave me 20 bucks to have it cleaned."
His wife snatched the money out of his hand and observed that he was holding two $20 bills.
George's wife: "Is that so? Then where did the other 20 dollar bill come from?"
George: "Oh, That's from the guy who shit in my pants."
#joke
Russ Meneve: Unprovoked Shark Attacks
There were 79 unprovoked shark attacks last year. Unprovoked -- do we need that word in there? Are there people provoking shark attacks? Is there some dick from Jersey in the water: Hey shark, you freakin lookin at me? You got a problem or somethin? I got somethin for you to bite right here!
Your lips are so chapped, I ca...
Your lips are so chapped, I can hear you smile.
Real Advertisements 03
Supposedly, these are actual advertisements that have appeared in papers across the country.
Toaster: A gift that every member of the family appreciates. Automatically burns toast.
Sheer stockings. Designed for fancy dress, but so serviceable that lots of women wear nothing else.
Stock up and save. Limit: one.
We build bodies that last a lifetime.
For Rent: 6-room hated apartment.
Man, honest. Will take anything.
Wanted: chambermaid in rectory. Love in, $200 a month. References required.
Man wanted to work in dynamite factory. Must be willing to travel.
UsedCars: Why go elsewhere to be cheated? Come here first!
#joke