Be rady for Thanksgiving
, check out our latest
Thanksgiving jokes of 2021
on:
Thanksgiving jokes collection
Dead Lawyer
A guy calls a law office and says: "I want to talk to my lawyer."
The receptionist replies, "I'm sorry, but he died last week."
The next day he phones again and asks the same question. The receptionist replies, "I told you yesterday, he died last week."
The next day the guy calls again and asks to speak to his lawyer. By this time the receptionist is getting a little annoyed and says, "I keep telling you, your lawyer died last week. Why do you keep calling?"
The guy says, "Because I just love hearing it."
Men Are Like Bank Accounts
Most men are like bank accounts...
When they don't have a lot of money, they don't generate much interest.
Three Policemen at the Pearly Gates
Three police officers were standing in line at the Pearly Gates.Saint Peter asked the first officer, "What did you do with your life?""I was a police officer," he responded."What kind of police officer?" Saint Peter asked."I was a vice officer. I kept drugs off the streets and out of the hands of kids.""Welcome to heaven. You may end the gates."He asked the second man what he did as a police officer."I was a traffic officer," said the man. "I kept the roads and highways safe.""Welcome to heaven. You may enter the gates."He asked the third man what he did as a police officer."I was a military policeman, sir," replied the man."Wonderful! I've been waiting for you all day!" replied Saint Peter. "I need to take a break! Watch the gate, will you?"
Sunday school lesson...
The Sunday school lesson for the day was about Noah's Ark, so the teacher decided to get her small pupils involved by playing a game in which they identified animals.
"I'm going to describe something to you. Let's see if you can guess what it is.
First: I'm furry with a bushy tail and I like to climb trees."
The children looked at her blankly.
"I also like to eat nuts, especially acorns."
No response. This wasn't going well at all!
Finally a kid volunteered:
"Well, I know the answer has to be Jesus....but it sure sounds like a squirrel to me!"
#joke
--Dr. Richard Byrnes, Seattle,
--Dr. Richard Byrnes, Seattle, WA
One day I had to be the bearer of bad news when Itold a wife that her husband had died of a massive myocardial infarct. Notmore than five minutes later, I heard her reporting to the rest ofthe family that the had died of a "massive internal fart."
--Dr. Susan Steinberg, Manitoba, Canada
I was performing a complete physical, including thevisual acuity test. I placed the patient twenty feet from the chartand began, "Cover your right eye with your hand." He readthe 20/20 line perfectly. Now your left." Again, a flawless read.Now both," I requested . There was silence. He couldn't evenread the large E on the top line. I turned and discovered that he haddone exactly what I had asked; he was standing there with both his eyescovered I was laughing too hard to finish the exam.
--Dr. Matthew Theodropolous, Worcester, MA
During a patient's two week follow-up appointmentwith his cardiologist, he informed me, his doctor, that hewas having trouble with one of his medications. Which one?" I asked. The patch. Thenurse told me to put on a new one every six hours and now I'm running out of places to putit!" I had him quickly undress and discovered what I hoped Iwouldn't see. Yes, the man had over fifty patches on his body!Now the instructions include removal of the old patch before applying a new one.
--Dr. Rebecca St. Clair, Norfolk, VA
While acquainting myself with a new elderly patient,I asked, "How long have you been bed-ridden?" After a look of completeconfusion she answered Why, not for about twenty years -- whenmy husband was alive."
--Dr. Steven Swanson, Corvallis, OR
I was caring for a woman from Kentucky and asked, So,how's your breakfast this morning?" It's very good, except for theKentucky Jelly I can't seem to get used to the taste," the patient replied. Ithen asked to see the jelly and the woman produced a foil packet labeled"KY Jelly."
--Dr. Leonard Kransdorf, Detroit, MI
And Finally . . . A new, young MD doing hisresidency in OB was quite embarrassed performing female pelvic exams. To cover hisembarrassment he had unconsciously formed a habit of whistling softly. Themiddle aged lady upon whom he was performing this exam suddenly burstout laughing and further embarrassed him. He looked up from his workand sheepishly said, "I'm sorry. Was I tickling you?"She replied, "No doctor, but the song you were whistling was 'I wishI was an Oscar Meyer Wiener."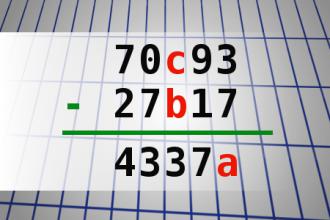 Find number abc
If 70c93 - 27b17 = 4337a find number abc. Multiple solutions may exist.
Winner of the Toastmasters awa...
Winner of the Toastmasters award for 'best speech about handguns' won a Glock n' spiel.
Chuck Norris once ordered a st...
Chuck Norris once ordered a steak in a restaurant. The steak did what it was told.
The European Union commissione....
The European Union commissioners have announced that an agreement has been reached to adopt English as the preferred language for European communications, rather than German, which was the other possibility. As part of the negotiations, the British government conceded that English spelling had some room for improvement and has accepted a five year phased plan for what will be known as EuroEnglish (Euro for short).
In the first year, "s" will be used instead of the soft "c". Sertainly, sivil servants will reseive this news with joy.
Also, the hard "c" will be replaced with "k". Not only will this klear up konfusion, but typewriters kan have one less letter.
There will be growing public enthusiasm in the sekond year, when the troublesome "ph" will be replased by "f". This will make words like "fotograf" 20 persent shorter.
In the third year, publik akseptanse of the new spelling kan be expekted to reach the stage where more komplikated changes are possible. Governments will enkorage the removal of double letters, which have always ben a deterent to akurate speling. Also, al wil agre that the horible mes of silent "e"s in the language is disgrasful, and they would go.
By the fourth year, peopl wil be reseptiv to steps such as replasing "th" by "z" and "w" by "v".
During ze fifz year, ze unesesary "o" kan be dropd from vords kontaining "ou", and similar changes vud, of kors, be aplid to ozer kombinations of leters.
Und efter ze fifz yer, ve vil al be speking German lik zey vunted in ze forst plas.
#joke
Faster than a speeding bullet....
Faster than a speeding bullet...more powerful than a locomotive...able to leap tall buildings in a single bound...yes, these are some of Chuck Norris' warm-up exercises.
A blind man enters a Ladies Ba
A blind man enters a Ladies Bar by mistake. He finds his way to a bar stool and orders a drink. After sitting there for a while, he yells to the bartender, "Hey, you wanna hear a blonde joke?"
The bar immediately falls absolutely quiet.
In a very deep, husky voice, the woman next to him says, "Before you tell that joke, sir, you should know five things:
1 - The bartender is a blonde girl.
2 - The bouncer is a blonde gal.
3 - I'm a 6-foot tall, 200-pound blonde woman with a black belt in karate.
4 - The woman sitting next to me is blonde and is a professional weight lifter.
5 - The lady to your right is a blonde and is a professional wrestler.
Now think about it seriously, Mister. Do you still wanna tell that joke?"
The blind man thinks for a second, shakes his head, and declares, "Nah, not if I'm gonna have to explain it five times."
Kumail Nanjiani: Hogwarts Curriculum
Heres my only thing with Harry Potter... They go to this school, and they take classes like Defense Against the Dark Arts and Potions and Divination, but they should be taking math also, right? Why are there no math teachers at Hogwarts? Or history, or geography? Theyre getting tested on Care of Magical Creatures -- never heard of the Holocaust.
#joke