Anyone in a mink coat is evil.
Anyone in a mink coat is evil. Is that a valid infurance?
Follow Your Dreams
They told me, "Follow your dreams..."
So I went back to bed.
A little Native American boy a
A little Native American boy asks his chief how babies in their tribe get their names.
The chief replies, "When a baby is born, the father takes him outside of the teepee, holds him over his head, and names him after the first thing he sees - like 'Running-Wolf' or 'Flying-Cloud'. Why do you ask, Two-Dogs-Screwing?"
#joke
Top ten signs your Amish teen is in trouble...
10. Sometimes stays in bed until after 5 a.m.
9. In his sock drawer, you find pictures of women without bonnets.
8. Shows up at barn raisings in full 'KISS' makeup.
7. When you criticize him, he yells, 'Thou sucketh.'
6. His name is Jebediah, but he goes by 'Jeb Daddy.'
5. Defiantly says, 'If I had a radio, I'd listen to rap.'
4. You come upon his secret stash of colored socks.
3. Uses slang expression, 'Talk to the hand, 'cause the beard ain't listening.'
2. Was recently pulled over for driving under the influence of cottage cheese.
1. He's wearing his big black hat backwards.
#joke
A guy receives an ad in the ma
A guy receives an ad in the mail for a golf resort where everything costs one dollar. He jumps at the offer and heads off for a weekend of fun in the sun.
He arrives and plays a round of golf. It cost him a buck. When he goes for dinner that evening, it costs him another buck. His room is only a buck a day!
The day before he's to check out, he heads out to play a last round and stops by the pro shop and charges a sleeve of three balls to his room.
When he's checking out next morning, he looks at the bill and sees:
Golf: $1.00
Dinner: $1.00
Room: $1.00.
Sleeve of golf balls: $3,000.00
He asks the Manager, "What is this all about? Everything is supposed to cost one dollar, and you charged me three thousand for three golf balls?"
"I'm sorry, sir, said the manager, but you didn't read the fine print in our promotional brochure. That's what our golf balls cost."
"Well, said the man, If I wanted to spend that kind of money, I could've gone to that luxury hotel across the street and paid them a thousand dollars a day for a room. At least I would've known what I was paying for!"
"That's right, sir, you could have, said the manager. Over there they get you by the room. Over here we get you by the balls!"
#joke
No a Member
Three women are in a gym locker room dressing up to play racquetball when suddenly a guy runs through the room wearing nothing but a bag over his head.
He passes the first woman, who looks down at his penis. "He's not my husband," she says.
He passes by the second woman, who also looks down at his penis. "He's not my husband either."
He passes by the third woman, who also looks down as he runs by her.
"Wait a minute," she says. "He's not even a member of this club."
#joke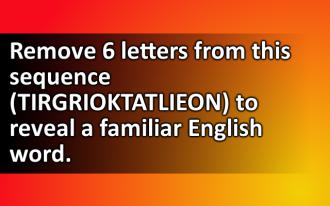 Remove 6 letters from this s...
Remove 6 letters from this sequence (TIRGRIOKTATLIEON) to reveal a familiar English word.
Two Priests on Vacation
Two priests were going to Hawaii on vacation and decided that they would make this a real vacation by not wearing anything that would identify them as clergy.
As soon as the plane landed, they headed for a store and bought some really outrageous shorts, shirts, sandals, sunglasses, and etc.
The next morning they went to the beach, dressed in their "tourist" garb and were sitting on beach chairs, enjoying a drink, the sunshine and the scenery when a "drop dead gorgeous" blonde in a tiny bikini came walking straight towards them. They couldn't help but stare and when she passed them, she smiled and said, "Good morning, Father" – "Good morning, Father," nodding and addressing each of them individually, then passed on by.
They were both stunned. How in the world did she recognize them as priests?
The next day they went back to the store, bought even more outrageous outfits-these were so loud, you could hear them before you even saw them-and again settled on the beach in their chairs to enjoy the sunshine, etc.
After a while, the same gorgeous blonde, wearing a string bikini this time, came walking toward them again. (They were glad they had sunglasses, because their eyes were about to pop out of their heads.)
Again, she approached them and greeted them individually: "Good morning, Father," "Good morning Father," and started to walk away.
One of the priests couldn't stand it and said. "Just a minute, young lady. Yes, we are priests, and proud of it, but I have to know, how in the world did YOU know?"
"Oh, Father, don't you recognize me? I'm Sister Angela!"
Free Drinks For Everyone
One night, a drunk comes stumbling into a bar and says to the bartender: "Drinks for all on me including you, bartender." So the bartender follows the mans orders and says: "That will be $36.50 please." The drunk says he has no money so the bartender slaps him around and throws him out.
The next night the same drunk comes in again and orders a drink for everyone in the bar including the bartender. Again the bartender follows instructions and again the drunk says he has no money. So the bartender slaps him around and throws him out.
On the third night he comes in, the drunk orders drinks for all except the bartender. "What, no drink for me?" replies the bartender. "Oh, no. You get violent when you drink."
#joke
Brian Regan: Pick Somebody at Random
You know whats fun? You pick somebody at random, like out of the phone book, and send them about 100 Just Because cards. They cant even ask you why you did it.
When you say "no one's perfect...
When you say "no one's perfect", Chuck Norris takes it as a personal insult.