Be rady for Thanksgiving
, check out our latest
Thanksgiving jokes of 2021
on:
Thanksgiving jokes collection
I misspelled the menus at my r
I misspelled the menus at my restaurant. Perverts kept showing up asking 'where's the can o'pees'?
A grade school teacher was ins
A grade school teacher was instructing her students on the value of coins. She took a half-dollar and laid it on her desk. "Can any of you tell me what it is?" she asked.
From the back of the room came the answer: "Tails!"

Work Rules Your Life
Yesterday my spouse was berating me for checking my email all day as I work from home.
"You know," she complained, "I think that work rules your life."
"No dear," I replied, "you rule my life... I just prefer work."
Missing Palm Sunday
On Palm Sunday, a five-year-old boy had a sore throat and stayed home from church with a babysitter. When the family returned home, they were carrying several palm branches. The boy asked them what they were."People held them over Jesus' head as He walked by," his father told him."Wouldn't you know it," the boy fumed. "The one Sunday I don't go and Jesus shows up."
#joke
Here in Kentucky, you don't s
Here in Kentucky, you don't see too many people hang-gliding. Bubba decided tosave up and get a hang-glider. He takes it to the highest mountain, and after strugglingto the top, he gets ready to take flight. He takes off running and reaches the edge-------into the wind he goes!
Meanwhile, Maw and Paw Hicks were sittin' on the porch swing talkin bout the good oldays when maw spots the biggest bird she ever seen!"Look at the size of that bird, Paw!" she exclaims.
Paw raises up," Git my gun, Maw."
She runs into the house, brings out his pump shotgun. He takes careful aim. BANG...BANG.....BANG.....BANG! The monster size bird continues to sail silently overthe tree tops.
"I think ya missed him, Paw," she says.
"Yeah," he replies, "but at least he let go of Bubba!"
#joke
Polishing Apples
A young man asked an old rich man how he made his money.
The old guy fingered his expensive wool vest and said, "Well, son, it was 1932. The depth of the Great Depression. I was down to my last nickel."
"I invested that nickel in an apple. I spent the entire day polishing the apple and, at the end of the day, I sold the apple for ten cents."
"The next morning, I invested those ten cents in two apples. I spent the entire day polishing them and sold them at 5:00 pm for 20 cents. I continued this system for a month, by the end of which I'd accumulated a fortune of $9.80."
"Then my wife's father died and left us two million dollars."
#joke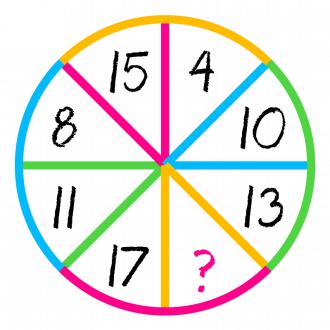 MATH PUZZLE: Can you replace...
MATH PUZZLE: Can you replace the question mark with a number?
A Little Quarrel
A man and his wife started out in the car after a quarrel. She sat in the back seat and continued to berate him for his faults. In her excitement she pounded on the car door and it flew open. Several blocks later one of their neighbors flagged the man down.
"Your wife fell out of the car back there," he said.
The man looked over at the back seat. "Thank goodness!" he said, "I thought I had lost my hearing!"
#joke
Perverted sex
What do you call a man who has sex with his mom?
A MOTHER FUCKER!
Once a grizzly bear threatened...
Once a grizzly bear threatened to eat Chuck Norris. Chuck showed the bear his fist and the bear proceeded to eat himself, because it would be the less painful way to die.
Terrorize Telemarketer
Ways to Terrorize a Telemarketer


Tell them to talk VERY SLOWLY, because you want to write EVERY WORD down.

Insist that the caller is really your buddy Leon, playing a joke. "Come on Leon, cut it out! Seriously, Leon, how's your momma?"

Tell the telemarketer you are busy at the moment and ask them if they will give you their HOME phone number so you can call them back. When the telemarketer explains that they cannot give out their HOME number, you say "I guess you don't want anyone bothering you at home, right?" The telemarketer will agree and you say, "Now you know how I feel!"

After the telemarketer gives their spiel, ask him/her to marry you. When they get all flustered, tell them that you could not just give your credit card number to a complete stranger.

Tell the telemarketer you are on "home incarceration" and ask if they could bring you a case of beer and some chips.

If they want to loan you money, tell them you just filed for bankruptcy and you could sure use some money.

If MCI calls trying to get you to sign up for the Family and Friends plan, reply, in as SINISTER a voice as you can, "I don't have any friends... would you be my friend?"

Cry out in surprise, "Judy! Is that you? Oh my God! Judy, how have you been?" Hopefully, this will give Judy a few brief moments of pause as she tries to figure out where the hell she could know you from.

If they say they're John Doe from XYZ Company, ask them to spell their name. Then ask them to spell the company name. Then ask them where it is located. Continue asking them personal questions or questions about their company for as long as necessary.

When they ask "How are you today?" Tell them! "I'm so glad you asked because no one these days seems to care, and I have all these problems; my arthritis is acting up, my eyelashes are sore, my dog just died..."

Arj Barker: Friends With Kids
I only have, like, three really good friends, and they get worse every year. And its gotten to the point where I think theyd rather hang out with their own kids than hang out with me. Im like, Alright, but really, wheres the loyalty, man? Ive known you for 25 years. How long have you known your baby -- like a month? Alright, Judas, whatever.
#joke
Borrowed the Car
After shopping for most of the day, a couple returns to find their car has been stolen. They go to the police station to make a full report. Then, a detective drives them back to the parking lot to see if any evidence can be found at the scene of the crime. To their amazement, the car has been returned.
There is an envelope on the windshield with a note of apology and two tickets to a music concert. The note reads, "I apologize for taking your car, but my wife was having a baby and I had to hot-wire your ignition to rush her to the hospital. Please forgive the inconvenience. Here are two tickets for tonight's concert of Garth Brooks, the country-and-western music star."
Their faith in humanity restored, the couple attend the concert and return home late. They find their house has been robbed. Valuable goods have been taken from thoughout the house, from basement to attic. And, there is a note on the door reading, "Well, you still have your car. I have to put my newly born kid through college somehow, don't I?"
#joke