Shamans are a
Shamans are always embarrassing themselves.
Golden Saloon
A guy comes home completely drunk one night. He lurches through the
door and is met by his scowling wife, who is most definitely not happy.
"Where the hell have you been all night?" she demands.
"At this new bar," he says. "The Golden Saloon. Everything there is golden.
It's got huge golden doors, a golden floor and even the urinal's gold!"
The wife still doesn't believe his story, and the next day checks the
phone book, finding a place across town called the Golden Saloon.
She calls up the place to check her husband's story.
"Is this the Golden Saloon?" she asks when the bartender answers the
phone.
"Yes it is," bartender answers.
"Do you have huge golden doors?"
"Sure do." "Do you have golden floors?"
"Most certainly do."
"What about golden urinals?"
There's a long pause, then the woman hears the bartender yelling,
"Hey, Duke, I think I got a lead on the guy that pissed in your saxophone last night!"
#joke
Melvyn and Max were left quite
Melvyn and Max were left quite a large plot of land by their rich father. However, this caused the two sons much grief. For months they argued long and hard over how the land should be divided between them. The solution just wasn't that simple, so they took the problem to their priest.
"Father," said Melvyn, "can you please help us solve our problem?"
As soon as he had heard their case, Father Murphy said, "Come back tomorrow and we'll talk again."
The next day, Melvyn and Max returned and the priest gave them his solution. He gave Max a coin and said, "You can toss the coin."
"And you," said Father Murphy to Melvyn, "can call it, heads or tails. Whoever wins the toss will divide the land."
"But that won't work," said Max, "we'll be right back from where we started."
"But not," said Father Murphy, "if the one who wins the toss divides the land and the other one gets first choice!"
#joke
The List
My friends asked me to go camping, so I made a list of the things I would need:
"1. New friends."
The Groom's Many Brides
A young girl was attending her first wedding, watching the proceedings with interest for a while before growing restless. The groom stood at the altar as six bridesmaids walked slowly up the aisle, one by one.Soon, the girl leaned over to her mom and whispered, "Why doesn't he just hurry up and pick one?"
#joke
The recital
A soldier stationed in the South Pacific wrote to his wife in the States to please send him a harmonica to occupy his free time and keep his mind off of the local women. The wife complied and sent the best one she could find, along with several dozen lesson & music books.
Rotated back home, he rushed to their home and thru the front door. "Oh darling" he gushed, "Come here... let me look at you... let me hold you ! Let's have a fine dinner out, then make love all night. I've missed your lovin' so much !" The wife, keeping her distance, said, "All in good time lover. First, let's hear you play that harmonica."
#joke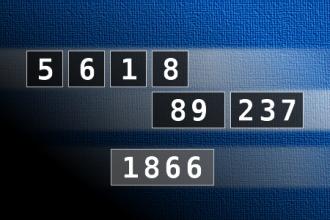 Calculate the number 1866
NUMBERMANIA: Calculate the number 1866 using numbers [5, 6, 1, 8, 89, 237] and basic arithmetic operations (+, -, *, /). Each of the numbers can be used only once.
Free sex
There was this gas station in "redneck country" trying to increase its sales, so the owner put up a sign saying "Free Sex with Fill-up."
Soon a "redneck" customer pulled in, filled his tank, and then asked for his free sex.
The owner told him to pick a number from (1) to (10), and if he guessed correctly, he would get his free sex.
The buyer then guessed (8) and the proprietor said, "No, you were close. The number was (7). Sorry, no free sex this time but maybe next time".
Some time thereafter, the same man, along with his buddy this time, pulled in again for a fill-up, and again he asked for his free sex.
The proprietor again gave him the same story and asked him to guess the correct number. The man guessed (2) this time, and the proprietor said, "Sorry, it was (3). You were close but no free sex this time".
As they were driving away, the driver said to his buddy, "I think that game is rigged and he doesn't give away free sex".
The buddy replied, "No, it's not rigged -- my wife won twice last week."
#joke
Aaron Karo: New Diet
I was reading about this new diet where youre not allowed to drink alcohol. Well, I read the first sentence at least.
Some Really Good Questions
1. Does a clean house indicate that there is a broken computer in it?
2. Why is it that no matter what color of bubble bath you use the bubbles are always white?
3. Is there ever a day that mattresses are not on sale?'
4. Why do people constantly return to the refrigerator with hopes that something new to eat will have materialized?
5. On electric toasters, why do they engrave the message "one slice?" How many pieces of bread do they think people are really gonna try to stuff in that slot?
6. Why do people keep running over a string a dozen times with their vacuum cleaner, then reach down, pick it up, examine it, then put it down to give the vacuum one more chance?
7. Why is it that no plastic garbage bag will open from the end you first try?
8. How do those dead bugs get into those closed light fixtures?
9. Considering all the lint you get in your dryer, if you kept drying your clothes would they eventually just disappear?
10. When we are in the supermarket and someone rams our ankle with a shopping cart then apologizes for doing so, why do we say, "It's all right?" Well, it isn't all right so why don't we say, "That hurt, you stupid idiot?"
11. Why is it that whenever you attempt to catch something that's falling off the table you always manage to knock something else over?
12. Is it true that the only difference between a yard sale and a trash pickup is how close to the road the stuff is placed?
13. In winter why do we try to keep the house as warm as it was in summer when we complained about the heat?
14. How come you never hear father-in-law jokes?
15. If at first you don't succeed, shouldn't you try doing it like your wife told you to do it? And obviously if at first you don't succeed, then don't take up sky diving!
16. The statistics on sanity are that one out of every four Americans is suffering from some sort of mental illness. Think of your three best friends, if they're okay, then it's you.
#joke
Knock Knock Collection 144
Knock Knock
Who's there?
Ozzie!
Ozzie who?
Ozzie you later!
Knock Knock
Who's there?
Pablo!
Pablo who?
Pablo your horn!
Knock Knock
Who's there?
Pammy!
Pammy who?
Pammy the key, the door is locked!
Knock Knock
Who's there?
Paris!
Paris who?
Paris the thought!
Knock Knock
Who's there?
Parton!
Parton who?
Parton my French!
#joke