Popular jokes (21 to 30)
Jokes sorted by popularity on social networks. Popularity is sum of all all comments, likes, pluses, tweets, etc. is new measure, independant from rating with our star rating system.
Clerk Tries To Get It On With A Pretty Girl
Walking up to a department store's fabric counter, a pretty girl asked, "I want to buy this material for a new dress. How much does it cost?"
"Only one kiss per yard, " replied the smirking male clerk.
"That's fine," replied the girl. "I'll take ten yards."
With expectation and anticipation written all over his face, the clerk hurriedly measured out and wrapped the cloth, then held it out teasingly.
The girl snapped up the package, pointed to a little old man standing beside her, smiled and said. "Grandpa pay the man."
#joke
A man walks into a restaurant...
A man walks into a restaurant with a full-grown ostrich behind him.
As he sits, the waitress comes over and asks for their orders.
The man says, "I'll have a hamburger, fries and a coke," and turns to the ostrich, "What's yours?"
"I'll have the same," says the ostrich.
A short time later the waitress returns with the order. "That will be $6.40 please," and the man reaches into his pocket and pulls out the exact change for payment.
The next day, the man and the ostrich come again and the man says, "I'll have a hamburger, fries and a coke," and the ostrich says, "I'll have the same."
Once again the man reaches into his pocket and pays with exact change.
This becomes a routine until late one evening, the two enter again.
"The usual?" asks the waitress. "No, this is Friday night, so I will have a steak, baked potato and salad," says the man, "same for me," says the ostrich.
A short time later the waitress comes with the order and says, "That will be $12.62."Once again the man pulls exact change out of his pocket and places it on the table.
The waitress can't hold back her curiosity any longer.
"Excuse me, sir.How do you manage to always come up with the exact change out of your pocket every time?"
"Well," says the man, "several years ago I was cleaning the attic and I found an old lamp. When I rubbed it a Genie appeared and offered me two wishes. My first wish was that if I ever had to pay for anything, I would just put my hand in my pocket and the right amount of money would always be there."
"That's brilliant!"says the waitress. "Most people would wish for a million dollars or something, but you'll always be as rich as you want for as long as you live!"
"That's right. Whether it's a gallon of milk or a Rolls Royce, the exact money is always there," says the man.
The waitress asks, "One other thing, sir, what's with the ostrich?"
The man sighs, pauses, and answers, "My second wish was for a tall chick with long legs who agrees with everything I say."
Rosebuds
The teenage granddaughter comes downstairs for her date with this see-through blouse on and no bra. Her grandmother just has a fit, telling her not to dare go out like that.
The teenager tells her "Loosen up Grams. These are modern times. You gotta let your rosebuds show!" and out she goes.
The next day the teenager comes downstairs, and the grandmother is sitting there with no top on. The teenager wants to die.
She explains to her grandmother that she has friends coming over and that it is just not appropriate.
"Loosen up, sweetie. If you can show off your rosebuds, then I can display my hanging baskets."
#joke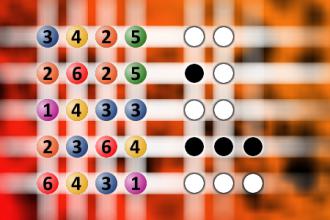 What a winning combination?
The computer chose a secret code (sequence of 4 digits from 1 to 6). Your goal is to find that code. Black circles indicate the number of hits on the right spot. White circles indicate the number of hits on the wrong spot.
A drunk at the bar
A man walks into the front door of a bar. He is obviously drunk and staggers up to the bar, seats himself on a stool and, with a belch, asks the bartender for a drink. The bartender politely informs the man that it appears he has already had plenty to drink and that he could not be served additional liquor. The bartender offers to call a cab for him.
The drunk is briefly surprised, then softly scoffs, grumbles, climbs down from the bar stool and staggers out the front door. A few minutes later, the same drunk stumbles in the side door of the bar. He wobbles up to the bar and hollers for a drink. The bartender comes over and - still politely if not more firmly - refuses service to the man and again offers to call a cab. The drunk looks at the bartender for a moment angrily, curses, and shows himself out the side door, all the while grumbling and shaking his head.
A few minutes later, the same drunk bursts in through the back door of the bar. He plops himself up on a bar stool, gathers his wits, and belligerently orders a drink. The bartender comes over and emphatically reminds the man that he is drunk and will be served no drinks. He then tells him that he can either call a cab or the police immediately.
The surprised drunk looks at the bartender and in hopeless anguish cries, "Man! How many bars do you work at?"
#joke
Black Eyes
A man walked into work on Monday with two black eyes. His boss asked what happened.
The man said, "I was sitting behind a big woman at church. When we stood up to sing hymns, I noticed that her dress was caught in her crack, so I pulled it out. She turned around and punched me square in the eye."
"Where did you get the other shiner?" the boss asked.
"Well," the man said, "I figured she didn't want it out, so I pushed it back in."
How Many Wives?
Two little boys were at a wedding when one leaned over to the other and asked, "How many wives can a man have?"
His friend answered, "Sixteen... four better, four worse, four richer, and four poorer."

Judge: Look here Mickey Mouse...
Judge: Look here Mickey Mouse, I cannot grant you a divorce from Minnie.
Mickey (stunned): Why not?
Judge: I have reviewed all the information you gave the court, but I can't find any evidence at all to support the grounds that she is crazy.
Mickey (exasperated): Your honor! I didn't say she was crazy... I said she was fu**ing Goofy!
#joke
Father/Son
A father passing by his son's bedroom was astonished to see the bed was nicely made and everything was picked up. Then he saw an green envelope propped up prominently on the center of the bed. It was addressed, "Dad".
With the worst premonition, he opened the envelope and read the letter with trembling hands:
Dear Dad, It is with great regret and sorrow that I'm writing you. I had to elope with my new girlfriend because I wanted to avoid a scene with mom and you.
I've been finding real passion with Mariel and she is so nice-even with all her piercing, tattoos, and her tight Motorcycle clothes. But it's not only the passion dad, she's pregnant and Mariel said that we will be very happy.
Even though you don't care for her as she is so much older than I, she already owns a trailer in the woods and has a stack of firewood for the whole winter. She wants to have many more children with me and that's now one of my dreams too.
Mariel taught me that marijuana doesn't really hurt anyone and we'll be growing it for us and trading it with her friends for all the cocaine and ecstasy we want. In the meantime, we'll pray that science will find a cure for AIDS so Mariel can get better; she sure deserves it!!
Don't worry Dad, I'm 15 years old now and I know how to take care of myself. Someday I'm sure we'll be back to visit so you can get to know your grandchildren.
Your son, Tom
PS: Dad, none of the above is true. I'm over at the neighbor's house. I just wanted to remind you that there are worse things in life than my report card that's in my desk center drawer. I love you! Call when it is safe for me to come home.
#joke
A guy is 86 years old and love...
A guy is 86 years old and loves to fish.He was sitting in his boat the other day when he heard a voice say,
"Pick me up."
He looked around and couldn't see any one. He thought he was dreaming when he heard the voice say again,
"Pick me up." He looked in the water and there, floating on the top was a frog.
The man said, "Are you talking to me?"
The frog said, "Yes, I'm talking to you. Pick me up.
Then, kiss me and I'll turn into the most beautiful woman you haveever seen.
I'll make sure that all your friends are envious and jealous because you will have me as your bride."
The man looked at the frog for a short time, reached over, picked it up carefully, and placed it in his front breast pocket.
Then the frog said, "What, are you nuts? Didn't you hear what I said?
I said kiss me and I will be your beautiful bride."
He opened his pocket, looked at the frog and said,
"Nah, at my age I'd rather have a talking frog."
#joke