Christmas jokes - jokes about christmas day (11 to 20)
| | |
| --- | --- |
| | Jokes about christmas day. These are the jokes listed 11 to 20. |
Several days before Halloween,
Several days before Halloween, Tom, Dick and Harry were sitting in a bar enjoying a few quiet drinks, when they decided to get in on the Christmas raffle.
Since the raffle was for charity, they bought five tickets each. When the raffle was drawn a few days later, they each won a prize.
Tom won the first prize - a year's supply of gourmet spaghetti sauce.
Dick was the winner of the second prize - a six month supply of extra-long gourmet spaghetti.
And Harry won the sixth prize - a toilet brush.
The next time they met at the bar, Harry asked the others how they were enjoying their prizes. "Great," said Tom. "I love spaghetti."
"Me too," replied Dick.
"And how's the toilet brush, Harry?"
"Not so good," Harry groaned, "I reckon I'll go back to toilet paper."
Working on Christmas?
Q: Why is getting Christmas presents for your kids just like a day at the office?A: You do all the work and the fat guy in the suit gets all the credit.
Church Sign Chuckles
Some favorite messages spotted on church signs or billboards, submitted by Beliefnet members:-Fire Insurance Inside-This Church Is Prayer Conditioned-God Answers Knee Mail-PRAY NOW! Avoid Christmas Rush!-Sign broken, come inside for message-This is a ch--ch. What's missing? U R!-Stop in the name of love and meet the Supreme-Wal-Mart's not the only savings place-The best position is on your knees!
Can We Have a Hanukkah Tree?
Admiring the Christmas trees displayed in his neighbor's windows, a child asks his father, "Daddy, can we have a Hanukkah Tree?" "What? No, of course not." says his father. "Why not?" asks the child again.Bewildered, his father replies, "Because the last time we had dealings with a lighted bush we spent 40 years in the wilderness."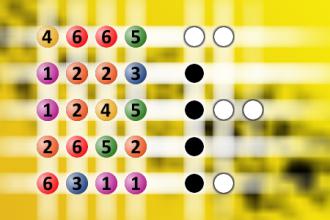 What a winning combination?
The computer chose a secret code (sequence of 4 digits from 1 to 6). Your goal is to find that code. Black circles indicate the number of hits on the right spot. White circles indicate the number of hits on the wrong spot.
We Wish You a Merry...Chrismukah?
Continuing the current trend of large-scale mergers and acquisitions, it was announced today at a press conference that Christmas and Hanukkah will merge. An industry source said that the deal had been in the works about 1300 years. While details were not available at press time, it is believed that the overhead cost of having twelve days of Christmas and eight days of Hanukkah was becoming prohibitive for both sides. By combining forces, we're told, the world will be able to enjoy consistently high-quality service during the Fifteen Days of Chrismukah, as the new holiday is being called.Massive layoffs are expected, with lords a-leaping and maids a-milking being the hardest hit. As part of the conditions of the agreement, the letters on the dreidel, currently in Hebrew, will be replaced by Latin, thus becoming unintelligible to a wider audience.Also, instead of translating to "A great miracle happened there," the message on the dreidel will be the more generic: "Miraculous stuff happens." In exchange, it is believed that Jews will be allowed to use Santa Claus and his vast merchandising resources for buying and delivering their gifts.One of the sticking points holding up the agreement for at least three hundred years was the question of whether Jewish children could leave milk and cookies for Santa even after having eaten meat for dinner. A breakthrough came last year, when Oreos were finally declared to be Kosher. All sides appeared happy about this.Fortunately for all concerned, he said, Kwanzaa will help to maintain the competitive balance. He then closed the press conference by leading all present in a rousing rendition of "Oy Vey, All Ye Faithful."
Ten Worst Gifts To Buy A Woman
1. Never give a woman any kind of household appliance or something that is going to make "housework" easier. For instance, a blender, a toaster, a new vacuum, one of those mops they advertise on tv that does everything but suck the life out of you, anything in a informercial. The only wise choice is a new washing machine with a turbo spin cycle. (Makes laundry day go by pretty fast when you can at least sit on it during spin-dry and end up smiling the rest of the day.)
2. Any bulk cleaning supplies, "honey, I got you that large box of Tide you have been wanting." "This Windex should last you a while." "I got a good deal on the industrial strength toilet bowl cleaner." All I can say is, be prepared to run. I have faith that if you would have at least stopped and thought about what would be a much more intimate gift, you would have had the sense to spring for the $5 Chia Pet you were eyeing in Kmart.
3. Any sharp objects made by Ronco which slices or dices, or a set of ginsu knives. These may one day be used as a weapon against you when you come home with lipstick on your collar after a "night out with the boys."
4. Do not buy gifts for yourself and pretend they are for her. "Honey, I'm sure you'll get a lot of use out of the new drill I bought you." By then she will have put it to good use by drilling a quarter inch hole into the side of your skull for even thinking she would accept such a lame gift. After a gift like this, you probably won't be around for NEXT Christmas.
5. Any lingerie made of flannel, such as a pair of feet pajamas with a trap door in back. A Little Mermaid or Barney cartoon character nightgown. It gives her the idea that you do not consider her the sexy woman that she is. Take out that wallet and buy her something sexy from Victoria Secret (just like you did for your mistress or other girlfriend).
6. No name perfume which costs you $1.99, such as Eu de Toilet, which actually smells like the bathroom, moldy fruit, or your dirty socks. If you are going to buy her perfume, spring for the brand names.
7. Any type of cubic zirconia jewelry you see on the Home Shopping Network. It will be quite embarrassing when she is showing off that fabulous diamond to her friends and tries to cut glass with it. (We actually test them you know.) Also, now would not be a good time to buy her that set of diamond nipple clamps you always wanted to, you know how we like to show off our jewelry and it could get embarrassing at the New Year's party when she decides to show them off to your buddies.
8. Please do not buy her clothes because you think for one minute you have good taste in woman's clothing. Well, perhaps you might if you are a transvestite, but all in all, believe me, she'll smile and say its beautiful while choking back tears and mumbling under her breath, "were the hell would I ever wear this outfit without being arrested for bad taste?" An additional hint, plaids do not go with stripes (even though you think your golfing outfit looks just fine). Its a known fact to the rest of the world that that is a taboo. In the Northeast, thats like wearing white after Labor Day.
9. Do not give her a gift certificate to Jenny Craig or Weight Watchers. Most men would know better, especially the ones who have learned the correct response to "do these pants make me look fat." If you are one of the poor souls who still doesn't get it and purchased a gift like this, be prepared for the silent treatment for a month. (Although that may be something you would actually look forward to.) A better alternative would be hiring a Chippendale dancer as a personal trainer to get her motivated into getting fit.
10. Last but not least, never buy a woman anti-wrinkle cream, or a book on "How not to be Nasty Sunday through Saturday." These are not considered gifts, they are considered reasons for seriously injuring the person who bought it and just may stand up in court of law.
Without A Christmas Bonus
Ten signs you're not getting a christmas bonus
10. Co-workers refer to you as "the ghost of unemployment future"
9. The last time you saw your boss was when he testified against you at the embezzlement trial
8. On your door, you find a lovely wreath of pink slips
7. What you call "my new office," everybody else calls "the supply closet"
6. Boss's Christmas card says, "Don't let the door hit you on the way out"
5. You keep getting memos reminding you that employees are required to wear pants
4. When your boss came over for Thanksgiving, he was crushed under an avalanche of stolen office supplies
3. Whenever you ask for a raise, a guy shows up at your house and breaks your jaw
2. In your most recent performance evaluation, the word "terrible" appeared 78 times
1. You're the starting quarterback for the New York Jets
Revised Christmas Days
Effective immediately, the following economizing measures are being implemented in the "Twelve Days of Christmas" subsidiary:
1) The partridge will be retained, but the pear tree, which never produced the cash crop forecasted, will be replaced by a plastic hanging plant, providing considerable savings in maintenance
2) Two turtle doves represent a redundancy that is simply not cost effective. In addition, their romance during working hours could not be condoned. The positions are, therefore, eliminated
3) The three French hens will remain intact. After all, everyone loves the French
4) The four calling birds will be replaced by an automated voice mail system, with a call waiting option. An analysis is underway to determine who the birds have been calling, how often and how long they talked.
5) The five golden rings have been put on hold by the Board of Directors. Maintaining a portfolio based on one commodity could have negative implications for institutional investors. Diversification into other precious metals, as well as a mix of T-Bills and high technology stocks, appear to be in order
6) The six geese-a-laying constitutes a luxury which can no longer be afforded. It has long been felt that the production rate of one egg per goose per day was an example of the general decline in productivity. Three geese will be let go, and an upgrading in the selection procedure by personnel will assure management that, from now on, every goose it gets will be a good one
7) The seven swans-a-swimming is obviously a number chosen in better times. The function is primarily decorative. Mechanical swans are on order. The current swans will be retrained to learn some new strokes, thereby enhancing their outplacement
8) As you know, the eight maids-a-milking concept has been under heavy scrutiny by the EEOC. A male/female balance in the workforce is being sought. The more militant maids consider this a dead-end job with no upward mobility. Automation of the process may permit the maids to try a-mending, a-mentoring or a-mulching
9) Nine ladies dancing has always been an odd number. This function will be phased out as these individuals grow older and can no longer do the steps
10) Ten Lords-a-leaping is overkill. The high cost of Lords, plus the expense of international air travel, prompted the Compensation Committee to suggest replacing this group with ten out-of-work congressmen. While leaping ability may be somewhat sacrificed, the savings are significant as we expect an oversupply of unemployed congressmen this year
11) Eleven pipers piping and twelve drummers drumming is a simple case of the band getting too big. A substitution with a string quartet, a cutback on new music, and no uniforms, will produce savings which will drop right to the bottom line
Overall we can expect a substantial reduction in assorted people, fowl, animals and related expenses. Though incomplete, studies indicate that stretching deliveries over twelve days is inefficient. If we can drop ship in one day, service levels will be improved.
Regarding the lawsuit filed by the attorney's association seeking expansion to include the legal profession ("thirteen lawyers-a-suing"), a decision is pending.
Deeper cuts may be necessary in the future to remain competitive. Should that happen, the Board will request management to scrutinize the Snow White Division to see if seven dwarfs is the right number.
Why Men Are Happier Than Wo
Why Men Are Happier Than Women
Men seems to have gotten the better deal than women, perhaps that is why men are happier than women?
1. Your last name stays put.
2. The garage is all yours.
3. Wedding plans take care of themselves.
4. Chocolate is just another snack.
5. You can be President.
6. You can never be pregnant.
7. You can wear a white T-shirt to a water park.
8. You can wear NO shirt to a water park.
9. Car mechanics tell you the truth.
10. The world is your urinal.
11. You never have to drive to another gas station restroom because this one is just too icky.
12. You don't have to stop and think of which way to turn a nut on a bolt.
13. Same work, more pay.
14. Wrinkles add character.
15. Wedding dress $5000. Tux rental-$100.
16. People never stare at your chest when you're talking to them.
17. The occasional well-rendered belch is practically expected.
18. New shoes don't cut, blister, or mangle your feet.
19. One mood all the time.
20. Phone conversations are over in 30 seconds flat.
21. You know stuff about tanks.
22. A five-day vacation requires only one suitcase.
23. You can open all your own jars.
24. You get extra credit for the slightest act of thoughtfulness.
25. If someone forgets to invite you, he or she can still be your friend.
26. Your underwear is $8.95 for a three-pack.
27. Three pairs of shoes are more than enough.
28. You almost never have strap problems in public.
29. You are unable to see wrinkles in your clothes.
30. Everything on your face stays its original color.
31. The same hairstyle lasts for years, maybe decades.
32. You only have to shave your face and neck.
33. You can play with toys all your life.
34. Your belly usually hides your big hips.
35. One wallet and one pair of shoes - one color for all seasons.
36. You can wear shorts no matter how your legs look.
37. You can "do" your nails with a pocket knife.
38. You have freedom of choice concerning growing a mustache.
39. You can do Christmas shopping for 25 relatives on December 24 in 25 minutes.
An Atheist's Holiday
An atheist became incensed over Christmas holiday preparations. He filed a lawsuit about the constant celebrations given to Christians and Jews while atheists had no holiday to celebrate. The case was brought before a judge. After listening to the long, passionate presentation by the atheist's lawyer, the judge banged his gavel and declared, "Case dismissed!"The lawyer immediately stood and objected to the ruling. "Your honor, how can you possibly dismiss this case? The Christians have Christmas, Easter, and many other observances. Jews have Passover, Yom Kippur, and Hanukkah. Yet, my client and all other atheists have no such holiday!"The judge leaned forward in his chair and simply said, "Obviously, your client is too confused to know about, much less celebrate, his own atheist holiday!" The lawyer pompously said, "Your honor, we are unaware of any such holiday for atheists. Just when might that holiday be?" The judge replied, "Well, it comes every year on exactly the same date. Psalm 14:1 states, 'The fool says in his heart, there is no God.' Thus, if your client says there is no God then, according to the Bible, he is a fool. April Fool's Day is his holiday. Now, get out of my courtroom!"-
Joke shared on Beliefnet's Religious Humor page