Christmas jokes - jokes about christmas day (11 to 20)
| | |
| --- | --- |
| | Jokes about christmas day. These are the jokes listed 11 to 20. |
A little old lady went to the
A little old lady went to the grocery store and put the most expensive cat food in her basket. She then went to the check out counter where she told the check out girl, "Nothing but the best for my little kitten."
The girl at the cash register said, "I'm sorry, but we cannot sell you cat food without proof that you have a cat. A lot of old people buy cat food to eat, and the management wants proof that you are buying the cat food for your cat."
The little old lady went home, picked up her cat and brought it back to the store. They sold her the cat food.
The next day, the old lady went to the store and bought 12 of the most expensive dog cookies - one for each day of Christmas. The cashier this time demanded proof that she now had a dog, claiming that old people sometimes eat dog food. Frustrated she went home, came back and brought in her dog. She was then given the dog cookies.
The next day she brought in a box with a hole in the lid. The little old lady asked the cashier to stick her finger in the hole. The cashier said, "No, you might have a snake in there." The little old lady assured her that there was nothing in the box that would bite her. So the cashier put her finger into the box and pulled it out and told the little old lady, "That smells like crap."
The little old lady grinned from ear to ear, "Now, my dear, can I please buy three rolls of toilet paper?"
Never fool around with a Little old lady!

This Man Has Quite The Excuse For Cheating On His Wife
A woman came home early from work one day and found her husband in bed with a young and attractive woman.
The woman yelled at her husband in anger: "You slimy disrespectful pig! How dare you do this to me!? I'm the mother of your children, and I've been faithful to you all these years! I want a divorce now!"
The husband answered: "Wait a second my love, let me at least explain what happened."
"All right, let's hear what you have to say for yourself," answered the wife waiting to see just how her husband would try to talk his way out of this one, "but these are your last words."
Her husband started recalling: "today when I left work and got in my car to head home and this woman asked me for a ride."
"I noticed that she was very skinny and wearing worn out clothes covered in muck and mud. She told me she hadn't eaten in three days."
"She looked worse for wear so I took pity on her and let her into the car."
"In my mercy for her, instead of taking her straight to where she needed to go, I brought her home first and warmed her up a plate of goulash, the same plate I made for you last night which you didn't eat claiming you'd 'get fat'."
"She devoured it in seconds."
"Since she needed to get clean, I offered to let her use our shower."
"While she showered, I noticed that her clothes were very dirty and worn, so I threw them out. She needed new clothes so I brought her the old jeans you no longer wear because they're 'too tight'."
"I also gave her some underwear I bought you that you didn't wear because 'I don't have good taste in clothes'."
"I found the shirt my mom bought you for Christmas that you didn't wear to 'piss her off'. And I gave her the high heels you only wore once because 'someone at work had the same pair'."
The husband took a deep breath and continued…
"She was so grateful for my understanding and help. When I walked her to the door she turned around with tears in her eyes and asked…"
"You're such a great person! Is there anything else your wife doesn't use?"
 A Collection Of Insults
A brief synopsis... When you're at a loss for words but want to tell someone that he or she is stupid, remember some these quips from our collection here at Aha! Jokes.

---

A few shrimps short of a barbie.
A few spoons short of a full set.
A few straws shy of a bale.
A few tiles missing from his space shuttle.
A few tiles short of a successful re-entry.
A few too many lights out in his Christmas tree.
A few volts below threshold.
A few yards short of the hole.
A flash of light, a cloud of dust, and... What was the question?
A gross ignoramus -- 144 times worse than an ordinary ignoramus.
A hop, skip, and jump from success, but to get there he'd have to give up chewing gum.
A kangaroo loose in her top paddock.
A lap behind the field.
A little light in his loafers. (Apparently offensive to some? Sorry.)
A looney tune.

Brand new Christmas cracker jokes
1. What does Donald Trump do after he pulls a cracker?
Pays her off
Voted the best new Christmas cracker joke of 2018, author:Edinburgh teacher, Michael Hughes, 37 - the winner of the competition run by TV Channel Gold.
2. Why is Theresa May encouraging board games at Christmas?
Because she's trying to bring back Chequers
3. Why has Debenhams been forced to cancel its Christmas nativity play?
No prophet
4. What does Philip Green buy former employees for Christmas?
Their silence
5. When do sheep practice their new dance?
While shepherds watched them floss by night
6. What's the difference between the Love Island villa and the stable where Jesus was born?
The stable has had some wise men in it
7. Why does Kim Kardashian hate Christmas so much?
She's always the butt of the Christmas cracker jokes
8. What is Meghan buying Harry, William and Charles for Christmas?
Suits
9. Why was everyone hungover after Roxanne Pallett's Christmas Party?
She misjudged the strength of the punch
10. Why did Donald Trump invite Kanye West round to help with his Christmas presents?
Because Kanye is Trump's favourite wrapper
11. What's the biggest complaint about Network Rail's Christmas seasoning?
They keep changing the thyme
12. Why has Boris Johnson bought mistletoe this year?
Because he's tired of being in the single market
13.  What's the only thing that goes on longer than Christmas?
Harry and Meghan's wedding preacher
14.  What did Banksy serve with his Christmas turkey?  
Shred sauce
Jokes seen first on:
https://www.independent.ie/>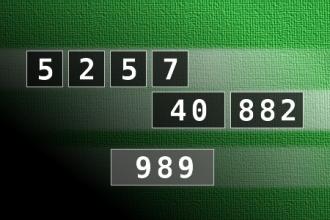 Calculate the number 989
NUMBERMANIA: Calculate the number 989 using numbers [5, 2, 5, 7, 40, 882] and basic arithmetic operations (+, -, *, /). Each of the numbers can be used only once.
Christmas Eve Accident
Three men die in a car accident Christmas Eve. They all find themselves at the pearly gates waiting to enter Heaven. On entering they must present something related to or associated with Christmas. The first man searches his pockets and finds mistletoe, so he is allowed in. The second man presents a candy cane, so he is also allowed in.The third man pulls out a pair of stockings. Confused at this last gesture, St. Peter asks, "How do these represent Christmas?" "They're Carol's."
Several days before Halloween,
Several days before Halloween, Tom, Dick and Harry were sitting in a bar enjoying a few quiet drinks, when they decided to get in on the Christmas raffle.
Since the raffle was for charity, they bought five tickets each. When the raffle was drawn a few days later, they each won a prize.
Tom won the first prize - a year's supply of gourmet spaghetti sauce.
Dick was the winner of the second prize - a six month supply of extra-long gourmet spaghetti.
And Harry won the sixth prize - a toilet brush.
The next time they met at the bar, Harry asked the others how they were enjoying their prizes. "Great," said Tom. "I love spaghetti."
"Me too," replied Dick.
"And how's the toilet brush, Harry?"
"Not so good," Harry groaned, "I reckon I'll go back to toilet paper."
Working on Christmas?
Q: Why is getting Christmas presents for your kids just like a day at the office?A: You do all the work and the fat guy in the suit gets all the credit.
Church Sign Chuckles
Some favorite messages spotted on church signs or billboards, submitted by Beliefnet members:-Fire Insurance Inside-This Church Is Prayer Conditioned-God Answers Knee Mail-PRAY NOW! Avoid Christmas Rush!-Sign broken, come inside for message-This is a ch--ch. What's missing? U R!-Stop in the name of love and meet the Supreme-Wal-Mart's not the only savings place-The best position is on your knees!
Can We Have a Hanukkah Tree?
Admiring the Christmas trees displayed in his neighbor's windows, a child asks his father, "Daddy, can we have a Hanukkah Tree?" "What? No, of course not." says his father. "Why not?" asks the child again.Bewildered, his father replies, "Because the last time we had dealings with a lighted bush we spent 40 years in the wilderness."
We Wish You a Merry...Chrismukah?
Continuing the current trend of large-scale mergers and acquisitions, it was announced today at a press conference that Christmas and Hanukkah will merge. An industry source said that the deal had been in the works about 1300 years. While details were not available at press time, it is believed that the overhead cost of having twelve days of Christmas and eight days of Hanukkah was becoming prohibitive for both sides. By combining forces, we're told, the world will be able to enjoy consistently high-quality service during the Fifteen Days of Chrismukah, as the new holiday is being called.Massive layoffs are expected, with lords a-leaping and maids a-milking being the hardest hit. As part of the conditions of the agreement, the letters on the dreidel, currently in Hebrew, will be replaced by Latin, thus becoming unintelligible to a wider audience.Also, instead of translating to "A great miracle happened there," the message on the dreidel will be the more generic: "Miraculous stuff happens." In exchange, it is believed that Jews will be allowed to use Santa Claus and his vast merchandising resources for buying and delivering their gifts.One of the sticking points holding up the agreement for at least three hundred years was the question of whether Jewish children could leave milk and cookies for Santa even after having eaten meat for dinner. A breakthrough came last year, when Oreos were finally declared to be Kosher. All sides appeared happy about this.Fortunately for all concerned, he said, Kwanzaa will help to maintain the competitive balance. He then closed the press conference by leading all present in a rousing rendition of "Oy Vey, All Ye Faithful."