Doctor jokes - jokes about doctors (1 to 10)
| | |
| --- | --- |
| | Jokes about doctor. These are funny jokes with doctors! These are the jokes listed 1 to 10. |
What don't you have?
An elderly man went to the doctor for a visit. "Doc," he says," I am so stricken. I have chest pains, headaches, back pains, nausea, arthritis, constipation, stomach cramps, earaches, burning in the eyes, congested lungs..."
"Sir," says the doctor, "you complain you have so many things. What don't you have?"
The man answers, "Teeth."
A young woman gazed up from he
A young woman gazed up from her hospital bed at the very handsome doctor who was examining her chart. She fluttered her eyelids and said, "They tell me that you are a real lady killer."
The doctor smiled and shook his head. "No, I make no distinction between the sexes."

I Get No Respect 06

"My marriage is on the rocks again. Yeah..my wife just broke up with her boyfriend."
"My friends and I played a new version of Russian roulette. We passed around six girls and one of them had VD."
"I went to see my doctor... Doctor Vidi-boom-ba. Yeah...I told him once... Doctor...every morning when I get up and look in the mirror..I feel like throwing up; what's wrong with me? He said..I don't know but your eyesight is perfect"
"I remember when I swallowed a bottle of sleeping pills. My doctor told me to have a few drinks and get some rest."
"I told my dentist my teeth are going yellow. He told me to wear a brown necktie."
"My dentist has bad breath......Why every time he smokes he blows onion rings."
"My psychiatrist told me I'm going crazy. I told him...If you don't mind I'd like a second opinion...he said... Alright...you're ugly too!"
"I was so ugly...my mother used to feed me with a sling shot!"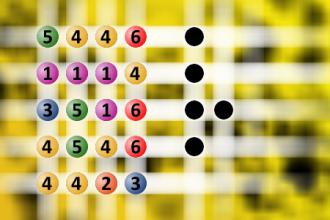 Find the right combination
The computer chose a secret code (sequence of 4 digits from 1 to 6). Your goal is to find that code. Black circles indicate the number of hits on the right spot. White circles indicate the number of hits on the wrong spot.
Is it a good baby?
A three-year old walks over to a pregnant lady while waiting with his mother in a doctor's surgery.
"Why is your stomach so big?" he asks.
"I'm having a baby," she replies.
"Is the baby in your stomach?" he asks, with his big eyes.
"Yes, it is," she says.
"Is it a good baby?" he asks, with a puzzled look.
"Oh, yes. A really good baby," the lady replies.
Shocked and surprised, he asks: "Then why did you eat him?"
A middle-aged woman seemed she
A middle-aged woman seemed sheepish as she visited her gynecologist.
"Come now," coaxed the doctor, "you've been seeing me for years! There's nothing you can't tell me."
"This one's kind of strange..."
"Let me be the judge of that," the doctor replied.
"Well," she said, "yesterday I went to the bathroom in the morning and heard a plink-plink-plink in the toilet; and when I looked down, the water was full of pennies."
"I see."
"That afternoon I went again and there were nickels in the bowl."
"Uh-huh."
"That night," she went on, "there were dimes and this morning there were quarters! You've got to tell me what's wrong with me!," she implored, "I'm scared out of my wits!"
The gynecologist put a comforting hand on her shoulder. "There, there, it's nothing to be scared about... You're simply going through the change."

Doctors - What They Say / W
Doctors - What They Say / What They Mean
"This should be taken care of right away."
Meaning: I'd planned a trip to Hawaii next month, but this is so easy and profitable that I want to fix it before it cures itself.
"Well, what do we have here...?"
Meaning: He has no idea and is hoping you'll give him a clue.
"Let me check your medical history."
Meaning: I want to see if you've paid your last bill before spending anymore time with you.
"Why don't we make another appointment later in the week."
Meaning: I'm playing golf this afternoon, and this is a waste of time.
- or -
I need the bucks, so I'm charging you for another office visit.
"We have some good news and some bad news."
Meaning: The good news is, I'm going to buy that new BMW. The bad news is, you're going to pay for it.
"Let's see how it develops."
Meaning: Maybe in a few days it will grow into something that can be cured.
"Let me schedule you for some tests."
Meaning: I have a forty percent interest in the lab.
"I'd like to have my associate look at you."
Meaning: He's going through a messy divorce and owes me a bundle.
"I'd like to prescribe a new drug."
Meaning: I'm writing a paper and would like to use you for a guinea pig.
"If it doesn't clear up in a week, give me a call."
Meaning: I don't know what it is. Maybe it will go away by itself.
"That's quite a nasty looking wound."
Meaning: I think I'm going to throw up.
"This may smart a little."
Meaning: Last week two patients bit off their tongues.
"Well, we're not feeling so well today, are we...?"
Meaning: I'm stalling for time. Who are you and why are you here?
"This should fix you up."
Meaning: The drug company slipped me some big bucks to prescribe this stuff.
"Everything seems to be normal."
Meaning: Rats! I guess I can't buy that new beach condo after all.
"I'd like to run some more tests."
Meaning: I can't figure out what's wrong. Maybe the kid in the lab can solve this one.
"There is a lot of that going around."
Meaning: That's the third one this week. I'd better learn something about this.
"If the symptoms persist, call for an appointment."
Meaning: I've never heard of anything so disgusting. Glad I'm off next week.

Fly Doctor, Doctor Fly
In the world of flies, a young fly needed a heart transplant. After being taken to surgery, the fly anesthesiologist put the young fly to sleep.
The fly doctor assistant cut open the young fly's chest. He then announced to the fly heart doctor, "Your fly is open."
The heart doctor blushed.