Lawyer jokes - jokes about lawyers (11 to 20)
| | |
| --- | --- |
| | Jokes about lawyer. These are funny jokes with lawyers! These are the jokes listed 11 to 20. |
A university committee was sel...
A university committee was selecting a new dean. They had narrowed the candidates down to a mathematician, an economist and a lawyer.
Each was asked this question during their interview: 'How much is two plus two?'
The mathematician answered immediately, 'Four.'
The economist thought for several minutes and finally answered, 'Four, plus or minus one.'
Finally the lawyer stood up, peered around the room and motioned silently for the committee members to gather close to him. In a hushed, conspiratorial tone, he replied, 'How much do you want it to be?'
A prominent lawyer's son
A prominent lawyer's son dreamed of following in his father's footsteps. After graduating from college and law school with honors, he returned home to join his father's firm, intent on proving himself to be a skilled and worthy attorney.
At the end of his first day at work he rushed into his father's office, and said, 'Father, father! The Smith case, that you always said would go on forever -- the one you have been toiling on for ten years -- in one single day, I settled that case and saved the client a fortune!'
His father frowned, and scolded his son, 'I did not say that it would go on forever, son. I said that it could go on forever. When you saw me toiling on that case for days and weeks at a time, didn't it ever occur to you that I was billing by the hour?'
Dealing With A Lawyer

A new York Divorce Lawyer died and arrived at the pearly gates. Saint Peter asks him "What have you done to merit entrance into Heaven?" The Lawyer thought a moment, then said, "A week ago, I gave a quarter to a homeless person on the street." Saint Peter asked Gabriel to check this out in the record, and after a moment Gabriel affirmed that this was true.
Saint Peter said, "Well , that's fine, but it's not really quite enough to get you into Heaven." The Lawyer said, "Wait Wait! There's more! Three years ago I also gave a homeless person a quarter." Saint Peter nodded to Gabriel, who after a moment nodded back, affirming this, too, had been verified.
Saint Peter then whispered to Gabriel, "Well, what do you suggest we do with this fellow?"
Gabriel gave the Lawyer a sidelong glance, then said to Saint Peter,
"Let's give him back his 50 cents and tell him to go to Hell."


When You Know You Must Really Be Drunk
A man sat down at a bar, looked into his shirt pocket and ordered a double scotch.
A few minutes later, the man again peeked into his pocket and ordered another double. This routine was followed for some time, until after looking into his pocket, the man told the bartender he'd had enough.
The bartender said, "I've got to ask you. What's with the pocket business?"
"Oh," said the man, "I have my lawyer's picture in here, and when he starts to look honest, I know I've had enough."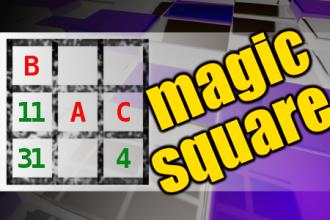 MAGIC SQUARE: Calculate A-B*C
The aim is to place the some numbers from the list (4, 6, 11, 14, 16, 21, 29, 31, 36, 80) into the empty squares and squares marked with A, B an C. Sum of each row and column should be equal. All the numbers of the magic square must be different. Find values for A, B, and C. Solution is A-B*C.
Who Owns The Cows?
After his graduation from college, the son of a Spanish lawyer was considering his future. He went to his father and asked if he might be given a desk in the corner from which he could observe his father's activities and be introduced to his father's clients as a clerk. His observations would help him decide whether or not to become a lawyer. His father thought this was a great idea and immediately helped to set it up.
The first client the next morning was a tenant farmer--a rough man with calloused hands who was dressed in workman's clothing. He said,
"Mr. Lawyer, I work for the Gonzales farm on the east side of town. For many years I have tended their crops and animals, including some cows. I have raised the cows, fed them and looked after them. And I was always given the understanding and the belief that I was the owner of these cows. Now Mr. Gonzales has died and his son has inherited the farm. He believes that since the cows were raised on his land and ate his hay, the cows are his. In short, we are in dispute over who owns the cows."
The lawyer said, "Thank you. I have heard enough. I will take your case. Don't worry about the cows!"
The next client to come in, a young and well-dressed young man, was obviously a landowner. He said, "My name is Gonzales and I own a farm on the east side of town. We have a tenant farmer who has worked for my family for many years, tending crops and the animals, including some cows. I believe the cows belong to me because they were raised on my land and were fed my hay. But the tenant farmer believes they are his because he raised them and cared for them. In short, we are in dispute over who owns the cows."
The lawyer said, "Thank you. I have heard enough. I will take your case. Don't worry about the cows!"
After the client left, the lawyer's son could not help but express his concern. "Father, I know very little about the law, but it seems we have a very serious problem concerning these cows."
"Don't worry about the cows!" the lawyer said. "The cows will be ours!"

A fellow charged with robbing
A fellow charged with robbing a sporting-goods store asked a lawyer to defend him.
"I will take your case," the lawyer said, "if you will assure me of two things: that you are innocent, and that you will pay me $1600."
The client thought for a moment, then said, "Will you do it for $400 and a nice set of golf clubs?"

A man, called to testify at th
A man, called to testify at the IRS, asked his accountant for advice on what to wear. "Wear your shabbiest clothing. Let him think you are a pauper." Then he asked his lawyer the same question, but got the opposite advice. "Do not let them intimidate you. Wear your most elegant suit and tie."
Confused, the man went to his rabbi, told him of the conflicting advice, and requested some resolution of the dilemma. "Let me tell you a story," replied the rabbi. "A woman, about to be married, asked her mother what to wear on her wedding night. 'Wear a heavy, long, flannel nightgown that goes right up to your neck.' But when she asked her best friend, she got conflicting advice. 'Wear your most sexy negligee, with a V-neck right down to your navel.
The man protested: "What does all this have to do with my problem with the IRS?"
"No matter what you wear, you are going to get screwed," replied the rabbi.

Down south, Bubba called his a
Down south, Bubba called his attorney and asked, "Is it true they'ssuin' them cigarette companies fer causin' people to git cancer?"
"Yes, Bubba, sure is true," responded the lawyer.
"And now someone is suin' them fast food restaurants fer makin' them fat an' cloggin' their arteries with all them burgers an' fries, is thattrue, Mista Lawyer?"
"Sure is, Bubba."
"And that lady sued McDonald's for millions when she was gave that hot coffee that she ordered?"
"Yep."
"And that football player sued that university when he gradiated and still couldn't read?"
"That's right," said the lawyer. "But why are you asking?"
"Well, I was thinkin' . . . What I want to know is, kin I sue Budweiser fer all them ugly women I slept with?

Solving A Dispute
Two little squirrels were walking along in the forest. The first one spied a nut and cried out, "Oh, look! A nut!" The second squirrel jumped on it and said, "It's my nut!"
The first squirrel said, "That's not fair! I saw it first!"
"Well, you may have seen it, but I have it," argued the second.
At that point, a lawyer squirrel came up and said, "You shouldn't quarrel.
Let me resolve this dispute." The two squirrels nodded, and the lawyer squirrel said, "Now, give me the nut." He broke the nut in half, and handed half to each squirrel, saying, "See? It was foolish of you to fight. Now the dispute is resolved."
Then he reached over and said, "And for my fee, I'll take the meat."

The Lawyer at the Pearly Gates
Recently a teacher, a garbage collector, and a lawyer wound up together at the Pearly Gates. St. Peter informed them that in order to get into heaven, they would each have to answer one question.St. Peter addressed the teacher and asked, "What was the name of the ship that crashed into the iceberg? They just made a movie about it." The teacher answered quickly, "That would be the Titanic." St. Peter let her through the gate.St. Peter turned to the garbage man and figuring heaven didn't REALLY need all the odors this guy would bring with him, decided to make the question a little harder: "How many people died on the ship?" But the trash man had just seen the movie, too, and he answered, "about 1,500.""That's right! You may enter," said Peter.Then St. Peter turned to the lawyer and said, "Name them."