Lawyer jokes - jokes about lawyers (11 to 20)
| | |
| --- | --- |
| | Jokes about lawyer. These are funny jokes with lawyers! These are the jokes listed 11 to 20. |
Did You Make A Donation?

At the United Way in a fairly small town a volunteer worker noticed that the most successful lawyer in the whole town hadn't made a contribution. This guy was making about $600,000 a year so the volunteer thought, "Why not call him up?"
He calls up the lawyer.
"Sir, according to our research you haven't made a contribution to the United Way, would you like to do so?"
The lawyer responds, "A contribution? Does your research show that I have an invalid mother who requires expensive surgery once a year just to stay alive?"
The worker is feeling a bit embarrassed and says, "Well, no sir, I'm..."
"Does your research show that my sister's husband was killed in a car accident? She has three kids and no means of support!"
The worker is feeling quite embarrassed at this point. "I'm terribly sorry..."
"Does your research show that my brother broke his neck on the job and now requires a full time nurse to have any kind of normal life?"
The worker is completely humiliated at this point. "I am sorry sir, please forgive me..."
"The gall of you people! I don't give them anything, so why should I give it to you!"


A young cowboy from Texas goes
A young cowboy from Texas goes off to college. Halfway through the semester, he has foolishly squandered all his money.
He calls home. "Dad," he says, "You won't believe what modern education isdeveloping! They actually have a program here in College Station that will teach our dog, Ol' Blue how to talk!"
"That's amazing," his Dad says. "How do we get Ol' Blue in that program?" "Just send him down here with $1,000" the young cowboy says."I'll get him in the course."
So, his father sends the dog and $1,000. About two-thirds of the way through the semester, the money again runs out. The boy calls home."So how's Ol' Blue doing son?" his father asks. "
Awesome, Dad, he's talking up a storm," he says, "but you just won't believe this - they've had such good results they have started to teach the animals how to read!"
"Read!?" says his father, "No kidding! How do we get Blue into that program?" "Just send $2,500, I'll get him in the class."
The money promptly arrives. But our hero has a problem. At the end of theyear, his father will find out the dog can neither talk, nor read... so he shootsthe dog.
When he arrives home at the end of the year, his father is all excited."Where's Ol' Blue? I just can't wait to see him read something and talk!"
"Dad," the boy says, "I have some grim news. Yesterday morning, just before we left to drive home, Ol' Blue was in the living room, kicked back in the recliner, reading the Wall Street Journal, like he usually does. Then he turned to me and asked, "So, is your daddy still messing' around with that young lady who lives in town?"
The father exclaimed,"I hope you shot that son of a bitch before he talks to your Mother!"
"I sure did, Dad!"
"That's my boy!"
The kid went on to be a successful lawyer and then went into politics.

A big city lawyer was called i
A big city lawyer was called in on a case between a farmer and a large railroad company. The farmer noticed that his prize cow was missing from the field through which the railroad passed. He filed suit against the railroad company for the value of the cow. The case was to be tried before the Justice of the Peace in the back room of the General Store.
The attorney immediately cornered the farmer and tried to get him to settle out of court. The lawyer did his best selling job, and the farmer finally agreed to take half of what he was claiming to settle the case. After the farmer signed the release and took the check, the young lawyer couldn't help but gloat a little over his success.
He said to the farmer, "You know, I hate to tell you this but I put one over on you in there. I couldn't have won the case. The engineer was asleep and the fireman was in the caboose when the train went through your farm that morning. I didn't have one witness to put on the stand."
The old farmer replied, "Well, I'll tell you, young feller, I was a little worried about winning that case myself because that durned cow came home this morning!"

Space Photography

The New York Times, among other papers, recently published a new Hubble Space Telescope photograph of distant galaxies colliding.
Of course, astronomers have had pictures of colliding galaxies for quite some time now, but with the vastly improved resolution provided by the Hubble, you can actually see the lawyers rushing to the scene.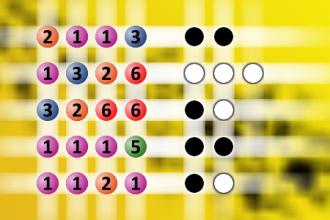 Find the right combination
The computer chose a secret code (sequence of 4 digits from 1 to 6). Your goal is to find that code. Black circles indicate the number of hits on the right spot. White circles indicate the number of hits on the wrong spot.
Question And Answer Animal Jokes

Q: Why did the turtle cross the road?
A: To get to the Shell station!
Q: Why did the chicken scientist cross the road?
A: To invent the other side.
Q: Why did the chicken lawyer cross the road?
A: To corrupt the other side.
Q: Why did the chicken IRS representative cross the road?
A: To bankrupt the other side.
Q: Why did the chicken lawyer cross the road?
A: To get to the car accident on the other side.
Q: Why did chicken Dr. Kevorkian cross the road?
A: To help the patient find the other side.
Q: Why did chicken Jim Morrison cross the road?
A: To break on through to the other side.
Q: Why do birds fly South?
A: Because it's too far to walk.


A gang of robbers broke into a
A gang of robbers broke into a lawyer's club by mistake. The old legal lions gave them a fight for their life and their money. The gang was very happy to escape.
'It ain't so bad,' one crook noted. 'We got $25 between us.'
The boss screamed: 'I warned you to stay clear of lawyers--we had $100 when we broke in!'
A university committee was sel...
A university committee was selecting a new dean. They had narrowed the candidates down to a mathematician, an economist and a lawyer.
Each was asked this question during their interview: 'How much is two plus two?'
The mathematician answered immediately, 'Four.'
The economist thought for several minutes and finally answered, 'Four, plus or minus one.'
Finally the lawyer stood up, peered around the room and motioned silently for the committee members to gather close to him. In a hushed, conspiratorial tone, he replied, 'How much do you want it to be?'
A prominent lawyer's son
A prominent lawyer's son dreamed of following in his father's footsteps. After graduating from college and law school with honors, he returned home to join his father's firm, intent on proving himself to be a skilled and worthy attorney.
At the end of his first day at work he rushed into his father's office, and said, 'Father, father! The Smith case, that you always said would go on forever -- the one you have been toiling on for ten years -- in one single day, I settled that case and saved the client a fortune!'
His father frowned, and scolded his son, 'I did not say that it would go on forever, son. I said that it could go on forever. When you saw me toiling on that case for days and weeks at a time, didn't it ever occur to you that I was billing by the hour?'
Dealing With A Lawyer

A new York Divorce Lawyer died and arrived at the pearly gates. Saint Peter asks him "What have you done to merit entrance into Heaven?" The Lawyer thought a moment, then said, "A week ago, I gave a quarter to a homeless person on the street." Saint Peter asked Gabriel to check this out in the record, and after a moment Gabriel affirmed that this was true.
Saint Peter said, "Well , that's fine, but it's not really quite enough to get you into Heaven." The Lawyer said, "Wait Wait! There's more! Three years ago I also gave a homeless person a quarter." Saint Peter nodded to Gabriel, who after a moment nodded back, affirming this, too, had been verified.
Saint Peter then whispered to Gabriel, "Well, what do you suggest we do with this fellow?"
Gabriel gave the Lawyer a sidelong glance, then said to Saint Peter,
"Let's give him back his 50 cents and tell him to go to Hell."


When You Know You Must Really Be Drunk
A man sat down at a bar, looked into his shirt pocket and ordered a double scotch.
A few minutes later, the man again peeked into his pocket and ordered another double. This routine was followed for some time, until after looking into his pocket, the man told the bartender he'd had enough.
The bartender said, "I've got to ask you. What's with the pocket business?"
"Oh," said the man, "I have my lawyer's picture in here, and when he starts to look honest, I know I've had enough."