Monday jokes - jokes about monday (11 to 20)
| | |
| --- | --- |
| | Jokes about monday. These are the jokes listed 11 to 20. |
Some 'Senior' personal ads s
Some 'Senior' personal ads seen in "The Villages" Florida newspapers:
(Who says seniors don't have a sense of humor?)
FOXY LADY:
Sexy, fashion-conscious blue-haired beauty,80's, slim, 5'4' (used to be 5'6'),searching for sharp-looking, sharp-dressing companion.Matching white shoes andbelt a plus.
LONG-TERM COMMITMENT:
Recent widow who has just buried fourth husband,and am looking for someone to round out a six-unit plot.Dizziness, fainting, shortness of breath not a problem.
SERENITY NOW:
I am into solitude, long walks, sunrises, the ocean, yoga and meditation.If you are the silent type, let's get together,take our hearing aids out and enjoy quiet times.
WINNING SMILE:
Active grandmother with original teeth seeking a dedicated flosserto share rare steaks, corn on the cob and caramel candy.
BEATLES OR STONES?
I still like to rock,still like to cruise in my Camaro on Saturday nights and still like to play the guitar.If you were a groovy chick, or are now a groovy hen,let's get together and listen to my eight-track tapes.
MEMORIES:
I can usually remember Monday through Thursday.If you can remember Friday, Saturday and Sunday, let's put our two heads together.
MINT CONDITION:
Male, 1932, high mileage, good condition, some hair,many new parts including hip, knee, cornea, valves.Isn't in running condition, but walks well.

Jail Time
My daughter hates school.
One weekend she cried and fretted and tried every excuse not to go back on Monday.
Sunday morning on the way home from brunch, the crying, and whining built to a crescendo.
At the end of my rope, I finally stopped the car and explained, "Honey, it's a law. If you don't go to school, they'll put Daddy in jail."
She looked at me, thought a moment, then asked, "How long would you have to stay?"
A husband and wife came for co
A husband and wife came for counseling after 15 years of marriage.When asked what the problem was, the wife went into a passionate,painful tirade listing every problem they had ever had in the 15 yearsthey had been married.
She went on and on and on: neglect, lack of intimacy, emptiness,loneliness, feeling unloved and unlovable, an entire laundry list ofun-met needs she had endured over the course of their marriage.
Finally, after allowing this to go on for a sufficient length of time, thetherapist got up, walked around the desk and, after asking the wife tostand, embraced and kissed her passionately.
The woman shut up and quietly sat down as though in a daze.
The therapist turned to the husband and said, "This is what yourwife needs at least three times a week Can you do this?"
The husband thought for a moment and replied,.. "Well, I can dropher off here on Mondays and Wednesdays, but on Friday's, I fish!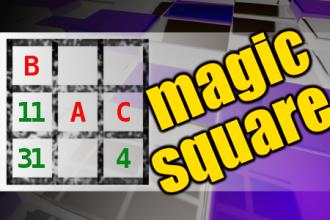 MAGIC SQUARE: Calculate A-B*C
The aim is to place the some numbers from the list (4, 6, 11, 14, 16, 21, 29, 31, 36, 80) into the empty squares and squares marked with A, B an C. Sum of each row and column should be equal. All the numbers of the magic square must be different. Find values for A, B, and C. Solution is A-B*C.
Did You Know that in 2007 Mel Brooks
Started Nonprofit Foundation To Save Word 'Schmuck'
November 2007
NEW YORK—Saying he could no longer stand idly by while a vital part of American culture is lost forever, activist and Broadway producer Mel Brooks has founded a private nonprofit organization dedicated to preserving the word 'schmuck.'
An emotional Brooks stopped short of kvetching at a schmuck fundraiser Monday.
'Schmuck is dying,' a sober Brooks said during a 2,000-person rally held in his hometown of Williamsburg, Brooklyn Monday. 'For many of us, saying 'schmuck' is a way of life. Yet when I walk down the street and see people behaving in foolish, pathetic, or otherwise schmucky ways, I hear only the words 'prick' and 'douche bag.' I just shake my head and think, 'I don't want to live in a world like this.''The nonprofit, Schmucks For Schmuck, has compiled schmuck-related data from the past 80 years and conducted its own independent research on contemporary 'schmuck' usage. According to Brooks, the statistics are frightening: Utterances of the word 'schmuck' have declined every year since its peak in 1951, and in 2006, the word was spoken a mere 28 times—17 of these times by Brooks himself. The study indicates that today, when faced with a situation in which one can use a targeted or self-deprecating insult to convey a general feeling of disgust, people are 50 times more likely to use the word 'jerk' than 'schmuck,' 100 times more likely to use 'dick,' and 15,000 times more likely to use 'fucking asshole.'
The nonprofit, Schmucks For Schmuck, has compiled schmuck-related data from the past 80 years and conducted its own independent research on contemporary 'schmuck' usage. According to Brooks, the statistics are frightening: Utterances of the word 'schmuck' have declined every year since its peak in 1951, and in 2006, the word was spoken a mere 28 times—17 of these times by Brooks himself. The study indicates that today, when faced with a situation in which one can use a targeted or self-deprecating insult to convey a general feeling of disgust, people are 50 times more likely to use the word 'jerk' than 'schmuck,' 100 times more likely to use 'dick,' and 15,000 times more likely to use 'fucking asshole.'
Perhaps more startling, only 23 percent of men know what schmuck means, and only 1.2 percent of these men are under the age of 78. If such trends continue, Brooks estimates that by 2011, such lesser-used terms as 'imbecile,' 'dummy,' 'schlub,' and 'contemptible ne'er-do-well' will all surpass schmuck, which is projected to completely disappear by the year 2020 or whenever Brooks dies.
'We must save this word!' Brooks said to thunderous applause as those in attendance began chanting 'Schmuck! Schmuck! Schmuck!' 'How will we be able to charmingly describe someone who acts in an inappropriate manner? Especially given the tragic loss of the word 'schmegeggie' in 2001. So I urge you: Tonight, when you get home, please, call up your family, your friends, your loved ones, and tell them they're a bunch of schmucks.'
Hundreds turned out at a Boca Raton, FL demonstration to show their support for the dying word.
'I've never told anyone this before,' Brooks added, choking back tears, 'but my father was a schmuck.'
The foundation has already raised more than $20 million, thanks to donations from supporters such as Jackie Mason, Albert Brooks, the Schtupp Institute, Sen. Russ Feingold (D-WI), and the Henny Youngman Endowment for the Preservation of Schmekel. The money will go toward projects aimed at reintegrating 'schmuck' into the English lexicon, including billboards and flyers plastered with the word 'schmuck,' the upcoming 5K Schlep for Schmuck Awareness, and a new Mel Brooks film.
Job application...
This is an actual job application someone submitted at a McDonald's fast food establishment.
Not sure if they hired him....
NAME - Greg Bulmash
DESIRED POSITION - Reclining. Ha ha. But seriously, whatever's available. If I was in a position to be picky, I wouldn't be applying here in the first place.
DESIRED SALARY - $185,000 a year plus stock options and a Michael Ovitz style severance package. If that's not possible, make an offer and we can haggle.
EDUCATION - Yes.
LAST POSITION HELD - Reclining on my mom's couch.
SALARY - Less than I'm worth.
MOST NOTABLE ACHIEVEMENT - My incredible collection of stolen pens and post-it notes.
REASON FOR LEAVING - It sucked
HOURS AVAILABLE TO WORK - Any
PREFERRED HOURS - 1:30 - 3:30 pm, Monday, Tuesday, and Thursday
DO YOU HAVE ANY SPECIAL SKILLS? Yes, but they're better suited to a more intimate environment.
MAY WE CONTACT YOUR CURRENT EMPLOYER? If I had one, would I be here?
DO YOU HAVE ANY PHYSICAL CONDITIONS THAT WOULD PROHIBIT YOU FROM LIFTING UP TO 50 LBS? Of what?
DO YOU HAVE A CAR? I think the more appropriate question here would be 'Do you have a car that runs?'
HAVE YOU RECEIVED ANY SPECIAL AWARDS OR RECOGNITION? I may already be a winner of the Publisher's Clearinghouse Sweepstakes.
DO YOU SMOKE? Only when set on fire.
WHAT WOULD YOU LIKE TO BE DOING IN FIVE YEARS? Living in the Bahamas with a fabulously wealthy super model who thinks I'm the greatest thing since sliced bread. Actually, I'd like to be doing that now.
DO YOU CERTIFY THAT THE ABOVE IS TRUE AND COMPLETE TO THE BEST OF YOUR KNOWLEDGE? No, but I dare you to prove otherwise.
SIGN HERE: Scorpio with Libra rising
Some Fishing Terms

Ten common fishing terms explained
Catch and Release - A conservation motion that happens most often right before the local Fish and Game officer pulls over a boat that has caught over it's limit.
Hook - (1) A curved piece of metal used to catch fish. (2) A clever advertisement to entice a fisherman to spend his live savings on a new rod and reel. (3) The punch administered by said fisherman's wife after he spends their life savings (see also, Right Hook, Left Hook).
Line - Something you give your co-workers when they ask on Monday how your fishing went the past weekend.
Lure - An object that is semi-enticing to fish, but will drive an angler into such a frenzy that he will charge his credit card to the limit before exiting the tackle shop.
Reel - A weighted object that causes a rod to sink quickly when dropped overboard.
Rod - An attractively painted length of fiberglass that keeps an angler from ever getting too close to a fish.
School - A grouping in which fish are taught to avoid your $29.99 lures and hold out for spam instead.
Tackle - What your last catch did to you as you reeled him in, but just before he wrestled free and jumped back overboard.
Tackle Box - A box shaped alarmingly like your comprehensive first aid kit. Only a tackle box contains many sharp objects, so that when you reach in the wrong box blindly to get a Band Aid, you soon find that you need more than one.
Test - (1) The amount of strength a fishing line affords an angler when fighting fish in a specific weight range. (2) A measure of your creativity in blaming "that darn line" for once again losing the fish.


A magazine recently ran a "Dil
A magazine recently ran a "Dilbert Quotes" contest. They were looking for people to submit quotes from their real life Dilbert-type managers. Here are the finalists:
1. "As of tomorrow, employees will only be able to access the building using individual security cards. Pictures will be taken next Wednesday and employees will receive their cards in two weeks." (This was the winning quote from Fred Dales at Microsoft Corp. in Redmond, WA.)
2. "What I need is a list of specific unknown problems we will encounter." (Lykes Lines Shipping)
3. "E-mail is not to be used to pass on information or data. It should be used only for company business." (Accounting manager, Electric Boat Company)
4. "This project is so important, we can't let things that are more important interfere with it." (Advertising/Marketing manager, United Parcel Service)
5. "Doing it right is no excuse for not meeting the schedule."
6. "No one will believe you solved this problem in one day! We've been working on it for months. Now, go act busy for a few weeks and I'll let you know when it's time to tell them." (R&D supervisor, Minnesota Mining and Manufacturing/3M Corp.)
7. "My Boss spent the entire weekend retyping a 25-page proposal that only needed corrections. She claims the disk I gave her was damaged and she couldn't edit it. The disk I gave her was write-protected." (CIO of Dell Computers)
8. Quote from the Boss: "Teamwork is a lot of people doing what I say." (Marketing executive, Citrix Corporation)
9. My sister passed away and her funeral was scheduled for Monday. When I told my boss, he said she died on purpose so that I would have to miss work on the busiest day of the year. He then asked if we could change her burial to Friday. He said, "That would be better for me." (Shipping executive, FTD Florists)
10. "We know that communication is a problem, but the company is not going to discuss it with the employees." (Switching supervisor, AT&T Long Lines Division)
11. We recently received a memo from senior management saying: "This is to inform you that a memo will be issued today regarding the memo mentioned above." (Microsoft, Legal Affairs Division)
12. One day my boss asked me to submit a status report to him concerning a project I was working on. I asked him if tomorrow would be soon enough. He said, "If I wanted it tomorrow, I would have waited until tomorrow to ask for it!" (New business manager, Hallmark Greeting Cards)
13. As director of communications, I was asked to prepare a memo reviewing our company's training programs and materials. In the body of the memo in one of the sentences I mentioned the "pedagogical approach" used by one of the training manuals. The day after I routed the memo to the executive committee, I was called into the HR director's office, and told that the executive vice president wanted me out of the building by lunch. When I asked why, I was told that she wouldn't stand for perverts (pedophiles?) working in her company. Finally, she showed me her copy of the memo, with her demand that I be fired – and the word "pedagogical" circled in red. The HR manager was fairly reasonable, and once he looked the word up in his dictionary and made a copy of the definition to send back to her, he told me not to worry. He would take care of it. Two days later, a memo to the entire staff came out directing us that no words, which could not be found in the local Sunday newspaper could be used in company memos. A month later, I resigned, and in accordance with company policy, I created my resignation memo by pasting words together from the Sunday paper. (Taco Bell Corporation)

Four college friends were so c
Four college friends were so confident that the weekend before finals, they decided to go up to Dallas and party with some friends up there. They had a great time. However, after all the partying, they slept all day Sunday and didn't make it back to Austin until early Monday morning.
Rather than taking the final then, they decided to find their professor after the final and explain to him why they missed it.
They explained that they had gone to Dallas for the weekend with the plan to come back and study but, unfortunately, they had a flat tire on the way back, didn't have a spare, and couldn't get help for a long time. As a result, they missed the final.
The Professor thought it over and then agreed they could make up the final the following day. The guys were elated and relieved.
They studied that night and went in the next day at the time the professor had told them. He placed them in separate rooms and handed each of them a test booklet, and told them to begin.
They looked at the first problem, worth 5 points. It was something simple about free radical formation. "Cool," they thought at the same time, each one in his separate room. "This is going to be easy."
Each finished the problem and then turned the page. On the second page was written:
(For 95 points): Which tire?