Short jokes - funny one liners (931 to 940)
| | |
| --- | --- |
| | Short funny jokes. These jokes are less 300 chars long, so easy to remember! These are the jokes listed 931 to 940. |
"The Greek god Pan lo
"The Greek god Pan loved cooking utensils."
"I spent a summer wor
"I spent a summer working on a rabbit farm. It was a hare raising experience."
"So you went to a bre
"So you went to a bread factory? Guess you had a crummy day."
Hair
Your hair is so nappy ever time you comb it somebody get shot at.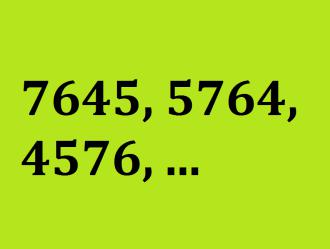 What is the next number in the series?
Look at the series (7645, 5764, 4576, ?), determine the pattern, and find the value of the next number!
"It's no easy tusk t
"It's no easy tusk to make a walrus pun!"
Hard Of Hearing

Three retirees, each with a hearing loss, were taking a walk one fine March day.
One remarked to the other, "Windy, ain't it?"
"No," the second man replied, "It's Thursday."
And the third man chimed in, "So am I. Let's have a coke."


What does the starship enterpr
What does the starship enterprise and tiolet paper have in common?
They both circle around uranus and wipe out klingons.
"The semaphore signal
"The semaphore signals from the ghost ship were hard to follow, due to their flagging spirits."
"What did the indecis
"What did the indecisive nimbus say? Something is clouding my judgement."
"Two pet owners got t
"Two pet owners got together for a weekly public discussion on the Internet. They called it their Pawed Cast."