Best New Jokes
The best jokes in the last 10 days. Top 20 jokes rated by site visitors.
Bill's hair kept falling out
Bill's hair kept falling out and he complained to his barber. "That stuff you gave me," he cried, "is terrible! You said two bottles of it would make me hair grow, but nothing's happened."
"I don't understand it," said the barber. "That's the best hair restorer made."
"Well," said Bill, "I don't mind drinking another bottle, but it had better work!"
#joke
Life after death?
"Do you believe in life after death?" the boss asked one of his employees.
"Yes, sir," the clerk replied.
"That's good," the boss said. "After you left early yesterday to go to your grandmother's funeral, she stopped in to see you."
#joke
Google Ads
"The leopard tried cr
"The leopard tried creeping up on the tigers using its camouflage but it was spotted."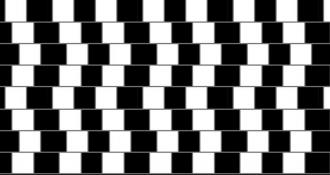 What is hidden in 3D image?
Stereogram - 3D Image
Communication Chain
When a customer left his cell phone in my store, I scrolled through his saved numbers, stopped at 'Mom' and pushed send.
His mother answered, and I told her what happened.
'Don't worry,' she said, 'I'll take care of it.'
A few minutes later, the cell phone rang. It was 'Mom.'
'Martin,' she said, 'you left your cell phone at the convenience store.'
#joke
An Engineer And A Programmer
A programmer and an engineer are sitting next to each other on a long flight from Los Angeles to New York.
The programmer leans over to the engineer and asks if he would like to play a fun game.
The engineer just wants to take a nap, so he politely declines and rolls over to the window to catch a few winks.
The programmer persists and explains that the game is real easy and is a lot of fun. He explains "I ask you a question, and if you don't know the answer, you pay me $5. Then you ask me a question, and if I don't know the answer, I'll pay you $5."
Again, the engineer politely declines and tries to get to sleep.
The programmer, now somewhat agitated, says, "OK, if you don't know the answer you pay me $5, and if I don't know the answer, I'll pay you $100!"
This catches the engineer's attention, and he sees no end to this torment unless he plays, so he agrees to the game.
The programmer asks the first question. "What's the distance from the earth to the moon?" The engineer doesn't say a word, but reaches into his wallet, pulls out a five dollar bill and hands it to the programmer.
Now, it's the engineer's turn. He asks the programmer "What goes up a hill with three legs, and comes down on four?"
The programmer looks up at him with a puzzled look. He takes out his laptop computer and searches all of his references. He taps into the Airphone with his modem and searches the net and the Library of Congress. Frustrated, he sends e-mail to his co-workers--all to no avail.
After about an hour, he wakes the Engineer and hands him $100. The engineer politely takes the $100 and turns away to try to get back to sleep. The programmer, more than a little miffed, shakes the engineer and asks "Well, so what's the answer?" Without a word, the engineer reaches into his wallet, hands the programmer $5, and turns away to get back to sleep.
#joke
1. A murderer is condemned to
1. A murderer is condemned to death. He has to choose between threerooms. The first is full of raging fires, the second is full ofassassins with loaded guns, and the third is full of lions thathaven't eaten in 3 years. Which room is safest for him?
2. A woman shoots her husband. Then she holds him under water forover 5 minutes. Finally, she hangs him. But 5 minutes later they both go out together and enjoy a wonderful dinner together. How can this be?
3. What is black when you buy it, red when you use it, and gray when you throw it away?
4. Can you name three consecutive days without using the wordsWednesday, Friday, or Sunday?
5. This is an unusual paragraph. I'm curious as to just how quicklyyou can find out what is so unusual about it. It looks so ordinaryand plain that you would think nothing was wrong with it. In fact,nothing is wrong with it! It is highly unusual though. Study it andthink about it, but you still may not find anything odd. But if youwork at it a bit, you might find out. Try to do so without any coaching!
THE ANSWERS TO ALL FIVE THE RIDDLES ARE BELOW:
Answers:
1. The third room. Lions that haven't eaten in three years are dead.That one was easy, right?
2. The woman was a photographer. She shot a picture of her husband, developed it, and hung it up to dry (shot; held under water; and hung).
3. Charcoal, as it is used in barbecuing.
4. Sure you can name three consecutive days, yesterday, today, and tomorrow!
5. The letter e, which is the most common letter used in the Englishlanguage, does not appear even once in the paragraph.
How did you do?
Used to being the center of at
Used to being the center of attention, Robbie was a little more than jealous of his new baby sister. The parents sat him down and said that now that she was getting older, the house was too small and they'd have to move.
"It's no use." Robbie said, "She's crawling good now and she'd probably just follow us."
#joke
Safe To Swim Here?
While sports fishing off the Florida coast, a tourist capsized his boat. He could swim, but his fear of alligators kept him clinging to the overturned craft. Spotting and old beachcomber standing on the shore, the tourist shouted,"Are there any gators around here?!"
"Naw," the man hollered back, "they ain't been around for years!"
"Feeling safe, the tourist started swimming leisurely toward the shore.
About halfway there he asked the guy,"How'd you get rid of the gators?"
"We didn't do nothin'," the beachcomber said.
"The sharks got 'em."
#joke
Outdoorsy Man
During his physical, the doctor asked the patient about his daily activity level
He described a typical day this way: 'Well, yesterday afternoon, I waded along the edge of a lake, drank eight beers, escaped from wild dogs in the heavy brush, jumped away from an aggressive rattlesnake, marched up and down several rocky hills, stood in a patch of poison ivy, crawled out of quicksand and took four leaks behind big trees.' Inspired by the story, the doctor said, 'You must be one hell of an outdoors man!' 'NAH,' he replied, 'I'm just a shitty golfer.'
"Successful pianists
"Successful pianists know the key to success."
Psychiatrist to Banta: Do you
Psychiatrist to Banta: Do you ever hear someone speaking but you are not able to see them?
Banta: Yes.
Psychiatrist: When does this happen?
Banta: When I am speaking on the phone.

2017 Math Class Response
The math teacher saw that Daphne wasn't paying attention in class.
She called on her and said, 'Daphne! What are 7 and 2, and 28 and 44?'
Daphne quickly replied, 'ABC, CBS, HBO and the Cartoon Network!'
The little man...
Rodney walks into a bar and says, "Bartender, give me two shots--one for me and one for my best buddy here."
The bartender says, "You want both drinks now or do you want me to wait until your buddy arrives to pour this?"
Rodney says, "Oh, I want them both now. I've got my best buddy in my pocket here."
With that, he pulls out a little three-inch man from his pocket.
The bartender says, "Wow! And you mean to say he can drink that much?"
"Oh, sure. He can drink it all and then some," the man retorted. So the bartender poured the two shots. Sure enough, the little guy drinks it all up.
"That's amazing!" says the bartender. "What else can he do? Can he walk?"
Rodney flicks a penny down to the end of the bar and says, "Hey, Al, go get that penny!" The little guy runs down to the end of the bar, picks up the penny, and hauls it back down and gives it to Rodney.
The bartender is totally amazed by this display. "That's amazing," he says. "What else can he do? Does he talk?"
Rodney looks up at the bartender with a look of surprise in his eye and squawks, "Talk? Sure, he talks! Hey, Al, tell him about that time we were down in Africa on safari and you insulted that witch doctor!"
What did he say?
An elderly couple were driving across the country. The woman was driving when she got pulled over by the highway patrol.
The officer said, "Ma'am did you know you were speeding?" The woman, hard of hearing, turns to her husband and asks, "What did he say?" The old man yells, "He says you were speeding!"
The patrolman says, "May I see your license?" The woman turns to her husband and asks again, "What did he say?" The old man yells, "He wants to see your license!"
The woman gave the officer her license. The patrolman says, "I see you are from Arkansas. I spent some time there once and went on a blind date with the ugliest woman I've ever seen." The woman turned to her husband and asked, "What did he say?" And the old man yells, "He said he knows you!"
#joke
Mystery...???
A man takes his place in the theater, but his seat is too farfrom the stage. He whispers to the usher, "This is a mystery, and I have to watch a mystery close up. Get me a better seat, and I'll give you a handsome tip."
The usher moves him into the second row, and the man hands the usher a quarter. Yep. 25 cents.
The usher looks at the quarter in his hand, leans over and whispers, "The wife did it."
#joke
Husband (a doctor) and his wif...
Husband (a doctor) and his wife are having a fight at the breakfast table. Husband gets up in a rage and says, "And you are no good in bed either," and storms out of the house.
After sometime he realizes he was nasty and decides to make amends and rings her up. She comes to the phone after many rings, and the irritated husband says, "What took you so long to answer the phone?"
She says, "I was in bed."
"In bed this early, doing what?"
"Getting a second opinion!"
Behavior Modification Re-enforcers
The HMO account manager noticed that nearly every bill from a certain pediatrician's office included the line item "Behavior modification re-enforcers".
Alarm that the pediatrician was engaging in some unapproved, experimental psychological treatment, she called the physician's office to inquire,
"What on earth are behavior modification re-enforcers?"
"Lollipops," was the reply.
#joke
A tourist in Vienna is going t
A tourist in Vienna is going through a graveyard and all of a sudden he hears some music. No one is around, so he starts searching for the source. He finally locates the origin and finds it is coming from a grave with a headstone that reads "Ludwig van Beethoven, 1770-1827". Then he realizes that the music is the Ninth Symphony and it is being played backward!
Puzzled, he leaves the graveyard and persuades a friend to return with him. By the time they arrive back at the grave, the music has changed. This time it is the Seventh Symphony, but like the previous piece, it is being played backward.
Curious, the men agree to consult a music scholar. When they return with the expert, the Fifth Symphony is playing, again backward. The expert notices that the symphonies are being played in the reverse order in which they were composed, the 9th, then the 7th, then the 5th.
By the next day the word has spread and a crowd has gathered around the grave. They are all listening to the Second Symphony being played backward. Just then the graveyard's caretaker ambles up to the group.
Someone in the group asks him if he has an explanation for the music.
"Don't you get it?" the caretaker says incredulously. "He's decomposing."
#joke
Life choices...
An older man was married to a younger woman. After several years of a very happy marriage, he had a heart attack. The doctor advised him that in order to prolong his life, they should cut out sex.
He and his wife discussed the matter and decided that he should sleep in the family room downstairs to save them both from temptation.
One night, after several weeks of this, he decided that life without sex wasn't worth living. So he headed upstairs. He met his wife on the staircase and said, "I was coming to die."
She laughed and replied, "I was just coming down to kill you!"