Silence In the Courtroom
Judge: Silence in court! The next person who laughs again will be thrown out of court.
Accused: Hahahaha
Judge: I wasn't talking to you!
In love
After a quarrel, a wife said to her husband, "You know, I was a fool when I married you."
The husband replied, "Yes, dear, but I was in love and didn't notice."

Off To Work
A guy shows up late for work.
The boss yells, "You should've been here at 8.30!"
He replies, "Why? What happened at 8.30?"

My Child
I was dismayed this afternoon when my wife told me my 6-year-old son wasn't actually mine.
She then said I need to pay more attention at school pick up.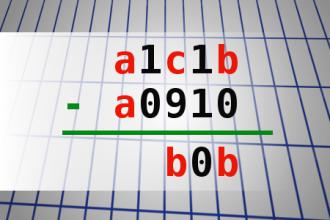 Find number abc
If a1c1b - a0910 = b0b find number abc. Multiple solutions may exist.
Mistaken Identity
When you get older, lack of pep is often mistaken...
Mistaken for patience!

Cooking Kale
Pro tip: if you add coconut oil to your kale...
It makes it easier to scrape it into the trash.
A boy who was a witness to a c
A boy who was a witness to a crime was called to testify in court. He was approached by the defense attorney who asked, "Did anyone tell you what to say in court?"
"Yes, sir," answered the boy.
"I thought so," said the attorney. "Who was it?"
"My father, sir."
"And what did he tell you?" the attorney asked accusingly.
"He said that the lawyers would try to get me all tangled up, but if I told the truth, everything would be all right."
I Don't Deserve an 'F'
A student burst into his professor's office and says, "Professor Stigler, I don't believe I deserve this 'F' grade that you've given me!"

To which Professor Stigler replied, "I agree, but unfortunately it is the lowest grade the University will allow me to award."
#joke
"I have good news and bad news
"I have good news and bad news," a defense attorney told his client. "First the bad news. The blood test came back, and your DNA is an exact match with that found at the crime scene."
"Oh, no!" cried the client. "What's the good news?"
"Your cholesterol is down to 140."
#joke
Thief In the Night
Someone broke into my garage last night and took a bunch of stuff, including my limbo stick!
Seriously, how low can you go?
A little girl was asked what s
A little girl was asked what she wanted most for her birthday and she declared: "A baby brother."
"Daddy and I would like to give you a baby brother," said her mom, "but there isn't time before your birthday."
"Why don't you do like they do down at Daddy's factory when they want something in a hurry? Put more men on the job."
#joke
The Birthday Gift
A grandmother sent her grandson a shirt for his birthday. The only trouble was that he had a size 14 neck and the shirt was size 12.
When the grandson sent a thank you note, he wrote, "Dear Grandma. Thanks a lot for the shirt. I'd write more, but I'm all choked up."
A police officer stops a blond
A police officer stops a blonde for speeding and asks her very nicely if he could see her license.
She replied in a huff, "I wish you guys could get your act together. Just yesterday you take away my license and then today you expect me to show it to you."

The CEO OF IKEA
The CEO of IKEA was just elected president in Sweden.
He should have his cabinet together by the end of the week.
A World War II pilot is remini
A World War II pilot is reminiscing before school children about his flying days during the war.
"In 1942," he says, "the situation was really tough. The Germans had a very strong air force. I remember," he continues, "one day I was protecting the bombers and suddenly, out of the clouds, these fokkers appeared.
At this point, several of the children giggle.
I looked up, and right above me was one of them. I aimed at him and shot him down. They were swarming. I immediately realized that there was another fokker behind me."
At this instant the girls in the auditorium start to giggle and boys start to laugh. The teacher stands up and says, "I think I should point out that 'Fokker' was the name of the German-Dutch aircraft company."
"That's true," says the pilot, "but these fokkers were flying Messerschmidts."
#joke
Buying An Elephant
Tim: I wish I had the money to buy an elephant.
Tom: What do you want with an elephant?
Tim: Nothing, I just want the money.
After hearing a speech on how
After hearing a speech on how to motivate employees, the business owner posted signs that read "Do It Now" in every department. It was impossible for the employees not to see them all through the day.
A friend dropped by a week later. Seeing the signs, he asked if the scheme really worked.
"Well," said the business owner, "not exactly the way I thought it would. My accountant ran off with $250,000, the office manager eloped with my secretary and the rest of the employees asked for raises."
#joke
A man travels to Spain and goe
A man travels to Spain and goes to a Madrid restaurant for a late dinner. He orders the house special and he is brought a plate with potatoes, corn, and two large meaty objects. "What's this?" he asks.
"Cojones, senor," the waiter replies.
"What are cojones?" the man asks.
"Cojones," the waiter explains, "are the testicles of the bull who lost at the arena this afternoon."
At first the man is disgusted, but being the adventurous type, he decides to try this local delicacy. To his amazement, it is quite delicious. In fact, it is so good that he decides to come back again the next night and order it again.
After dinner the man informed the waiter that these were better than the pair he had the previous afternoon but the portion was much smaller.
"Senor," the waiter explains, "the bull does not lose every time."
#joke
Gym Record for Consecutive Days
I didn't make it to the gym today...
That makes 1,523 days in a row I didn't go!
A man standing at a urinal not
A man standing at a urinal notices that he's being watched by a midget.
"Wow," comments the midget. "Those are the nicest balls I have ever seen!"
Surprised and flattered, the man thanks the midget and continues to pee.
Suddenly, the midget pulls up a step ladder right next to the urinal and says, "Listen, I know this is a rather strange request, but as they're so admirable, I wonder if I could take a closer look."
Again the man is rather startled, but sees no real harm in it.
Just then, the midget reaches out, gets a tight grip on the man's balls, and says, "OK, hand me your wallet, or I'll jump off the ladder!"
#joke