Best New Jokes
The best jokes in the last two weeks. Top 20 jokes rated by site visitors.
So I walked into a this bar an
So I walked into a this bar and heard two girls speaking in what sounded like a lovely Scottish accent. I said: So, are you two girls from Scotland?
One of them said: "Wales Idiot!"
So I said: "Oh, I am terribly sorry about that. So, are you two Whales from Scotland?"
That's the last thing I remember.
#joke
Football Before Marriage
A wife told her husband that he put football before their marriage.
"That's not true," he said. "After all, this is our fourth season together."
School Teacher in Court
When asked for her occupation, a woman charged with a traffic violation said she was a school teacher.
The judge rose from the bench. "Madam, I have waited years for a school teacher to appear before this court," he smiled with delight. "Now sit down at that table and write 'I will not pass through a red light' five hundred times!"
#joke
Why I spoke so softly in the house?
My wife asked why I spoke so softly in the house.
I said I was afraid Mark Zuckerberg was listening!
She laughed.
I laughed.
Alexa laughed. Siri laughed.
Author SandipGarg.
NOTE:Many sharing this joke, but SandipGarg's tweet is the oldest post I found.
#joke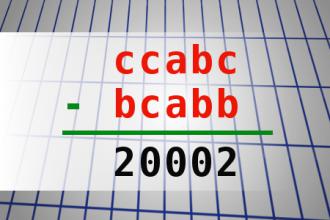 Find number abc
If ccabc - bcabb = 20002 find number abc. Multiple solutions may exist.
Dear Abby,
I'v
Dear Abby,
I've never written to you before, but I really need youradvice on what could be a crucial decision.I've suspected for some time now that my wife has been cheating on me.It's the usual signs... phone rings but if I answer, the caller hangs up.My wife has been going out with the girls a lot recently - although when I ask their names she always says, "Just some friends from work, you don't know them."I always stay awake to look out for her taxi coming home, but she always walks down the street.
Anyway, I have never approached the subject with my wife. I think deep down I just don't want to know the truth, but last night she went out again and I decided to really check on her.
I decided I was going to park my boat next to the garage and then hide behind it so I could get a good view of the whole street when she came home.It was at that moment, crouching behind my boat, that I noticed that the lower unit seemed to be leaking a little oil.Is this something I can fix myself or should I take it back to the dealer?
Worried Sick in Indiana
#joke
A new receptionist started wor
A new receptionist started work in a psychiatrist's office, but at the end of her first day he felt he had to have a quietword with her.
"Your general approach is fine," he said, "but try saying 'We're very busy' rather than 'It's a madhouse.'"

Zero in Math
Dad was angry when he saw that his son scored a zero in math.
"Son, can you explain this to me?"
"Well dad, the teacher didn't have any stars left to give me, so she gave me a moon!"
Bunch of Cows
Camper: "Look at that bunch of cows."
Farmer: "Not bunch, herd."
Camper: "Heard what?"
Farmer: "Of cows."
Camper: "Sure I've heard of cows."
Farmer: "No, I mean a cowherd."
Camper: "So what if they heard? I have no secrets from cows!"
#joke
Chess With My Dog
Me: I taught my dog to play chess.
Friend: He must be very smart?
Me: Not really, I beat him two games out of three!
Children's Home
Father: Son, I donated all your toys to the children's home.
Son: Why did you do that?
Father: So you will not be bored there.
Complaining about price of cinema food
If I had a dollar every time a customer complained about the price of cinema food.
I could almost afford a small popcorn.
Author:
EdgarWronged on reddit
There was a boy standing on a
There was a boy standing on a corner selling fish. He was saying, "Dam fish for sale, dam fish for sale."
A preacher walked up and asked why he was calling them dam fish.
The kid said, "I caught them at the dam, so they're dam fish."
The preacher bought some, took them home and asked his wife to cook the dam fish.
His wife looked at him in bewilderment and said, "Preachers aren't supposed to talk like that."
The preacher explained why they were dam fish, and she agreed to cook them.
When dinner was ready and everyone was sitting down, the preacher asked his son to pass him the dam fish.
His son replied, "That's the spirit dad. Pass those f**king potatoes!"
#joke
Marriage
Q: Daddy, why are all those cars beeping their horns?
A: Because they were just at a wedding.
Q: Don't we beep the horn as a warning signal, Daddy?
A: Exactly, son.
Two Windmills
Two windmills are in a field. One asks, "What kind of music do you like?"
The other one says, "Well, I'm a big metal fan."
Twin In Prison
So my twin brother called me from prison
He said, "So you know how we finish each others' sentences?"
Author:TheJenkinsComic reddit user
One night a lady with a black
One night a lady with a black eye stumbled into a police station. She told the desk sergeant that she heard a noise in her back yard and went to investigate. The next thing she knew, she was hit in the face and knocked out cold.
An officer was sent to her house to investigate, and he returned a few minutes later, also with a black eye.
"Did you get hit by the same attacker?" his captain asked.
"No, sir," he replied. "I stepped on the same rake."
#joke
The five stages of drunkenn
The five stages of drunkenness
Stage 1 - Smart:
This is when you suddenly become an expert on every subject. You know all and greatly wish to express this knowledge to anyone who will listen. At this stage you are also always right. And of course the person you are talking with is very wrong. You will talk for hours trying to convince someone that you are right. This makes for an interesting argument when both parties are "smart". Two people talking, in fact, arguing about a subject neither one really knows anything about, but are convinced that they are the complete authority on the subject makes for great entertainment for those get the opportunity to listen in.
Stage 2 - Handsome/Pretty:
This is when you are convinced that you are the best looking person in the entire room and everyone is looking at you. You begin to wink at perfect strangers and ask them to dance because of course they had been admiring you the whole evening. You are the center of attention, and all eyes are directed at you because you are the most beautiful thing on the face of the earth. Now keep in mind that you are still smart, so you can talk to this person who has been admiring you about any and all subjects under the sun.
Stage 3 - Rich:
This is when you suddenly become the richest person in the world. You can buy drinks for the entire bar and put it on your bill because you surely have an armored truck full of your money parked behind the bar. You can also make bets in this stage. Now of course you still know all, so you will always win all your bets. And you have no concern for how much money you bet because you have all the money in the world. You will also begin to buy drinks for all the people in the bar who are admiring you because you are now the smartest, prettiest, and richest person on the face of the earth.
Stage 4 - Bulletproof:
You can now pick fights with the people you have been betting money with because you cannot be hurt by anything. At this point you would go up to the boyfriend of the woman who had been admiring your beautiful self all evening and challenge him to a battle of wits for money. You have no worry about losing this battle of wits because you know all, have all the money to cover this bet, and you obviously win a fight that might erupt if he loses.
Stage 5 - Invisible:
This is the final stage of drunkenness. At this point you can do absolutely anything because no one can see you. You can get up and dance on a table, to impress the people who have been admiring you all evening, because the rest of the people in the room cannot see you. You are also invisible to the person whom you have picked a fight with earlier in the evening. You can walk through the streets singing at the top of your lungs (because of course you are still smart and know the tune perfectly) and no one will think anything of it because they can't see you. All your social inhibitions are gone. You can do anything, because no one will know. And you certainly won't remember.
#joke
Telemarketers Go Away
How to Make a Telemarketer Go Away
1. If they want to loan you money, tell them you just filed for bankruptcy and you could sure use some money. Ask, "How long can I keep it? Do I have to ever pay it back, or is it like the other money I borrowed before my bankruptcy?"
2. If you get one of those pushy people who won\\'t shut up, just listen to their sales pitch. When they try to close the sale, tell them that you\\'ll need to go get your credit card. Then, just set the phone down and go do laundry, shopping or whatever. See how long that commission based scum waits for you to get your credit card.
3. If they start out with, "How are you today?" say, "Why do you want to know?" Or you can say, "I\\'m so glad you asked, because no one seems to care these days and I have all these problems, my sciatica is acting up, my eyelashes are sore, my dog just died...." When they try to get back to the sales process, just continue on with telling about your problems.
4. If the person says he\\'s Joe Doe from the ABC Company, ask him to spell his name, then ask him to spell the company name, then ask where it is located. Continue asking personal questions or questions about the company for as long as necessary.
5. This one works better if you are male: Telemarketer: "Hi, my name is Julie and I\\'m with Dodger & Peck Services.... You: "Hang on a second." (few seconds pause) "Okay, (in a really husky voice) what are you wearing?"
6. Crying out, in well-simulated tones of pleasure and surprise, "Julie!! Is this really you? I can\\'t believe it! Julie, how have you BEEN?" Hopefully, this will give Julie a few brief moments of terror as she tries to figure out where the heck she could know you from.
7. Say, "No," over and over. Be sure to vary the sound of each no, and keep an even tempo even as they\\'re trying to speak. This is the most fun if you can keep going until they hang up.
8. If MCI calls trying to get you to sign up with their Family and Friends plan, reply, in as sinister a voice as you can muster, "I don\\'t have any friends...would you be my friend?"
9. If they clean rugs: "Can you get blood out, you can? Well, how about goat blood or HUMAN blood - chicken blood too?"
10. Let the person go through their spiel, providing minimal but necessary feedback in the form of an occasional "Uh-huh, really, or, "That's fascinating." Finally, when they ask you to buy, ask them to marry you. They get all flustered, but just tell them you couldn't give your credit card number to someone who's a complete stranger.
11. Tell them you work for the same company they work for.
Example:
Telemarketer: "This is Bill from Widget & Associates."
You: "Widget & Associates!! Hey I work for them too. Where are you calling from?"
Telemarketer: "Uh, Dallas, Texas."
You: "Great, they have a group there too? How\\'s business/the weather? Too bad the company has a policy against selling to employees! Oh well, see ya."
12. Tell the Telemarketer you are busy and if they will give you their phone number you will call them back. If they say they are not allowed to give out their number, then ask them for their home number and tell them you will call them at home (this is usually the most effective method of getting rid of Telemarketers). If the person says, "Well, I don\\'t really want to get a call at home," say, "Ya! Now you know how I feel." (smiling, of course...)
#joke