Best New Jokes
The best jokes in the last two weeks. Top 20 jokes rated by site visitors.
Juan comes up to the Mexican b
Juan comes up to the Mexican border on his bicycle. He's got two large bags over his shoulders.
The guard stops him and says, "What's in the bags?"
"Sand," answered Juan.
The guard says, "We'll just see about that, get off the bike." The guard takes the bags and rips them apart; he empties them out and finds nothing in them but sand.
He detains Juan overnight and has the sand analyzed, only to discover that there is nothing but pure sand in the bags.
The guard releases Juan, puts the sand into new bags, hefts them onto the man''s shoulders, and lets him cross the border.
A week later, the same thing happens. The guard asks, "What have you got?"
"Sand," says Juan.
The guard does his thorough examination and discovers that the bags contain nothing but sand.He gives the sand back to Juan, and Juan crosses the border on his bicycle.
This sequence of events if repeated every day for three years. Finally, Juan doesn't show up one day and the guard meets him in a Cantina in Mexico.
"Hey, Buddy," says the guard, "I know you are smuggling something. It's driving me crazy. It's all I think about. I can't sleep. Just between you and me, what are you smuggling?"
Juan sips his beer and says, "Bicycles."
Helping Your Father
A clergyman walking down a country lane and sees a young farmer struggling to load hay back onto a cart after it had fallen off.
"You look hot, my son," said the cleric. "why don't you rest a moment, and I'll give you a hand."
"No thanks," said the young man.
"My father wouldn't like it."
"Don't be silly," the minister said.
"Everyone is entitled to a break. Come and have a drink of water."
Again the young man protested that his father would be upset. Losing his patience, the clergyman said, "Your father must be a real slave driver. Tell me where I can find him and I'll give him a piece of my mind!"
"Well," replied the young farmer, "he's under the load of hay."
#joke
Man: Just look at that young p
Man: Just look at that young person with the short hair and blue jeans. Is it a boy or a girl?
Bystander: It's a girl. She's my daughter.
Man: Oh, please forgive me, sir. I had no idea you were her father.
Bystander: I'm not. I'm her mother.

The Senility Prayer
God, grant me the senility to forget the people I never liked anyway, the good fortune to run into the ones that I do like, and the eyesight to tell the difference.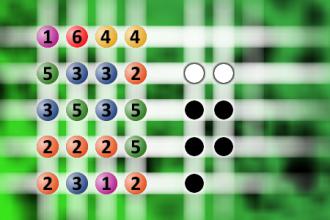 What a winning combination?
The computer chose a secret code (sequence of 4 digits from 1 to 6). Your goal is to find that code. Black circles indicate the number of hits on the right spot. White circles indicate the number of hits on the wrong spot.
A man boarded a plane with 6 k
A man boarded a plane with 6 kids. After they got settled in their seats a woman sitting across the aisle from him leaned over to him and asked, "Are all of those kids yours?"
He replied, "No. I work for a condom company. These are customer complaints."

Did They All Live Happily Ever After?
Cinderella was now 75 years old. After a fulfilling life with the now passed-away Prince, she happily sat upon her rocking chair, watching the world go by from her front porch, with a cat called Alan for companionship. One sunny afternoon, out of nowhere, appeared the Fairy Godmother. Cinderella said: "Fairy Godmother, what are you doing here after all these years?"
The Fairy Godmother replied: "Well, Cinderella, as you have lived a good, wholesome life since we last met, I have decided to grant you three wishes. Is there anything for which your heart still yearns?"
Cinderella was overjoyed, and after some thoughtful consideration, almost under her breath, she uttered her first wish:
"I wish I was wealthy beyond comprehension."
Instantly, her rocking chair was turned into solid gold. Cinderella was stunned. Alan, her old faithful cat, jumped off her lap and scampered to the edge of the porch, quivering with fear.
Cinderella said: "Oh thank you, Fairy Godmother!"
The Fairy Godmother replied: "It's the least I can do. What does your heart desire for your second wish?"
Cinderella looked down at her frail body and said: "I wish I were young and full of the beauty of youth again."
At once, her wish became reality, and her beautiful youthful visage returned. Cinderella felt stirrings inside her that had been dormant for years. And long forgotten vigor and vitality began to course through her very soul.
Then the Fairy Godmother again spoke: "You have one more wish, what will you have?"
Cinderella looked over to the frightened cat in the corner and said: "I wish you to transform Alan my old cat into a beautiful and handsome young man."
Magically, Alan suddenly underwent a fundamental change in his biological make-up, that, when complete, he stood before her a boy so beautiful – the likes of which neither she nor the world had ever seen – so fair indeed that birds began to fall from the sky at his feet.
The Fairy Godmother again spoke: "Congratulations, Cinderella. Enjoy your new life!" And, with a blazing shock of bright blue electricity, she was gone. For a few eerie moments, Alan and Cinderella looked into each other's eyes. Cinderella sat, breathless, gazing at the most stunningly perfect boy she had ever seen.
Then Alan walked over to Cinderella, who sat transfixed in her rocking chair, and held her close in his strong, youthful arms. He leaned in close to her ear, whispered, blowing her golden hair with his warm breath:
"I bet you regret having me neutered now, don't you?"
#joke
A man, called to testify at th
A man, called to testify at the IRS, asked his accountant for advice on what to wear. "Wear your shabbiest clothing. Let him think you are a pauper." Then he asked his lawyer the same question, but got the opposite advice. "Do not let them intimidate you. Wear your most elegant suit and tie."
Confused, the man went to his rabbi, told him of the conflicting advice, and requested some resolution of the dilemma. "Let me tell you a story," replied the rabbi. "A woman, about to be married, asked her mother what to wear on her wedding night. 'Wear a heavy, long, flannel nightgown that goes right up to your neck.' But when she asked her best friend, she got conflicting advice. 'Wear your most sexy negligee, with a V-neck right down to your navel.
The man protested: "What does all this have to do with my problem with the IRS?"
"No matter what you wear, you are going to get screwed," replied the rabbi.
Punography
I
Punography
I tried to catch some fog. I mist.
When chemists die, they barium.
Jokes about German sausage are the wurst.
I know a guy who's addicted to brake fluid. He says he can stop any time.
I stayed up all night to see where the sun went. Then it dawned on me.
The girl said she recognized me from the vegetarian club, but I never met herbivore.
I'm reading a book about anti-gravity. I can't put it down.
I did a theatrical performance about puns. It was a play on words.
They told me I had type A blood, but it was a Type O.
Class trip to the Coca-Cola factory. I hope there's no pop quiz.
Energizer Bunny arrested: Charged with battery.
I didn't like my beard at first. Then it grew on me.
What do you call a dinosaur with an extensive vocabulary? A thesaurus.
When you get a bladder infection, urine trouble.
What does a clock do when it's hungry? It goes back four seconds.
I wondered why the baseball was getting bigger. Then it hit me!
Broken pencils are pointless.
#joke
One Day, A Lab Rabbit
A rabbit one day managed to break free from the laboratory where he had been born and brought up. As he scurried away from the fencing of the compound, he felt grass under his little feet and saw the dawn breaking for the first time in his life.
"Wow, this is great," he thought. It wasn't long before he came to a hedge and after squeezing under it he saw a wonderful sight – lots of other bunny rabbits, all free and nibbling at the lush grass.
"Hey," he called. "I'm a rabbit from the laboratory and I've just escaped. Are you wild rabbits?"
"Yes. Come and join us," they cried. Our friend hopped over to them and started eating the grass. It tasted so good. "What else do you wild rabbits do?" he asked.
"Well," one of them said. "You see that field there? It's got carrots growing in it. We dig them up and eat them." This, he couldn't resist and he spent the next hour eating the most succulent carrots. They were wonderful. Later, he asked them again, "What else do you do?"
"You see that field there? It's got lettuce growing in it. We eat that as well." The lettuce tasted just as good and he returned a while later completely full.
"It's fantastic out here in the world," he told them.
"So are you going to live with us then?" one of them asked.
"I'm sorry, I had a great time but I can't." The wild rabbits all stared at him, a bit surprised. "Why? We thought you liked it here."
"I do," the rabbit replied. "But I must get back to the lab. I'm dying for a cigarette."
#joke
The room was full of pregnant
The room was full of pregnant women and their partners, and the Lamaze class was in full swing. The instructor was teaching the women how to breathe properly, along with informing the men how to give the necessary assurances at this stage of the plan.
The teacher then announced, "Ladies, exercise is good for you. Walking is especially beneficial. And, gentlemen, it wouldn't hurt you to take the time to go walking with your partner!"
The room really got quiet. Finally, a man in the middle of the group raised his hand.
"Yes?" replied the teacher.
"Is it alright if she carries a golf bag while we walk?"
#joke
"Who likes music?" asks a comm
"Who likes music?" asks a commander.
Two soldiers step forward.
"OK you two. I bought a piano. Take it to my apartment on the fourth floor."

Wealthy Investors
A wealthy investor walked into a bank and said to the bank manager, "I would like to speak with Mr. Reginald Jones, who I understand is a tried and trusted employee of yours."
The banker said, "Yes he certainly was trusted. And he will be tried as soon as we catch him."
#joke
He Remembered
A Canadian tourist is fascinated by the Native American way of life and culture, so he decides to visit a reservation in the United States to find out more.
After a long and dusty drive through the Arizona desert, he finally arrives at the reservation.
Soon after his arrival, the tourist meets an old chief, who claims to remember everything that ever happened in his life.
The tourist is curious and asks the chief: "What did you have for breakfast on your fifth birthday?"Without hesitation, the chief replies: "eggs".
The tourist was very impressed by this, and he never forgot the chief's words, even after his visit had long since ended.
Ten years later, he returns to the reservation and is surprised to see the same old chief again.
He approaches the chief, puts his hand up flat and greets him with "how".
"Scrambled," the old chief replied.
#joke
"Driving with one hea
"Driving with one headlight isn't very bright."
"After a gruelling wo
"After a gruelling workout the boxer was so tired he decided to drink a glass of punch and hit the sack."
"The liquor store was
"The liquor store was burgled with no sign of a break in, no fingerprints and only spirits were taken. Police suspect it was a polter-heist."
"'I like to go with
"'I like to go with the flow', said the hydrologist, fluidly."
A businessman on his deathbed
A businessman on his deathbed called his friend and said, "Bill, I want you to promise me that when I die, you willhave my remains cremated."
"And what," his friend asked, "What do you want me to do with your ashes?"
The businessman said, "Just put them in an envelope and mail them to the Internal Revenue Service. Write on the envelope, "Now, you have everything."
#joke
12 Italian Priests
Twelve Italian priests were about to be ordained. The final test was for them to line-up in a straight row, totally nude, in a garden while a sexy, beautiful, big breasted, nude model danced before them.
Each priest had a small bell attached to his manhood, and they were told that anyone whose bell rang when she danced in front of them would not be ordained because he had not reached a state of spiritual purity. The beautiful model danced before the first candidate with no reaction. She proceeded down the line with the same response from all the priests until she got to the final priest, Carlos.
Poor Carlos. As she danced, his bell began to ring so loudly that it flew off, clattering across the ground and laid to rest in nearby foliage. Embarrassed, Carlos quickly scrambled to where the bell came to rest.
He bent over to pick it up... and all the other bells started to ring.
#joke
You Might Be A Physics Majo
You Might Be A Physics Major If...
1. It is sunny and 70 degrees outside, and you are working on a computer.
2. The "fun" center of your brain has deteriorated from lack of use.
3. You are completely addicted to caffeine.
4. You can translate English into Binary.
5. You can't remember what's behind the door in the science building which says "Exit."
6. You chuckle whenever anyone says "centrifugal force."
7. You consider ANY non-science course "easy."
8. You frequently whistle the theme song to "MacGyver."
9. You have a pet named after a scientist.
10. You have no life - and you can PROVE it mathematically.
11. You have to bring a jacket with you, in the middle of summer, because there's a wind-chill factor in the lab.
12. You hesitate to look at something because you don't want to break down its wave function.
13. You know how to integrate a chicken and can take the derivative of water.
14. You know vector calculus but you can't remember how to do long division.
15. You laugh at jokes about mathematicians.
16. You've actually used every single function on your graphing calculator.
17. You understood more than five of these indicators.
#joke