Two Guitarists
What's the difference between a rock guitarist and a jazz guitarist?
A rock guitarist plays 4 notes in front of 1000 people, while a jazz guitarist plays 1000 notes in front of 4 people.

Winning the Lottery
Interviewer: "Congratulations on winning the lottery."
Farmer: "Thank you."
Interviewer: "Do you have any special plans for spending all of that money?"
Farmer: "Nope. Not really. I'm just gonna keep farming until the lottery money is all gone."

#joke
In the morning, a blonde enter
In the morning, a blonde enters a restaurant with a carton of orange juice. She puts the orange juice on the table and stares at it.
The store is about to close down and the blonde is still staring at the orange juice. A waiter comes and asks the blonde, "Excuse me, we are about to close for the evening, I'm afraid your going to have to leave."
"No," the blonde replies.
"Why not?" questions the waiter.
"The carton says 'concentrate'".
A well known womaniser with a
A well known womaniser with a long list of conquests walked into his neighborhood local and ordered a drink.
The bartender thought he looked worried and asked him if anything was wrong.
"I'm scared out of my mind," the stud replied. "Some cheesed-off husband wrote to me and said he'd kill me if I didn't stop screwing his wife."
"So stop," the barkeep said.
"I can't," the womaniser replied, taking a long swill. "The idiot didn't sign his name!"
#joke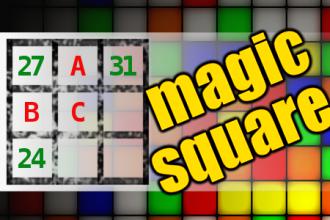 MAGIC SQUARE: Calculate A-B+C
The aim is to place the some numbers from the list (11, 12, 18, 24, 25, 26, 27, 31, 33, 86, 96) into the empty squares and squares marked with A, B an C. Sum of each row and column should be equal. All the numbers of the magic square must be different. Find values for A, B, and C. Solution is A-B+C.
The young fellow is about to m
The young fellow is about to marry and asks his grandfather how often a married couple should have sex.
His grandfather tells him, "When you first get married, you want it all the time, maybe several times a day; later on, maybe once a week. As you get older, you have sex maybe once a month. When you get really old, you are lucky to have it once a year -- maybe on your anniversary."
The young fellow asks, "How about you and Grandma?"
His grandfather replies, "Oh, we just have oral sex now. She goes into her bedroom and I go into my bedroom. She yells, 'F**k you,' and I holler back, 'F**k you, too!'"
#joke
Desert Food
Two cowboys were lost in the desert when they spotted a tree draped in bacon strips.
"We're saved!" shouted one cowboy. But when he ran up to the tree, he was shot multiple times.
It wasn't a bacon tree, it was a ham bush.
A customer wanted to ask his a
A customer wanted to ask his attractive waitress for a date, but couldn't get her attention. When he was able to catch her eye, she quickly looked away. Finally he followed her into the kitchen and blurted out his invitation. To his amazement, she readily consented.
He said, "Why have you been avoiding me all this time? You wouldn't even make eye contact."
"Oh," said the waitress, "I thought you wanted more coffee."
#joke
Inferiority Complex
An actress who suffered from an inferiority complex was complaining to her psychiatrist. "I'm a nothing!" she cried. "I can't sing. I can't remember my lines. I can't dance, I can't even act. I really don't belong in show business."
"Why don't you quit?" the doctor asked.
"I can't," moaned the actress. "I'm a Star!"
Infernal Revenue Service
The IRS is out of control...
Now that I'm older, they've even taxed my memory!
Ticket Trouble
A minister was pulled over for speeding. As the cop was about to write the ticket, the minister said to him, "Blessed are the merciful for they shall obtain mercy."The cop handed the minister the ticket and said, "Go thou and sin no more."
Miss Annabell had just returne
Miss Annabell had just returned from her big trip to New York City and was having refreshments on the front porch of her daddy's mansion with her southern belle friends. She tells them the stories of her trip as they stare spellbound. "You just wouldn't believe what they have there in New York City," says Miss Annabell. "They have men there who kiss other men on the lips."
Miss Annabell's friends fan themselves and say, "Oh my! Oh my!"
"They call them homosexuals," proclaims Miss Annabell.
"Oh my! Oh my," proclaim the girls as they fan themselves.
"They also have women there in New York City who kiss other women on the lips!"
"Oh my! Oh my," exclaim the girls. "What do they call them?" they ask.
"They call them lesbians," says Miss Annabell.
"They also have men who kiss women between the legs, there in New York City," sighs Miss Annabell.
"Oh my! Oh my! Oh my," exclaim the girls as the sit on the edge of their chairs and fan themselves even faster.
"What do they call them?" they ask in unison.
Miss Annabell leans forward and says in a hush, "Why when I caught my breath, I called him Precious."
#joke
Three Questions
The cop asked, "Whose car is this? Where are you headed? What do you do?"
The miner replied, "Mine."
Imams don't like it when
Imams don't like it when people lose a lot of weight. I knew one who even issued fatwas.
The woman had been away for tw
The woman had been away for two days visiting a sick friend in another city. When she returned, her little boy greeted her by saying, "Mommy, guess what! Yesterday I was playing in the closet in your bedroom and daddy came into the room with the lady next door and they got undressed and got into your bed and then daddy got on top of her..."
Sonny's mother held up her hand. "Not another word. Wait till your father comes home and then I want you to tell him exactly what you've just told me."
The father came home. As he walked into the house, his wife said, "I'm leaving you. I'm packing now and I'm leaving you."
"But why?" asked the startled father.
"Go ahead, Sonny. Tell daddy just what you told me."
"Well," Sonny said, "I was playing in your bedroom closet and daddy came upstairs with the lady next door and they got undressed and got into bed and daddy got on top of her and then they did just what you did with uncle John when daddy was away last summer."
#joke
The Big Man Upstairs
Teacher: What are you grateful for?
Megan: I'm grateful for the big man upstairs.
Little Johnny: Not me, the big man upstairs drives me nuts! He practices river dancing every night for an hour.

A stranger's advice
A guy was standing in a bar when a stranger walks in.
After a while they get to talking and at about 10:30 PM the second guy says, "Oh well,I better get home.My wife doesn't like me to stay out during late night."
The first guy replies, "I'll help you out of this. Just do what I say. Go home. Sneak into the bedroom. Pull back the covers. Get down between her legs then lick, lick and lick for about 20 minutes and there will be no complaints in the morning."
The guy agrees to try that and continues drinking with him for two more hours before heading home to give it a try.
When he got home, the house was pitch black. He sneaks upstairs into the bedroom, pulled back the covers and proceeded to lick for 20 minutes. The bed was like a swamp so he decided to wash his face.
As he walked into the bathroom, his wife was sitting on the toilet.
Seeing her he screamed, "What the hell are you doing in here?!"
"Quiet!", she exclaimed. "You'll wake my mother."
#joke
A wealthy and very well dresse
A wealthy and very well dressed financial consultant arrived at his office to fill out his report for the company he was working for.
The dapper, extremely confident and very dignified gentleman left his Porsche with the parking attendant and entered the building wearing his designer business suit. His shoes clicked along the polished floor as he headed for the elevator.
He picked up the paperwork, and strutted into his well-furnished office, put down his fifteen hundred dollar briefcase and sat down at his desk. He stared at the questions for five minutes, and shook his head in disbelief. He looked again, and his shoulders dropped.
"I know I have no choice, but this is an OUTRAGE!" he said out loud.
Then with a sigh of embarrassment, he reached down, untied and pulled his feet out of his highly polished $800 Brooks Brothers cap toe dress shoes and then peeled off his black silk business socks as well.
The now barefoot consultant then stuffed the socks in the shiny, expensive shoes and dropped them in the garbage can.
A few minutes later, he shook his head again with frustration, slowly untied his $150 Hermes silk necktie, plucked the matching pocket square out of his suit pocket, unfastened his monogrammed gold cufflinks, and slid his Rolex off his wrist. He threw them in to the garbage as well. His silver tiepin and his paisley braces followed.
A moment later, the consultant dropped his head into his hands and groaned. No longer confident and dignified, he looked around furtively.
Then he angrily shrugged and stood up. He then stripped off his $2,000 navy blue pinstriped Armani business suit and his starched white shirt, and folded them before stuffing them in the garbage as well.
The consultant finally sat down in his underwear and finished his work.
A colleague came in, looked around, saw the stripped consultant and his expensive clothes piled in the garbage and was stunned. "Why did you do this?" he asked in bewilderment.
The formerly well-dressed and impeccably groomed consultant angrily and wearily picked up the paperwork.
"Why didn't you warn me about this? It says right here: Instructions MUST be followed exactly! ALL questions MUST be answered in brief!"
#joke
I saw a live witchcraft perfor
I saw a live witchcraft performance last night. They had me spellbound. Those ladies did a hex of a job.
Want a relaxing job? Try ro
Want a relaxing job? Try calm posting.
The spread of testicular cance
The spread of testicular cancer has reached
epididymis
proportions.