Best New Jokes
The best jokes in the last two weeks. Top 20 jokes rated by site visitors.
Morris and his wife Esther wen
Morris and his wife Esther went to the state fair every year, andevery year Morris would say, "Esther, I'd like to ride in thathelicopter".
Esther always replied, "I know Morris, but thathelicopter ride is 50 dollars and 50 dollars is 50 dollars".
One year Esther and Morris went to the fair, and Morris said, "Esther, I'm 85years old. If I don't ride that helicopter, I might never get anotherchance."
Esther replied, "Morris that helicopter is 50 dollars and 50dollars is 50 dollars".
The pilot overheard the couple and said, "Folks I'll make you a deal.I'll take the both of you for a ride. If you can stay quiet for theentire ride and not say a word I won't charge you! But if you say oneword, it's 50 dollars."
Morris and Esther agreed and up they went. The pilot did all kinds offancy maneuvers, but not a word was heard. He did his daredevil tricksover and over again, but still not a word. When they landed, the pilot
turned to Morris and said, "By golly, I did everything I could to getyou to yell out, but you didn't. I'm impressed!"
Morris replied, "Well, to tell you the truth, I almost said somethingwhen Esther fell out, but you know -- 50 dollars is 50 dollars".
#joke
One day two blind men started...
One day two blind men started fighting.
Pretty soon a crowd surrounded them.
Then one of the members of the crowd yelled out "I bet 10 quid on the one with the knife."
Both men ran away.
An eighty year old couple were
An eighty year old couple were having problems remembering things, so they decided to go to their doctor to make sure nothing was wrong with them. When they arrived at the doctor's office, they explained to the doctor about the problems they were having with their memory.
After checking the couple out, the doctor told them that they were physically okay but might want to start writing things down, making notes to help them remember things. The couple thanked the doctor and left.
Later that night while watching TV, the old man got up from his chair and his wife asked, "Where are you going?"
He replied, "To the kitchen."
She asked, "Will you get me a bowl of ice cream?"
"Sure."
Then his wife asked him, "Don't you think you should write it down so you can remember it?"
"No, I can remember that."
"Well, I also would like some strawberries on top. You had better write that down cause I know you'll forget that," his wife said.
"I can remember that, you want a bowl of ice cream with strawberries."
She replied, "Well, I also would like whipped cream on top. I know you will forget that. You had better write it down."
With irritation in his voice, he said, "I don't need to write that down, I can remember that." He went into the kitchen.
After about 20 minutes, he returned from the kitchen and handed her a plate of bacon and eggs.
She stared at the plate for a moment and said, "You forgot my toast."
Google Ads
On their wedding night, a youn
On their wedding night, a young couple finally retired to their hotel room. After making her preparations, the bride left the bathroom to find the bridegroom on his knees in front of the bed.
"What are you doing?" she asked.
"I'm praying for guidance," answered the young man.
"I'll take care of that," she replied. "You pray for endurance."
#joke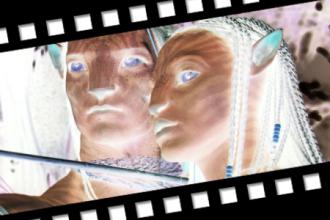 CINEMANIA: Guess the movie title
See negative of movie scene and guess the title. Length of words in solution: 6
Angering The Irishman
Three Englishmen were in a bar and spotted an Irishman. So, one of the Englishmen walked over to the Irishman, tapped him on the shoulder, and said, "Hey, I hear your St. Patrick was a drunken loser."
"Oh really, hmm, didn't know that."
Puzzled, the Englishman walked back to his buddies. "I told him St. Patrick was a loser, and he didn't care." The second Englishman remarked, "You just don't know how to set him off...watch and learn." So, the second Englishman walked over to the Irishman, tapped him on the shoulder and said, "Hey, I hear your St. Patrick was lying, cheating, idiotic, low-life scum!"
"Oh really, hmm, didn't know that."
Shocked beyond belief, the Englishman went back to his buddies. "You're right. He's unshakable!"
The third Englishman remarked, "Boys, I'll really tick him off... just watch." So the third Englishman walked over to the Irishman, tapped him on the shoulder and said, "I hear St. Patrick was an Englishman!"
"Yeah, that's what your buddies were trying to tell me."
#joke
The Eight Iron
Off the seventh tee, Joe sliced his shot deep into a wooded ravine. He took his eight iron and clambered down the embankment in search of his lost ball. After many long minutes of hacking at the underbrush, he spotted something glistening in the leaves. As he drew nearer, he discovered that it was an eight iron in hands of a skeleton!
Joe immediately called out to his friend, 'Jack, I've got trouble down here!'
'What's the matter?' Jack asked from the edge of the ravine.
'Bring me my wedge,' Joe shouted. 'You can't get out of here with an eight iron!'
#joke
"The man that pointed
"The man that pointed out the burning building was a fire distinguisher."
An old man goes to his doctor,
An old man goes to his doctor, complaining about a pain in his leg that doesn't heal and wants a diagnosis and explanation. The doctor checks out his leg, but can't find anything wrong. So he gives the old guy a full physical exam, and still can't come up with any possible explanation for the pain.
The doctor hands the patient his bill and says, "I'm sorry but the pain in your leg is simply caused by old age, there's nothing I can do about it."
The old man replies with a look of disbelief, "That's impossible! That can't be!"
The Doctor says, "What do you mean? I'm the expert here; if you know so much, how can you say it's NOT old age?"
The patient answers, "I'm no doctor but it doesn't take a medical degree to tell that your diagnosis is wrong. Clearly you're mistaken. After all my other leg feels just fine."
"So what?" says the doctor "What difference does that make?"
"Well it doesn't hurt a bit, and it's the SAME AGE!"
The bride was anything but a t
The bride was anything but a tidy housekeeper.
It didn't bother her much until one evening when her husband called from the hall, somewhat dismayed, "Honey, what happened to the dust on this table? I had a phone number written on it."

You Might Be A Redneck If 22
You might be a redneck if...
Exxon and Conoco have offered you royalties for your hair.
Your dad is also your favorite uncle.
Your classes at school were cancelled because the path to the restroom was flooded.
During your senior year you and your mother had homeroom together.
You're a lite beer drinker, because you start drinking when it gets light.
On your first date you had to ask your Dad to borrow the keys to the tractor.
Your parakeet knows the phrase "Open up, Police!"
You saved lots of money on your honeymoon by going deer hunting.
In tough situations you ask yourself, "What would Curly do?"
Taking your wife on a cruise means circling the Dairy Queen.
A Collection Of Insults
At least you are not obnoxious like so many other people -- you are obnoxious in a different and worse way!
You have a lot of well-wishers. They would all like to throw you down one.
You remind me of Moses. Every time you open your mouth, the bull rushes.
They say that travel broadens oneself. You must have been around the world.
Look through your towels and tell us the name of the hotel you stayed at in Detroit.
You always have your ear to the ground. So how's life in the gutter?
Heard your family went to a restaurant where they serve crabs just so they could bring you along.
Before you came along we were hungry. Now we are fed up.
You are pretty as a picture and we'd love to hang you.
You will never be able to live down to your reputation!
Any friend of yours -- is a friend of yours.
Someone said that you are not fit to sleep with pigs. I stuck up for the pigs.
#joke
"A bad resume is a hi
"A bad resume is a hire extinguisher."
Comedy by the Numbers
8 comedians were sitting around at the 2nd floor bar of the Friars Club when a new young Friar wannabe comedian sat down and joined them.
One of the older comedians turned to the others and yelled out the number 12.
The other seven comedians burst out laughing. Then another of the comedians yelled out 4 and again the other comedians burst out laughing. A few minutes later another comedian yelled out the number three and once again the other comedians burst out laughing
The new wannabe comedian asked why you are calling out numbers and what's so funny about it.
The first all the comedian said, they are not random numbers, we just all know the same jokes. So, after a while we started giving them numbers, and instead of telling the joke those numbers are enough to remind us of the joke instead of telling it.
The new friar wanting to fit in turns to the others and yells out six. But instead of getting laughter a dead silence falls upon the table. The new friar turns to the first comedian and said what's wrong why did I get any laughs.
He answered, you didn't tell it right
#joke