Happy Thanksgiving
Check out our latest
Thanksgiving jokes
and quotes on:
Thanksgiving jokes collection
What do you like?
A wife asked her husband: "What do you like most in me my pretty face or my sexy body?"
He looked at her from head to toe and replied: "I like your sense of humor."

My Wife's Birthday
It's my wife's birthday soon and she's been leaving jewelry catalogs all over the house.
She'll be happy to know I got the hint.
I got her a magazine rack!
Little Johnny and Susie were o
Little Johnny and Susie were only 10 years old, but they just knew that they were in love. One day they decided that they wanted to get married, so Johnny went to Susie's father to ask him for her hand. Johnny bravely walked up to him and said "Mr. Smith, me and Susie are in love and I want to ask you for her hand in marriage."
Thinking that this was the cutest thing, Mr. Smith replied, "Well Johnny, you are only 10. Where will you two live?"
Without even taking a moment to think about it, Johnny replied "In Susie's room. It's bigger than mine and we can both fit there nicely."
Still thinking this is just adorable, Mr. Smith said with a huge grin, "Okay then how will you live? You're not old enough to get a job. You'll need to support Susie."
Again, Johnny instantly replied, "Our allowance...Susie makes 5 bucks a week and I make 10 bucks a week. That's about 60 bucks a month, and that'll do us just fine."
By this time Mr. Smith was a little shocked that Johnny had put so much thought into this. So, he thought for a moment trying to come up with something that Johnny wouldn't have an answer for. After a second, Mr. Smith said, "Well Johnny, it seems like you have got everything all figured out. I just have one more question for you. What will you do if the two of you should have little ones of your own?"
Johnny just shrugged his shoulders and said, "Well, we've been lucky so far...."
#joke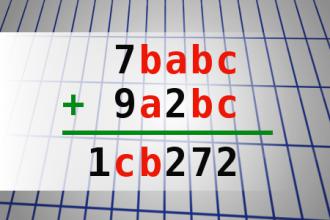 Find number abc
If 7babc + 9a2bc = 1cb272 find number abc. Multiple solutions may exist.
That Was A Threat
I think the girl at the Airlines check-in just threatened me.
She looked me dead in the eye and said, "Window or aisle?"
I laughed in her face and replied, "Window or you'll what?"
Military leaders succeed in bu
Military leaders succeed in building a computer able to solve any strategic or tactical problem.
They are assembled in front of the new machine and instructed to feed a difficult tactical problem into it. They describe a hypothetical situation to the computer and then ask the pivotal question: attack or retreat?
The computer hums away for an hour and then comes up with the answer: "Yes."
The generals look at each other, somewhat stupefied. Finally one of them submits a second request to the computer: "Yes what?"
Instantly the computer responded: "Yes Sir."
#joke
A man walks over the Red Light
A man walks over the Red Light District in Amsterdam when suddenly he notices a fine looking hooker looking at him. He stops, bangs on the window and asks, "So, what does this cost?"
The hooker replies, "25 dollars."
The man said, "Hmm, that's not a lot of money for insulated windows."
#joke
Where You Going?
A very small boy was trying to lead a big St. Bernard up the road.
"Where are you taking that dog, little man?" asked a man watching the struggle.
"I"m going to see where he wants to go," was the breathless reply.
Trusted Doctor
A newcomer to the neighborhood consulted one of the established residents in regard to a doctor.
"My little daughter," she explained, "has swallowed a gold piece and has got to be operated on. I wonder if Dr. Robertson is to be trusted?
"Without a doubt," her neighbor assured her, "he's absolutely honest."
The Forgetful Actor
An actor had been out of work for years because he always forgot his lines. One day he got a phone call from a director who wanted him for an important part in a play. All the actor had to say was, "Hark! I hear the cannon roar!"
Opening night arrived, and while he waited in the wings, the actor muttered to himself, "Hark! I hear the cannon roar! Hark! I hear the cannon roar!" The time for the entrance finally came. As the actor made his appearance onstage, he heard a loud BOOOOM! He turned around and said, "What the heck was that?"
#joke
On Each Bicep
My wife won't let me get a tattoo of a grizzly bear on each bicep...
She is infringing on my right to bear arms!
I Caught Six
It was enough to startle the little old lady out of her roots. There was the fish market person tossing trout clear across his shop to a man in fisherman uniform.
The fishermen caught six fish and then said: "All right Joe. Now I can truthfully tell my wife I caught six fish today."
#joke