Best New Jokes
The best jokes in the last two weeks. Top 20 jokes rated by site visitors.
A man went to a psychiatrist f
A man went to a psychiatrist for his phobia.
"Doc," he said, "I've got trouble. Every time I get into bed, I think there's somebody under it. I get under the bed, I think there's somebody on top of it. Top, under, top, under. You gotta help me, I'm going crazy!"
"Just put yourself in my hands for two years," said the shrink, "Come to me three times a week, and I'll cure your fears."
"How much do you charge?"
"A hundred dollars per visit."
"I'll sleep on it," said the man.
Six months later the doctor met the man on the street.
"Why didn't you ever come to see me again?" asked the psychiatrist.
"For a hundred buck's a visit? A bartender cured me for ten dollars."
"Is that so! How?"
"He told me to cut the legs off the bed!"
An 18th-century vagabond in En
An 18th-century vagabond in England, exhausted and famished, came to a roadside Inn with a sign reading: "George and the Dragon." He knocked.
The Innkeeper's wife stuck her head out a window. "Could ye spare some victuals?" He asked.
The woman glanced at his shabby, dirty clothes. "No!" she shouted.
"Could I have a pint of ale?"
"No!" she shouted.
"Could I at least sleep in your stable?"
"No!" she shouted again.
The vagabond said, "Might I please...?"
"What now?" the woman screeched, not allowing him to finish.
"D'ye suppose," he asked, "that I might have a word with George?"
#joke
The pilot was sitting in his s
The pilot was sitting in his seat and pulled out a .38 revolver. He placed it on top of the instrument panel, and then asked the navigator, "Do you know what I use this for?"
The navigator replied timidly, "No, what's it for?"
The pilot responded, "I use this on navigators who get me lost!"
The navigator proceeded to pull out a .45 and place it on his chart table.
The pilot asked, "What's that for?"
"To be honest sir," the navigator replied, "I'll know we're lost before you will."
#joke
There once was a farmer who gr
There once was a farmer who grew award-winning corn. Each year he entered his corn in the state fair where it won a blue ribbon.
One year a newspaper reporter interviewed him and learned something interesting about how he grew it. The reporter discovered that the farmer shared his seed corn with his neighbors.
"How can you afford to share your best seed corn with your neighbors when they are entering corn in competition with yours each year?" the reporter asked.
"Why sir," said the farmer, "didn't you know? The wind picks up pollen from the ripening corn and swirls it from field to field. If my neighbors grow inferior corn, cross-pollination will steadily degrade the quality of my corn. If I am to grow good corn, I must help my neighbors grow good corn."
He is very much aware of the connectedness of life. His corn cannot improve unless his neighbor's corn also improves.
So it is with our lives. Those who choose to live in peace must help their neighbors to live in peace. Those who choose to live well must help others to live well, for the value of a life is measured by the lives it touches. And those who choose to be happy must help others to find happiness, for the welfare of each is bound up with the welfare of all.
The lesson for each of us is this: if we are to grow good corn, we must help our neighbors grow good corn.
#joke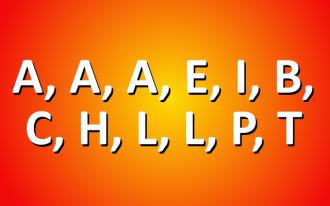 What is the word formed by using all of the letters?
What is the word formed by using all of the letters? (A, A, A, E, I, B, C, H, L, L, P, T)
Several days before Halloween,
Several days before Halloween, Tom, Dick and Harry were sitting in a bar enjoying a few quiet drinks, when they decided to get in on the Christmas raffle.
Since the raffle was for charity, they bought five tickets each. When the raffle was drawn a few days later, they each won a prize.
Tom won the first prize - a year's supply of gourmet spaghetti sauce.
Dick was the winner of the second prize - a six month supply of extra-long gourmet spaghetti.
And Harry won the sixth prize - a toilet brush.
The next time they met at the bar, Harry asked the others how they were enjoying their prizes. "Great," said Tom. "I love spaghetti."
"Me too," replied Dick.
"And how's the toilet brush, Harry?"
"Not so good," Harry groaned, "I reckon I'll go back to toilet paper."
Fish Jokes 03
Where are most fish found?
Between the head and the tail!
What kind of fish will help you hear better?
A herring aid!
What do fish sing to each other?
Salmon-chanted evening!
How does an octopus go to war?
Well-armed!
Where do you find a down-and-out octopus?
On squid row!
What do you get if you cross an abbot with a trout?
Monkfish!
What bit of fish doesn't make sense?
The piece of cod that passeth all understanding!
What is dry on the outside, filled with water and blows up buildings?
A fish tank!
What was the Tsar of Russia's favorite fish?
Tsardines!
What did the boy octopus say to the girl octopus?
I wanna hold you hand, hand, hand, hand, hand, hand, hand, hand!
#joke
A judge was interviewing a wom
A judge was interviewing a woman regarding her pending divorce, and asked, "What are the grounds for your divorce?"
She replied, "About four acres and a nice little home in the middle of the property with a stream running by."
"No," he said, "I mean what is the foundation of this case?"
"It is made of concrete, brick and mortar," she responded.
"I mean," he continued, "What are your relations like?"
"I have an aunt and uncle living here in town, and so do my husband's parents."
He said, "Do you have a real grudge?"
"No," she replied, "We have a two-car carport and have never really needed one."
"Please," he tried again, "is there any infidelity in your marriage?"
"Yes, both my son and daughter have stereo sets. We don't necessarily like the music, but the answer to your questions is yes."
"Ma'am, does your husband ever beat you up?"
"Yes," she responded, "about twice a week he gets up earlier than I do."
Finally, in frustration, the judge asked, "Lady, why do you want a divorce?"
"Oh, I don't want a divorce," she replied. "I've never wanted a divorce. My husband does. He said he can't communicate with me!"
#joke
"What is a shoe repai
"What is a shoe repairman's favorite dessert? Cobbler."
On Fridays
After 35 years of marriage, a husband and wife came for counseling. When asked what the problem was, the wife went into a tirade listing every problem they had ever had in the years they had been married.
On and on and on: neglect, lack of intimacy, emptiness, loneliness, feeling unloved and unlovable, an entire laundry list of unmet needs she had endured.
Finally, after allowing this for a sufficient length of time, the therapist got up, walked around the desk and after asking the wife to stand, he embraced and kissed her long and passionately as her husband watched - with a raised eyebrow. The woman shut up and quietly sat down as though in a daze.
The therapist turned to the husband and said, 'This is what your wife needs at least 3 times a week. Can you do this?'
'Well, I can drop her off here on Mondays and Wednesdays, but on Fridays, I golf.'
Nuns at the Hospital
A man suffered a serious heart attack and had bypass surgery. He awakened to find himself in the care of nuns at a Catholic hospital. As he was recovering, a nun asked how he was going to pay the bill. He replied, in a raspy voice, "No health insurance." The nun asked if he had money in the bank. He replied, "No money in the bank." The nun asked, "Do you have a relative who could help you?"He said, "Just a spinster sister, who is a nun." The nun, slightly perturbed, said, "Nuns are not spinsters! Nuns are married to God." The patient replied, "Then send the bill to my brother-in-law."
#joke
More Halloween 2018 jokes
What plants like Halloween the most?
Bam-BOO!
What do birds say on Halloween?
Twick or tweet
What do you get when you cross a werewolf and a vampire?
A fur coat that fangs around your neck.
What would you find on a haunted beach?
A sand-witch!
Why didn't the skeleton like the Halloween candy?
He didn't have the stomach for it!
What's worse than being a five-ton witch on Halloween?
Being her broom!
Why do ghosts like to ride in elevators?
It raises their spirits.
What do you get when you divide the circumference of a jack-o-lantern by its diameter?
Pumpkin Pi.
What would you get if you crossed a vampire and a teacher?
Lots of blood tests!
Why are vampires so easy to fool?
Because they're suckers.
What did the ghost say when the skeleton lied to him?
I can see right through you.
Call Us For Assistance
The following is supposedly a true story. To be included, besides being true, the story is most likely strange, weird, surprising, or funny.
Shortly after the 911 emergency number became available, an elderly and quite ill lady appeared in a Rochester hospital emergency room, having driven herself to the hospital and barely managing to stagger in from the parking lot. The horrified nurse said, 'Why didn't you call the 911 number and get an ambulance?'
The lady said, 'My phone doesn't have an eleven.'
#joke
Looking Into Their Eyes
A policeman pulls a man over for speeding and asks him to get out of the car. After looking the man over he says, "Sir, I couldn't help but notice your eyes are bloodshot. Have you been drinking?"
The man gets really indignant and says, "Officer, I couldn't help but notice your eyes are glazed. Have you been eating doughnuts?"
"Old English teachers
"Old English teachers never die - they just parse away."
Geography of a Woman:
<
Geography of a Woman:
Between 18 and 22, a woman is like Africa - half discovered, half wild, fertile and naturally beautiful.
Between 23 and 30, a woman is like Europe - well developed and open to trade, especially for something of real value.
Between 31 and 35, a woman is like Spain - very hot, relaxed and convinced of her own beauty.
Between 36 and 40, a woman is like Greece - gently aging, but still a warm and desirable place to visit.
Between 41 and 50, a woman is like Great Britain - with a glorious and all-conquering past.
Between 51 and 60, a woman is like Israel - has been through war, doesn't make the same mistakes twice and takes care of business.
Between 61 and 70, a woman is like Canada - cool, self-preserving, but open to meeting new people.
After 70, she becomes Tibet - wildly beautiful, with a mysterious past and the wisdom of the ages ... an adventurous spirit and a thirst for spiritual knowledge.
Geography of a man:
Between 1 and 80, a man is like Iran - ruled by a couple of nuts.
#joke
The Pope's Surprise
Many years ago, a beloved Pope died and went to heaven. Saint Peter greeted him in a firm embrace. "Welcome your holiness, your dedication and unselfishness in serving your fellow man during your life has earned you great stature in heaven. You may pass through the gates without delay and are granted free access to all parts of heaven."St. Peter continued: "You are also granted an open-door policy and may, at your own discretion, meet with any heavenly leader including the Father, without prior appointment. Is there anything which your holiness desires?""Well, yes," the Pope replied. "I have often pondered some of the mysteries which have puzzled and confounded theologians through the ages. Are there perhaps any transcripts which recorded the actual conversations between God and the prophets of old? I would love to see what was actually said, without the dimming of memories over time."St. Peter immediately ushered the Pope to the heavenly library and explained how to retrieve the various documents. The Pope was thrilled and settled down to review the history of humanity's relationship with God.Two years later, a scream of anguish pierced the quiet of the library. Immediately several of the saints and angels came running. They found the Pope pointing to a single word on a parchment, repeating over and over: "There's an 'R'. There's an 'R.' There's an 'R'... It's CELIBRATE, not celibate!"
#joke
Author: Well, the upshot of it
Author: Well, the upshot of it was, that after ten years, I realized I had absolutely no talent for writing.
Friend: So, you gave up?
Author: No, I couldn't. By then, I was too famous.

"The fashion woman cl
"The fashion woman clothing manufacturer moved to their operation to the country so they could sell outskirts."
Mr. See and Mr. Soar<
Mr. See and Mr. Soar
Mr. See and Mr. Soar were old friends. See owned a saw and Soar owned a seesaw. Now See's saw sawed Soar's seesaw before Soar saw See, which made Soar sore. Had Soar seen See's saw before See saw Soar's seesaw, then See's saw would not have sawed Soar's seesaw. But See saw Soar and Soar's seesaw before Soar saw See's saw, so See's saw sawed Soar's seesaw.
It was a shame to let See see Soar so sore just because See's saw sawed Soar's seesaw.
#joke
A beautiful young girl is abou
A beautiful young girl is about to undergo a minor operation. She's laid on a trolley bed by a lady in a white dress and brought to the corridor.
Before they enter the room she leaves her behind the theatre door to go in and check whether everything is ready.
A young man wearing a white coat approaches, takes the sheet away and starts examining her naked body. He walks away and talks to another man in a white coat. The second man comes over and does the same examinations.
When a third man starts examining her body so closely, she grows impatient and says: "All these examinations are fine and appreciated, but when are you going to start the operation?"
The man in the white coat shrugged his shoulders: "I have no idea. We're just painting the corridor."
#joke