Jokes of the day for Monday, 19 February 2018
Funny jokes, funny photo and funny video collected from the internet on Monday, 19 February 2018
"Some head hunters re
"Some head hunters resort to skulduggery."
"How was your golf game, dear?
"How was your golf game, dear?" asked Jack's wife.
"Well I was hitting pretty well, but my eyesight's gotten so bad I couldn't see where the ball went."
"Well you're 75 years old now, Jack, why don't you take my brother Scott along?" suggested his wife.
"But he's 85 and doesn't even play golf anymore," protested Jack.
"But he's got perfect eyesight. He could watch your ball," his wife pointed out.
The next day Jack teed off with Scott looking on. Jack swung, and the ball disappeared down the middle of the fairway.
"Do you see it?" asked Jack.
"Yup," Scott answered.
"Well, where is it?" yelled Jack, peering off into the distance.
"I forgot."
#joke
Let There Be Light
I was sitting at a bar and asked the bartender where I could find a prostitute.
He told me to go to the back door, down the dark alley and give the woman there 20 bucks.
So I go outside and hand a 20 to the woman there and started getting busy. After a few minutes, a cop walks past and shines a flashlight on us and says 'What the hell are you doing?'
I said 'Having sex with my wife.' He said 'I'm sorry, I didn't realize that was your wife.'
and I said, 'Neither did I till you shined a light on her.'
#joke
Google Ads
One night a blonde nun was pra
One night a blonde nun was praying in her room when God appeared beforeher. "My daughter, you have pleased me greatly. Your heart is full of lovefor your fellow creatures and your actions and prayers are always for thebenefit of others. I have come to you, not only to thank and commend you,but to grant you anything you wish," said God.
"Dear Heavenly Father, I am perfectly happy. I am a bride of Christ. I amdoing what I love. I lack for nothing material since the Church supportsme. I am content in all ways," said the nun.
"There must be something you would have of me," said God.
"Well, there is one thing," she said.
"Just name it," said God.
"It's those blonde jokes. They are so demeaning to blondes everywhere, notjust to me. I would like for blonde jokes to stop."
"Consider it done," said God. "Blonde jokes shall be stricken from theminds of humans everywhere. But surely there is something that I could dojust for you."
"There is one thing. But it's really small, and not worth your time," saidthe nun.
"Name it. Please," said God.
"It's the M&M's," said the nun. "They're so hard to peel."
10 Ways To Get Fired
10 Ways to Get Fired
1. Whenever answering the phone, and its for your boss, say "He's under his desk screwing his secretary. Can I take a message?"
2. Strip off all your clothes. Complain about how hot it is in the office, regardless of the temperature.
3. When your boss is on the phone scream "Dammit! I'm expecting a call!! Stay off the phone!!"
4. If your boss bumps into you, start screaming sexual harassment. Talk in great lengths about the state laws on harassment. Get the authorites involved. Threaten to sue.
5. Sleep with your boss's daughter. Videotape it. Pass out copies around the office. Brag about how easy she was.
6. Steal various office equipment (pencils, staplers, desks). Frame your boss for it.
7. When asked to do something start laughing hysterically. Continue this for five minutes. Calm down and say, "Oh, you were being serious?"
8. Loosen the bolts on the boss's chair.
Laugh loudly when he/she falls down. Play innocent.
9. Whenever the boss starts to tell you a story, interrupt him/her with a story of your own. Make sure the story is boring and has no point whatsoever.
10. Send a dozen roses to your boss's house when their spouse is home. Sign an ex-flames name on the card. Next day, ask him/her how their evening was. Be obvious.
#joke
Mark the spot...
Year after year Bubba's wife pleaded with him to take her fishing but he kept telling her she would not enjoy it. She, finally, wore him down, he consented, and early one morning they took off to the lake.
They had not been there very long when the fish began biting. Almost as fast as they cast, a fish would bite, and they reeled it in. After catching their limit, Bubba said, "Verna Lou, sweet thang, I'm sorry. You've been good luck and I'm gonna bring you with me the next time. If you'll mark the spot where we caught all these fish, we'll go home."
On the way home, Bubba turned to Verna Lou and said, "Sweet thang, how did you mark the spot were all the fish are so next time I'll know?"
"Bubba, darlin', I put a big 'X' on the side of the boat right down closest to the water."
"Sweet thang, that's about the dumbest thing I ever seen you do. Don't you know that won't work? We may not get the same boat the next time!"
#joke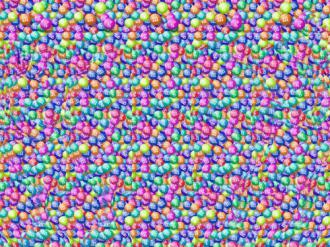 What hides this stereogram?
Stereogram - 3D Image
Knock, Knock at the Convent
Did you hear the one about the man who opened a dry cleaning business next door to the convent?
He knocked on the door and asked the Mother Superior if she had any dirty habits.
This joke was reprinted from "The Book of Catholic Jokes" by Deacon Tom Sheridan, with permission of ACTA Publications. Copyright 2008. All rights reserved.
#joke
Welcome to our on-line store Fashion Studio BELKA. Our names are Branka Petrovic and Jasna Milutinovic.
The products which we offer are handcrafted items made of natural materials such as finest quality wool from the Sharr Mountains, silk, cotton and lace. It is all blended with natural soap....and...creativity. Here are some beautiful and unique fashion accessories.
We started doing this three years ago as a hobby. Eventually, creating different and unique materials has become our passion. I wish you pleasant shopping.
A Greek and Italian were sitti...
A Greek and Italian were sitting in a Starbuck's one day discussing who had the superior culture.
Over triple lattes the Greek guy says, "Well we have the Parthenon."
Arching his eyebrows, the Italian replies, "We have the Coliseum."
The Greek retorts, "We Greeks gave birth to advanced mathematics."
The Italian, nodding agreement, says, "But we built the Roman Empire".
...and so on and on until the Greek comes up with what he thinks will end the discussion.
With a flourish of finality he says, "We invented sex!"
The Italian thinks for a couple of seconds and replies quietly,
"That is true, but it was the Italians who introduced it to women!"
#joke
Jim Gaffigan: Gym Teacher Aspirations
You think when gym teachers are younger, theyre thinking, You know I want to teach, but I dont want to read?
The Hole
The construction foreman ordered one of his men to dig a hole 8 feet deep. But after the job was done, the boss returned and explained an error had been made and the hole wouldn't be needed. "Fill 'er up," he ordered the worker.
The worker did as he'd been told. But he ran into a problem. He couldn't get all the dirt packed back into the hole without leaving a mound on top. He went to the office and explained his problem.
"Honestly!" the foreman snorted. "The kind of help I get these days! There's obviously only one thing to do. You'll have to dig that hole deeper!"
#joke
Dog Track
A woman came up behind her husband while he was enjoying his morning coffee and slapped him on the back of the head.
"I found a piece of paper in your pants pocket with the name 'Marylou' written on it," she said, furious. "You had better have an explanation."
"Calm down, honey," the man replied. "Remember last week when I was at the dog track? That was the name of the dog I bet on."'
The next morning, his wife snuck up on him and smacked him again.
"What was that for?" he complained.

"Your dog called last night."
#joke