A husband and wife were having
A husband and wife were having difficulty surviving financially so they decided that the wife should try prostitution as an extra source of income. The husband drove her out to a popular corner and informed her he would be at the side of the building if she had any questions or problems.
A gentleman pulled up shortly after and asked her how much to go all the way. She told him to wait a minute and ran around the corner to ask her husband. The husband told her to tell the client $100. She went back and informed the client at which he cried, "That's too much!"
He then asked, "How much for a handjob?" She asked him to wait a minute and ran to ask her husband how much.
The husband said, "Ask for $40."
The woman ran back and informed the client. He felt that this was an agreeable price and began to remove his pants and underwear. Upon the removal of his clothing the woman noticed that the man was well hung.
She asked him once more to wait a moment. She ran around the corner again at which her husband asked, "Now what?"
The wife replied, "Can I borrow $60?"
#joke
Blind Date
"How was your blind date?" a college student asked her roommate.
"Terrible!" the roommate answered. "He showed up in his 1932 Rolls Royce."
"Wow! That's a very expensive car. What's so bad about that?"
"He was the original owner!"
#joke
Pictures From Police
A motorist was mailed a picture of his car speeding through an automated radar.
A $40 speeding ticket was included.
Being cute, he sent the police department a picture of $40.
The police responded with another mailed photo -- of handcuffs.
#joke
"I knew a chemist who
"I knew a chemist who use to periodically build tables."
Launderette reunion
Two elderly ladies meet at the launderette after not seeing one another for some time. After inquiring about each other's health, one asked how the other's husband was doing.
"Oh! Ted died last week. He went out to the garden to dig up a cabbage for dinner, had a heart attack and dropped down dead right there in the middle of the vegetable patch!"
"Oh dear! I'm so very sorry," replied her friend. "What did you do?"
"Opened a can of peas instead."
#joke
an explorer in the deepest Ama...
an explorer in the deepest Amazon suddenly finds himself surrounded by a bloodthirsty group of natives. Upon surveying the situation, he says quietly to himself, "Oh God, I'm fucked."
There is a ray of light from heaven and a voice booms out: "No you are NOT fucked. Pick up that stone at your feet and bash in the head of the chief standing in front of you."
So the explorer picks up the stone and proceeds to bash the living shit out of the chief.
As he stands above the lifeless body, breathing heavily and surrounded by 100 natives with a look of shock on their faces, God's voice booms out again: "Okay . . . NOW you're fucked."
#joke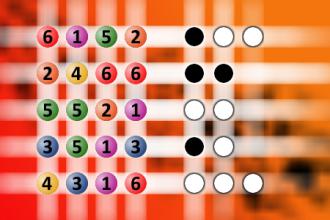 Which is a winning combination of digits?
The computer chose a secret code (sequence of 4 digits from 1 to 6). Your goal is to find that code. Black circles indicate the number of hits on the right spot. White circles indicate the number of hits on the wrong spot.
Pete Holmes: The Museum
I dont care about the museum, I only care that people think Im the kind of guy who goes to museums.
Dents
A blonde was driving home after a football game, and got caught in a really bad hailstorm. Her car was covered with dents, so the next day she took it to a repair shop. The shop owner saw that she was a blonde, so he decided to have some fun. He told her just to go home and blow into the tail pipe really hard, and all the dents would pop out. So, the blonde went home, got down on her hands and knees and started blowing into her car's tailpipe. Nothing happened. She blew a little harder, and still nothing happened.
Her roommate, another blonde, came home and said, "What are you doing?"
The first blonde told her how the repairman had instructed her to blow into the tailpipe in order to get all the dents to pop out. Her roommate rolled her eyes and said, ...
"HELLLLO" "You need to roll up the windows"
Chck Norris listens to "Requie...
Chck Norris listens to "Requiem for a Tower" when he eats waffles.
Checking out
A woman rushes into the foyer of a large hotel and sprints up to reception, she hammers on the bell.
Yes, says the receptionist irritably.

Excuse me, says the woman, but I'm in a frightful hurry, could you check me out, please?
The clerk stares at her, looks her up and down.Not bad, he smiles, not bad at all.
#joke