Be rady for Thanksgiving
, check out our latest
Thanksgiving jokes of 2021
on:
Thanksgiving jokes collection
Two guys sat down for lunch in
Two guys sat down for lunch in the office cafeteria.
"Hey, whatever happened to Pete in payroll?" one asked.
"He got this harebrained notion he was going to build a new kind of car," his co-worker replied.
"How was he going to do it?"
"He took an engine from a Pontiac, tires from a Chevy, seats from a Lincoln, hubcaps from a Caddy and, well, you get the idea."
"So what did he end up with?"
"Ten years in prison."
#joke
The Best At Getting the Girls
Why do archaeologists get all the girls?
Because they have the best dating techniques.

Wet Smokers
Two old ladies were outside their nursing home having a smoke, when it started to rain. One of the ladies pulled out a condom, cut off the end, put it over her cigarette, and continued smoking.
Lady 1: What's that?
Lady 2: A condom.
Lady 1: Where'd you get it?
Lady 2: You can get them at any drugstore.
The next day, the first lady hobbled into the local drugstore and announced to the pharmacist that she wanted to buy a package of condoms.
The guy looked at her kind of strangely (she was, after all, in her 80s), but politely asked what brand she preferred.
"Doesn't matter," she replied, "as long as it fits a Camel."
#joke
Only 25 cents!
One night a man was walking homewards when a thief jumped on him all of a sudden. Man and the thief were caught in a terrific tussle. They rolled about on the ground, and the man put up a tremendous fight, until at last the thief managed to get the better of him and pinned him to the ground. The thief then went through the man's pockets and searched him all over. There was only a 25-cents coin he could lay his hands on.
The thief was so surprised at this that he asked the man why he had bothered to fight so hard just for a 25-cents.
"Was that all you wanted?" said the man, "I thought you were after the five-hundred dollars I've got in my shoe!"
#joke
A woman goes into Wal-Mart...
A woman goes into Wal-Mart to buy a rod and reel. She doesn't know which one to get so she just grabs one and goes over to the register. There is a Wal-Mart "associate" standing there with dark shades on. She says, "Excuse me sir...can you tell me anything about this rod and reel?" He says, "Ma'am I'm blind but if you will drop it on the counter I can tell you everything you need to know about it from the sound that it makes." She didn't believe him, but dropped it on the counter anyway. He said, "That's a 6' graphite rod with a Zebco 202 reel and 10 lb. test line...It's a good all around rod and reel and it's $20.00". She says, "Thats amazing that you can tell all that just by the sound Of it dropping on the counter. I think it's what I'm looking for so I'll take it." He walks behind the counter to the register, and in the meantime the woman farts. At first she is embarrassed but then realizes that there is no way he could tell it was her..being blind he wouldn't know that she was the only person around. He rings up the sale and says, "That will be $25.50." She says, "But didn't you say it was $20.00?" He says, "Yes ma'am, the rod and reel is $20.00, the duck call is $3.00, and the stink bait is$2.50."
#joke
The Sharkeisha super falcon pu...
The Sharkeisha super falcon punch is as close as anyone has ever gotten to the force of a Chuck Norris roundhouse kick.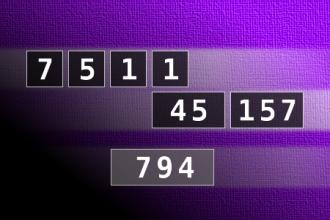 Calculate the number 794
NUMBERMANIA: Calculate the number 794 using numbers [7, 5, 1, 1, 45, 157] and basic arithmetic operations (+, -, *, /). Each of the numbers can be used only once.
An old cowboy sat down at the
An old cowboy sat down at the Starbucks and ordered a cup of coffee. As he sat sipping his coffee, a young woman sat down next to him.
She turned to the cowboy and asked, 'Are you a real cowboy?' He replied, 'Well, I've spent my whole life breaking colts, working cows, going to rodeos, fixing fences, pulling calves, bailing hay, doctoring calves, cleaning my barn, fixing flats, working on tractors, and feeding my dogs, so I guess I am a cowboy..'
She said, 'I'm a lesbian. I spend my whole day thinking about naked women. As soon as I get up in the morning, I think about naked women. When I shower, I think about naked women. When I watch TV, I think about naked women. It seems everything makes me think of naked women.'
The two sat sipping in silence.
A little while later, a man sat down on the other side of the old cowboy and asked, 'Are you a real cowboy?'
He replied, 'I always thought I was, but I just found out I'm a lesbian.'
Adam Ferrara: Love This Girl
The biggest thing in my life right now is my girlfriend. I love this girl. I know I love her because she told me.
Now What? (world's funniest joke)
Two hunters are out in the woods when one of them collapses. He doesn't seem to be breathing and his eyes are glazed. The other guy whips out his phone and calls the emergency services. .
He gasps, "My friend is dead! What can I do?". .
The operator says "Calm down. I can help. First, let's make sure he's dead." .
There is a silence, then a shot is heard. .
Back on the phone, the guy says "OK, now what?" .
This is The "world's funniest joke", as by the THE SCIENTIFIC SEARCH FOR THE WORLD'S FUNNIEST JOKE by Richard Wiseman, of the University of Hertfordshire in 2002
The Winning joke, which was later found is based on a 1951 Goon Show sketch by Spike Milligan
Photo by Rhett Noonan on Unsplash
Happy International Joke Day July the first!
#joke