Jokes of the day for Saturday, 23 July 2016
Funny jokes, funny photo and funny video collected from the internet on Saturday, 23 July 2016
Two Italian friends are talkin
Two Italian friends are talking to each other one evening.
Roberto says, "Tell me Geno, in all honesty, what do you think of a woman with a growth of black hair under her nose?"
Geno replies, "Hell no, I would never be turned on by a woman like that."
Roberto says, "OK, so tell me, what about a woman with big black hairs growing under her arms?"
Geno says, "For Pete's sake what are you talking about? I couldn't even have anything to do with a woman like that."
Roberto says, "OK but let me ask you another question. What about a woman with long black hairs growing on her legs, never shaves her legs?"
Geno replies, "Come on man give me a break, I would never get into bed with a woman like that."
Roberto says, "OK so answer me one last question, if all you say is true, why the hell are you screwing my wife?!!!"
#joke
Moth inspector
A man walks in his room after work and is suprised to find his wife lying naked on the bed. After careful examination he spies a pair of bare feet sticking out from underneath the curtains. He rips open the blinds to find a naked man standing there.
'Who the hell are you?' he yells.
The naked guy replies 'I'm the moth inspector'
'Oh yeah! what are you doing naked?'
He looks down and exclaims 'Oh my god! I'm too late!'
#joke
Funny video of the day - Fails of the Week 3 July 2016
Elephant Jokes 05
Why did the elephant paint his toenails red?
So he could hide in the cherry tree!
What do you get if you cross an elephant and a kangaroo?
Big holes all over Australia!
What's the difference between a sick elephant and seven days?
One is a weak one and the other one week!
What pill would you give to an elephant that can't sleep?
Trunkquilizers!
Why are elephants grey?
So you can tell them from flamingos!
Elephant Keeper: "My Elephant isn't well, do you know a good animal doctor?
"
Zoo Keeper: "No, all the doctors I know are people!"
Why do elephants scratch themselves?
Because they're the only ones who know where they itch!
How does an elephant get down from a tree?
He sits on a leaf and waits till autumn!
Why did the elephant paint himself with different colours?
Because he wanted to hide in the colouring box!
How do you know that peanuts are fattening?
Have you ever seen a skinny elephant?
"I used to work at a
"I used to work at a knife factory, but then it got dull."
Once there was a little boy th
Once there was a little boy that lived in the country. They hadto use an outhouse, and the little boy hated it because it washot in the summer and cold in the winter and stank all the time.The outhouse was sitting on the bank of a creek and the boydetermined that one day he would push that outhouse into thecreek. One day after a spring rain, the creek was swollen so thelittle boy decided today was the day to push the outhouse intothe creek. So he got a large stick and started pushing. Finally,the outhouse toppled into the creek and floated away. That nighthis dad told him they were going to the woodshed after supper.Knowing that meant a spanking, the little boy asked why.
The dad replied, "Someone pushed the outhouse into the creek today.It was you, wasn't it son?"
The boy answered yes. Then he thought a moment and said, "Dad, I read in school today that GeorgeWashington chopped down a cherry tree and didn't get into troublebecause he told the truth."
The dad replied, "Well, son, George Washington's father wasn't in the cherry tree."
#joke
10 Things You Never Hear in Church
1. Hey! It's my turn to sit in the front pew!
2. I was so enthralled, I never noticed your sermon went 25 minutes over time.
3. Personally I find witnessing much more enjoyable than golf.
4. I've decided to give our church the $500 a month I used to send to TV evangelists.
5. I volunteer to be the permanent teacher for the Junior High Sunday School class.6. Forget the denominational minimum salary. Let's pay our pastor so he can live like we do.
7. I love it when we sing hymns I've never heard before!
8. Since we're all here, let's start the service early.
9. Pastor, we'd like to send you to this Bible seminar in the Bahamas.
10. Nothing inspires me and strengthens my commitment like our annual stewardship campaign!
#joke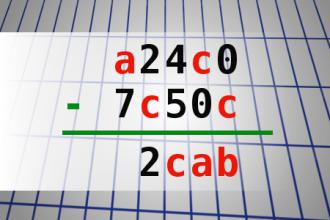 Find number abc
If a24c0 - 7c50c = 2cab find number abc. Multiple solutions may exist.
Redneck quickies 2
You might be a redneck if...
Your home has more miles on it than your car.
Your Christmas tree is still up in February.
You've ever been arrested for loitering.
You think that potted meat on a saltine is an hors d'ouvre.
There is a stuffed possum anywhere in your house.
You hammer bottle caps into the frame of your front door to make it look nice.
You've ever shot anyone for looking at you.
You own a homemade fur coat.
Your wife can climb a tree faster than your cat.
Your momma has "ammo" on her Christmas list.
Stop Credit Card Fraud
The following is supposedly a true story. To be included, besides being true, the story is most likely strange, weird, surprising, or funny.
Many folks have written with perfectly plausible explanations about why merchants take my phone number on a credit card charge. What these fail to address, however, is that if I'm perpetrating a fraud in the use of this credit card, I'm not about to give out a correct phone number. They make no effort to validate the phone number before I leave, so what they're doing is collecting the phone numbers of a bunch of honest people.
Now then... Why are they collecting the phone numbers of a bunch of honest people?
I once asked why you are asked for your phone number when using your charge cards. The clerk explained that theives have been caught because they stupidly put down THEIR home phone number, not the phone number of the person who "owned" the card.
#joke
Supersex
A little old lady was running up and down the halls in a nursing home.
As she walked, she would flip up the hem of her nightgown and say "Supersex."
She walked up to an elderly man in a wheelchair. Flipping her gown at him, she said, "Supersex."
He sat silently for a moment or two and finally answered, "I'll take the soup."
Submitted by Curtis
Edited by Calamjo
#joke