"The rock climber was
"The rock climber was much boulder than his wife and decided to climb the world's tallest mountain. When asked what she was going to do with him gone so long, she responded, 'Alpine for his return and climb the walls with boredom.'"
Poem About Economics

Folks came from afar just to see
Two Economists who'd agreed to agree.
While the event did take place,
It proved a disgrace;
They agreed one plus one adds to three.
Author: Robley E. George


A visitor from Buffalo was str
A visitor from Buffalo was strolling along the California surf one morning. During his walk he came upon a fellow, fishing pole clutched in his hands, sound asleep against the side of a huge coastal rock.
Just then the pole began to jerk violently. "Hey, there!" cried the visitor as he roused the fisherman. "Look out there! You have a bite."
"So I do," yawned the drowsy one glancing out at the water. "If you don't mind, will you pull in the line for me?"
The visitor, somewhat surprised, did as he was requested.
"Now, mister," continued the fisherman, "put some fresh bait on the hook and cast the line out for me."
Again the visitor complied.
After doing so he turned to the lazy angler. "You know," he declared, "anyone as lazy as you ought to get married and have a son to do these things for him."
"That's a good idea," beamed the fisherman. "Know where I could find a pregnant woman?"
#joke
Time for Pay Raise
I told my boss that three companies were after me, so I needed a raise in pay to stay with the current job.
He asked which companies?
I told him gas, electric, and cable.
Last request...
The inmate on death row was scheduled to be put to death by firing squad the follow morning.
Throughout the day, the prison guards were being very nice to him.
But when they asked him if he wanted something specific for his last meal, he didn't want anything special.
When they asked if there was something special he wanted to do, he said nothing.
Finally when he was put before the firing squad, the guard asked if he wanted a cigarette and a blindfold.
"No," the inmate said, "just get it over with."
"Well, is there anything that I can do for you before you go?" said the guard.
The inmate thought. "Actually," he said, "Music is my life. One thing I would really like, is to sing my favorite song, the whole thing, with no interruptions."
The guard nodded and told him to go ahead.
The inmate started, "One billion bottles of beer on the wall..."
To all Employees
It has been brought to Management's attention that someindividuals throughout the company have been using foullanguage during the course of normal conversation withtheir co-workers.
Due to complaints received from some employees who maybe easily offended, this type of language will no longer betolerated. We do, however, realize the critical importanceof being able to accurately express your feelings you are whencommunicating with co-workers. Therefore, a list of 18 newand innovative "TRY SAYING" phrases has been provided sothat proper exchange of ideas and Information can continueto flow in an effective manner.
1) TRY SAYING: I think you could use more training.
INSTEAD OF: You don't know what the f___ you're doing.
2) TRY SAYING: She's an aggressive go-getter.
INSTEAD OF: She's a f___ing bit__.
3) TRY SAYING: Perhaps I can work late.
INSTEAD OF: And when the f___ do you expect me to do this?
4) TRY SAYING: I'm certain that isn't feasible.
INSTEAD OF: No f___ing way.
5) TRY SAYING: Really?
INSTEAD OF: You've got to be sh___ing me!
6) TRY SAYING: Perhaps you should check with...
INSTEAD OF: Tell someone who gives a sh__.
7) TRY SAYING: I wasn't involved in the project.
INSTEAD OF: It's not my f___ing problem.
8) TRY SAYING: That's interesting.
INSTEAD OF: What the f___?
9) TRY SAYING: I'm not sure this can be implemented.
INSTEAD OF: This sh__ won't work.
10) TRY SAYING: I'll try to schedule that.
INSTEAD OF: Why the f___ didn't you tell me sooner?
11) TRY SAYING: He's not familiar with the issues.
INSTEAD OF: He's got his head up his a__.
12) TRY SAYING: Excuse me, sir?
INSTEAD OF: Eat sh__ and die.
13) TRY SAYING: So you weren't happy with it?
INSTEAD OF: Kiss my a__.
14) TRY SAYING: I'm a bit overloaded at the moment.
INSTEAD OF: F__ it, I'm on salary.
15) TRY SAYING: I don't think you understand.
INSTEAD OF: Shove it up your a__.
16) TRY SAYING: I love a challenge.
INSTEAD OF: This f___ing job sucks.
17) TRY SAYING: You want me to take care of that?
INSTEAD OF: Who the f___ died and made you boss?
18) TRY SAYING: He's somewhat insensitive.
INSTEAD OF: He's a pr_ck.
Thank You,
Human Resources
Have a Wonderful DAY ! ! !
#joke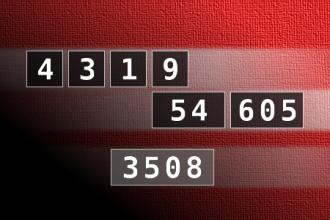 Calculate the number 3508
NUMBERMANIA: Calculate the number 3508 using numbers [4, 3, 1, 9, 54, 605] and basic arithmetic operations (+, -, *, /). Each of the numbers can be used only once.
A linguistics professor was le...
A linguistics professor was lecturing to his class one day. "In English," he said, "a double negative forms a positive. In some languages, though, such as Russian, a double negative is still a negative. However, there is no language wherein a double positive can form a negative."
Then a voice from the back of the room piped up: "Yeah, right."
#joke
It was a stifling hot day and ...
It was a stifling hot day and a man fainted in the middle of a busy intersection.
Traffic quickly piled up in all directions, so a woman rushed to help him.
When she knelt down to loosen his collar, a man emerged from the crowd, pushed her aside, and said, "It's all right honey, I've had a course in first aid."
The woman stood up and watched as he took the ill man's pulse and prepared to administer artificial respiration.
At this point she tapped him on the shoulder and said, "When you get to the part about calling a doctor, I'm already here."
Answering Machine Message 32
Hi, you've reached the home of George Ledec. If you are calling to collect a student loan, gambling debt, or other obligation, please press 1 and hang up now. If you are selling any product or service, or requesting charitable donations, please press 2 and hang up now. Otherwise, press 3 and leave your message now. Pressing 3 is optional.
#joke