Jokes of the day for Wednesday, 10 February 2016
Funny jokes, funny photo and funny video collected from the internet on Wednesday, 10 February 2016
Do You Believe in Me? - DON'T USE FOR NL
With so much turmoil in the world, God decided to pay a visit to earth to check things out. He strolled into a bar and approached the first man he saw. "If you believe in me enough to give me $50," he said, "I will grant you eternal life."
"Sorry, I'm an atheist," the fellow replied, "and have never believed in God."God walked up to another man and made the same offer. "Well, I'm an agnostic and not really sure if I believe in you or not," the guy said, "but here's 50 bucks, just in case."
As the Lord turned away, a third man ran up to him. "I'm Pat Robertson and don't really care if you're God or not," he said excitedly. "Just teach me the trick you did with the agnostic and I'll give you $100."
#joke
Hillbilly in Hospita
A hillbilly was making his first visit to a hospital where his teenage son was about to have an operation.
Watching the doctor's every move, he asked, "What's that?"
The doctor explained, "This is an anesthetic. After he gets this he won't know any thing that's going on."
"Save your time, Doc," exclaimed the man.
"He don't know nothing now."
Funny video of the day - Funny Kids Fails 2016 || A Fail Compilation
Paddy was planning to get marr
Paddy was planning to get married and asked his doctor how he could tell if his bride is a virgin. The doctor said, "Well, you need three things from a do it yourself shop. A can of red paint, a can of blue paint, and a shovel." Paddy asked, "And what do I do with these, doc?" The doctor replied, "Before the wedding night, you paint one of your testicles red and the other one blue. That night if she says, 'That's the strangest pair of balls I ever saw,' you hit her with the shovel."
"Before becoming a ph
"Before becoming a philosopher, Kant worked quality control on a vineyard. His most famous book is 'The Critique of Pure Raisin.'"
A solicitor for the Red Cross
A solicitor for the Red Cross called upon a well-to-do young couple for a donation. Hearing a commotion inside he knocked extra-loudly on the door.
A somewhat disheveled man admitted him in. "What can I do for you?" he growled, clearly upset about something.
"I would like to speak to the master of the house," said the solicitor politely.
"Then you're just in time," barked the young man. "My wife and I are settling that very question right now!"
#joke
Grandma!
A little boy went to the store with his grandmother and on the way home, he was looking at the things she had purchased. He found a package of panty hose and began to sound out the words "QUEEN SIZE".
He then turned to his grandmother and exclaimed, "Look Granny, YOU wear the same size as our bed!"
#joke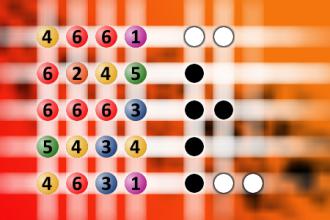 Which is a winning combination of digits?
The computer chose a secret code (sequence of 4 digits from 1 to 6). Your goal is to find that code. Black circles indicate the number of hits on the right spot. White circles indicate the number of hits on the wrong spot.
Most Useless Inventions


Non stick Cellotape

Solar Powered Flash Light

A black highlighter pen

Glow in the dark sunglasses

Inflatable Anchor

Smooth Sandpaper

Waterproof sponge

Waterproof Teabags

AC adapter for Solar powered calculators

Fireproof Matches

Fireproof Cigarettes

Battery powered Battery Charger

Seatbelts for Motorbikes

Hand powered Chainsaw

Inflatable Dartboard

Silent Alarm Clock

A Pedal powered wheelchair

Braille Drivers Manual

Double sided playing cards

Ejector seats for Helicopters

#joke
Drummer Problems
A musical director was having a lot of trouble with one drummer. He talked and talked and talked with the drummer, but his performance simply didn't improve.
Finally, before the whole orchestra, he said, "When a musician just can't handle his instrument and doesn't improve when given help, they take away the instrument, and give him two sticks, and make him a drummer."
A stage whisper was heard from the percussion section: "And if he can't handle even that, they take away one of his sticks and make him a conductor."
#joke
The old man in his mid-eightie
The old man in his mid-eighties struggles to get up from the couch then starts putting on his coat.
His wife, seeing the unexpected behavior, asks, "Where are you going?"
He replies, "I'm going to the doctor."
She says, "Why, are you sick?"
He says, "Nope, I'm going to get me some of that Viagra stuff."
Immediately the wife starts working and positioning herself to get out of her rocker and begins to put on her coat.
He says, "Where the hell are you going"?
She answers, "I'm going to the doctor, too."
He says, "Why, what do you need?"
She says, "If you're going to start using that rusty old thing, I'm getting a tetanus shot."

Parking Ticket
My wife and I went into town and visited a shop. When we came out, there was a cop writing out a parking ticket.. We went up to him and I said, "come on man, how about giving a senior citizen a break?" He ignored us and continued writing the ticket. I called him an "asshole." He glared at me and started writing another ticket for having worn-out tires. So my wife called him a "butthead".
He finished the second ticket and put it on the windshield with the first. Then he started writing more tickets.
This went on for about 20 minutes. The more we abused him, the more tickets he wrote. He finally finished, sneered at us and walked away. Just then our bus arrived, and we got on it and went home.
We always look for cars with Obama 2012 stickers. We try to have a little fun each day now that we're retired. It's so important at our age!!
#joke
The Dyslexic Rabbi
Q: Did you hear about the dyslexic Rabbi?
A: He walks around saying "Yo."
Do you know why the Cincinnati...
Do you know why the Cincinnati Bengals were the last NFL team to get a website?
Because they couldnt put three W's in a row.
Teenage Daughters
There's an Englishman, Irishman & Scotsman all talking about their teenage daughters...
The Englishman says " I was cleaning my daughter's room the other day & I found a packet of cigarettes. I was really shocked as I didn't even know she smokes".
The Scotsman says " That's nothing. I was cleaning my daughter's room the other day when I came across a half full bottle of Vodka. I was really shocked as I didn't even know she drank."
With that the Irishman says " Both of you have got nothing to worry about. I was cleaning my daughter's room the other day when I found packet of condoms. I was really shocked. I didn't even know she had a cock."
#joke
Zen Judaism
Relinquishment will lead to calm and healing in your relationships. If that doesn't work, try small claims court.
Though only your skin, sinews, and bones remain, though your blood and flesh dry up and wither away, yet shall you meditate and not stir until you have attained full Enlightenment. But, first, a little nosh.
Accept misfortune as a blessing. Do not wish for perfect health or a life without problems. What would you talk about?
Be here now. Be someplace else later. Is that so complicated?
There is no escaping karma. In a previous life, you never called, you never wrote, you never visited. And whose fault was that?
The Torah says, "Love thy neighbor as thyself." The Buddha says there is no "self." So, maybe you are off the hook.If there is no self, whose arthritis is this?
Wherever you go, there you are. Your luggage is another story.
Do not let children play contact sports like football. These only lead to injuries and instill a violent, warlike nature. Encourage your child to play peaceful games, like "sports doctor."
The journey of a thousand miles begins with a single "oy."
This joke is reprinted from "Zen Judaism: For You a Little Enlightenment" by David M. Bader (Harmony Books, 2002). All rights reserved.