Doctor Bloomfield, who was kno
Doctor Bloomfield, who was known for extraordinary treatment of arthritis, had a waiting room full of people when a little old lady, almost bent over in half, shuffled in slowly, leaning on her cane. When her turn came, she went into the doctor's office, and, amazingly, emerged within 5 minutes walking completely erect with her head held high. A woman in the waiting room who had seen all this rushed up to the little old lady and said, "It's a miracle! You walked in bent in half and now you're walking erect. What did that doctor do?"
"Gave me a longer cane."
If the Shoe Fits
"I stand corrected!"
... Said the man in the orthopedic shoes.
Why are you crying?
Two guys were sitting outside a medical clinic. One of them was crying, tears were pouring down his face.
The other guy asked, "Why are you crying?"
The first one replied, "I came here for blood test."
The second one asked, "So? Why are you crying? Are you afraid?"
The first guy replied, "No. Not that. During the blood test they cut my finger."
Hearing this, the second one started crying.
The first one was astonished and asked the other, "Why are you crying?"
Then the second guy replied, "I have come for a urine test."
#joke
Missed it
A busload of tourists arrives at Runnymede, just west of central London.
They gather around the guide who says: "This is the spot where the barons forced King John to sign the Magna Carta."
A guy at the front of the crowd asks: "When did that happen?"
"1215," answers the guide.
The man looks at his watch and says: "Damn! Missed it by a half hour."
#joke
Chuck Norris, who had grown ti...
Chuck Norris, who had grown tired of easy victories in fights, once fought himself to the death and won.
Patton Oswalt: Romantic Comedies
Every romantic comedy should just be called, Trying to F**k.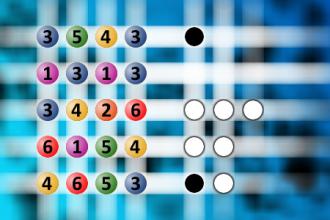 Which is a winning combination of digits?
The computer chose a secret code (sequence of 4 digits from 1 to 6). Your goal is to find that code. Black circles indicate the number of hits on the right spot. White circles indicate the number of hits on the wrong spot.
Anger versus Exasperation
A young girl who was writing a paper for school came to her father and asked, "Dad, what is the difference between anger and exasperation?"
The father replied, "It is mostly a matter of degree. Let me show you what I mean."
With that the father went to the telephone and dialed a number at random. To the man who answered the phone, he said, "Hello, is Melvin there?"
The man answered, "There is no one living here named Melvin. Why don't you learn to look up numbers before you dial".
"See," said the father to his daughter. "That man was not a bit happy with our call. He was probably very busy with something and we annoyed him. Now watch…."
The father dialed the number again. "Hello, is Melvin there?" asked the father.
"Now look here!" came the heated reply. "You just called this number and I told you that there is no Melvin here! You've got lot of guts calling again!" The receiver slammed down hard.
The father turned to his daughter and said, "You see, that was anger. Now I'll show you what exasperation means."
He dialed the same number, and when a violent voice roared, "Hello!"
The father calmly said, "Hello, this is Melvin. Have there been any calls for me?"
#joke
A man got really drunk one nig...
A man got really drunk one night in his local pub. The barman refused to serve him any more alcohol and told him he should be heading home. The man thought this was a good idea so he stood up to leave but fell over straight away. He tried to stand up again but only fell over again. He thought if only he could get outside and get some fresh air he'd be grand. So he crawled outside then tried to stand up and fell over again. In the end after falling over lots more he decided to crawl home. When he got back to his house he pulled himself up using the door handle but as soon as he let go he fell over again. He had to crawl up the stairs and managed to fall over onto the bed and fell asleep. When he finally woke up the next morning his wife asked him what he was doing at the pub last night. He denied it but she said, "I know you were there..." he maintained his innocence until "...the barman rang to say you forgot your wheelchair again...."
#joke
Hiring An Accountant
Kowalski, fresh out of accounting school, went to a interview for a good paying job. The company boss asked various questions about him and his education, but then asked him, "What is three times seven?"
"Twenty-two," Kowalski replied.
After he left, he double-checked it on his calculator (he knew he should have taken it to the interview!) and realized he wouldn't get the job.
About two weeks later, he got a letter that said he was hired for the job! He was not one to look a gift horse in the mouth, but was still very curious.
The next day, Kowalski went in and asked why he got the job, even though he got such a simple question wrong. The boss shrugged and said, "Well, you were the closest."
#joke