Jokes of the day for Tuesday, 21 November 2017
Funny jokes, funny photo and funny video collected from the internet on Tuesday, 21 November 2017
To get a job as a lifeguard, y
To get a job as a lifeguard, you need to know someone with lots of pool.
"He was buried yester
"He was buried yesterday, and was deeply moved by the experience."
Google Ads
A man goes to see his bank man
A man goes to see his bank manager one day and says: "I'd like to start a small business. How do I go about it?"
"That's simple," replies the bank manager. "All you have to do is buy a big one and wait."

Avoiding A Big Object
Driving to work, a gentlman had to swerve to avoid a box that fell out of a truck in front of him. Seconds later, a policeman pulled him over for reckless driving. Fortunately, another officer had seen the carton in the road. The policmen stopped traffic and recovered the box. It was found to contain large upholstery tacks.
"I'm sorry sir," the first trooper told the driver, "but I am still going to have to write you a ticket."
Amazed, the driver asked for what.
The trooper replied, "Tacks evasion."
Sue and Sally meet at their 30
Sue and Sally meet at their 30th class reunion, and they haven't seen each other since graduation. They begin to talk and bring each other up to date.
The conversation covers their husbands, their children, homes, etc. and finally gets around to their sex lives.
Sue says "It's OK. We get it on every week or so but it's no big adventure, how's yours?"
Sally replies "It's just great, ever since we got into S&M."
Sue is aghast. "Really Sally, I never would have guessed that you would go for that."
"Oh, sure," says Sally, "He snores while I masturbate."
#joke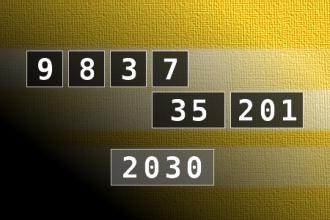 Calculate the number 2030
NUMBERMANIA: Calculate the number 2030 using numbers [9, 8, 3, 7, 35, 201] and basic arithmetic operations (+, -, *, /). Each of the numbers can be used only once.
The Art Of Falling Apart
There's quite an art to falling apart as the years go by,
And life doesn't begin at 40. That's a big fat lie.
My hair's getting thinner, my body is not;
The few teeth I have are beginning to rot.
I smell of Vick's-Vapo-Rub, not Chanel #5;
My new pacemaker's all that keeps me alive.
When asked of my past, every detail I'll know,
But what was I doing 10 minutes ago?
Well, you get the idea, what more can I say?
I'm off to read the obit, like I do every day;
If my name's not there, I'll once again start
Perfecting the art of falling apart!
#joke
Two hikers were walking throug...
Two hikers were walking through central Pennsylvania when they came upon a 6 foot wide hole in the ground. They figured it must be the opening for a vertical air shaft from an old abandoned coal mine. Curious as to the depth of the hole, the first hiker picked up a nearby rock and tossed it into the opening. They listened... and heard nothing.
The second hiker picked up an even larger rock and tossed it into the opening. They listened... and still heard nothing. Then they both picked up an old railroad tie, dragged it to the edge of the shaft, and hurled it down. Seconds later a dog came running up between the two men and jumped straight into the hole. Bewildered, the two men just looked at each other, trying to figure out why a dog would do such a thing.
Soon a young boy ambled onto the scene and asked if either man had seen a dog around here. The hikers told him about the dog that had just jumped into the hole.
The young boy laughed and said, "That couldn't be my dog. My dog was tied to a railroad tie!"
#joke
The Bermuda Triangle used to b...
The Bermuda Triangle used to be the Bermuda Square, until Chuck Norris Roundhouse kicked one of the corners off.
Degrees....
The graduate with a science degree asks,
'Why does it work?'
The graduate with an engineering degree asks,
'How does it work?'
The graduate with an accounting degree asks,
'How much will it cost?'
The graduate with a liberal arts degree asks,
'Do you want fries with that?'
#joke
Doug Mellard: Prophylactics
I remember one point, this older gentleman asked me for some prophylactics, and at that time, my sexual vocabulary wasnt that great, you know. So, Im checking my word bank for the closest thing I have to prophylactics. Closest thing I got -- pterodactyls. I was all confused. I was like, Excuse me, sir, I hate to break it to you, but those things have been extinct for 65 million years.
#joke