Jokes of the day for Monday, 23 October 2017
Funny jokes, funny photo and funny video collected from the internet on Monday, 23 October 2017
"I typically avoid co
"I typically avoid conversations with robots. They just drone on."
Cabernet: wha
Cabernet: what you drink when you can't decide between taking a taxi or a horse.
Sick Of The Holidays
Signs You're Sick of the Holidays
8. You've got red and green bags under your eyes
7. You're serving reindeer pot pie
6. When you hear, "Sleigh bells ring, are you listenin'?," you scream, "No! I'm not listening!"
5. You climb on your roof and start shooting carolers with your air gun
4. You think you hear your Christmas tree taunting you.
3. Instead of spending time with family, you're watching some guy make photo copies
2. You've got eggnog coming out of your ears
1. Two words: tinsel rash
Google Ads
The three old men were sitting
The three old men were sitting around complaining about how much their hands shook.
The first geezer said, "My hands shake so bad that when I shaved this morning I cut my face!"
The second old fogy one-upped him. "My hands shake so bad that when I trimmed my garden yesterday I sliced all my flowers!"
The third old man laughed and said, "That's nothing. My hands shake so bad that when I took a piss yesterday, I came three times."
#joke
Playing Your Age
A lady is having a bad day at the roulette tables in Vegas. She's down to her last $50. Exasperated, she exclaims to the whole table, 'What rotten luck I've had today! What in the world should I do now?'
A man standing next to her suggests, 'I don't know, why don't you play your age?'
He walks away, but moments later, his attention is grabbed by a great commotion at the roulette table. Maybe she won! He rushes back to the table and pushes his way through the crowd. The lady is lying limp on the floor, with the table operator kneeling over her. The man is stunned. He asks, 'What happened? Is she all right?'
The operator replies, 'I don't know. She put all her money on 36, and when 47 came up she just fainted!'
#joke
1. I can please only one perso
1. I can please only one person per day. Today is not your day. Tomorrow isn't looking good either.
2. I love deadlines. I especially like the whooshing sound the make as they go flying by.
3. Am I getting smart with you? How would you know?
4. I'd explain it to you, but your brain would explode.
5. Someday we'll look back on all this and plow into a parked car.
6. There are very few personal problems that cannot be solved through a suitable application of high explosives.
7. Tell me what you need, and I'll tell you how to get along without it.
8. Accept that some days you're the pigeon, and some days you're the statue.
9. Needing someone is like needing a parachute. If he isn't there the first time you need him, chances are you won't be needing him again.
10. I don't have an attitude problem. You have a perception problem.
11. Last night I lay in bed looking up at the stars in the sky and I thought to myself, "Where the hell is the ceiling?!"
12. My Reality Check bounced.
13. On the keyboard of life, always keep one finger on the escape key.
14. I don't suffer from stress. I'm a carrier.
15. You're slower than a herd of turtles stampeding through peanut butter.
16. Do not meddle in the affairs of dragons, 'cuz, like to them, you are crunchy and taste good with ketchup.
17. Everybody is somebody else's weirdo.
18. Never argue with an idiot. They drag you down to their level then beat you with experience.
#joke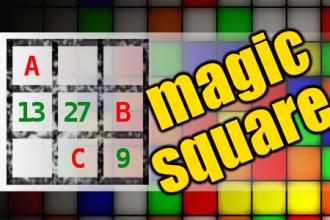 MAGIC SQUARE: Calculate A*B*C
The aim is to place the some numbers from the list (7, 9, 13, 25, 27, 31, 54, 56, 60, 63) into the empty squares and squares marked with A, B an C. Sum of each row and column should be equal. All the numbers of the magic square must be different. Find values for A, B, and C. Solution is A*B*C.
Walking economy
A guy is walking down the street with his friend. He says to his friend, "I'm a walking economy."
His friend replies, "How's that?"
"It's like this -- my hair line is in recession, my stomach is a victim of inflation, and the combination of these factors is putting me into a deep depression."
#joke
The products which we offer are handcrafted items made of natural materials such as finest quality wool from the Sharr Mountains, silk, cotton and lace. It is all blended with natural soap....and...creativity. Here are some beautiful and unique fashion accessories.

A drunk walks into a crowded b...
A drunk walks into a crowded bar and takes the last barstool next to an older woman. After awhile, the woman starts to smell this horrible odor coming from the direction of the drunk. She turns to him and says, "Excuse me Mister, but did you just shit yourself?" The drunk replied, "Yes ma'am, I have indeed shit myself." The woman says, "Well, why don't you go somewhere and clean yourself up?"
The drunk says, "'Cause I'm not finished yet..."
#joke
Donnell Rawlings: Friends With Cool Jobs
Comedys a tough job, man. Ive got friends who got cool jobs. One of my friends, hes a porno star. Guess how he got discovered? This girl sat on his lap, and she was like, Ooh, you should do porno! Same girl sat on my lap and was like, Ooh, you should tell jokes!
Jeff Dunham: Sex Life of the Elderly
Jeff: I had grandparents that were well into their 80s and still were having fun.
Walter: Their 80s? The hell kind of sex is that? Was it good for you? I dont remember. It was three minutes ago!, Who are you?!?.
Paul F. Tompkins: Name in Print
I do not understand why people write letters to magazines. It accomplishes nothing; its pointless. [If] you want to see your name in print that bad, write on a piece of paper and look at it: Ah, there it is. Just as I always dreamed.
President Roosevelt once rode ...
President Roosevelt once rode his horse 100 miles. Chuck Norris carried his the same distance in half the time.