Jokes of the day for Monday, 19 March 2018
Funny jokes, funny photo and funny video collected from the internet on Monday, 19 March 2018
A woman wanted to reach her hu...
A woman wanted to reach her husband on his mobile phone but discovered that she was out of credit, she instructed her son - to use his own phone to pass across an urgent message to daddy who is at work.
After junior had called, he got back to his mother to inform her that it was a lady that picked up his Dad's phone the three times he tried reaching dad on the mobile.
She waited impatiently for her husband to return from work, immediately she sighted him, she gave him a very hot slap, while the man was trying to ask why? She repeated the slap, people from neighborhood rushed around to know the cause of this.
The man asked their son to tell everybody what the lady said to him when he called, the son said "The number you are trying to call is not reachable at the moment. Please try again later."
#joke
Inferior dumplings a...
"Inferior dumplings are a sign of wonton neglect."
Little League Baseball
At one point during a game, the coach called one of his 9-year-old baseball players aside and asked, 'Do you understand what co-operation is?
What a team is?'
'Yes, coach', replied the little boy.
'Do you understand that what matters is whether we win or lose together as a team?'
The little boy nodded in the affirmative.
'So,' the coach continued, 'I'm sure you know, when an out is called, you shouldn't argue, curse, attack the umpire, or call him a pecker-head, dickhead or asshole. Do you understand all that?'
Again, the little boy nodded in the affirmative.
The coach continued, 'And when I take you out of the game so that another boy gets a chance to play, it's not good sportsmanship to call your coach a dumb ass or shithead is it?'
'No, coach.'
'Good', said the coach. 'Now go over there and explain all that to your grandmother!'
#joke
Google Ads
Any woman can have the body of...
Any woman can have the body of a 21-year-old, as long as she buys him a fewdrinks first.
My memory's not as sharp as it used to be. Also, my memory's not as sharp asit used to be.
Know how to prevent sagging? Just eat till the wrinkles fill out.
I've still got it, but nobody wants to see it.
I'm getting into swing dancing.. Not on purpose. Some parts of my body arejust prone to swinging.
It's scary when you start making the same noises as your coffeemaker.
I think I've reached my sexpiration date.
People our age can still enjoy an active, passionate sex life! Provided weget cable or that dish thing.
The good news is that even as we get older, guys still look at our boobs.The bad news is they have to squat down first.
These days about half the stuff in my shopping cart says, "For fast relief."
I've tried to find a suitable exercise video for women my age, but theyhaven't made one called "Buns of Putty."
Don't think of it as getting hot flashes. Think of it as your inner childplaying with matches.
Don't let aging get you down. It's too hard to get back up.
Remember: You don't stop laughing because you grow old, You grow oldbecause you stop laughing.
#joke
Partner Takes Vacation
Signs Your Partner Needs A Vacation:
9. Every Tuesday he insists it's his turn to be the siren.
8. He wants to transfer to a K-9 unit because he thinks he'd look good in a collar.
7. He wants you to call him "Judge Dredd", and he insists that all suspects should be executed right there on the spot.
6. He talk to himself. Half of him is the "good cop", and the other half is the "bad cop".
5. He keeps asking you if his bullet proof vest makes him look fat.
4. He is exchanging donut recipes with complete strangers.
3. The perpetrators beg him to stop talking about his relationship troubles.
2. He wants to hear less talk and more music on the police channel.
1. He keeps handcuffing himself by accident!!
#joke
Fat free....
I stopped at a fast-food restaurant recently. I was fascinated by a sign which offered Fat-Free French Fries. I decided to give them a try.
I was dismayed when the clerk pulled a basket of fries from the fryer, which was dripping with fat. He filled a bag with these fries and put them in my order.
"Just a minute!" I said. "Those aren't fat-free."
"Yes, they are. We only charge for the potatoes . . . the fat is free!"
#joke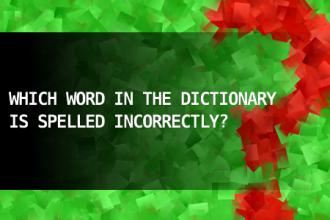 Which word in the dictionary i...
Which word in the dictionary is spelled incorrectly?
Recently Spotted Bumper Sticker:
"GOD LOVES YOU WHETHER YOU LIKE IT OR NOT!"
Welcome to our on-line store Fashion Studio BELKA. Our names are Branka Petrovic and Jasna Milutinovic.
The products which we offer are handcrafted items made of natural materials such as finest quality wool from the Sharr Mountains, silk, cotton and lace. It is all blended with natural soap....and...creativity. Here are some beautiful and unique fashion accessories.
We started doing this three years ago as a hobby. Eventually, creating different and unique materials has become our passion. I wish you pleasant shopping.
A Silent Bomb in Church
An elderly couple were in church. The wife leaned over and whispered to her husband, "I just let out a long silent fart... what should I do?"
The husband replied, "Replace the batteries in your hearing aid."
- Joke shared by Beliefnet member eyesoftheworld
#joke
A pregnant woman went to the g...
A pregnant woman went to the gynecologist, and when asked that was the problem, she responded, "Well, whenever I take off my clothes, my nipples get hard."
Shocked, the doctor took a deep breath, then asked, "Your nipples get hard?"
"Yes" quite innocently came her reply.
"Undress so I can check" replied the still amazed doc.
So, she undressed, and he got down to the feeling and massaging, trying to reach an answer.
After some considerable time, the doctor, still looked puzzled, said, "Well madame, I don't know what you have, but it sure as hell is contagious!"
Looking for a Lumberjack...
A large, well established, Canadian lumber camp advertised that they were looking for a good Lumberjack.
The very next day, a skinny little man showed up at the camp with his axe, and knocked on the head lumberjacks' door. The head lumberjack took one look at the little man and told him to leave.
"Just give me a chance to show you what I can do," said the skinny man.
"Okay, see that giant redwood over there?" said the lumberjack. "Take your axe and go cut it down."
The skinny man headed for the tree, and in five minutes he was back knocking on the lumberjack's door.
"I cut the tree down," said the man.
The lumberjack couldn't believe his eyes and said, "Where did you get the skill to chop down trees like that?"
"In the Sahara Forest," replied the puny man.
"You mean the Sahara Desert," said the lumberjack.
The little man laughed and answered back, "Sure, that's what they call it NOW!"
#joke