Jokes of the day for Thursday, 08 December 2016
Funny jokes, funny photo and funny video collected from the internet on Thursday, 08 December 2016
I want to adopt a kid. The pro
I want to adopt a kid. The process is so slow. I wish it could happen foster.
I was sitting in the waiting r
I was sitting in the waiting room for my first appointment with a new dentist. I noticed his dds diploma on the wall, which bore his full name. Suddenly, i remembered a tall, handsome, dark-haired boy with the same name had been in my high school class some 30-odd years ago. Could he be the same guy that i had a secret crush on, way back then? Upon seeing him, however, I quickly discarded any such thought. This balding, gray-haired man with the deeply lined face was way too old to have been my classmate. After he examined my teeth, I asked him if he had attended northmont high school.
'Yes. Yes, I did. I'm a thunderbolt,' he gleamed with pride.
When did you graduate?' I asked.
He answered, 'in 1975. Why do you ask?'
You were in my class!', I exclaimed.
He looked at me closely. Then, that ugly, old, bald, wrinkled faced, fat-ass, gray-haired, decrepit son-of-a-bitch asked, 'what did you teach?'
#joke
I am hereby officially tenderi
I am hereby officially tendering my resignation as an adult. I have decided I would like to accept the responsibilities of an 8 year-old again.
I want to go to McDonald's and think that it's a four star restaurant.
I want to sail sticks across a fresh mud puddle and make a sidewalk with rocks.
I want to think M&Ms are better than money because you can eat them.
I want to lie under a big oak tree and run a lemonade stand with my friends on a hot summer's day.
I want to return to a time when life was simple. When all you knew were colors, multiplication tables, and nursery rhymes, but that didn't bother you, because you didn't know what you didn't know and you didn't care.
All you knew was to be happy because you were blissfully unaware of all the things that should make you worried or upset.
I want to think the world is fair. That everyone is honest and good.
I want to believe that anything is possible.
I want to be oblivious to the complexities of life and be overly excited by the little things again.
I want to live simple again.
I don't want my day to consist of computer crashes, mountains of paperwork, depressing news, how to survive more days in the month than there is money in the bank, doctor bills, gossip, illness, and loss of loved ones.
I want to believe in the power of smiles, hugs, a kind word, truth, justice, peace, dreams, the imagination, mankind, and making angels in the snow.
So, here's my check book and my car-keys, my credit card bills and my 401K statements. I am officially resigning from adulthood. And if you want to discuss this further, you'll have to catch me first, cause... Tag! You're it!
Geometry shapes my l...
"Geometry shapes my life."
Denounce the devil!
The Priest was preparing a man for his long day's journey into night. Whispering firmly, the Priest said, "Denounce the devil! Let him know how little you think of him!"
The dying man said nothing.
The priest repeated his order.
Still the man said nothing.
The priest asked, "Why do you refuse to denounce the devil and his evil?"
The dying man said, "Until I know for sure where I'm heading, I don't think I ought to aggravate anybody."
#joke
New Jersey Crazy Law
It is against the law for a man to knit during the fishing season.

You may not slurp your soup.

If you have been convicted of driving while intoxicated, you may never again apply for personalized license plates.

It is against the law to "frown" at a police officer.

On a highway you can not park under a bridge.

Car dealerships are forbidden from opening on Sunday.

You cannot pump your own gas. All gas stations are full service and full service only.

Automobiles are not to pass horse drawn carriages on the street.

It is illegal to delay or detain a homing pigeon.

Bernards Township
It is illegal to frown as the town is a "Frown-Free Town Zone".

Caldwell
You may not dance or wear shorts on the main avenue.

Cranford
Citizens are not permitted to park their own boat on their lawn.

Cresskill
All cats must wear three bells to warn birds of their whereabouts.

Elizabeth
It is forbidden for a woman, on a Sunday, to walk down Broad Street without wearing a petticoat.

Manville
It is illegal to offer whiskey or cigarettes to animals a the local zoo.

Newark
It is illegal to sell ice cream after 6pm, unless the customer has a note from his doctor.

Ocean City
Pinball machines are not to be played on Sunday.

People may not slurp their soup.

Raw hamburger may not be sold.

Raritan
Profanity is prohibited.

Sea Isle City
There will be no boiling of bones on the property.

Trenton
Pickles are not to be consumed on Sundays.

You may not throw a bad pickle in the street.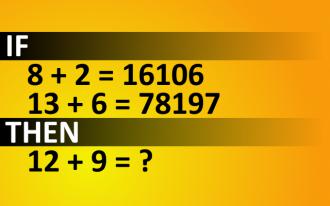 Calculate 12+9
IF 8 + 2 = 16106 and 13 + 6 = 78197 THEN 12 + 9 = ?
A married couple were asleep w...
A married couple were asleep when the phone rang at 2 in the morning, thewife (undoubtedly blonde), picked up the phone, listened a moment andsaid, "How should I know, that's 200 miles from here?" and hung up.
The husband said, "Who was that?" The wife said, "I don't know, someyoung woman wanting to know 'if the coast is clear."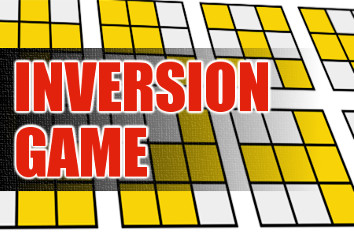 The goal of the game is to color all the 25 squares. Clicking will invert clors of all the sqauers within the shape of pattern.
The game is designed for all ages and stimulate children's creativity and reasoning.
English School
Donald MacDonald from Scotland went to study at an English university and was living in the hall of residence with all the other students there. After he had been there a month, his mother came to visit him (no doubt carrying reinforcements of tatties, salt herring, oatmeal and whisky).
"And how do you find the English students, Donald?" she asked.
"Mother," he replied, "they're such terrible, noisy people. The one on that side keeps banging his head on the wall and won't stop. The one on the other side screams and screams all night."
"Oh Donald! How do you manage to put up with these awful noisy English neighbors?"
"Mother, I do nothing. I just ignore them. I just stay here quietly, playing my bagpipes."
#joke
Email of the species
The email of the species is more deadly than the mail.
Furniture
There were these two ovaries and they were cleaning their house when they heard a knock at the door.
"I'll get the door." says the first ovary.
She looks out the peep hole and says, "Did you order furniture?"
"No, why?" askes the other ovary.
"Because there are two nuts at the door trying to shove in an organ!"
Submitted by Curtis
Edited by Glaci
#joke