Jokes of the day for Saturday, 20 April 2019
Funny jokes, funny photo and funny video collected from the internet on Saturday, 20 April 2019
A 3-year-old boy examined his
A 3-year-old boy examined his testicles while taking a bath.
"Mom", he asked, "Are these my brains?"
"Not yet," she replied.

"In cricket nightwatc
"In cricket nightwatchmen do not bat eye lids till they get their eye on the ball!"
Samsung Security Guards
What do you call security guards working outside Samsung shops?
Guardians of the Galaxy.
Q :How did Harry Potter ge
Q :How did Harry Potter get down the hill?
A: Walking......Jk,Rowling
The Preacher and the Peanuts
A preacher visits an elderly woman from his congregation. As he sits on the couch, he notices a large bowl of peanuts on the coffee table. "Mind if I have a few?" he asks. "No, not at all!" the woman replied. They chat for an hour and, as the preacher stands to leave, he realizes that instead of eating just a few peanuts, he emptied most of the bowl. "I'm terribly sorry for eating all your peanuts. I really just meant to eat a few." "Oh, that's all right," the woman says. "Ever since I lost my teeth, all I can do is suck the chocolate off them."-
Joke shared by Beliefnet member goden1
#joke
A man entered the bus with bot...
A man entered the bus with both of his front pants pockets full ofgolf balls, and sat down next to a beautiful (you guessed it) blonde.
The puzzled blonde kept looking at him and his bulging pockets.
Finally, after many such glances from her, he said, "It's golf balls".
Nevertheless, the blonde continued to look at him thoughtfully andfinally, not being able to contain her curiosity any longer, asked."Does it hurt as much as tennis elbow?"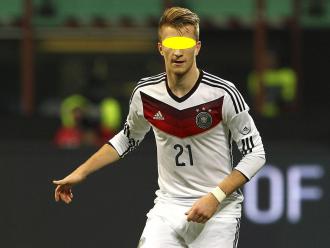 Can you name the athletes by the picture?
Can you name the athletes by the picture?
New scientific study
Q: Have you heard about the new scientific study which discovered that a certain type of food decreases a woman's sex drive?
A: It's called wedding cake.
Diary Of A Computer Lamer
July 18
I just tried to connect to America online, which I've heard is the best online service I can get. I can't connect, I don't know what is wrong.
July 19
Some guy at the tech support center says my computer needs a modem. I don't see why. He's just trying to cheat me. How dumb does he think I am?
July 20
I bought the modem, I couldn't figure out where it goes though, it wouldn't fit in the monitor or the printer. I'm confused.
July 21
I finally got the modem in and hooked up. A three year old next door did it for me.
July 22
The three year old kid next door hooked me up to America online for me. He's so smart.
July 23
What the heck is the internet? I thought I was on America Online, not this internet thingy. I'm confused.
July 24
The three year old kid next door showed me how to use this America Online stuff. He must be a genius at least compared to me.
July 25
I tried to use chat today. I tried to talk into my computer but nothing happened. Maybe I need to buy a microphone.
July 26
I found this thingy called Usenet. I got out of it because I'm connected to America Online, not Usenet. I went to the doctor today for my regular checkup. He says that since I connected, My brain has mysteriously shrunk to half its normal size.
July 27
These people in this Usenet thingy keep using capital letters. How do they do that? i never figured out how to type capital letters. Maybe they have a different type of keyboard.
July 28
I found this thingy called the Usenet oracle. It says that it can answer any questions I ask it. I asked it 44 separate questions about the internet. I hope it responds soon.
July 29
I found a group called rec.humor. I decided to post this joke about why the chicken crossed the road. To get to the other side! ha ha! I wasn't sure if i posted it right so I posted it 56 more times.
July 30
I keep hearing about the World Wide Web. I didn't know spiders grew that large.
July 31
The oracle responded to my questions today. Geez, it was rude. I was so angry that I posted an angry message about it to rec.humor.oracle.d. I wasn't sure if it posted right so I posted it 22 more times.
August 1
Someone told me to read the FAQ. Geez, they didn't have to use profanity.
August 2
I just read this post called make money fast. I'm so exited, I'm going to make lots of money. I followed his instructions and posted it to every newsgroup i could find.
August 3
I just made my signature file. It's only 6 pages long, So I will have to work on it some more.
August 4
I just looked at a group called alt.aol.sucks. I read a few posts and I really believe that aol should be wiped off the face of the Earth. I wonder what an "aol" is, however.
August 5
I was asking where to find some information about something. Some guy told me to check out ftp.netcom.com. I've looked and looked, but I cant find that group.
August 6
Some guy suspended my account because of what i was doing. I told him I don't have an account at his bank. He's so dumb.
Producing A New Gum
Two men were in the process of inventing a new brand of gum. They were arguing over the fact that their new gum was too hard and brittle and didn't have the right consistency. One of the inventors kept arguing that they simply had to add more liquid to their primary secret ingredient, code named "Yewin".
The other man argued adamantly. "No, No, No! It's not wetter Yewin that counts... it's how you ply the gum!"
#joke
If Noah Built an Ark in 2011
And lo, in the year 2011, the Lord came unto Noah, who was now living in the United States, and said:
"Once again, the earth has become wicked and over-populated, and I see the end of all flesh before me."
"Build another Ark and save two of every living thing along with a few good humans."
He gave Noah the blueprints, saying, "You have 6 months to build the ark before I will start the unending rain for 40 days and 40 nights."
Six months later, the Lord looked down and saw Noah weeping in his yard, but there was no ark.
"Noah! I'm about to start the rain! Where is the ark?"
"Forgive me, Lord," begged Noah, "but things have changed."
"I needed a building permit."
"I've been arguing with the inspector about the need for a sprinkler system."
"My neighbors claim that I've violated the neighborhood zoning laws by building the ark in my yard and exceeding the height limitations. We had to go to the Development Appeal Board for a decision."
"Then the Department of Transportation demanded a bond be posted for the future costs of moving power lines and other overhead obstructions, to clear the passage for the ark's move to the sea. I told them that the sea would be coming to us, but they would hear nothing of it."
"Getting the wood was another problem. There's a ban on cutting local trees in order to save the spotted owl."
"I tried to convince the environmentalists that I needed the wood to save the owls, but no go!"
"When I started gathering the animals, an animal rights group sued me. They insisted that I was confining wild animals against their will. They argued the accommodations were too restrictive, and it was cruel and inhumane to put so many animals in a confined space."
"Then the EPA ruled that I couldn't build the ark until they'd conducted an environmental impact study on your proposed flood."
"I'm still trying to resolve a complaint with the Human Rights Commission on how many minorities I'm supposed to hire for my building crew."
"Immigration and Naturalization are checking the green-card status of most of the people who want to work."
"The trades unions say I can't use my sons. They insist I have to hire only Union workers with ark-building experience.
"To make matters worse, the IRS seized all my assets, claiming I'm trying to leave the country illegally with endangered species."
"So, forgive me, Lord, but it would take at least 10 years for me to finish this Ark."
Suddenly, the skies cleared, the sun began to shine, and a rainbow stretched across the sky.
Noah looked up in wonder and asked, "You mean you're not going to destroy the world?"
"No," said the Lord. "The government beat me to it."
- Joke shared by Beliefnet member socaliflady
#joke
Guns – Good Question, Better Answer!
For those that don't know him, Major General Peter Cosgrove is an Australian General.
General Cosgrove was interviewed on the radio recently.
Read his reply to the lady who interviewed him concerning guns and children.
Regardless of how you feel about gun laws, you have to love this!
This is one of the best comeback lines of all time.
This is a portion of an ABC radio interview between a female broadcaster and General Cosgrove who was about to sponsor a Boy Scout Troop visiting his military Headquarters.
FEMALE INTERVIEWER:
So, General Cosgrove, what things are you going to teach these young boys when they visit your base?
GENERAL COSGROVE:
We're going to teach them climbing, canoeing, archery, and shooting.
FEMALE INTERVIEWER:
Shooting! That's a bit irresponsible, isn't it?
GENERAL COSGROVE:
I don't see why, they'll be properly supervised on the rifle range.
FEMALE INTERVIEWER:
Don't you admit that this is a terribly dangerous activity to be teaching children?
GENERAL COSGROVE:
I don't see how. We will be teaching them proper rifle discipline before they even touch a firearm.
FEMALE INTERVIEWER:
But you're equipping them to become violent killers.
GENERAL COSGROVE:
Well, Ma'am, you're equipped to be a prostitute, but you're not one, are you?
The broadcast went silent for 46 seconds and when it returned, the interview was over.
#joke
The Trouser Snake
=> NAME: *Expecteria Trouserius* (Trouser Snake) => LOCATION: Throughout the world
=> DESCRIPTION: One-eyed, with mushroom-shaped head (other types come with extra layers of skin) Varying from pink to black. Fang-less with a highly venomous spit. (Spit can reach distances up to 2-3 feet) *Size varies from 3 to 12 inches, depending on its mood & sub-species.
=> SYMPTOMS: This snake attacks mainly women in the lower front abdomen, resulting in an inconspicuous bump. Then a severe swelling followed by excruciating pain after nine months. The attack is not usually fatal. Beware: It has been known to attack men in the rear lower abdomen!
=> HABITAT: Usually found in bedrooms, but has been known to appear in the most unusual places.
=> ANTIDOTE: Various types of vaccine available for women. However, once the venom is injected into the body only drastic measures will ensure complete recovery. There is no known antidote for men.
=> WHAT TO DO WHEN ATTACKED
TOURNIQUET: Do not apply a tourniquet as the venom is too deep in the body to be affected.
CUTTING THE WOUND: This would be completely unnecessary and ineffective as the bleeding will stop after a few weeks anyhow.
SUCKING THE WOUND: This method is the most popular with the victim, but so far has not been reported to have led to any success.
=> CONCLUSION: This snake, although it is very aggressive and active, is not necessarily a vermin, and treated with the right respect, makes a wonderful pet.
#joke
There is no theory of evolutio...
There is no theory of evolution. Just a list of creatures Chuck Norris has allowed to live.