Jokes of the day for Thursday, 17 August 2017
Funny jokes, funny photo and funny video collected from the internet on Thursday, 17 August 2017
"Excuse me, but does this bus
"Excuse me, but does this bus go to the football game?"
"No, it doesn't."
"But, there's an ad for the game on the front of the bus."
"Yes, and there's an ad for Boston Baked Beans on the back of the bus, but we ain't goin' to Boston, neither."

"I may not have been
"I may not have been chaste but I've never been caught."
Militarization. Now that's all arming.
Google Ads
A company had a vast scrap yar
A company had a vast scrap yard in the middle of a desert. Management said, "Someone might steal from it at night." So they created a night watchman position and hired a person for the job.
Then management said, "How does the watchman do his job without instruction?" So they created a planning department and hired two people; one person to write the instructions and one person to do time studies.
Then management said, "How will we know the night watchman is doing his tasks correctly?" So they created a Quality Control department and hired two people. One to do the studies and one to write the reports.
Then management said, "How are these people going to get paid?" So they created the following positions, a timekeeper and a payroll officer; then hired two more people.
Then management said, "Who will be accountable for all of these people?" So they created an administrative section and hired three people; an Administrative Officer, Assistant AdministrativeOfficer, and a Legal Secretary.
Then management said, "We've had this command in operation for one year now and we're $18,000 over budget. We have to cutback on overall costs."
So they laid off the night watchman.
#joke
Homework help...
Dad, will you help me with my homework?"
"I'm sorry," replied the father. "It wouldn't be right."
"Well, " said the boy, "at least you could try."
Little Workers
The teacher was giving her class of seven-year-olds a nature history lesson.
'Worker ants,' she told them, 'can carry pieces of food five times their own weight. What do you conclude from that?'
One child was ready with the answer, 'They don't have a union?'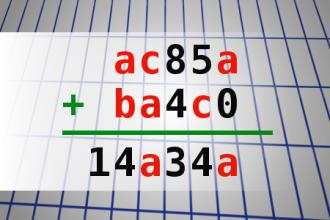 Find number abc
If ac85a + ba4c0 = 14a34a find number abc. Multiple solutions may exist.
 A Collection Of Insults
A brief synopsis... When you're at a loss for words but want to tell someone that he or she is stupid, remember some these quips from our collection here at Aha! Jokes.
---
One diamond short of a ring.
One dimension short of reality.
One drool bib short of neat and tidy.
One drop short of an empty bladder.
One flower short of an arrangement.
One flying buttress short of a cathedral.
One Froot Loop shy of a full bowl.
One fruit short of a basket.
One gene short of a full chromosome.
One goose short of a gaggle.
One handle short of a suitcase.
One hot pepper short of an enchilada.
One inspection short of passing.
One live brain cell away from being a talking monkey.
One miracle wouldn't be enough to help him.
#joke
Why did President Truman drop ...
Why did President Truman drop the first atomic bomb? Because he thought it would be more humane than sending in Chuck Norris.
Felipe Esparza: Not a Threesome Body
I could never have a threesome. This is not a threesome body. This is a turn off the lights body, leave your shirt on body -- this is a tell nobody.
Honey, What Did the Doctor Say?
A middle aged man goes into the doctor's office for a check-up with a litany of complaints.
The doctor speaks to the man's wife alone and says, "There is nothing the matter with your husband. If you make a couple of meals for him a day, let him watch his sports. Do not complain at him too much and require him to listen. Limit his exposure to in-laws and make love to him once a week. Then, he'll probably live another 20 years."
She returns to her husband's side in the waiting room. He asks, "What did the doctor tell you?"
"You are going to be dying soon, my dear."
Cabbie
One dismal rainy night in Sydney a taxi driver spotted an arm waving from the shadows of an alley. Even before he rolled to a stop at the curb, a figure leaped into the cab and slammed the door.
Checking his rear view mirror as he pulled away, he was startled to see a dripping wet, naked woman sitting in the back seat.
'Where to?' he stammered.
'Kings Cross,' answered the woman.
'You got it,' he said, taking another long glance in the mirror.
The woman caught him staring at her and asked, 'Just what the hell are you looking at, driver?'
'Well, madam,' he answered, 'I was just wondering how you'll pay your fare.'
The woman spread her legs, put her feet up on the front seat, smiled at the driver and said,
'Does this answer your question?'
Still looking in the mirror, the cabbie asked, 'Got anything smaller?'
#joke