"Countertop refinishe
"Countertop refinishers make their money for surfaces rendered."
Q. When is a retiree's bedtim
Q. When is a retiree's bedtime?
A. Three hours after he falls asleep on the couch.
Q. How many retirees does it take to change a light bulb?
A. Only one, but it might take all day.
Q. What's the biggest gripe of retirees?
A. There is not enough time to get everything done.
Q. Why don't retirees mind being called senior citizens?
A. The term comes with a 10% discount.
Q. Among retirees what is considered formal attire?
A. Tied shoes.
Q. Why do retirees count pennies?
A. They are the only ones who have the time.
Q. What is the common term for someone who enjoys work and refuses to retire?
A. NUTS!
Q. Why are retirees so slow to clean out the basement, attic or garage?
A. They know that as soon as they do, one of their adult kids will want to store stuff there.
Q. What do retirees call a long lunch?
A. Normal
Q. What is the best way to describe retirement?
A. The never-ending Coffee Break.
Q. What's the biggest advantage of going back to school as a retiree?
A. If you cut classes, no one calls your parents.
Q. Why does a retiree often say he doesn't miss work, but misses the people he used to work with?
A. He is too polite to tell the whole truth.
#joke
Writing To Grandma
The following is supposedly a true story. To be included, besides being true, the story is most likely strange, weird, surprising, or funny.
A little boy wrote this letter to his grandmother:
Dear Grandmother,
I'm sorry I forgot your birthday last week. It would serve me right if you forgot mine next Tuesday.
With love,
Mike
#joke
Love Versus Marriage
What's the difference between love and marriage?
Love is one long, sweet dream and marriage is the alarm clock.
On New Year's Eve, Ann stood
On New Year's Eve, Ann stood up in the local pub and said that it was time to get ready.
At the stroke of midnight, she wanted every husband to be standing next to the one person who made his life worth living.
As the clock struck - the bartender was almost crushed to death.
#joke #newyear
What kind of car was he driving?
A man was annoyed when his wife told him that a car had backed into her, damaging a fender, and that she hadn't gotten the license number. "What kind of car was he driving?" the husband asked.
"I don't know," she said. "I never can tell one car from another."
At that, the man decided the time had come for a learning course, and for the next few days, whenever they were driving, he made her name each car they passed until he was satisfied that she could recognize every make.
It worked.
About a week later she bounded in with a pleased expression on her face. "Darling," she said. "I hit a Buick!"
#joke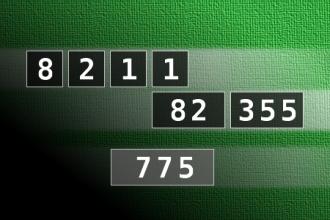 Calculate the number 775
NUMBERMANIA: Calculate the number 775 using numbers [8, 2, 1, 1, 82, 355] and basic arithmetic operations (+, -, *, /). Each of the numbers can be used only once.
Shalom Race
As you may know, in a shalom race the skier must pass through about 20 "gates" in the fastest time. Well, it happened that Israel had the fastest slalom skier in the world and had great expectations for an Olympic gold medal.
Came the day of the final, the crowd waited in anticipation. The French champion sped down the course in 38 seconds. The Swiss in 38.7 seconds, the German in 37.8 seconds and the Italian in 38.1 seconds. Next came the Israeli's turn ... the crowd waited, and waited...six minutes!
"What happened to you?" screamed his trainer when the Israeli finally arrived. Replied the exhausted Israeli: "Which of those idiots put a mezuzah on each gate?"
#joke
Caught on the Job
The new army recruit was given guard duty at 2 a.m. He did his best for a while, but at about 4 a.m. he went to sleep. He awakened to find the officer of the day standing before him.
Remembering the heavy penalty for being asleep on guard duty, this smart young man kept his head bowed for another moment and looked upward and reverently said, "A-a-a-men!"
#joke
Stolen Car
A drunk phoned the police to report that thieves had broken in to his car.
"They've stolen the dashboard, steering wheel, break pedal, even the accelerator," he cried out.

However, before the police investigation could get under way the phone rang a second time, with the same voice came over the line. "Never mind," said the drunk with a hiccup, "I got in the backseat by mistake."
#joke
Knock Knock Collection 137
Knock Knock
Who's there?
Odysseus!
Odysseus who?
Odysseus the last straw!
Knock Knock
Who's there?
Ogre!
Ogre who?
Ogre take a flying leap!
Knock Knock
Who's there?
Ohio!
Ohio who?
Ohio Silver!
Knock Knock
Who's there?
Ohio!
Ohio who?
Ohio feeling!
Knock Knock
Who's there?
Okra!
Okra who?
Okra Winfrey!
#joke