After being away on business,
After being away on business, Tim thought it would be nice to bring his wife a little gift.
"How about some perfume?" he asked the cosmetics clerk.
She showed him a bottle costing $50.00.
"That's a bit much," said Tim, so she returned with a smaller bottle for $30.00.
"That's still quite a bit," Tim complained.
Growing annoyed, the clerk brought out a tiny $15.00 bottle.
"What I mean," said Tim, "is I'd like to see something really cheap."
The clerk handed him a mirror.
#joke
"A spinal cord is the
"A spinal cord is the sound of a back breaking."
A Cheetah & A Lion
A cheetah and a lion are racing...
The cheetah wins...
The lion says, "You a cheetah!"
The cheetah replies, "Nah, you a lion!"
A father is explaining ethics
A father is explaining ethics to his son, who is about to go into business...
"Suppose a woman comes in and orders a hundred dollars worth of material. You wrap it up, and you give it to her. She pays you with a $100 bill. But as she goes out the door you realize she's given you two $100 bills. Now, here's where the ethics come in: should you or should you not tell your partner?
#joke
Indian Wtih One Testicle
There once was a Red Indian whose given name was "Onestone". So named because he had only one testicle.
He hated that name and asked everyone not to call him Onestone.
After years and years of torment, Onestone finally cracked and said,
"If anyone calls me Onestone again I will kill them!" The word got
around and nobody called him that any more.
Then one day a young woman named Blue Bird forgot and said, "Good morning, Onestone."
He jumped up, grabbed her and took her deep into the forest where he made love to her all day and all night.
He made love to her all the next day, until Blue Bird died from exhaustion.
The word got around that Onestone meant what he promised he would do.
Years went by and no one dared call him by his given name until a woman named Yellow Bird returned to the village after being away
for many years.
Yellow Bird, who was Blue Bird's cousin, was overjoyed when she saw
Onestone. She hugged him and said, "Good to see you, Onestone."
Onestone grabbed her, took her deep into the forest, then he made
love to her all day, made love to her all night, made love to her all
the next day, made love to her all the next night, but Yellow Bird wouldn't die!
So what is the moral of this
story?????............................
You can't kill two birds with one stone!!
#joke
Parrot wih an attitude...
A young man named John received a parrot as a gift. The parrot had a bad attitude and an even worse vocabulary. Every word out of this bird's mouth was rude, obnoxious and laced with profanity.
John tried and tried to change the bird's attitude by constantly saying polite words, playing soft music, and anything he could think of to set a good example. Nothing worked.
Finally, John got fed up and he yelled at the parrot. And, the bird yelled back. John shook the parrot, and the bird got angrier and ruder. Finally, in a moment of desperation, John put the bird in the refrigerator freezer.
For a few minutes, John heard the bird squawk and kick and scream... then suddenly there was quiet. Not a peep for over a minute. Fearing that he'd hurt the bird, John quickly opened the door to the freezer. The parrot calmly stepped out onto John's outstretched arm and said, "I believe I may have offended you with my rude language and actions. I am truly sorry, and I will do everything to correct my poor behavior."
John was astonished at the bird's change of attitude. As he was about to ask the parrot what had made such a dramatic change in his behavior, the bird continued,
"May I ask what the chicken did?"
#joke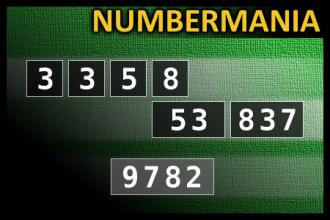 Calculate the number 9782
NUMBERMANIA: Calculate the number 9782 using numbers [3, 3, 5, 8, 53, 837] and basic arithmetic operations (+, -, *, /). Each of the numbers can be used only once.
Two blondes, Carol and Patt...
Two blondes, Carol and Patty, were walking down the street.
Carol noticed a compact on the sidewalk and leaned down to pick it up. She opened it, looked in the mirror and said, "Hmmm, this person looks familiar." Patty said, "Let me look!" So Carol handed her the Compact.
Patty looked in the mirror and said,"You dummy, it's me!
Police Quotes
"The handcuffs are tight because they're new. They'll stretch out after you wear them awhile."
"If you run, you'll only go to jail tired."
"So, you don't know how fast you were going. I guess that means I can write anything I want on the ticket, huh?"
"Yes sir, you can talk to the shift supervisor, but I don't think it will help. Oh, did I mention that I am the shift supervisor?"
"Warning! You want a warning? O.K., I'm warning you not to do that again or I'll give you another ticket."
"The answer to this last question will determine whether you are drunk or not. Was Mickey Mouse a cat or dog?"
"Yeah, we have a quota. Two more tickets and my wife gets a toaster oven."
"Life's tough, it's tougher if you're stupid."
"No sir, we don't have quotas anymore. We used to have quotas, but now we're allowed to write as many tickets as we want."
"Just how big were those two beers?
Scientifically speaking, it is...
Scientifically speaking, it is impossible to charge Chuck Norris with "obstruction of justice." This is because even Chuck Norris cannot be in two places at the same time.