Jokes of the day for Thursday, 27 April 2017
Funny jokes, funny photo and funny video collected from the internet on Thursday, 27 April 2017
"The blacksmith wasn\
"The blacksmith wasn't making much money but he forged ahead anyway."
The people of Helsinki have ne
The people of Helsinki have never been a fan of Schubert's UnFinnish Symphony.
John Mulaney: Veronica the Babysitter
In my head, when I was a little kid, I thought that Veronica was like 25, 30 years old. I was just talking to my mom the other week -- I found out that when I was 10, Veronica was 13. So why was she in charge? All she could do was dial the telephone a little better than I could. Thirteen when I'm 10? That's just like hiring a slightly bigger child.
#joke
The First Profession…
A physician, an engineer, and a politician were discussing who among them belonged to the oldest of the three professions. Each one of them thought they had this in the bag.
The physician said, 'Remember, on the sixth day God took a rib from Adam and fashioned Eve, making him the first surgeon. Therefore, medicine is the oldest profession.'
joke, profession.
The engineer replied, 'But, before that, God created the heavens and earth from chaos and confusion, and thus he was the first engineer. Therefore, engineering is an older profession than medicine.'
joke, profession
Then, the politician spoke up. 'Yes yes, this is all well and true.' he said.
'But who do you think created all of the chaos and confusion?'
#joke
When stopped by a police offic
When stopped by a police officer many are unsure of how to begin a conversation and so just sit there feeling foolish waiting for the officer to initiate the conversation. To avoid this embarrassing situation we offer the following icebreakers that will stimulate a lively intercourse with the public servant.
1. My gun is bigger than your gun.
2. Give me a ten second head start and I bet you won't be able to catch me again.
3. You don't want to test my breath, do you?
4. You can't look in my trunk without a search warrant. Can you?
5. Can your breathalyzer detect Marijuana?
6. Well, it isn't the blue fairy of the highway.
7. I hope you aren't going to check for warrants.
8. You're the third cop who pulled me over today.
9. Hey buddy, Do you know John and Ponch?
10. Just put it on my tab.
#joke
Not guilty?
After a two-week criminal trial in a very high profile bank robbery case, the judge turns to the jury foreman and asks, "Has the jury reached a verdict in this case?"
"Yes, we have, your honor," The foreman responded.
"Would you please pass it to me," The judge declared, as he motioned for the bailiff to retrieve the verdict slip from the foreman and deliver it to him.
After the judge reads the verdict himself, he delivers the verdict slip back to his bailiff to be returned to the foreman and instructs the foreman, "Please read your verdict to the court."
"We find the defendant Not Guilty of all four counts of bank robbery." stated the foreman. The family and friends of the defendant jump for joy at the verdict and hug each other as they shout expressions of divine gratitude.
The man's attorney turns to his client and asks, "So, what do you think about that?"
The defendant, with a bewildered look on his face turns to his attorney and says, "I'm real confused here. Does this mean that I have to give all the money back?"
#joke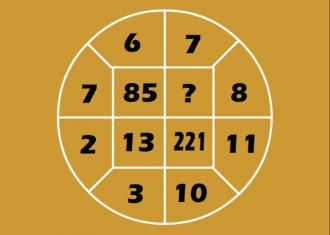 Replace the question mark with a number
MATH PUZZLE: Can you replace the question mark with a number?
Missing Palm Sunday
On Palm Sunday, a five-year-old boy had a sore throat and stayed home from church with a babysitter. When the family returned home, they were carrying several palm branches. The boy asked them what they were."People held them over Jesus' head as He walked by," his father told him."Wouldn't you know it," the boy fumed. "The one Sunday I don't go and Jesus shows up."From "
The Book of Church Jokes
," published by
Barbour Publishing, Inc.
, Uhrichsville, Ohio. Copyright 2009. Used by permission of Barbour Publishing, Inc.
#joke
The Pre-birth Class
When our second child was on the way, my wife and I attended a pre-birth class aimed at couples who had already had at least one child.
The instructor raised the issue of breaking the news to the older child. It went like this:
"Some parents," she said, "tell the older child, 'We love you so much we decided to bring another child into this family.' But think about that. Ladies, what if your husband came home one day and said, 'Honey, I love you so much I decided to bring home another wife.'"
One of the women spoke up immediately. "Does she cook???"
#joke
Old tribal wisdom says that wh...
Old tribal wisdom says that when you discover you are riding a dead horse, the best strategy is to dismount. Businesses, however, often try other strategies. These include...
1. Buying a stronger whip.
2. Changing riders.
3. Saying things like "This is the way we always have ridden this horse"
4. Appointing a committee to study the horse.
5. Arranging to visit other sites to see how they ride dead horses.
6. Increasing the standards to ride dead horses.
7. Appointing a tiger team to revive the dead horse.
8. Creating a training session to increase our riding ability.
9. Comparing the state of dead horses in today's environment.
10. Change the requirements declaring that "This horse is not dead".
11. Hire contractors to ride the dead horse.
12. Harnessing several dead horses together for increased speed.
13. Declaring that "No horse is too dead to beat."
14. Providing additional funding to increase the horse's performance.
15. Do a CA Study to see if contractors can ride it cheaper.
16. Purchase a product to make dead horses run faster.
17. Declare the horse is now "better, faster and cheaper."
18. Form a quality circle to find uses for dead horses.
19. Revisit the performance requirements for horses.
20. Say this horse was procured with cost as an independent variable.
21. Promote the dead horse to a supervisory position.
#joke
Todd Barry: Book Lights
They sell book lights now, a little spotlight you attach to your book. You know, I actually thought about buying one of these, and then I remembered, I own a lamp.
Dream
After she woke up, a woman told her husband,
"I just had a dream that you gave me the most beautiful diamond necklace. What do you think it means?"
"You'll know tonight." he said with a smile.
The woman could hardly think of anything else all day and she couldn't wait for her husband to return home.
That evening, the man finally came home with a small package and gave it to his wife.
Delighted, she opened it excitedly to find a book entitled…
"The Meaning of Dreams"
#joke
Chuck Norris can win a game of...
Chuck Norris can win a game of Connect Four in only three moves.
Jump Rope
Did you hear the joke about the jump rope? Neah! Skip it!
Peanut Butter Rooster
Q: What do you get when you cross a rooster with a jar of peanut butter?
A: A cock that sticks to the roof of your mouth.