Jokes of the day for Wednesday, 17 January 2018
Funny jokes, funny photo and funny video collected from the internet on Wednesday, 17 January 2018
The House I'm Looking For
Billy Brown decided it was time to buy a new house, so he decided to sell his old house and put the matter in a real estate agent's hands.
The agent wrote up a sales blurb for the house that made wonderful reading. After Bill read it, he turned to the agent and asked, 'Does my house have everything your ad says it does?'
The agent said, 'It certainly does. Why do you ask?'
Bill replied, 'Cancel the sale. It's exactly what I'm looking for!'
#joke
"In order to become a
"In order to become a teacher, Anna would have to chalk up the skills first."
Two babies were sitting in the
Two babies were sitting in their cribs, when one baby shouted to the other, "Are you a little girl or a little boy?"
"I don't know," replied the other baby giggling.
"What do you mean, you don't know?" said the first baby.
"I mean I don't know how to tell the difference," was the reply.
"Well, I do," said the first baby chuckling, "I'll climb into your crib and find out". He carefully got himself into the other baby's crib, then quickly disappeared beneath the blankets. After a couple of minutes, he resurfaced with a big grin on his face. "You're a little girl, and I'm a little boy," he said proudly.
"You're ever so clever," cooed the baby girl, "but how can you tell?"
"It's quite easy really," replied the baby boy, "you've got pink socks and I've got blue ones."
#joke
Google Ads
Robert Schmidt 07
The Bermuda Triangle got tired of warm weather. It moved to Alaska. Now Santa Claus is missing.
I went to a fancy French restaurant called "Deja Vu." The headwaiter said, "Don't I know you?"
Last week I forgot how to ride a bicycle.
I took lessons in bicycle riding. But I could only afford half of them. Now I can ride a unicycle.
I got a calculator and now I can't add without it. I got a spellchecker and I can't write without it anymore. I got a blowdryer and now my hair won't dry on its own.
Get a bunch of those 3-D glasses and wear them at the same time. Use enough to get it up to a good, say, 10 or 12-D.
I heard that in relativity theory space and time are the same thing. Einstein discovered this when he kept showing up three miles late for his meetings.
Called a blind date to set up a meeting at a restaurant. I said, "I'll be the one in the leather jacket." She said, "I'll be the one drinking sake." Turned out it was one of those biker-sushi places. We never met.
Wrote my own communications software in LISP. Got a phone bill for a thousand dollars. My computer keeps calling itself.
#joke
Clarence and Rufus...
There were two old geezers living in the backwoods. Their names were Rufus and Clarence. They lived on opposite sides of the river, and they hated each other.
Every morning, just after sunrise, Rufus and Clarence would go down to their respective sides of the river and yell at each other. "RUFUS!!" Clarence would shout. "You better thank your lucky stars that I can't swim . . . or I'd swim this river and whup your butt!!"
"CLARENCE!!" Rufus would holler back, "You better thank YOUR lucky stars that I can't swim . . . or I'd swim this river and whup your skinny butt!!!"
This went on every morning. Every day. Twenty years.
One day the Army Corps of Engineers came and built a bridge. Still, every morning every day for another five years the shouting and feuding across the river continued. Finally, Rufus wife has had enough.
"Rufus!" she yells, one day. "I can't take no more!! Every day for 25 years, you've been threatenin' to whup Clarence. Well, there's the bridge...have at it!"
Rufus thought for a moment. Chewed his bottom lip for another moment. "Woman!" he declared, snapping his suspenders into place. "I'm gonna whup Clarence's butt!!!"
He walked out the door, down to the river, along the riverbank, came to the bridge, stepped up onto the bridge, walked about halfway, looked up....TURNED TAIL AND RAN SCREAMING BACK TO THE HOUSE, SLAMMED THE DOOR, BOLTED THE WINDOWS, GRABBED THE SHOTGUN AND DIVED, PANTING AND GASPING, UNDER THE BED!!!!!
"Rufus!" cried the misses. "I thought you was gonna whup Clarence's butt!!!"
"I was, woman, I was!!" he whispered.
"Rufus!" cried the misses. "What in tarnation is the matter?"
"Well," muttered the terror-stricken Rufus, "I went to the bridge...I stepped up on the bridge...walked halfway over the bridge...looked up..."
"And?" she asked, breathless with suspense.
"And," continued Rufus, "I saw a sign that said, "Clearance, 13 feet, 6 inches" He ain't never looked THAT big from the other side of the river!!!!!"
#joke
Hymns for All Professions
Dentist's Hymn: Crown Him with Many Crowns
Weatherman's Hymn: There Shall Be Showers of Blessings
Contractor's Hymn: The Church's One Foundation
Tailor's Hymn: Holy, Holy, Holy
Golfer's Hymn: There's a Green Hill Far Away
Politician's Hymn: Standing on the PromisesOptometrist's Hymn: Open My Eyes That I Might See
IRS Agent's Hymn: I Surrender All
Gossip's Hymn: Pass It On
Electrician's Hymn: Send The Light
Shopper's Hymn: Sweet By and By
Realtor's Hymn: I've Got a Mansion, Just Over the Hilltop
Massage Therapist's Hymn: He Touched Me
Doctor's Hymn: The Great Physician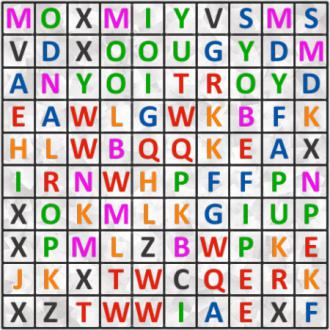 Find a famous person
Find the first and the last name of a famous person. Text may go in all 8 directions. Length of words in solution: 7,5.
5 Blondes celebrate
Five blondes go into a bar and one of them says to the bartender, "A round of drinks for me and my friends."
They get their drinks and the raise their glasses to a toast of, "To 51 days!" and they drink.
The "head blonde" asks the bartender to set them up again.
Again, the blondes toast "To 51 days!" and they drink. After they order a third round, the bartender says that he has to ask what the toast means.
The head blonde says, "We just finished a jigsaw puzzle. On the box it said, "two to four years" and we finished it in 51 days".
The products which we offer are handcrafted items made of natural materials such as finest quality wool from the Sharr Mountains, silk, cotton and lace. It is all blended with natural soap....and...creativity. Here are some beautiful and unique fashion accessories.

Catsup
A woman was trying hard to get the catsup to come out of the bottle. During her struggle the phone rang so she asked her four-year-old daughter to answer the phone.
"It's the minister, Mommy" the child said to her mother.
Then she added, "Mommy can't come to the phone right now. She's hitting the bottle."
#joke
The Reverend and the golf game
The Reverend Francis Norton woke up Sunday morning and realizing it was an exceptionally beautiful and sunny early spring day, decided he just had to play golf.
So... he told the Associate Pastor that he was feeling sick and convinced him to say Mass for him that day. As soon as the Associate Pastor left the room, Father Norton headed out of town to a golf course about forty miles away. This way he knew he wouldn't accidentally meet anyone he knew from his parish.
Setting up on the first tee, he was alone. After all, it was Sunday morning and everyone else was in church!
At about this time, Saint Peter leaned over to the Lord while looking down from the heavens and exclaimed, "You're not going to let him get away with this, are you?"
The Lord sighed, and said, "No, I guess not." Just then Father Norton hit the ball and it shot straight towards the pin, dropping just short of it, rolled up and fell into the hole. It WAS A 420 YARD HOLE IN ONE! St. Peter was astonished. He looked at the Lord and asked, "Why did you let him do that?"
The Lord smiled and replied, "Who's he going to tell?"
#joke
This guy was on the side of th...
This guy was on the side of the road hitch hiking on a very dark night and in the middle of a storm. The night was roiling and no car went by.
The storm was so strong he could hardly see a few feet ahead of him. Suddenly, he saw a car coming towards him and stop. The guy, without thinking about it, got in the car and closed the door - and only then realized that there's nobody behind the wheel!
The car starts very slowly. The guy looks at the road and sees a curve coming his way. Scared, he starts to pray, begging for his life.
He hasn't come out of shock when, just before the car hits the curve, a hand appears thru the window and moves the wheel.
The guy, paralyzed in terror, watched how the hand appears every time they are approaching a curve.
The guy, gathering strength, gets out of the car and runs all the way to the nearest town. Wet and in shock he goes into a cantina, asks for two shots of tequila, and starts telling everybody about the horrible experience he just went through.
A silence enveloped everybody when they realize the guy was crying and wasn't drunk.
About half an hour later two guys walked in the same cantina and one said to the other, "Look, Pepe, that's the asshole that got in the car while we were pushing it!"
#joke