Jokes of the day for Tuesday, 20 February 2018
Funny jokes, funny photo and funny video collected from the internet on Tuesday, 20 February 2018
The Cowboy & Widow
A successful rancher died and left everything to his devoted wife.
She was a very good-looking woman and determined to keep the ranch, but knew very little about ranching, so she decided to place an ad in the newspaper for a ranch hand.
Two cowboys applied for the job. One was gay and the other a drunk.
She thought long and hard about it, and when no one else applied she decided to hire the gay guy, figuring it would be safer to have him around the house than the drunk.
He proved to be a hard worker who put in long hours every day and knew a lot about ranching.
For weeks, the two of them worked, and the ranch was doing very well
Then one day, the rancher's widow said to the hired hand, 'You have done a really good job, and the ranch looks great. You should go into town and kick up your heels.' The hired hand readily agreed and went into town one Saturday night.
One o'clock came, however, and he didn't return.
Two o'clock and no hired hand.
Finally, he returned around two-thirty, and upon entering the room, he found the rancher's widow sitting by the fireplace with a glass of wine, waiting for him.
She quietly called him over to her.
'Unbutton my blouse and take it off,' she said.
Trembling, he did as she directed. 'Now take off my boots.'
He did as she asked, ever so slowly. 'Now take off my socks.'
He removed each gently and placed them neatly by her boots.
'Now take off my skirt.'
He slowly unbuttoned it, constantly watching her eyes in the firelight.
'Now take off my bra..' Again, with trembling hands, he did as he was told and dropped it to the floor.
Then she looked at him and said, 'If you ever wear my clothes into town again, you're fired.'
#joke
"You hear about the c
"You hear about the chiropractor that was a comic? He cracks me up."
A big-city resident was spendi
A big-city resident was spending his vacation in a small town in the country. Chatting with a local in the coffee shop, he asked, "Do you know any big people who were born here?"
The villager scratched his head and then said, "No, sir. Only tiny babies are born here."

Google Ads
Testing A New Recruit

Police Chief: As a recruit, you'll be faced with some difficult issues. What would you do if you had to arrest your mother?
New Recruit: Call for backup!


Baldness...
Little Johnny was eating breakfast one morning and got to thinking about things.
"Mommy, why has daddy got so few hairs on his head?" he asked his mother.
"He thinks a lot," replied his mother, pleased with herself for coming up with a good answer to her husband's baldness.
Johnny thought for a second and said, "I'm glad you don't do any thinking. You would look silly without hair."
#joke
Three tourists were driving th
Three tourists were driving through Wales. As they were approaching Llanfairpwllgwyngyllgogerychwyrndrobwllllantysiliogogogoch, they started arguing about the pronunciation of the town's name. They argued back and forth until they stopped for lunch.
As they stood at the counter one asked the blonde employee, "Before we order, could you please settle an argument for us? Would you please pronounce where we are... very slowly?"
The girl leaned over the counter and said, "Burrrrrr, gerrrrrr, Kiiiiiing."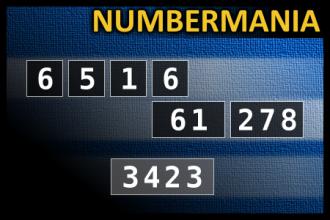 Calculate the number 3423
NUMBERMANIA: Calculate the number 3423 using numbers [6, 5, 1, 6, 61, 278] and basic arithmetic operations (+, -, *, /). Each of the numbers can be used only once.
A man sits down at a bar and o...
A man sits down at a bar and orders a double martini. After he finishes, he peeks inside his shirt pocket, then orders another. After he finishes that, he again peeks inside his shirt pocket and orders another double martini. The barman says: "I'll bring you martinis all night but why do you look inside your shirt pocket before you order a refill." The customer replies: "I'm peeking at a photo of my wife. When she starts to look good, I know it's time to go home."
#joke
Welcome to our on-line store Fashion Studio BELKA. Our names are Branka Petrovic and Jasna Milutinovic.
The products which we offer are handcrafted items made of natural materials such as finest quality wool from the Sharr Mountains, silk, cotton and lace. It is all blended with natural soap....and...creativity. Here are some beautiful and unique fashion accessories.
We started doing this three years ago as a hobby. Eventually, creating different and unique materials has become our passion. I wish you pleasant shopping.
A woman goes into a dentist...
A woman goes into a dentist's office, and after her examination, the dentist says, I'm sorry to tell you this, but I am going to have to drill that tooth.
Horrified, the woman replies, Oh, no! I'd rather have a baby.
To which the dentist replies, Make up your mind, I have to adjust the chair.
#joke
Winning toast
Patrick  hoisted his beer and said: "Here's to spending the rest of my life between the legs of me wife!"
And with that he took home the top prize for the best toast of the night.
In bed later that night, he told his wife: "Mary, I won the prize for the best toast of the night."
She said: "Aye, Paddy, what was your toast?"
So he told her: "Here's to spending the rest of my life sitting in church beside me wife."
"Oh," she said, "that is very nice, dear."
The next day, Mary ran into one of Paddy's drinking partners in the street.
Mischievously, the man said: "Did you hear about your husband winning a prize in the pub the other night for a toast about you, Mary?"
She replied: "Aye, and I was a bit surprised. Till now, he's only been down there twice. Once he fell asleep, and the other time I had to pull him by the ears to make him come."
Bill Gates Can Choose His Punishment
Bill Gates suddenly dies and finds himself face to face with God. God stood over Bill Gates and said, "Well Bill, I'm really confused on this one. It's a tough decision; I'm not sure whether to send you to Heaven or Hell. After all, you helped society enormously by putting a computer in almost every home in America, yet you also created that ghastly Windows '95 among other indiscretions. I believe I'll do something I've never done before; I'll let you decide where you want to go."
Bill pushed up his glasses, looked up at God and replied, "Could you briefly explain the difference between the two?" Looking slightly puzzled, God said, "Better yet, why don't I let you visit both places briefly, then you can make your decision. Which do you choose to see first, Heaven or Hell?"
Bill played with his pocket protector for a moment, then looked back at God and said, "I think I'll try Hell first." So, with a flash of lightning and a cloud of smoke, Bill Gates went to Hell.
When he materialized in Hell, Bill looked around. It was a beautiful and clean place, a bit warm, with sandy beaches and tall mountains, clear skies, pristine water, and beautiful women frolicking about. A smile came across Bill's face as he took in a deep breath of the clean air. "This is great," he thought, "if this is Hell, I can't wait to see heaven."
Within seconds of his thought, another flash of lightning and a cloud of smoke appeared, and Bill was off to Heaven. Heaven was a place high above the clouds, where angels were drifting about playing their harps and singing in a beautiful chorus. It was a very nice place, Bill thought, but not as enticing as Hell.
Bill looked up, cupped his hands around his mouth and yelled for God and Bill Gates was sent to Hell for eternity.
Time passed, and God decided to check on the late billionaire to see how he was progressing in Hell. When he got there, he found Bill Gates shackled to a wall in a dark cave amid bone thin men and tongues of fire, being burned and tortured by demons.
"So, how is everything going?" God asked.
Bill responded with a crackling voice filled with anguish and disappointment, "This is awful! It's nothing like the Hell I visited the first time!! I can't believe this is happening! What happened to the other place....with the beaches and the mountains and the beautiful women?
"That was the demo," replied God.
#joke