The best jokes (1 to 10)
The best jokes rated by site visitors. Top rated jokes. These are the best jokes rated 1 to 10. NOTE jokes sometimes might seem not to be in order. Due to better performance joke top list is refreshed only once daily.
The wedding...
Attending a wedding for the first time, a little girl whispered to her mother, "Why is the bride dressed in white?"
"Because white is the color of happiness, and today is the happiest day of her life," her mother tried to explain, keeping it simple.
The child thought about this for a moment, then said, "So why's the groom wearing black?"
#joke
Bar girls and hockey players
A man walked into the produce section of his local supermarket and asked to buy half a head of lettuce. The boy working in that department told him that they only sold whole heads of lettuce.
The man was insistent that the boy ask his manager about the matter. Walking into the back room, the boy said to his manager, "Some asshole wants to buy a half a head of lettuce."
As he finished his sentence, he turned to find the man standing right behind him, so he added, "and this gentleman kindly offered to buy the other half."
The manager approved the deal and the man went on his way. Later the manager found the boy and said,
"I was impressed with the way you got yourself out of that situation earlier. We like people who think on their feet here. Where are you from, son?"
"Canada, sir," the boy replied.
"Well, why did you leave Canada?" the manager asked.
The boy said, "Sir, there's nothing but bar girls and hockey players up there."
"Really!" said the manager. "My wife is from Canada!
The boy replied, "No kidding???? Who did she play for?"
Joke found on forums.anandtech.com, posted on Sep 5, 2001 by forum user Wingznut
#joke
Scientific Study Shows
My local college just announced the end of a scientific study...
Results showed that out of 2,293,618,367 people, 94% are too lazy to actually read that number.
It was autumn, and the Indians
It was autumn, and the Indians on the remote reservation asked their new Chief if the winter was going to be cold or mild. Since he was an Indian Chief in a modern society, he had never been taught the old secrets, and when he looked at the sky, he couldn't tell what the hell the weather was going to be. Nevertheless, to be on the safe side,he replied to his tribe that the winter was indeed going to be cold and that the members of the village should collect wood to be prepared.
But also being a practical leader, after several days he got an idea.He went to the phone booth, called the National Weather Service and asked,
"Is the coming winter going to be cold?"
"It looks like this winter is going to be quite cold indeed," the Meteorologist at the weather service responded.
So the Chief went back to his people and told them to collect even more wood in order to be prepared.
One week later he called the National Weather Service again."Is it going to be a very cold winter?" he asked.
"Yes," the man at National Weather Service again replied,"it's going to be a very cold winter."
The Chief again went back to his people and ordered them to collect every scrap of wood they could find.
Two weeks later he called the National Weather Service again. "Are you absolutely sure that the winter is going to be very cold?"
"Absolutely," the man replied. "It looks like it's going to be one of the coldest winters ever."
"How can you be so sure?" the Chief asked.
The weatherman replied, "The Indians are collecting firewood like crazy".
#joke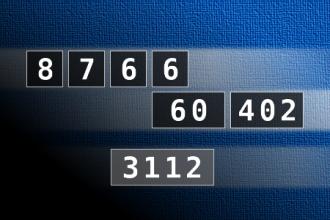 Calculate the number 3112
NUMBERMANIA: Calculate the number 3112 using numbers [8, 7, 6, 6, 60, 402] and basic arithmetic operations (+, -, *, /). Each of the numbers can be used only once.
In Over Two Months
Earl and Bubba are quietly sitting in a boat fishing, chewing tobacco and drinking beer when suddenly Bubba says, "Think I'm gonna divorce the wife... she ain't spoke to me in over 2 months."

Earl spits overboard, takes a long, slow sip of beer and says, "Better think it over... women like that are hard to find."
A secretary walked into her bo
A secretary walked into her boss's office and said, "I'm afraid I've got some bad news for you."
"Why do you always have to give me bad news?" he complained. "Tell me some good news for once."
"Alright, here's some good news," said the secretary. "You're not sterile."
#joke
A teenager takes a seat on a b...
A teenager takes a seat on a bench next to a middle aged man reading a newspaper. After a few minutes the man looks over and stares intentively on the youth's multicolored mohawk.
The teenager looks over at the man and says "What's the matter old man, never done anything interesting in your life?"
The man responded with "I once got drunk and had sex with a parrot, I was just wondering if you were my son."
#joke
A nice girl
I met a nice girl at a bar last night and asked her to call me when she made it home.
She must be homeless.
Photo by Nicole Law from Pexels
A very shy guy goes into a bar
A very shy guy goes into a bar and sees a beautiful woman sitting at the bar. After an hour of gathering up his courage he finally goes over to her and asks, tentatively, "Um, would you mind if I chatted with you for a while?"
She responds by yelling, at the top of her lungs, "No, I won't sleep with you tonight!" Everyone in the bar is now staring at them. Naturally, the guy is hopelessly and completely embarrassed and he slinks back to his table.
After a few minutes, the woman walks over to him and apologizes. She smiles at him and says, "I'm sorry if I embarrassed you. You see, I'm a graduate student in psychology and I'm studying how people respond to embarrassing situations."
To which he responds, at the top of his lungs, "What do you mean $200?"
#joke
Football Before Marriage
A wife told her husband that he put football before their marriage.
"That's not true," he said. "After all, this is our fourth season together."