Two Eagles, an old Indian chie...
Two Eagles, an old Indian chief, sat in his hut on the reservation smoking a ceremonial pipe and eying two US government officials sent to interview him.
One US official said to Chief Two Eagles, "You have observed the white man for 90 years. You've seen his wars and his technological advances. You've seen his progress, and the damage he has done."
The Chief nodded in agreement.
The official continued, "Considering all these events, in your opinion, where did the white man go wrong?"
The Chief stared at the two government officials for over a minute...
"When white man found the land, Indians were running it. No taxes, No debt. Plenty buffalo. Plenty beaver. Women did all the work. Medicine man free. Indian man spent all day hunting and fishing, all night having sex."
Then the chief leaned back and smiled before he added, "Only white man dumb enough to think he could improve system like that."
#joke
A screaming, yelling mob were
A screaming, yelling mob were tearing up the High Street.
A policeman stops one runner, and asks, "What's happening?"
"A lion has escaped," he gasps.
"Which way did it go?" enquires the bobby.
"Well we're not bloody chasing it!"
One bright, beautiful Sunday m
One bright, beautiful Sunday morning, everyone in the tiny town ofJohnstown got up early and went to the local church. Before theservice started, the townspeople were sitting in their pews andtalking about their lives, their families, etc.
Suddenly, the Devil himself appeared in front of the congregation.Everyone started screaming and running for the front entrance,trampling each other in a frantic effort to get away from evil incarnate.
Soon everyone was evacuated from the church except for one elderlygentleman who sat calmly in his pew, not moving, seemingly obliviousto the fact that God's ultimate enemy was in his presence.
Now this confused Satan a bit, so he walked up to the man and said,"Don't you know who I am?"
The man replied, "Yep, sure do."
Satan asked "Aren't you afraid of me?"
"Nope, sure ain't," said the man.
Satan was a little perturbed at this and queried, "Why aren't youafraid of me?"
The man calmly replied, "I been married to your sister for 48 years."
#joke
A blind man enters a Ladies Ba
A blind man enters a Ladies Bar by mistake. He finds his way to a bar stool and orders a drink. After sitting there for a while, he yells to the bartender, "Hey, you wanna hear a blonde joke?"
The bar immediately falls absolutely quiet.
In a very deep, husky voice, the woman next to him says, "Before you tell that joke, sir, you should know five things:
1 - The bartender is a blonde girl.
2 - The bouncer is a blonde gal.
3 - I'm a 6-foot tall, 200-pound blonde woman with a black belt in karate.
4 - The woman sitting next to me is blonde and is a professional weight lifter.
5 - The lady to your right is a blonde and is a professional wrestler.
Now think about it seriously, Mister. Do you still wanna tell that joke?"
The blind man thinks for a second, shakes his head, and declares, "Nah, not if I'm gonna have to explain it five times."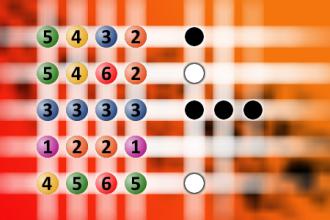 What a winning combination?
The computer chose a secret code (sequence of 4 digits from 1 to 6). Your goal is to find that code. Black circles indicate the number of hits on the right spot. White circles indicate the number of hits on the wrong spot.
A game of baseball
St. Peter and Satan were having an argument one day about baseball. Satan proposed a game to be played on neutral grounds between a select team from the heavenly host and his own hand-picked boys.
"Very well," said the gatekeeper of Heaven. "But you realize, I hope, that we've got all the good players and the best coaches."
"I know, and that's all right," Satan answered unperturbed. "We've got all the umpires."
#joke
The Boring Speaker
The after-dinner speaker just didn't have a Stop button. He burbled on and on and on, oblivious to his increasingly restless audience. Finally one of the more drunken diners hurled an empty wine bottle at him. It missed, and hit the Chairman instead.
As the Chairman slid slowly to the floor clutching his head, he was heard to murmur, "Hit me again, I can still hear him."
#joke
A big city lawyer went duck hu...
A big city lawyer went duck hunting in rural North Wairarapa. He shot and dropped a bird, but it fell into a farmer's field on the other side of a fence. As the lawyer climbed over the fence, an elderly farmer drove up on his tractor and asked him what he was doing.The litigator responded, "I shot a duck and it fell in this field, and now I'm going to retrieve it."
The old farmer replied, "This is my property, and you are not coming over here."
The indignant lawyer said, "I am one of the best trial attorneys in New Zealand and, if you don't let me get that duck, I'll sue you and take everything you own."
The old farmer smiled and said, "Apparently, you don't know how we settle disputes in North Wairarapa. We settle small disagreements like this with the 'Three Kick Rule.'"
The lawyer asked, "What is the 'Three Kick Rule'?"
The Farmer replied, "Well, because the dispute occurs on my land, I get to go first. I kick you three times and then you kick me three times and so on back and forth until someone gives up." The attorney quickly thought about the proposed contest and decided that he could easily take the old codger. He agreed to abide by the local custom.
The old farmer slowly climbed down from the tractor and walked up to the attorney.
His first kick planted the toe of his heavy steel toed work boot into the lawyer's groin and dropped him to his knees!
His second kick to the midriff sent the lawyer's last meal gushing from his mouth.
The lawyer was on all fours when the farmer's third kick to his rear end, sent him face-first into a fresh cow pie.
The lawyer summoned every bit of his will and remaining strength and very slowly managed to get to his feet. Wiping his face with the arm of his jacket, he said, "Okay, you old fart. Now it's my turn."
The old farmer smiled and said, "Nah, I give up. You can have the duck."
You Can Stay
The doorbell rings. A man opens the door and there's his mother-in-law on the front step.
She asks, "Can I stay here for a few days?"
The man says, "Sure you can." And he closes the door.
Farmer Joe decided his injurie...
Farmer Joe decided his injuries from the accident were serious enough totake the trucking company, responsible for the accident, to court. In court, the trucking company's fancy lawyer was questioning FarmerJoe. "Didn't you say, 'I'm fine', at the scene of the accident?" asked the lawyer.
Farmer Joe responded, "Well, I'll tell you what happened. I had just loaded my favorite mule Bessie into the..."
"I didn't ask for a long, drawn-out story," the lawyer interrupted,"just answer the question. Did you not say, at the scene of the accident,'I'm fine'!"
Farmer Joe said, "Well, I had just got Bessie into the trailer and Iwas driving down the road..."
The lawyer interrupted again and said, "Judge, I am trying to establishthe fact that, at the scene of the accident, this man told the HighwayPatrolman on the scene that he was just fine. Now, several weeks afterthe accident, he is trying to sue my client. I believe he is a fraud.Please tell him to simply answer the question."
By this time the Judge was fairly interested in Farmer Joe's answer andsaid to the lawyer, "I'd like to hear what he has to say about his favorite mule Bessie."
Joe thanked the Judge and proceeded, "Well, as I was saying, I had justloaded Bessie, my favorite mule, into the trailer and was driving herdown the highway when this huge semi-truck and trailer ran the stop sign andsmacked my truck right in the side."
He continued, "I was thrown into one ditch and Bessie was thrown intothe other. I was hurting real bad and didn't want to move. However, I couldhear ole Bessie moaning and groaning. I knew she was in terrible shapejust by her groans.
Shortly after the accident a Highway Patrolman came on the scene. Hecould hear Bessie moaning and groaning so he went over to her. After helooked at her, he took out his gun and shot her between the eyes. Then, hecame across the road with his gun in his hand, looked at me and said, 'Yourmule was in such bad shape I had to shoot her. How are you feeling?'"