The best jokes (1 to 10)
The best jokes rated by site visitors. Top rated jokes. These are the best jokes rated 1 to 10. NOTE jokes sometimes might seem not to be in order. Due to better performance joke top list is refreshed only once daily.
A man went to a psychiatrist f
A man went to a psychiatrist for his phobia.
"Doc," he said, "I've got trouble. Every time I get into bed, I think there's somebody under it. I get under the bed, I think there's somebody on top of it. Top, under, top, under. You gotta help me, I'm going crazy!"
"Just put yourself in my hands for two years," said the shrink, "Come to me three times a week, and I'll cure your fears."
"How much do you charge?"
"A hundred dollars per visit."
"I'll sleep on it," said the man.
Six months later the doctor met the man on the street.
"Why didn't you ever come to see me again?" asked the psychiatrist.
"For a hundred buck's a visit? A bartender cured me for ten dollars."
"Is that so! How?"
"He told me to cut the legs off the bed!"
An 18th-century vagabond in En
An 18th-century vagabond in England, exhausted and famished, came to a roadside Inn with a sign reading: "George and the Dragon." He knocked.
The Innkeeper's wife stuck her head out a window. "Could ye spare some victuals?" He asked.
The woman glanced at his shabby, dirty clothes. "No!" she shouted.
"Could I have a pint of ale?"
"No!" she shouted.
"Could I at least sleep in your stable?"
"No!" she shouted again.
The vagabond said, "Might I please...?"
"What now?" the woman screeched, not allowing him to finish.
"D'ye suppose," he asked, "that I might have a word with George?"
#joke
The pilot was sitting in his s
The pilot was sitting in his seat and pulled out a .38 revolver. He placed it on top of the instrument panel, and then asked the navigator, "Do you know what I use this for?"
The navigator replied timidly, "No, what's it for?"
The pilot responded, "I use this on navigators who get me lost!"
The navigator proceeded to pull out a .45 and place it on his chart table.
The pilot asked, "What's that for?"
"To be honest sir," the navigator replied, "I'll know we're lost before you will."
#joke
I can not tell a lie...
A married man and his secretary were having a torrid affair. One afternoon they couldn't contain their passion, so they rushed over to her place where they spent the afternoon making passionate love. When they were finished, they fell asleep, not waking until 8 o'clock that night.
They got dressed quickly. Then the man asked his secretary to take his shoes outside and rub them on the lawn. Bewildered, she did as he asked, thinking him pretty weird.
The man finally got home and his wife met him at the door. Upset, she asked where he'd been. The man replied, "I can not tell a lie. My secretary and I are having an affair. Today we left work early, went to her place, spent the afternoon making love, and then fell asleep. That's why I'm late."
The wife looked at him, took notice of his shoes, and yelled, "I can see those are grass stains on your shoes. YOU LIAR! You've been playing golf again, haven't you?"
#joke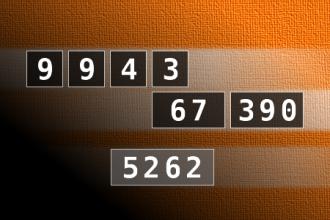 Calculate the number 5262
NUMBERMANIA: Calculate the number 5262 using numbers [9, 9, 4, 3, 67, 390] and basic arithmetic operations (+, -, *, /). Each of the numbers can be used only once.
One wish
A man walking along a California beach was deep in prayer. All of a sudden, he said out loud, "Lord, grant me one wish."
Suddenly the sky clouded above his head and in a booming voice, the Lord said, "Because you have TRIED to be faithful to me in all ways, I will grant you one wish."
The man said, "Build a bridge to Hawaii, so I can drive over anytime I want to."
The Lord said, "Your request is very materialistic. Think of the logistics of that kind of undertaking. The supports required to reach the bottom of the Pacific! The concrete and steel it would take! I can do it, but is hard for me to justify your desire for worldly things. Take a little more time and think of another wish. A wish you think would honor and glorify me."
The man thought about it for a long time. Finally, he said, "Lord, I wish that I could understand women. I want to know how they feel inside, what they are thinking when they give me the silent treatment, why they cry, what they mean when they say 'nothing,' and how I can make a woman truly happy."
After a few minutes, God said, "You want two lanes or four on that bridge?"
#joke
Doctors Meeting
A group of psychiatrists were attending a convention. Four of them decided to leave, and walked out together. One said to the other three, "People are always coming to us with their guilt and fears, but we have no one that we can go to when we have problems." The others agreed.
Then one said, "Since we are all professionals, why don't we take some time right now to hear each other out?"
The other three agreed.
The first then confessed, "I have an uncontrollable desire to kill my patients."
The second psychiatrist said, "I love expensive things and so I find ways to cheat my patients out of their money whenever I can so I can buy the things I want."
The third followed with, "I'm involved with selling drugs and often get my patients to sell them for me."
The fourth psychiatrist then confessed, "I know I'm not supposed to, but no matter how hard I try, I can't keep a secret..."
A man went to the Police Stati
A man went to the Police Station wishing to speak with the burglar who had broken into his house the night before.
"You'll get your chance in court," said the Desk Sergeant.
"No, no, no!" said the man. "I want to know how he got into the house without waking my wife. I've been trying to do that for years!"
#joke
The children were lined up in...
The children were lined up in the cafeteria of a Catholic elementary school for lunch. At the head of the table was a large pile of apples.. The nun made a note, and posted on the apple tray: 'Take only ONE . God is watching.'
Moving further along the lunch line, at the other end of the table was a large pile of chocolate chip cookies.
A child had written a note, 'Take all you want. God is watching the apples'.
#joke
Why English Is Tough
Twenty-one reasons why English is hard to learn.
1. The bandage was wound around the wound.
2. The farm was used to produce produce.
3. The dump was so full it had to refuse more refuse.
4. We must polish the Polish furniture.
5. He could lead if he would get the lead out.
6. The soldier decided to desert his dessert in the desert.
7. Since there was no time like the present, he thought it was time to present the present.
8. A bass was painted on the head of the bass drum.
9. When shot at, the dove dove into the bushes.
10. I did not object to the object.
11. The insurance was invalid for the invalid.
12. There was a row among the oarsmen on how to row.
13. They were too close to the door to close it.
14. The buck does funny things when does are present.
15. A seamstress and a sewer fell down into a sewer line.
16. To help with planting, the farmer taught his sow to sow.
17. The wind was too strong to wind the sail.
18. After a number of injections my jaw got number.
19. Upon seeing the tear in the painting I shed a tear.
20. I had to subject the subject to a series of tests.
21. How can I intimate this to my most intimate friend?
#joke
Silence is Golden
Silence is golden...
Unless you have children...
If that is the case, silence is suspicious.