The best jokes (1 to 10)
The best jokes rated by site visitors. Top rated jokes. These are the best jokes rated 1 to 10. NOTE jokes sometimes might seem not to be in order. Due to better performance joke top list is refreshed only once daily.
A little old lady was running...
A little old lady was running up and down the halls in a nursing home. As she walked, she would flip up the hem of her nightgown and say, "Supersex!" She walked up to an elderly man in a wheelchair. Flipping her gown at him, she said, "Supersex!"
He sat silently for a moment or two and finally answered, "I'll take the soup."
#joke
One wish
A man walking along a California beach was deep in prayer. All of a sudden, he said out loud, "Lord, grant me one wish."
Suddenly the sky clouded above his head and in a booming voice, the Lord said, "Because you have TRIED to be faithful to me in all ways, I will grant you one wish."
The man said, "Build a bridge to Hawaii, so I can drive over anytime I want to."
The Lord said, "Your request is very materialistic. Think of the logistics of that kind of undertaking. The supports required to reach the bottom of the Pacific! The concrete and steel it would take! I can do it, but is hard for me to justify your desire for worldly things. Take a little more time and think of another wish. A wish you think would honor and glorify me."
The man thought about it for a long time. Finally, he said, "Lord, I wish that I could understand women. I want to know how they feel inside, what they are thinking when they give me the silent treatment, why they cry, what they mean when they say 'nothing,' and how I can make a woman truly happy."
After a few minutes, God said, "You want two lanes or four on that bridge?"
#joke
Launderette reunion
Two elderly ladies meet at the launderette after not seeing one another for some time. After inquiring about each other's health, one asked how the other's husband was doing.
"Oh! Ted died last week. He went out to the garden to dig up a cabbage for dinner, had a heart attack and dropped down dead right there in the middle of the vegetable patch!"
"Oh dear! I'm so very sorry," replied her friend. "What did you do?"
"Opened a can of peas instead."
#joke
What did the drummer call his...
What did the drummer call his twin daughters?
- Anna one, Anna two...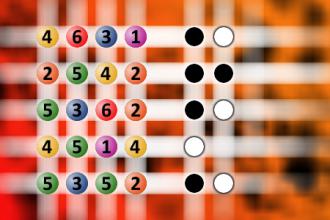 Find the right combination
The computer chose a secret code (sequence of 4 digits from 1 to 6). Your goal is to find that code. Black circles indicate the number of hits on the right spot. White circles indicate the number of hits on the wrong spot.
A big city lawyer went duck hu...
A big city lawyer went duck hunting in rural North Wairarapa. He shot and dropped a bird, but it fell into a farmer's field on the other side of a fence. As the lawyer climbed over the fence, an elderly farmer drove up on his tractor and asked him what he was doing.The litigator responded, "I shot a duck and it fell in this field, and now I'm going to retrieve it."
The old farmer replied, "This is my property, and you are not coming over here."
The indignant lawyer said, "I am one of the best trial attorneys in New Zealand and, if you don't let me get that duck, I'll sue you and take everything you own."
The old farmer smiled and said, "Apparently, you don't know how we settle disputes in North Wairarapa. We settle small disagreements like this with the 'Three Kick Rule.'"
The lawyer asked, "What is the 'Three Kick Rule'?"
The Farmer replied, "Well, because the dispute occurs on my land, I get to go first. I kick you three times and then you kick me three times and so on back and forth until someone gives up." The attorney quickly thought about the proposed contest and decided that he could easily take the old codger. He agreed to abide by the local custom.
The old farmer slowly climbed down from the tractor and walked up to the attorney.
His first kick planted the toe of his heavy steel toed work boot into the lawyer's groin and dropped him to his knees!
His second kick to the midriff sent the lawyer's last meal gushing from his mouth.
The lawyer was on all fours when the farmer's third kick to his rear end, sent him face-first into a fresh cow pie.
The lawyer summoned every bit of his will and remaining strength and very slowly managed to get to his feet. Wiping his face with the arm of his jacket, he said, "Okay, you old fart. Now it's my turn."
The old farmer smiled and said, "Nah, I give up. You can have the duck."
On a plane bound for New York
On a plane bound for New York the flight attendant approached a blonde sitting in the first class section and requested that she move to coach since she did not have a first class ticket.
The blonde replied, "I'm blonde; I'm beautiful; I'm going to New York; and I'm not moving."
Not wanting to argue with a customer, the flight attendant asked the co-pilot to speak with her. He went to talk with the woman, asking her to please move out of the first class section.
Again, the blonde replied, "I'm blonde; I'm beautiful; I'm going to New York, and I'm not moving."
The co-pilot returned to the cockpit and asked the captain what he should do. The captain said, "I'm married to a blonde, and I know how to handle this."
He went to the first class section and whispered in the blonde's ear. She immediately jumped up and ran to the coach section mumbling to herself, "Why didn't someone just say so?"
Surprised, the flight attendant and the co-pilot asked what he said to her that finally convinced her to move from her seat.
He said, "I told her the first class section wasn't going to New York."
At the Sunday morning church s
At the Sunday morning church service, the minister asked if anyone in thecongregation would like to express praise for answered prayers.
A lady stood and walked to the podium. She said, "I have a Praise.
Two months ago, my husband, Tom, had a terrible bicycle crash and hisscrotum was completely crushed. The pain was terrible and the doctorsdidn't know if they could help him."
You could hear a muffled gasp from all the men in the congregation as theyimagined the pain that poor Tom must have experienced.
"Tom was unable to hold me or the children," she went on, "and everymovement caused him terrible pain. We prayed as the doctors performed avery delicate operation, which lasted for over five hours, and it turnedout they were able to piece together the crushed remnants of Tom's scrotum,and wrap wire around it to hold it in place."
Again, the men in the congregation were unnerved and squirmed uncomfortablyas they imagined the horrible surgery that was performed on Tom.
"Now," she announced in a quavering voice, "thank the Lord, after sixweeks, Tom is now out of the hospital and the doctors say that with time,his scrotum should recover completely."
All the men sighed with relief.
The minister rose and tentatively asked if anyone else had something tosay. A man stood up and walked slowly to the podium.
He said, "I'm Tom."
The entire congregation held its breath. "I just want to tell my wife thatthe word is sternum."
A little girl asked her father...
A little girl asked her father, "Daddy? Do all Fairy Tales begin with Once Upon A Time?"
He replied, "No, there is a whole series of Fairy Tales that begin with 'If Elected I promise...'"
I can not tell a lie...
A married man and his secretary were having a torrid affair. One afternoon they couldn't contain their passion, so they rushed over to her place where they spent the afternoon making passionate love. When they were finished, they fell asleep, not waking until 8 o'clock that night.
They got dressed quickly. Then the man asked his secretary to take his shoes outside and rub them on the lawn. Bewildered, she did as he asked, thinking him pretty weird.
The man finally got home and his wife met him at the door. Upset, she asked where he'd been. The man replied, "I can not tell a lie. My secretary and I are having an affair. Today we left work early, went to her place, spent the afternoon making love, and then fell asleep. That's why I'm late."
The wife looked at him, took notice of his shoes, and yelled, "I can see those are grass stains on your shoes. YOU LIAR! You've been playing golf again, haven't you?"
#joke
The Chinese Doctor & The Lawyer
A Chinese Doctor can't find a job in a Hospital in the US, so he opens his own clinic and puts a sign outside
'GET TREATMENT FOR $20 - IF NOT CURED GET BACK $100.'
An American lawyer thinks this is a great opportunity to earn $100 and goes to the clinic.
Lawyer: 'I have lost my sense of taste.'
Chinese: 'Nurse, bring medicine from box No. 22 and put 3 drops in patient's mouth.'
Lawyer: 'Ugh. this is kerosene.'
Chinese: 'Congrats, your sense of taste is restored. Give me $20.'
The annoyed lawyer goes back after a few days to recover his money.
Lawyer: 'I have lost my memory. I cannot remember anything.'
Chinese: 'Nurse, bring medicine from box no. 22 and put 3 drops in his mouth.'
Lawyer (annoyed): 'This is kerosene. You gave this to me last time for restoring my taste.'
Chinese: 'Congrats. You got your memory back. Give me $20.'
The fuming lawyer pays him, and then comes back a week later determined to get back $100.
Lawyer: 'My eyesight has become very weak I can't see at all.'
Chinese: 'Well, I don't have any medicine for that, so take this $100.'
Lawyer (staring at the note): 'But this is $20, not $100!!'
Chinese: 'Congrats, your eyesight is restored. Give me $20'