A man asked his doctor if he t...
A man asked his doctor if he thought he'd live to be a hundred. The doctor asked the man, "Do you smoke or drink?"
"No," he replied, "I've never done either."
"Do you gamble, drive fast cars, and fool around with women?" inquired the doctor.
"No, I've never done any of those things either."
"Well then," said the doctor, "what do you want to live to be a hundred for?"
Experimental Pill
A lady goes to the doctor and complains her husband is losing interest in sex.
He gives her a pill but warns her that it's still experimental. He tells her to slip it in his mashed potatoes at dinner. At dinner that night, she does just that.
About a week later she's back at the doctor and tells him, "The pill worked great! I put it in his mashed potatoes like you said.
It wasn't five minutes later that he jumped up, pushed all the food and dishes to the floor, grabbed me, ripped off all my clothes and ravaged me right there on the table."
The doctor says, "Oh dear -- I'm sorry, we didn't realize the pill
was that strong. The foundation will be glad to pay for any damages."
The lady replied, "That's very kind - but I don't think the restaurant will let us back in anyway."
Sitting on the edge of the hig...
Sitting on the edge of the highway waiting to catch speeders, a state police officer saw a car driving along at 22 M.P.H. He thinks to himself, that car is just as dangerous as a speeder. So, he turns his lights on and pulls the car over. Approaching the car, he notices there are 5 old ladies, two at the front and 3 at the back, wide eyed and looking like ghosts.
The driver, obviously confused, said, "Officer, I don't understand, Iwasn't doing over the speed limit! What did you pull me over for?"
"Ma'am," the officer said, "You should know that driving slower than the speed limit can also be dangerous".
"Slower than the speed limit? No sir! I was doing exactly 22 miles an hour", the old woman said proudly.
The officer, trying not to laugh, explains that 22 is the route number, not the speed limit. A little embarrassed, the woman smiled and thanked the officer for pointing out her error.
"Before I go Ma'am, I have to ask, is everyone ok? These women seem badly shaken and haven't said a word since I pulled you over."
"Oh! they'll be all right in a minute, officer. We just got off Route142" ...
#joke
Limited Funds
"Hey Alexa, can you check my bank account and see what Apple product I can afford to buy...."
Alexa: "Apple Juice."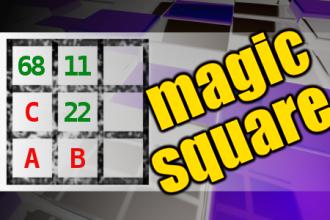 MAGIC SQUARE: Calculate A-B*C
The aim is to place the some numbers from the list (11, 13, 16, 20, 22, 25, 43, 61, 66, 68, 71, 80, 84) into the empty squares and squares marked with A, B an C. Sum of each row and column should be equal. All the numbers of the magic square must be different. Find values for A, B, and C. Solution is A-B*C.
A funeral service is being hel...
A funeral service is being held in a synagogue for a woman who has just passed away. At the end of the service, the pall bearers are carrying the casket out when they accidentally bump into a wall jarring the casket.
They hear a faint moan. They open the casket and find that the woman is actually alive. She lives for 10 more years and then dies.
A ceremony is again held at the same synagogue and at the end of the ceremony the pall bearers are again carrying the casket.
As they are walking the husband cries out, "Watch out for the wall!"
#joke
A blonde was playing Trivial P...
A blonde was playing Trivial Pursuit one night.
It was her turn, she rolled the dice and landed on "Science & Nature".
Her question was, "If you are in a vacuum and someone calls your name, can you hear it?"
She thought for a time, and then asked, "Is it on or off?"
Tom had this problem of gettin...
Tom had this problem of getting up late in the morning and was always late for work. His boss was mad at him and threatened to fire him if he didn't do something about it.
So Tom went to his doctor who gave him a pill and told him to take it before he went to bed. Tom slept well and in fact beat the alarm in the morning. He had a leisurely breakfast and drove cheerfully to work. "Boss", he said, "The pill actually worked!"
"That's all fine" said the boss, "But where were you yesterday?"
Marriage Lottery
"Do you believe marriage is a lottery?"
"No... it's not. In a lottery, a man is supposed to have a chance."
"He has all the virtues I disl
"He has all the virtues I dislike and none of the vices I admire."
Winston Churchill
"A modest little person, with much to be modest about."
Winston Churchill
"I have never killed a man, but I have read many obituaries with great pleasure."
Clarence Darrow
"He has never been known to use a word that might send a reader to the dictionary."
William Faulkner (about Ernest Hemingway)
"Poor Faulkner. Does he really think big emotions come from big words?"
Ernest Hemingway (about William Faulkner)
"Thank you for sending me a copy of your book; I'll waste no time reading it."
Moses Hadas
"He can compress the most words into the smallest idea of any man I know."
Abraham Lincoln
"I've had a perfectly wonderful evening. But this wasn't it."
Groucho Marx
"I didn't attend the funeral, but I sent a nice letter saying I approved of it."
Mark Twain
"He has no enemies, but is intensely disliked by his friends."
Oscar Wilde
"I am enclosing two tickets to the first night of my new play, bring a friend... if you have one."
George Bernard Shaw to Winston Churchill
"Cannot possibly attend first night, will attend second... if there is one."
Winston Churchill, in response
"I feel so miserable without you, it's almost like having you here."
Stephen Bishop
"He is a self-made man and worships his creator."
John Bright
"I've just learned about his illness. Let's hope it's nothing trivial."
Irvin S. Cobb
"He is not only dull himself, he is the cause of dullness in others."
Samuel Johnson
"He is simply a shiver looking for a spine to run up."
Paul Keating
"He had delusions of adequacy."
Walter Kerr
"There's nothing wrong with you that reincarnation won't cure."
Jack E. Leonard
"He has the attention span of a lightning bolt."
Robert Redford
"They never open their mouths without subtracting from the sum of human knowledge."
Thomas Brackett Reed
"He inherited some good instincts from his Quaker forebears, but by diligent hard work, he overcame them."
James Reston (about Richard Nixon)
"In order to avoid being called a flirt, she always yielded easily."
Charles, Count Talleyrand
"He loves nature in spite of what it did to him."
Forrest Tucker
"Why do you sit there looking like an envelope without any address on it?"
Mark Twain
"His mother should have thrown him away and kept the stork."
Mae West
"Some cause happiness wherever they go; others, whenever they go."
Oscar Wilde
"He uses statistics as a drunken man uses lamp-posts... for support rather than illumination."
Andrew Lang (1844-1912)
"He has Van Gogh's ear for music."
Billy Wilder
#joke
Grandmother....Is that you?
A woman goes to the local psychic in hopes of contacting her dearly departed grandmother. The psychic's eyelids begin fluttering, her voice begins warbling, her hands float up above the table, and she begins moaning. Eventually, a coherent voice emanates, saying, "Granddaughter? Are you there?"
The customer, wide-eyed and on the edge of her seat, responds, "Grandmother? Is that you?"
"Yes granddaughter, it's me."
"It's really, really you, grandmother?", the woman repeats.
"Yes, it's really me, granddaughter."
The woman looks puzzled, "You're sure it's you, grandmother?"
"Yes, granddaughter, I'm sure it's me."
The woman pauses a moment, "Grandmother, I have just one question for you."
"Anything, my child."
"Grandmother, when did you learn to speak English?"
#joke