Be rady for Thanksgiving
, check out our latest
Thanksgiving jokes of 2021
on:
Thanksgiving jokes collection
The new CEO...
Morris had just been hired as the new CEO of a large high tech corporation. The CEO who was stepping down met with him privately and presented him with three envelopes number 1, 2 and 3. "Open these if you run up against a problem you don't think you can solve," the departing CEO said.
Things went along pretty smoothly, but six months later, sales took a downturn and Morris was really catching a lot of heat. About at his wit's end, he remembered the envelopes. He went to his drawer and took out the first envelope. The message read, "Blame your predecessor." Morris called a press conference and tactfully laid the blame at the feet of the previous CEO. Satisfied with his comments, the press, and Wall Street, responded positively, sales began to pick up and the problem was soon behind him.
About a year later, the company was again experiencing a slight dip in sales, combined with serious product problems. Having learned from his previous experience, the CEO quickly opened the second envelope. The message read, "Reorganize." This he did, and the company quickly rebounded.
After several consecutive profitable quarters, the company once again fell on difficult times. Morris went to his office, closed the door and opened the third envelope. The message said, "Prepare three envelopes."
#joke
The Statue
A woman was in bed with her lover when she heard her husband opening the front door.
"Hurry!" she said. "Stand in the corner." She quickly rubbed baby oil all over him and then she dusted him with talcum powder. "Don't move until I tell you to," she whispered. "Just pretend you're a statue."
"What's this honey?" the husband inquired as he entered the room.
"Oh, its just a statue," she replied nonchalantly. "The Smiths bought one for their bedroom. I liked it so much, I got one for us too."

No more was said about the statue, not even later that night when they went to sleep. Around two in the morning the husband got out of bed, went to the kitchen and returned a while later with a sandwich and a glass of milk. "Here," he said to the 'statue', "eat something. I stood like an idiot at the Smith's for three days and nobody offered me so much as a glass of water".
#joke
Southwest
A mother and her very young son were flying Southwest Airlines from Kansas City to Chicago. The little boy (who had been looking out the window) turned to his mother and asked, "If big dogs have baby dogs, and big cats have baby cats, why don't big airplanes have baby airplanes?"
The mother (who couldn't think of an answer) told her son to ask the stewardess.
So the boy went down the aisle and asked the stewardess. The stewardess, who was very busy at the time, smiled and said, "Did your Mom tell you to ask me?"
The boy said, "yes she did."

"Well, then, you go and tell your mother that there are no baby airplanes because Southwest always pulls out on time. Have your Mom explain that to you."
#joke
Connected On the First Try
I got the strangest recording when I called the phone company the other day.
It said, "You have been connected to the correct department on the first try. This is against company policy. Please hang up and redial."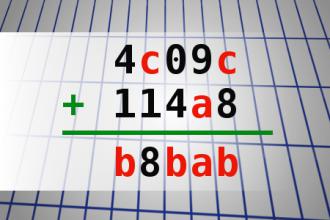 Find number abc
If 4c09c + 114a8 = b8bab find number abc. Multiple solutions may exist.
A devoted wife had spent her l
A devoted wife had spent her lifetime taking care of her husband.
When he was slipping in and out of a coma for several months, she stayed by his bedside every single day. When he came to, he motioned for her to come nearer.
As she sat by him, he said, "You know what? You have been with me all through the bad times.
"When I got fired, you were there to support me. When my business failed, you were there. When I got shot, you were by my side. When we lost the house, you gave me support. When my health started failing, you were still by my side.
"You know what?"
"What, dear?" his wife asked gently.
"I think you bring me bad luck."
#joke
Experimental Pill
A lady goes to the doctor and complains her husband is losing interest in sex.
He gives her a pill but warns her that it's still experimental. He tells her to slip it in his mashed potatoes at dinner. At dinner that night, she does just that.
About a week later she's back at the doctor and tells him, "The pill worked great! I put it in his mashed potatoes like you said.
It wasn't five minutes later that he jumped up, pushed all the food and dishes to the floor, grabbed me, ripped off all my clothes and ravaged me right there on the table."
The doctor says, "Oh dear -- I'm sorry, we didn't realize the pill
was that strong. The foundation will be glad to pay for any damages."
The lady replied, "That's very kind - but I don't think the restaurant will let us back in anyway."
A man asked his doctor if he t
A man asked his doctor if he thought he'd live to be a hundred. The doctor asked the man, "Do you smoke or drink?"
"No," he replied, "I've never done either."
"Do you gamble, drive fast cars, and fool around with women?" inquired the doctor.
"No, I've never done any of those things either."
"Well then," said the doctor, "what do you want to live to be a hundred for?"

Limited Funds
"Hey Alexa, can you check my bank account and see what Apple product I can afford to buy...."
Alexa: "Apple Juice."
Sitting on the edge of the hig
Sitting on the edge of the highway waiting to catch speeders, a state police officer saw a car driving along at 22 M.P.H. He thinks to himself, that car is just as dangerous as a speeder. So, he turns his lights on and pulls the car over. Approaching the car, he notices there are 5 old ladies, two at the front and 3 at the back, wide eyed and looking like ghosts.
The driver, obviously confused, said, "Officer, I don't understand, Iwasn't doing over the speed limit! What did you pull me over for?"
"Ma'am," the officer said, "You should know that driving slower than the speed limit can also be dangerous".
"Slower than the speed limit? No sir! I was doing exactly 22 miles an hour", the old woman said proudly.
The officer, trying not to laugh, explains that 22 is the route number, not the speed limit. A little embarrassed, the woman smiled and thanked the officer for pointing out her error.
"Before I go Ma'am, I have to ask, is everyone ok? These women seem badly shaken and haven't said a word since I pulled you over."
"Oh! they'll be all right in a minute, officer. We just got off Route142" ...
#joke
Tom had this problem of gettin...
Tom had this problem of getting up late in the morning and was always late for work. His boss was mad at him and threatened to fire him if he didn't do something about it.
So Tom went to his doctor who gave him a pill and told him to take it before he went to bed. Tom slept well and in fact beat the alarm in the morning. He had a leisurely breakfast and drove cheerfully to work. "Boss", he said, "The pill actually worked!"
"That's all fine" said the boss, "But where were you yesterday?"