Taxi Driver In Heaven
A priest and a taxi driver both died and went to heaven. St. Peter was at the Pearly gates waiting for them.
'Come with me', said St. Peter to the taxi driver.
The taxi driver did as he was told and followed St. Peter to a mansion. It had anything you could imagine from a bowling alley to an olympic size pool.
'Wow, thank you', said the taxi driver.
Next, St. Peter led the priest to a rugged old shack with a bunk bed and a little old television set.
'Wait, I think you are a little mixed up', said the priest. 'Shouldn't I be the one who gets the mansion? After all I was a priest, went to church every day, and preached God's word.'
'Yes, that's true. But during your sermons people slept. When the taxi driver drove, everyone prayed.'
#joke
In a crowded city at a crowded
In a crowded city at a crowded bus stop, a stunningly beautiful young woman was waiting for the bus. She was decked out in a tight black leather mini skirt with matching leather boots and jacket. As the bus rolled up and it became her turn to get on the bus, she became aware that her skirt was too tight to allow her leg to come up to the height of the bus' first step.
So, slightly embarrassed and with a quick smile to the bus driver, she reached behind her and unzipped her skirt a little, thinking that this would give her enough slack to raise her leg.
Again she tried to make the step onto the bus only to discover she still could not make the step. So, a little more embarrassed, she once again reached behind her and unzipped her skirt a little more.
And for a second time she attempted the step and once again, much to her dismay, she could not raise her leg because of the tight skirt. So, with a coy little smile to the driver, she again unzipped the offending skirt to give a little more slack and again was unable to make the step.
About this time the big Texan that was behind her in the line picked her up easily from the waist and placed her lightly on the step of the bus.
The pretty young woman went ballistic and turned on the would-be hero, screeching at him, "How dare you touch my body! I don't even know who you are!!!"
At this the Texan drawled, "Well ma'am, normally I would agree with you but after you unzipped my fly three times, I kind of figured that we were friends."
#joke
A guy sees an advertisement in
A guy sees an advertisement in a pet-shop window: "Talking Centipede $100."
The guy goes in and buys it. He gets home, opens the box and asks the centipede if he wants to go for a beer.
The centipede doesn't answer, so the guy closes the lid, convinced he's been swindled. Thirty minutes later he decides to try again.
He raises his voice and shouts, "Do you want to go for a beer?"
The centipede pokes his head out of the box and says, "Pipe down! I heard you the first time. I'm putting on my shoes!"
One Monday morning a mailman i...
One Monday morning a mailman is walking the neighborhood on his usual route. As he approaches one of the homes he noticed that both cars were in the driveway. His wonder was cut short by Bob, the homeowner, coming out with a load of empty beer and liquor bottles. "Wow Bob, looks like you guys had one hell of a party last night." the mailman comments.
Bob in obvious pain replies, "Actually we had it Saturday night. This is the first I have felt like moving since 4:00 am Sunday morning. We had about fifteen couples from around the neighborhood over for Christmas Cheer and it got a bit wild. Hell, we got so drunk around midnight that we started playing WHO AM I."
The mailman thinks a moment and says, "How do you play that?"
Well all the guys go in the bedroom and we come out one at a time with a sheet covering us and only our "privates" showing through a hole in the sheet. Then the women try to guess who it is."
The mailman laughs and says, "Damn, I'm sorry I missed that."
Probably a good thing you did," Bob responds. "Your name came up four or five times."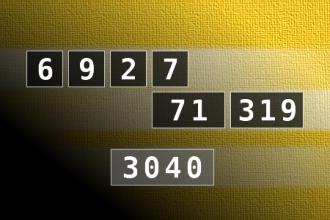 Calculate the number 3040
NUMBERMANIA: Calculate the number 3040 using numbers [6, 9, 2, 7, 71, 319] and basic arithmetic operations (+, -, *, /). Each of the numbers can be used only once.
A trip to the movies...
For the first time in many years, an old man traveled from his rural town to the city to attend a movie.
After buying his ticket, he stopped at the concession stand to purchase some popcorn. As he handed the attendant $1.50, he couldn't help but comment, "The last time I went to the movies, popcorn was only 15 cents."
"Well, sir," the attendant replied with a grin, "You're really going to enjoy yourself this evening. We have sound now."
#joke
"This year in the toy
"This year in the toy department, drones are a big hit. They are literally flying off the shelves."
A man comes into the ER and ye
A man comes into the ER and yells, "My wife's going to have her baby in the cab!" I grabbed my stuff, rushed out to the cab, lifted the lady's dress, and began to take off her underwear. Suddenly I noticed that there were several cabs, and I was in the wrong one.
-Dr. Mark MacDonald, San Antonio, TX
At the beginning of my shift I placed a stethoscope on an elderly and slightly deaf female patient's anterior chest wall. Big breaths," I instructed. Yes, they used to be," remorsefully replied the patient.
--Dr. Richard Byrnes, Seattle, WA
One day I had to be the bearer of bad news when I told a wife that her husband had died of a massive myocardial infarct. Not more than five minutes later, I heard her reporting to the rest of the family that he had died of a "massive internal fart."
--Dr. Susan Steinberg, Manitoba, Canada
I was performing a complete physical, including the visual acuity test. I placed the patient twenty feet from the chart and began, "Cover your right eye with your hand." He read the 20/20 line perfectly. Now your left." Again, a flawless read. Now both," I requested. There was silence. He couldn't even read the large E on the top line. I turned and discoveredthat he had done exactly what I had asked; he was standing there with both his eyes covered. I was laughing too hard to finish the exam.
--Dr. Matthew Theodropolous, Worcester, MA
During a patient's two week follow-up appointment with his cardiologist, he informed me, his doctor, that he was having trouble with one of his medications. Which one?" I asked. The patch. The nurse told me to put on a new one every six hours and now I'm running out of places to put it!" I had him quickly undress and discovered what I hoped I wouldn't see. Yes, the man had over fifty patches on his body! Now the instructions include removal of the old patch before applying a new one.
--Dr. Rebecca St. Clair, Norfolk, VA
While acquainting myself with a new elderly patient, I asked, "How long have you been bed-ridden?" After a look of complete confusion she answered ..Why, not for about twenty years -- when my husband was alive."
--Dr. Steven Swanson, Corvallis, OR
I was caring for a woman from Kentucky and asked, So, how's your breakfast this morning?" It's very good, except for the Kentucky Jelly. I can't seem to get used to the taste," the patient replied. I then asked to see the jelly and the woman produced a foil packet labeled "KY Jelly."
--Dr. Leonard Kransdorf, Detroit, MI
And Finally . . . .
A new, young MD doing his residency in OB was quite embarrassed performing female pelvic exams. To cover his embarrassment he had unconsciously formed a habit of whistling softly. The middle aged lady upon whom he was performing this exam suddenly burst out laughing and further embarrassed him. He looked up from his work and sheepishly said, "I'm sorry. Was I tickling you?" She replied, "No doctor, but the song you were whistling was 'I wish I was an Oscar Meyer Wiener"
--won't admit his name
Real Flight Announcements
Occasionally, airline attendants make an effort to make the "in-flight safety lecture" and their other announcements a bit more entertaining. Here are some real examples that have been heard or reported:
"There may be 50 ways to leave your lover, but there are only 4 ways out of this airplane..."
Pilot - "Folks, we have reached our cruising altitude now, so I am going to switch the seat belt sign off. Feel free to move about as you wish, but please stay inside the plane till we land ... it's a bit cold outside, and if you walk on the wings it affects the flight pattern."
And, after landing: "Thank you for flying Delta Business Express. We hope you enjoyed giving us the business as much as we enjoyed taking you for a ride."
As the plane landed and was coming to a stop at Washington National, a lone voice comes over the loudspeaker: "Whoa, big fella. WHOA!"
After a particularly rough landing during thunderstorms in Memphis, a flight attendant on a Northwest flight announced: "Please take care when opening the overhead compartments because, after a landing like that, sure as Hell everything has shifted."
From a Southwest Airlines employee.... "Welcome aboard Southwest Flight XXX to YYY. To operate your seatbelt, insert the metal tab into the buckle, and pull tight. It works just like every other seatbelt, and if you don't know how to operate one, you probably shouldn't be out in public unsupervised. In the event of a sudden loss of cabin pressure, oxygen masks will descend from the ceiling. Stop screaming, grab the mask, and pull it over your face. If you have a small child traveling with you, secure your mask before assisting with theirs. If you are traveling with two small children, decide now which one you love more.
Weather at our destination is 50 degrees with some broken clouds, but they'll try to have them fixed before we arrive. Thank you, and remember, nobody loves you, or your money, more than Southwest Airlines."
"As you exit the plane, please make sure to gather all of your belongings. Anything left behind will be distributed evenly among the flight attendants. Please do not leave children or spouses."
"Last one off the plane must clean it."
And from the pilot during his welcome message: "We are pleased to have some of the best flight attendants in the industry ...Unfortunately none of them are on this flight...!
Heard on Southwest Airlines just after a very hard landing in Salt Lake City: The flight attendant came on the intercom and said, "That was quite a bump and I know what ya'll are thinking. I'm here to tell you it wasn't the airline's fault, it wasn't the pilot's fault, it wasn't the flight attendants' fault.....it was the asphalt!"
Another flight Attendant's comment on a less than perfect landing: "We ask you to please remain seated as Captain Kangaroo bounces us to the terminal."
After a real crusher of a landing in Phoenix, the Flight Attendant came on with, "Ladies and Gentlemen, please remain in your seats until Captain Crash and the Crew have brought the aircraft to a screeching halt up against the gate. And, once the tire smoke has cleared and the warning bells are silenced, we'll open the door and you can pick your way through the wreckage to the terminal.
Part of a Flight Attendant's arrival announcement: "We'd like to thank you folks for flying with us today. And, the next time you get the insane urge to go blasting through the skies in a pressurized metal tube, we hope you'll think of us here at US Airways."
#joke
The latest mergers...
Are your investments in order? Below are some of the latest rumors from Wall Street. In the wake of the AOL/Time Warner deal, here are the latest mergers we can expect to see:
Hale Business Systems, Mary Kay Cosmetics, Fuller Brush, and W.R. Grace Company merge to become Hale Mary Fuller Grace.
Polygram Records, Warner Brothers, and Keebler Crackers merge to become Polly-Warner-Cracker.
3M and Goodyear merge to become MMMGood.
John Deere and Abitibi-Price merge to become Deere Abi.
Zippo Manufacturing, Audi Motors, Dofasco, and Dakota Mining merge to become Zip Audi Do Da.
Honeywell, Imasco, and Home Oil merge to become Honey I'm Home.
Denison Mines, and Alliance and Metal Mining merge to become Mine All Mine.
Federal Express and UPS merge to become FED UP.
Xerox and Wurlitzer will merge and begin manufacturing reproductive organs.
Fairchild Electronics and Honeywell Computers will merge and become Fairwell Honeychild.
3M, J.C. Penney and the Canadian Opera Company will merge and become 3 Penney Opera.
Knott's Berry Farm & National Organization of Women will merge and become Knott NOW!
#joke