The best jokes (1 to 10)
The best jokes rated by site visitors. Top rated jokes. These are the best jokes rated 1 to 10. NOTE jokes sometimes might seem not to be in order. Due to better performance joke top list is refreshed only once daily.
Last will and testament
An elderly gentleman was on his deathbed as his wife and three children and nurse stood close by.
Then he spoke:
"Bill, you take the Beverly Hills houses.
"Mary, you take the offices in the Center Center.
"Debra, the apartments over the L.A. Plaza are yours.
"To my dear wife, take all the residential buildings near downtown."
The nurse was really impressed. She said, "Your husband must have been quite a man, amassing so much property to leave to all of you."
And the wife responded, "What property? ... the schmuck had a paper route! !"
#joke
Where Are You From?
The cowboy lay sprawled across three entire seats in the posh Amarillo theatre. When the usher came by and noticed this he whispered to the cowboy, "Sorry, sir, but you're only allowed one seat." The cowboy groaned but didn't budge. The usher became more impatient. "Sir, if you don't get up from there, I'm going to have to call the manager. The cowboy just groaned.
The usher marched briskly back up the aisle. In a moment he returned with the manager. Together the two of them tried repeatedly to move the cowboy, but with no success. Finally, they summoned the police. The cop surveyed the situation briefly then asked, "All right buddy, what's you're name?"
"Sam," the cowboy moaned.
"Where ya from, Sam?"
With pain in his voice Sam replied.... "The balcony."
#joke
How's Norma?
A sweet grandmother telephoned St. Joseph 's Hospital. She timidly asked,
'Is it possible to speak to someone who can tell me how a patient is doing?'
The operator said, 'I'll be glad to help, dear. What's the name and room number?'
The grandmother, in her weak tremulous voice said, ''Norma Findlay, Room 302.'
The operator replied, 'Let me place you on hold while I check with her nurse.'
After a few minutes the operator returned to the phone and said, 'Oh, I have good news. Her nurse told me that Norma is doing very well.. Her blood pressure is fine; her blood work is normal and her physician, Dr. Cohen, has scheduled her to be discharged on Tuesday.'
The grandmother said, 'Thank you. That's wonderful! I was so worried! God bless you for the good news.'
The operator replied, 'You're more than welcome. Is Norma your daughter?'
The grandmother said, 'No, I'm Norma Findlay in 302. No one tells me s**t.'
Found on https://allnurses.com/norma-t270187/, posted on Mar 22, 2009 by HeartsOpenWide.
#joke
Last week, we took some friend
Last week, we took some friends out to a new restaurant, and noticed that the waiter who took our order carried a spoon in his shirt pocket. It seemed a little strange.
When the waiter brought our water and cutlery, I noticed he also had a spoon in his shirt pocket. Then I looked around and saw that all the staff had spoons in their pockets.
When the waiter came back to serve our soup I asked, "Why the spoon?" "Well, "he explained, "the restaurant's owners hired Andersen Consulting to revamp all our processes. After several months of analysis, they concluded that the spoon was the most frequently dropped piece of cutlery. It represents a drop frequency of approximately 3 spoons per table per hour. If our staff are better prepared, we can reduce the number of trips back to the kitchen and save 15 man-hours per shift."
As luck would have it, I dropped my spoon and he was able to replace it with his spare. "I'll get another spoon next time I go to the kitchen instead of making an extra trip to get it right now." I was impressed.
I also noticed that there was a string hanging out of the waiter's zip on his trousers. Looking around, I noticed that all the waiters had the same string hanging from their flies. So before he walked off, I asked the waiter, "Excuse me, but can you tell me why you have that string right there?"
"Oh, certainly!" Then he lowered his voice. "Not everyone is so observant. That consulting firm I mentioned also found out that we can save time in the rest-room. By tying this string to the tip of you know what, we can pull it out without touching it and eliminate the need to wash our hands, shortening the time spent in the rest-room by 76.39 per cent."
I asked "After you get it out, how do you put it back?"
"Well," he whispered, "I don't know about the others, but I usethe spoon."
#joke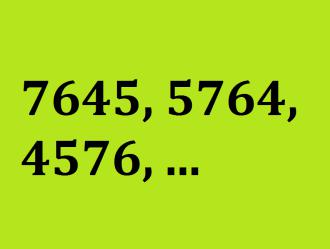 What is the next number in the series?
Look at the series (7645, 5764, 4576, ?), determine the pattern, and find the value of the next number!
The FBI agent was questioning
The FBI agent was questioning the bank teller after the bank had been robbed for the third time in a month by what appeared to be the same bandit.
"Did you notice anything special about the man?"
"Yes, he was better dressed each time!"
You Might Be A Redneck If 40
You might be a redneck if...
You think that Dom Perignon is a Mafia leader.
Your wife's hairdo was once ruined by a ceiling fan.
You go to your family reunion looking for a date.
Your Junior/Senior Prom had a Daycare.
You think the last words to The Star Spangled Banner are, "Gentlemen, start your engines."
You lit a match in the bathroom and your house exploded right off its wheels.
You had to remove a toothpick for your wedding pictures.
The bluebook value of your truck goes up and down, depending on how much gas it has in it.
You have to go outside to get something out of the 'fridge.
One of your kids was born on a pool table.
#joke
Talking Dog for Sale
A guy sees a sign in front of a house: "Talking Dog for Sale." He rings the bell and the owner tells him the dog is in the backyard.
The guy goes into the backyard and sees a black mutt just sitting there.
"You talk?" he asks.
"Yep," the mutt replies.
"So, what's your story?"
The mutt looks up and says, "Well, I discovered my gift of talking pretty young and I wanted to help the government, so I told the CIA about my gift, and in no time they had me jetting from country to country, sitting in rooms with spies and world leaders, because no one figured a dog would be eavesdropping. I was one of their most valuable spies eight years running.
The jetting around really tired me out, and I knew I wasn't getting any younger and I wanted to settle down. So I signed up for a job at the airport to do some undercover security work, mostly wandering near suspicious characters and listening in. I uncovered some incredible dealings there and was awarded a batch of medals. Had a wife, a mess of puppies, and now I'm just retired."
The guy is amazed. He goes back in and asks the owner what he wants for the dog.
The owner says, "Ten dollars."
The guy says, "This dog is amazing. Why on earth are you selling him, so cheap?"
The owner replies, "He's just a big liar. He didn't do any of that stuff."
#joke
An old blind cowboy wanders in
An old blind cowboy wanders into an all-girl biker bar by mistake…
He finds his way to a bar stool and orders a shot of Jack Daniels.
After sitting there for a while, he yells to the bartender, 'Hey, you wanna hear a blonde joke?'
The bar immediately falls absolutely silent.
In a very deep, husky voice, the woman next to him says, 'Before you tell that joke, Cowboy, I think it is only fair, given that you are blind, that you should know five things:
The bartender is a blonde girl with a baseball bat.
The bouncer is a blonde girl with a 'Billy-Club'.
I'm a 6-foot tall, 175-pound blonde woman with a black belt in karate.
The woman sitting next to me is blonde and a professional weight lifter.
The lady to your right is blonde and a professional wrestler.
'Now, think about it seriously, Cowboy... Do you still wanna tell that blonde joke?'
The blind cowboy thinks for a second, shakes his head and mutters,
'No...not if I'm gonna have to explain it five times...'
This is an actual job applicat
This is an actual job application that a 17 year old boy submitted to McDonald's in Florida... and they hired him because he was so honest and funny!
NAME: Greg Bulmash.
SEX: Not yet. Still waiting for the right person.
DESIRED POSITION: Company's President or Vice President. But seriously, whatever's available. If I was in a position to be picky, I wouldn't be applying here in the first place.
DESIRED SALARY: $185,000 a year plus stock options and a Michael Ovitz style severance package. If that's not possible, make an offer and we can haggle.
EDUCATION: Yes.
LAST POSITION HELD: Target for middle management hostility.
SALARY: Less than I'm worth.
MOST NOTABLE ACHIEVEMENT: My incredible collection of stolen pens and post-it notes.
REASON FOR LEAVING: It sucked.
HOURS AVAILABLE TO WORK: Any. PREFERRED HOURS: 1:30-3:30 p.m., Monday, Tuesday, and Thursday.
DO YOU HAVE ANY SPECIAL SKILLS?: Yes, but they're better suited to a more intimate environment.
MAY WE CONTACT YOUR CURRENT EMPLOYER?: If I had one, would I be here?
DO YOU HAVE ANY PHYSICAL CONDITIONS THAT WOULD PROHIBIT YOU FROM LIFTING UP TO 50 LBS?: Of what?
DO YOU HAVE A CAR?: I think the more appropriate question here would be "Do you have a car that runs?"
HAVE YOU RECEIVED ANY SPECIAL AWARDS OR RECOGNITION?: I may already be a winner of the Publishers Clearing house Sweepstakes.
DO YOU SMOKE?: On the job no, on my breaks yes.
WHAT WOULD YOU LIKE TO BE DOING IN FIVE YEARS?: Living in the Bahamas with a fabulously wealthy dumb sexy blonde super model who thinks I'm the greatest thing since sliced bread. Actually, I'd like to be doing that now.
DO YOU CERTIFY THAT THE ABOVE IS TRUE AND COMPLETE TO THE BEST OF YOUR KNOWLEDGE?: Yes. Absolutely.
SIGN HERE: Aries.

One Sunday morning George burs...
One Sunday morning George burst into the living room and said, "Dad! Mom! I have some great news for you! I am getting married to the most beautiful girl in town. She lives a block away and her name is Susan.
After dinner, George's dad took him aside, "Son, I have to talk with you. Look at your mother, George. She and I have been married 30 years, she's a wonderful wife and mother, but, she has never offered much excitement in the bedroom, so I used to fool around with women a lot.""Susan is actually your half sister, and I'm afraid you can't marry her." George was brokenhearted.
After eight months he eventually started dating girls again. A year later he came home and very proudly announced, "Diane said yes! We're getting married in June." Again his father insisted on another private conversation and broke the sad news. "Diane is your half sister too, George.
"I'm awfully sorry about this." George was livid! He finally decided to go to his mother with the news his father had shared.
"Dad has done so much harm. I guess I'm never going to get married," he complained. "Every time I fall in love, Dad tells me the girl is my half sister."
"Hee hee," his mother chuckled, shaking her head, "Don't pay any attention to what he says. He's not really your father."
#joke