The best jokes (1 to 10)
The best jokes rated by site visitors. Top rated jokes. These are the best jokes rated 1 to 10. NOTE jokes sometimes might seem not to be in order. Due to better performance joke top list is refreshed only once daily.
I didn't realize how bad of a
I didn't realize how bad of a driver I was until my navigation system said:
"IN 400 FEET, DO A SLIGHT RIGHT, STOP, AND LET ME OUT."
The wedding ring....
At the cocktail party, one woman said to another, "Aren't you wearing your wedding ring on the wrong finger?"
The other replied "Yes, I am, I married the wrong man."
A father put his three year ol
A father put his three year old daughter to bed, told her a story and listened to her prayers which she ended by saying, "God bless Mommy, God bless daddy, God bless grandma and good-bye grandpa."
The father asked, "Why did you say good-bye grandpa?"
The little girl said, "I don't know daddy, it just seemed like the thing to do."
The next day grandpa died.
The father thought it was a strange coincidence.
A few months later the father put the girl to bed and listened to her prayers, which went like this: "God bless Mommy, God Bless daddy, and good-bye grandma."
The next day the grandmother died.
"Oh, my gosh", thought the father, "this kid is in contact with the other side."
Several weeks later when the girl was going to bed the dad heard her say: "God bless Mommy and good-bye daddy."
He practically went into shock. He couldn't sleep all night and got up at the crack of dawn to go to his office. He was nervous as a cat all day, had lunch sent in and watched the clock.
He figured if he could get by until midnight he would be okay. He felt safe in the office, so instead of going home at the end of the day he stayed there, drinking coffee, looking at his watch and jumping at every sound. Finally midnight arrived, he breathed a sigh of relief and went home.
When he got home his wife said "I've never seen you work so late, what's the matter?"
He said, "I don't want to talk about it, I've just spent the worst day of my life."
She said, "You think you had a bad day, you'll never believe what happened to me. This morning the milkman dropped dead on our porch."
#joke
Everyone on a passenger ship c
Everyone on a passenger ship could see a bearded man on a small island, shouting and desperately waving his hands.
"Who is that man?" a passenger asked the ship's captain. "Why is he so upset?"
"I have no idea," the Captain replied, "but, every year when we pass by here, he goes crazy."
#joke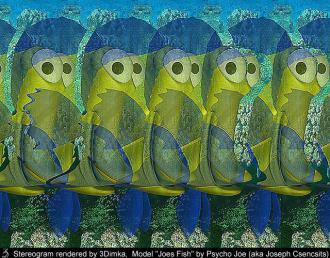 What hides this stereogram?
Stereogram - 3D Image
Two Kinds of People
There are two kinds of people. Those who wake up in the morning and say, "Good morning, Lord," and those who wake up in the morning and say, "Good Lord, it's morning."

The products which we offer are handcrafted items made of natural materials such as finest quality wool from the Sharr Mountains, silk, cotton and lace. It is all blended with natural soap....and...creativity. Here are some beautiful and unique fashion accessories.

How Old Are You?
A woman walked up to a little old man rocking in a chair on his porch.
"I couldn't help noticing how happy you look," she said. "What's your secret for a long happy life?"
"I smoke three packs of cigarettes a day," he said. "I also drink a case of whiskey a week, eat fatty foods, and never exercise."
"That's amazing," the woman said. "How old are you?'
"Twenty-six," he said.
#joke
A man is out shopping and disc
A man is out shopping and discovers a new brand of Olympic condoms. Clearly impressed, he buys a pack. Upon getting home he announces to his wife the purchase he just made.
"Olympic condoms?" she blurts. "What makes them so special?"
"There are three colors", he replies, "Gold, Silver and Bronze."
"What color are you going to wear tonight?" she asks cheekily.
"Gold of course," says the man proudly.
The wife responds, "Really? Why don't you wear Silver? It would be nice if you came second for a change."
#joke
This morning as I was buttonin
This morning as I was buttoning my shirt, a button fell off.
After that, I picked up my briefcase, and the handle fell off.
Then I went to open the door, and the doorknob fell off.
I went to get into my car, and the door handle came off in my hand.
Now I'm afraid to pee.
#joke
God gave men a penis and a brain
God gave men a penis and a brain, but unfortunately not enough blood supply to run both at the same time.
Robin Williams (1951-2014)
Picture: REX
April Fool's Day - Here are 5 pranks you can play on people
1. Hard boil all the eggs in the carton and place them back in the refrigerator.
2. Paint a bar of soap completely with clear nail polish so it won't suds up.
3. Turn every setting in someone's car to the maximum: the heat, the radio, the wipers, the seats, etc.
4. Place a small piece of Post-it note over the ball under someone's computer mouse so that it won't work.
5. Switch the handles on the refrigerator to the side that doesn't open.