The best jokes (1 to 10)
The best jokes rated by site visitors. Top rated jokes. These are the best jokes rated 1 to 10. NOTE jokes sometimes might seem not to be in order. Due to better performance joke top list is refreshed only once daily.
Please stand up
One day a college professor of Psychology was greeting his new college class. He stood up in front of the class and said, "Would everyone who thinks he or she is stupid please stand up?"
After a minute or so of silence, a young man stood up.
"Well, good morning. So, you actually think you're a moron?" the professor asked.
The kid replied, "No sir, I just didn't want to see you standing there all by yourself."
#joke
Advice from children...
1. Never trust a dog to watch your food. - Patrick, age 10
2. When your dad is mad and asks you, 'Do I look stupid?' don't answer him. - Michael, 14
3. Never tell your mom her diet's not working. - Michael, 14
4. Stay away from prunes. - Randy, 9
5. Never pee on an electric fence. - Robert, 13
6. Don't squat with your spurs on. - Noronha, 13
7. Don't pull dad's finger when he tells you to. - Emily, 10
8. When your mom is mad at your dad, don't let her brush your hair. - Taylia, 11
9. Never allow your three-year old brother in the same room as your school assignment. - Traci, 14
10. Never hold a dust buster and a cat at the same time. - Kyoyo, 9
11. You can't hide a piece of broccoli in a glass of milk. - Armir, 9
12. Felt markers are not good to use as lipstick. - Lauren, 9
13. Don't pick on your sister when she's holding a baseball bat. - Joel, 10
14. When you get a bad grade in school, show it to your mom when she's on the phone. - Alyesha, 13
15. Never try to baptize a cat. - Eileen, 8
#joke
Stung by a bee
A woman taking golf lessons had just started her first round when she was stung by a bee. Distraught, she went back into the clubhouse and told her golf teacher about the incident.
"Where did it sting you?" he asked.
"Between the first and second hole," she replied.
He shook his head and said: "That's your problem right there. You had your feet too far apart!"
#joke
Google Ads
When my girlfriend said she wa...
When my girlfriend said she was leaving because of my obsession with The Monkees, I thought she was joking. And then I saw her face.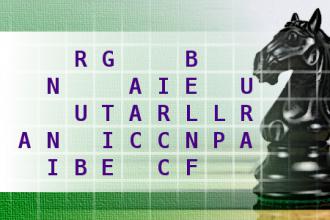 Chess Knight Move
Find the country and its capital city, using the move of a chess knight. First letter is C. Length of words in solution: 7,7,8,6.
Error Messages In Japan – Continued
First snow, then silence.
This thousand dollar screen dies
So beautifully.
-----------------------------
With searching comes loss
And the presence of absence:
'My Novel' not found.
-----------------------------
The Tao that is seen
Is not the true Tao-until
You bring fresh toner.
-----------------------------
Stay the patient course.
Of little worth is your ire.
The network is down.
-----------------------------
A crash reduces
Your expensive computer
To a simple stone.
----------------------------
Three things are certain:
Death, taxes and lost data.
Guess which has occurred.
----------------------------
You step in the stream,
But the water has moved on.
This page is not here.
----------------------------
Out of memory.
We wish to hold the whole sky,
But we never will.
----------------------------
Having been erased,
The document you're seeking
Must now be retyped.
*Editors Note
Zen is not easy. It takes effort to attain nothingness.
....... And then what do you have? Bupkes.
#joke
Out of Eden
A Sunday school teacher asked her students to draw a picture of their favorite Old Testament story. As she moved around the class, she saw there were many wonderful drawings being done. Then she came across the drawing of one little boy. He was busy drawing a man driving an old car. In the backseat were two passengers—both scantily dressed."
"It's a lovely picture," prompted the teacher, "but which story does it tell?"
The little boy seemed surprised at the question. "Well," he exclaimed, "doesn't it say in the Bible that God drove Adam and Eve out of the Garden of Eden?"
#joke
They were looking down into th...
They were looking down into the depths of the Grand Canyon. "Do you know," asked the guide, "that it took millions and millions of years for this great abyss to be carved out?"
"Well, I'll be darned," exclaimed the traveler. "I never knew this was a government job."
If you're afraid of homosexuals
They say that if you're afraid of homosexuals, it means that deep down inside you're actually a homosexual yourself.
That worries me because I'm afraid of dogs.
@normmacdonald http://on.cc.com/1E9Jouc
Baseball Field
Q: What goes all the way around a baseball field but never moves?
A: The fence.
A man comes home from a night
A man comes home from a night of drinking with the boys. As he falls through the doorway of his house, his wife snaps at him, "what's the big idea coming home half drunk?" The man replies, "I'm sorry, honey. I ran out of money."