The best jokes (1 to 10)
The best jokes rated by site visitors. Top rated jokes. These are the best jokes rated 1 to 10. NOTE jokes sometimes might seem not to be in order. Due to better performance joke top list is refreshed only once daily.
In a certain suburban neighbor
In a certain suburban neighborhood, there were two brothers, 8 and 10 years old, who were exceedingly mischievous. Whatever went wrong in the neighborhood, it turned out they had had a hand in it. Their parents were at their wit's end trying to control them.
Hearing about a priest nearby who worked with delinquent boys, the parents thought that they should ask the priest to talk with the boys. The priest agreed to talk with the boys and asked to see the younger boy first. So the mother sent him to the priest.
The priest sat the boy down across a huge, impressive desk he sat behind. For about five minutes they just sat and stared at each other. Finally, the priest pointed his forefinger at the boy and asked, "Where is God?"
The boy looked under the desk, in the corners of the room, all around, but said nothing.
Again, louder, the priest pointed at the boy and asked "Where is God?"
Again the boy looked all around but said nothing.
A third time, in a louder, firmer voice, the priest leaned far across the desk and put his forefinger almost to boy's nose, and asked, "Where is God? The boy panicked and ran all the way home.
Finding his older brother, he dragged him upstairs to their room and into the closet, where they usually plotted their mischief.
He finally said, "We are in BIIIIG trouble."
The older boy asked, "What do you mean, BIIIIG trouble?"
His brother replied, "God is missing and they think we did it."
#joke
A very shy guy goes into a bar
A very shy guy goes into a bar and sees a beautiful woman sitting at the bar. After an hour of gathering up his courage he finally goes over to her and asks, tentatively, "Um, would you mind if I chatted with you for a while?"
She responds by yelling, at the top of her lungs, "No, I won't sleep with you tonight!" Everyone in the bar is now staring at them. Naturally, the guy is hopelessly and completely embarrassed and he slinks back to his table.
After a few minutes, the woman walks over to him and apologizes. She smiles at him and says, "I'm sorry if I embarrassed you. You see, I'm a graduate student in psychology and I'm studying how people respond to embarrassing situations."
To which he responds, at the top of his lungs, "What do you mean $200?"
#joke
How Many Wives?
Two little boys were at a wedding when one leaned over to the other and asked, "How many wives can a man have?"
His friend answered, "Sixteen... four better, four worse, four richer, and four poorer."

Don't Step on the Ducks
Three guys die together in an accident and go to heaven. When they get there, St. Peter says, "We only have one rule here in heaven: Don't step on the ducks!"
So they enter heaven, and sure enough, there are ducks all over the place. It is almost impossible not to step on a duck, and although they try their best to avoid them, the first guy accidentally steps on one.
Along comes St. Peter with the ugliest woman he has ever seen. St. Peter chains them together and says, "Your punishment for stepping on a duck is to spend eternity chained to the ugly woman!"
The next day, the second guy steps accidentally on a duck, and along comes St. Peter, who doesn't miss a thing, and with him is another extemely ugly woman. He chains them together with the same admonishment as for the first guy.
The third guy has observed all this and not wanting to be chained for all eternity to an ugly woman, is very, VERY careful where he steps. He manages to go months without stepping on any ducks, but one day St. Peter comes up to him with the most gorgeous woman he has ever laid eyes on: a very tall, tan, curvaceous, sexy blonde. St. Peter chains them together without saying a word.
The guy remarks, "I wonder what I did to deserve being chained to you for all of eternity?"
She says, "I don't know about you, but I stepped on a duck!"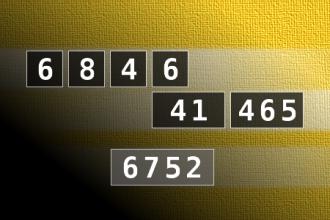 Calculate the number 6752
NUMBERMANIA: Calculate the number 6752 using numbers [6, 8, 4, 6, 41, 465] and basic arithmetic operations (+, -, *, /). Each of the numbers can be used only once.
A man was walking down the str...
A man was walking down the street when he was accosted by a particularlydirty and shabby-looking homeless man who asked him for a couple of dollarsfor dinner.
The man took out his wallet, extracted ten dollars and asked, "If I giveyou this money, will you buy some beer with it instead of dinner?"
"No, I had to stop drinking years ago," the homeless man replied.
"Will you use it to gamble instead of buying food?" the man asked.
"No, I don't gamble," the homeless man said. "I need everything I can getjust to stay alive."
"Will you spend this on greens fees at a golf course instead of food?" theman asked.
"Are you NUTS!" replied the homeless man. "I haven't played golf in 20years!"
"Will you spend the money on a woman in the red light district instead offood?" the man asked.
"What disease would I get for ten lousy bucks?" exclaimed the homeless man.
"Well," said the man, "I'm not going to give you the money. Instead, I'mgoing to take you home for a terrific dinner cooked by my wife."
The homeless man was astounded. "Won't your wife be furious with you fordoing that? I know I'm dirty, and I probably smell pretty disgusting."
The man replied, "That's okay. It's important for her to see what a manlooks like after he has given up beer, gambling, golf, and sex."
All of his life Len from Cape...
All of his life Len from Cape Breton had heard stories of an amazing family tradition. It seems that his father, grandfather and great-grandfather had all been able to walk on water on their 21st birthday. On that day, they'd walk across the lake to the boat club for their first legal drink.
So when Len's 21st birthday came around, he and his pal Corky took a boat out to the middle of the lake. Len stepped out of the boat and nearly drowned!
Corky just managed to pull him to safety. Furious and confused, Len went to see his grandmother. "Grandma, it's my 21st birthday, so why can't I walk across the lake, like my father, his father, and his father before him?"
Granny looked Len straight in the eyes, and said, "Because, you idiot, your father, grandfather and great grandfather was born in January, you were born in July."
#joke
A teenager takes a seat on a b...
A teenager takes a seat on a bench next to a middle aged man reading a newspaper. After a few minutes the man looks over and stares intentively on the youth's multicolored mohawk.
The teenager looks over at the man and says "What's the matter old man, never done anything interesting in your life?"
The man responded with "I once got drunk and had sex with a parrot, I was just wondering if you were my son."
#joke
Because of an ear infection, L...
Because of an ear infection, Little Johnny, had to go to the pediatrician. The doctor directed his comments and questions to Little Johnny in a professional manner. When he asked Little Johnny, "Is there anything you are allergic to?" Little Johnny nodded and whispered in his ear. Smiling, the pediatrician wrote out a prescription and handed it to Little Johnny's mother. She tucked it into her purse without looking at it.
As the pharmacist filled the order, he remarked on the unusual food- drug interaction Little Johnny must have. Little Johnny's mother looked puzzled until he showed her the label on the bottle. As per the doctor's instructions, it read, "Do not take with broccoli."
A circus owner runs an ad for
A circus owner runs an ad for a lion tamer and two young people show up. One is a good looking lad in his mid-twenties and the other is a gorgeous blonde about the same age.
The circus owner tells them: I'm not going to sugar coat it. This is one ferocious lion. He ate my last tamer so you guys better be good or you're history. Here's your equipment: chair, whip and a gun. Who wants to try out first?"
The girl says, "I'll go first." She walks past the chair, the whip and the gun and steps right into the lion's cage. The lion starts to snarl and pant and begins to charge her. About half way there, she throws open her coat revealing her beautiful naked body. The lion stops dead in his tracks, sheepishly crawls up to her and starts licking her ankles. He continues to lick her calves, kisses them and rests his head at her feet.
The circus owner's mouth is on the floor. He says, "I've never seen a display like that in my life," He then turns to the young man and asks, "can you top that?"
The young man replies. "No problem, just get that lion out of the way."
You Might Be A Redneck If 40
You might be a redneck if...
You think that Dom Perignon is a Mafia leader.
Your wife's hairdo was once ruined by a ceiling fan.
You go to your family reunion looking for a date.
Your Junior/Senior Prom had a Daycare.
You think the last words to The Star Spangled Banner are, "Gentlemen, start your engines."
You lit a match in the bathroom and your house exploded right off its wheels.
You had to remove a toothpick for your wedding pictures.
The bluebook value of your truck goes up and down, depending on how much gas it has in it.
You have to go outside to get something out of the 'fridge.
One of your kids was born on a pool table.
#joke