Limited Funds
"Hey Alexa, can you check my bank account and see what Apple product I can afford to buy...."
Alexa: "Apple Juice."
Back Together Again
My ex-girlfriend just told me she wants us to get back together again.
MAN, I sure am LUCKY!
I mean, first I win the lottery and now THIS!!!
"He has all the virtues I disl
"He has all the virtues I dislike and none of the vices I admire."
Winston Churchill
"A modest little person, with much to be modest about."
Winston Churchill
"I have never killed a man, but I have read many obituaries with great pleasure."
Clarence Darrow
"He has never been known to use a word that might send a reader to the dictionary."
William Faulkner (about Ernest Hemingway)
"Poor Faulkner. Does he really think big emotions come from big words?"
Ernest Hemingway (about William Faulkner)
"Thank you for sending me a copy of your book; I'll waste no time reading it."
Moses Hadas
"He can compress the most words into the smallest idea of any man I know."
Abraham Lincoln
"I've had a perfectly wonderful evening. But this wasn't it."
Groucho Marx
"I didn't attend the funeral, but I sent a nice letter saying I approved of it."
Mark Twain
"He has no enemies, but is intensely disliked by his friends."
Oscar Wilde
"I am enclosing two tickets to the first night of my new play, bring a friend... if you have one."
George Bernard Shaw to Winston Churchill
"Cannot possibly attend first night, will attend second... if there is one."
Winston Churchill, in response
"I feel so miserable without you, it's almost like having you here."
Stephen Bishop
"He is a self-made man and worships his creator."
John Bright
"I've just learned about his illness. Let's hope it's nothing trivial."
Irvin S. Cobb
"He is not only dull himself, he is the cause of dullness in others."
Samuel Johnson
"He is simply a shiver looking for a spine to run up."
Paul Keating
"He had delusions of adequacy."
Walter Kerr
"There's nothing wrong with you that reincarnation won't cure."
Jack E. Leonard
"He has the attention span of a lightning bolt."
Robert Redford
"They never open their mouths without subtracting from the sum of human knowledge."
Thomas Brackett Reed
"He inherited some good instincts from his Quaker forebears, but by diligent hard work, he overcame them."
James Reston (about Richard Nixon)
"In order to avoid being called a flirt, she always yielded easily."
Charles, Count Talleyrand
"He loves nature in spite of what it did to him."
Forrest Tucker
"Why do you sit there looking like an envelope without any address on it?"
Mark Twain
"His mother should have thrown him away and kept the stork."
Mae West
"Some cause happiness wherever they go; others, whenever they go."
Oscar Wilde
"He uses statistics as a drunken man uses lamp-posts... for support rather than illumination."
Andrew Lang (1844-1912)
"He has Van Gogh's ear for music."
Billy Wilder
#joke
Kid's say the darndest things....
HOW DO YOU DECIDE WHOM TO MARRY?
You got to find somebody who likes the same stuff. Like, if you like sports, she should like it that you like sports, and she should keep the chips and dip coming. - Alan, age 10
HOW CAN A STRANGER TELL IF TWO PEOPLE ARE MARRIED?
You might have to guess, based on whether they seem to be yelling at the same kids. - Derrick, age 8
WHAT DO YOU THINK YOUR MOM AND DAD HAVE IN COMMON?
Both don't want any more kids. - Lori, age 8
WHAT DO MOST PEOPLE DO ON A DATE?
Dates are for having fun, and people should use them to get to know each other. Even boys have something to say if you listen long enough. - Lynnette, age 8
WHEN IS IT OKAY TO KISS SOMEONE?
When they're rich. - Pam, age 7
IS IT BETTER TO BE SINGLE OR MARRIED?
It's better for girls to be single but not for boys. Boys need someone to clean up after them. - Anita, age 9
HOW WOULD THE WORLD BE DIFFERENT IF PEOPLE DIDN'T GET MARRIED?
There sure would be a lot of kids to explain, wouldn't there? - Kelvin, age 8
HOW WOULD YOU MAKE A MARRIAGE WORK?
Tell your wife that she looks pretty even if she looks like a truck.- Ricky, age 10
#joke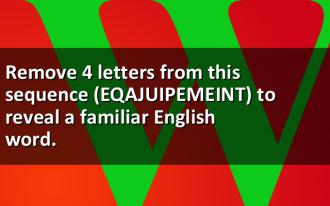 Remove 4 letters from this seq...
Remove 4 letters from this sequence (EQAJUIPEMEINT) to reveal a familiar English word.
How many did you catch...
A kind-hearted fellow was walking through Central Park in New York and was astonished to see an old man, fishing rod in hand, fishing over a beautiful bed of lillies.
"Tch Tch!" said the passerby to himself. "What a sad sight. That poor old man is fishing over a bed of flowers. I'll see if I can help."
So the kind fellow walked up to the old man and asked, "What are you doing, my friend?"
"Fishin', sir."
"Fishin', eh. Well how would you like to come have a drink with me?"
The old man stood up, put his rod away and followed the kind stranger to the corner bar. He ordered a large glass of beer and a fine cigar.
His host, the kind fellow, felt good about helping the old man, and he asked, "Tell me, old friend, how many did you catch this morning?"
The old fellow took a long drag on the cigar, blew a careful smoke ring and replied, "You are the sixth today, sir!"
An elderly couple had been dat
An elderly couple had been dating for some time. Finally, they decided it was time for marriage. Before the wedding, they went out to dinner and had a long conversation regarding how their marriage might work. They discussed finances, living arrangements and so on.
Finally the old gentleman decided it was time to broach the subject of their physical relationship. "How do you feel about sex?" he asked, rather trustingly.
"Well," she says, responding carefully, "I'd have to say I would like it infrequently."
The old gentleman sat quietly for a moment. Then, looking over his glasses, he looked her in the eye casually asking, "Was that one word or two?"
#joke
A devoted wife had spent her l
A devoted wife had spent her lifetime taking care of her husband.
When he was slipping in and out of a coma for several months, she stayed by his bedside every single day. When he came to, he motioned for her to come nearer.
As she sat by him, he said, "You know what? You have been with me all through the bad times.
"When I got fired, you were there to support me. When my business failed, you were there. When I got shot, you were by my side. When we lost the house, you gave me support. When my health started failing, you were still by my side.
"You know what?"
"What, dear?" his wife asked gently.
"I think you bring me bad luck."
#joke
"That wife of mine is a liar,"
"That wife of mine is a liar," said the angry husband to a sympathetic pal seated next to him in the bar.
"How do you know?" the friend asked.
"She didn't come home last night and when I asked her where she'd been, she said she had spent the night with her sister, Shirley."
"So?"
"So she's a liar. I spent the night with her sister, Shirley."
#joke
Too Tight and Revealing
"Your underwear is much too tight and very revealing," I said to my wife.
She said, "Wear your own then."
Self-Centered
People call me self-centered...
But that's enough about them.