The best jokes (11 to 20)
The best jokes rated by site visitors. Top rated jokes. These are the best jokes rated 11 to 20. NOTE jokes sometimes might seem not to be in order. Due to better performance joke top list is refreshed only once daily.
The Florist
A new business was opening and one of the owner's friends wanted to send him flowers for the occasion. They arrived at the new business site and the owner read the card, which said: 'Rest in Peace.'
The owner was angry and called the florist to complain. After he had told the florist of the obvious mistake and how angry he was, the florist replied:
'Sir, I'm really sorry for the mistake, but rather than getting angry, you should imagine this - somewhere, there is a funeral taking place today, and they have flowers with a note saying: 'Congratulations on your new location!''
#joke
A big city lawyer went duck hu...
A big city lawyer went duck hunting in rural North Wairarapa. He shot and dropped a bird, but it fell into a farmer's field on the other side of a fence. As the lawyer climbed over the fence, an elderly farmer drove up on his tractor and asked him what he was doing.The litigator responded, "I shot a duck and it fell in this field, and now I'm going to retrieve it."
The old farmer replied, "This is my property, and you are not coming over here."
The indignant lawyer said, "I am one of the best trial attorneys in New Zealand and, if you don't let me get that duck, I'll sue you and take everything you own."
The old farmer smiled and said, "Apparently, you don't know how we settle disputes in North Wairarapa. We settle small disagreements like this with the 'Three Kick Rule.'"
The lawyer asked, "What is the 'Three Kick Rule'?"
The Farmer replied, "Well, because the dispute occurs on my land, I get to go first. I kick you three times and then you kick me three times and so on back and forth until someone gives up." The attorney quickly thought about the proposed contest and decided that he could easily take the old codger. He agreed to abide by the local custom.
The old farmer slowly climbed down from the tractor and walked up to the attorney.
His first kick planted the toe of his heavy steel toed work boot into the lawyer's groin and dropped him to his knees!
His second kick to the midriff sent the lawyer's last meal gushing from his mouth.
The lawyer was on all fours when the farmer's third kick to his rear end, sent him face-first into a fresh cow pie.
The lawyer summoned every bit of his will and remaining strength and very slowly managed to get to his feet. Wiping his face with the arm of his jacket, he said, "Okay, you old fart. Now it's my turn."
The old farmer smiled and said, "Nah, I give up. You can have the duck."
The juggler
A juggler, driving to his next performance, is stopped by the police. "What are these matches and lighter fluid doing in your car?" asks the cop.
"I'm a juggler and I juggle flaming torches in my act."
"Oh yeah?" says the doubtful cop. "Lets see you do it." The juggler gets out and starts juggling the blazing torches masterfully.
A couple driving by slows down to watch. "Wow," says the driver to his wife. "I'm glad I quit drinking. Look at the test they're giving now!"
#joke
Where ya from, Sam?
A man lay sprawled across three entire seats in a theater. When the usher came by and noticed this, he whispered to the man, "Sorry, sir, but you're only allowed one seat." The man groaned but didn't budge. The usher became impatient.
"Sir," the usher said, "if you don't get up from there I'm going to have to call the manager."
Again, the man just groaned, which infuriated the usher who turned and marched briskly back up the aisle in search of his manager. In a few moments, both the usher and the manager returned and stood over the man. Together the two of them tried repeatedly to move him, but with no success. Finally, they summoned the police.
The cop surveyed the situation briefly then asked, "All right buddy, what's your name?" "Sam," the man moaned. "Where ya from, Sam?" the cop asked.
And with pain in his voice, Sam replied, "The balcony."
#joke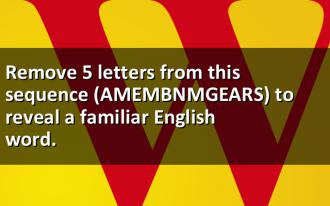 Remove 5 letters from this seq...
Remove 5 letters from this sequence (AMEMBNMGEARS) to reveal a familiar English word.
A sweet grandmother telephoned...
A sweet grandmother telephoned St. Joseph's Hospital and she timidly asked, "Is it possible to speak to someone who can tell me how a patient is doing?"
The operator responded, "I'll be glad to help, dear. What's the patient's name and room number?"
The grandmother in her weak tremulous voice said, "Norma Findlay, Room 302."
The operator replied, "Let me place you on hold while I check with her nurse."
After a few minutes the operator returned to the phone, "Oh, good news. Her nurse has told me that Norma is doing very well. Her blood pressure is fine; her blood work just came back as normal. And her physician, Dr.Cohen, has scheduled her to be discharged Tuesday."
The grandmother said, "Thank you. That's wonderful. I was so worried! God bless you for the good news."
The operator replied, "You're more than welcome. Is Norma your daughter?"
The grandmother said, "No, I'm Norma Findlay in Room 302. No one tells me anything."
#joke
A fifteen year-old boy came ho
A fifteen year-old boy came home with a Porsche and his parents began toscream, "Where did you get that car???!!!" He calmly told them, "I boughtit today."
"With what money?" demanded his parents. "We know what a Porsche costs."
"Well," said the boy, "this one cost me fifteen dollars."
So the parents began to yell even louder. "Who would sell a car like thatfor fifteen dollars?" they said.
"It was the lady up the street," said the boy." I don't know her name--theyjust moved in. She saw me ride past on my bike and asked me if I wanted tobuy a Porsche for fifteen dollars."
"Oh No," moaned the mother, "she must be a child abuser. Who knows what shewill do next? John, you go right up there and see what's going on."
So the boy's father walked up the street to the house where the lady livedand found her out in the yard calmly planting petunias! He introducedhimself as the father of the boy to whom she had sold a Porsche for fifteendollars and demanded to know why she did it.
"Well," she said, "this morning I got a phone call from my husband. Ithought he was on a business trip, but it seems he has run off to Hawaiiwith his secretary and doesn't intend to come back. He asked me to sell hisnew Porsche and send him the money. So I did."
#joke
I was sitting in the waiting r...
I was sitting in the waiting room for my first appointment with a new dentist. I noticed his dds diploma on the wall, which bore his full name. Suddenly, i remembered a tall, handsome, dark-haired boy with the same name had been in my high school class some 30-odd years ago. Could he be the same guy that i had a secret crush on, way back then? Upon seeing him, however, I quickly discarded any such thought. This balding, gray-haired man with the deeply lined face was way too old to have been my classmate. After he examined my teeth, I asked him if he had attended northmont high school.
'Yes. Yes, I did. I'm a thunderbolt,' he gleamed with pride.
When did you graduate?' I asked.
He answered, 'in 1975. Why do you ask?'
You were in my class!', I exclaimed.
He looked at me closely. Then, that ugly, old, bald, wrinkled faced, fat-ass, gray-haired, decrepit son-of-a-bitch asked, 'what did you teach?'
#joke
In Over Two Months
Earl and Bubba are quietly sitting in a boat fishing, chewing tobacco and drinking beer when suddenly Bubba says, "Think I'm gonna divorce the wife... she ain't spoke to me in over 2 months."

Earl spits overboard, takes a long, slow sip of beer and says, "Better think it over... women like that are hard to find."
I went to the shop the other d...
I went to the shop the other day. I was only in there for about 5 minutes and when I came out, there was a damn traffic officer writing a parking ticket for over-running the meter.
So I went up to him and said,
"Come on, how about giving a man a break?"
He ignored me and continued writing the ticket.
So I called him a pencil-necked Nazi. He glared at me and started writing another ticket for also having parked partially on the pavement!!
So I called him a son of a mutant pig. He finished the second ticket and put it on the car with the first. Then he started writing a third ticket!!
This went on for about 20 minutes and the more I abused him, the more tickets he wrote. I didn't give a damn.
My car was parked around the corner...
#joke
A burglar broke into a house o...
A burglar broke into a house one night. He shone his flashlight around, looking for valuables when a voice in the dark said,
'Jesus knows you're here.'
He nearly jumped out of his skin, clicked his flashlight off, and froze.
When he heard nothing more , after a bit, he shook his head and continued.
Just as he pulled the stereo out so he could disconnect the wires, clear as a be*l he heard
'Jesus is watching you.'
Freaked out, he shined his light around frantically, looking for the source of the voice.
Finally, in the corner of the room, his flashlight beam came to rest on a parrot.
'Did you say that?' he hissed at the parrot.
'Yep', the parrot confessed, then squawked, 'I'm just trying to warn you that he is watching you.'
The burglar relaxed. 'Warn me, huh? Who in the world are you?'
'Moses,' replied the bird.
'Moses?' the burglar laughed. 'What kind of people would name a bird Moses?'
'The kind of people that would name a Rottweiler Jesus.'
#joke