Happy New Year 2021!!
I Sing Beautifully
During tryouts for one of the chorus positions in the upcoming musical The Sound of Music, one of the girls told the judges, "Mother says I sing beautifully."
The judge replied, "Bring me a recommendation from your neighbors and I'll give you a tryout."
The vet
There was once an aspiring veterinarian who put himself through veterinary school working nights as a taxidermist.
Upon graduation, he decided he could combine his two vocations to better serve the needs of his patients and their owners, while doubling his practice and, therefore, his income.
He opened his own offices with a shingle on the door saying, "Dr. Jones, Veterinary Medicine and Taxidermy -- Either way, you get your dog back!"
#joke
Two Steps Back
Little Johnny turns up late for school one day and his teacher asks why.
Little Johnny responds, "It's snowing heavily outside, so every time I took one step forward, I slipped two steps back."
"Well, how did you make it to school then?"
Little Johnny sighs, "I got fed up, so I turned to go home."
#joke
Tailor-made suit
A young banker decided to get his first tailor-made suit. So he went tothe finest tailor in town and got measured for a suit. A week later hewent in for his first fitting. He put on the suit and he looked fabulous,he felt that in this suit he can do business.
As he was preening himself in front of the mirror he reached down to puthis hands in the pockets and to his surprise he noticed that there were nopockets. He mentioned this to the tailor who asked him, "Didn't you tellme you were a banker?"
The young man answered, "Yes, I did."
To this the tailor said, "Whoever heard of a banker with his hands in hisown pockets?"
#joke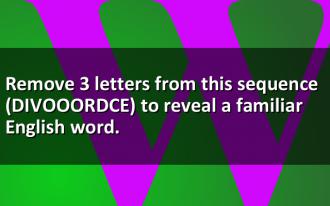 Remove 3 letters from this seq...
Remove 3 letters from this sequence (DIVOOORDCE) to reveal a familiar English word.
A carpenter was giving evidenc
A carpenter was giving evidence about an accident he had witnessed. The lawyer for the defendant was trying to discredit him and asked him how far away he was from the accident.
The carpenter replied, "Twenty-seven feet, six and one-half inches."
"What? How come you are so sure of that distance?" asked the lawyer.
"Well, I knew sooner or later some idiot would ask me, so I measured it!"
Big Merger
One day YouTube, Twitter, and Facebook will merge...
It'll be called YouTwitFace.
Your car in heaven....
Three guys died and when they got to the pearly gates, St. Peter met them there. St. Peter said, "I know that you guys are forgiven because you're here. Before I let you into Heaven, I have to ask you something. You have to have a car in Heaven because Heaven is so big, what kind of car you get will depend on your answer."
The first guy walks up and Peter asks him, "How long were you married?"
The first guy says, "24 years."
"Did you ever cheat on your wife?", Peter asked. The guy said, "Yeah, 7 times...but you said I was forgiven."
Peter said, "yeah, but that's not too good. Here's a Pinto to drive."
The second guy walks up and gets the same question from Peter.
The second guy said, "I was married for 41 years and cheated on her once, but that was our first year and we really worked it out good."
Peter said, "I'm pleased to hear that, here's a Lincoln."
The third guy walked up and said, "Peter, I know what you're going to ask. I was married for 63 years and didn't even look at another woman! I treated my wife like a queen!"
Peter said, "That's what I like to hear. Here's a Jaguar!"
A few days later, the two guys with the Lincoln and the Pinto saw the guy with the Jaguar crying on the golden sidewalk. When they asked the guy with the Jaguar what was wrong, he said, "I just saw my wife, she was on a skateboard!"
#joke
What if...
Tom is applying for a job as a signalman for the local railroad and is told to meet the inspector at the signal box.
The inspector decides to give Tom a pop quiz, asking: "What would you do if you realized that two trains were heading towards each other on the same track?"
Tom says: "I would switch one train to another track."
"What if the lever broke?" asks the inspector.
"Then I'd run down to the tracks and use the manual lever down there," answers Tom.
"What if that had been struck by lightning?" challenges the inspector.
"Then," Tom continued, "I'd run back up here and use the phone to call the next signal box."
"What if the phone was busy?"
"In that case," Tom argued, "I'd run to the street level and use the public phone near the station."
"What if that had been vandalized?"
"Oh well," said Tom, "in that case I would run into town and get my Uncle Leo.
This puzzled the inspector, so he asked "Why would you do that?"
"Because he's never seen a train crash."
#joke
The Complete Examination
As the doctor completed an examination of the patient, he said, ''I can't find a cause for your complaint. Frankly, I think it's due to drinking.''
''In that case,'' said the patient, ''I'll come back when you're sober''
Matt's dad picked him up from...
Matt's dad picked him up from school one afternoon. Knowing the parts for the school play were supposed to be posted today, he asked his son if he got a part. Matt enthusiastically announced that he'd gotten a part. "I play a man who's been married for twenty years."
"That's great, son. Keep up the good work and before you know it they'll be giving you a speaking part."
#joke