Have a great time for
Christmas
, check out our latest
Christmas jokes of 2022
on:
Christmas jokes collection
Letters from Little Boys to God
Dear God, Why is Sunday School on Sunday? I thought it was supposed to be our day of rest. Tom L.Dear God, I went to this wedding on Sunday and they kissed right in the church! Is that O.K.?NeilDear God,If you watch me in church on Sunday, I'll show you my new shoes.Mickey D.Dear God,Please send me a pony. I never asked for anything before. You can look it up.BruceDear God,If you give me a genie lamp like in Aladdin, I will give you anything you want, except my money or my chess set.RaphaelDear God,Please put another holiday between Christmas and Easter. There is nothing good in there now.GregDear God,Please send Dennis Clark to another camp this summer.PeterDear God,You don't have to worry about me. I look both ways.DeanDear God,Are you really invisible or is that just a trick?DougDear God,I want to be just like my Daddy when I get big but not with so much hair.Sam Dear God,I am American. What are you?RobertDear God,If you didn't let the dinosaur become extinct, we wouldn't have this country. You did the right thing.JonathanDear God,Maybe Cain and Abel would not kill each other if they had their own rooms. It works with my brother.LarryDear God,I do not think anybody could be a better God. Well, I just want you to know that I am not saying that because you are God already.CharlesDear God,I didn't think orange went with purple until I saw the sunset you made on Thursday. That was cool!Eugene-
My Car GPS Works
I got really angry with my car navigation today. I even yelled at it and told it to "go to hell."
Twenty minutes later, it brought me in front of my mother-in-law's house.

They Call Me the Computer
My boss calls me "the computer"...
Nothing to do with intelligence, I go to sleep if left unattended for 15 minutes.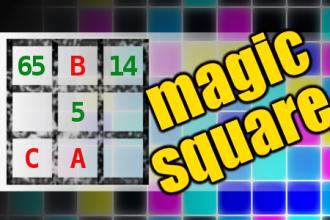 MAGIC SQUARE: Calculate A-B+C
The aim is to place the some numbers from the list (2, 3, 5, 6, 11, 14, 36, 65, 66, 70, 74, 78) into the empty squares and squares marked with A, B an C. Sum of each row and column should be equal. All the numbers of the magic square must be different. Find values for A, B, and C. Solution is A-B+C.
Pray Before Eating
Everyone was seated around the table as the food was being served. When little Logan received his plate, he started eating right away.
"Logan, wait until we say our prayer," his mother reminded him.
"I don't have to," the little boy replied.
"Of course you do," his mother insisted, "we say a prayer before eating at our house."
"That's at our house," Logan explained, "but this is Grandma's house and she knows how to cook."
#joke
Answering Service
"Your call is very important to us...
... Please enjoy this 40-minute flute solo."

New-Fangled Ideas
An elderly priest was speaking to a younger priest. "You had a good idea to replace the first four pews with plush bucket theatre seats. It worked like a charm! The front of the church always fills first now."As the young priest nodded, the old priest continued, "You also told me to assign a little more beat to the music because it would bring young people back to church. So, I supported you when you bought in that rock 'n' roll Gospel choir. Now, our services are consistently packed.""Thank you, Father," answered the young priest. "I am pleased that you are open to the new ideas of youth.""All of these ideas have been well and good," said the elderly priest. "But, I'm afraid you've gone too far with the drive-thru confessional." "But Father," protested the young priest. "My confessions and donations have nearly doubled since I began that!""Yes," replied, the elderly priest. "I appreciate that, but the flashing neon sign, 'Toot 'n' Tell or Go to Hell' cannot stay on the church roof!"-
#joke
Odd Rabbi Out
These four rabbis had a series of theological arguments, and three were always in accord against the fourth. One day, the odd rabbi out, after the usual "3 to 1, majority rules" statement that signified that he had lost again, decided to appeal to a higher authority."Oh, God!" he cried. "I know in my heart that I am right and they are wrong! Please give me a sign to prove it to them!"It was a beautiful, sunny day. As soon as the rabbi finished his prayer, a storm cloud moved across the sky above the four. It rumbled once and dissolved. "A sign from God! See, I'm right, I knew it!" But the other three disagreed, pointing out that storm clouds form on hot days.So the rabbi prayed again: "Oh, God, I need a bigger sign to show that I am right and they are wrong. So please, God, a bigger sign!" This time four storm clouds appeared, rushed toward each other to form one big cloud, and a bolt of lightning slammed into a tree on a nearby hill."I told you I was right!" cried the rabbi, but his friends insisted that nothing had happened that could not be explained by natural causes.The rabbi was getting ready to ask for a VERY big sign, but just as he said, "Oh God...," the sky turned pitch black, the earth shook, and a deep, booming voice intoned, "HEEEEEEEE'S RIIIIIIIGHT!"The rabbi put his hands on his hips, turned to the other three, and said, "Well?""So," shrugged one of the other rabbis, "now it's 3 to 2."
#joke