Yes, Theo
"Yes, Theo, what is it?" asked the teacher.

"I don't wan to alarm you, Miss Davis, but my dad said if I don't get better grades, someone was going to be in big trouble."
Kid's say the darndest things....
HOW DO YOU DECIDE WHOM TO MARRY?
You got to find somebody who likes the same stuff. Like, if you like sports, she should like it that you like sports, and she should keep the chips and dip coming. - Alan, age 10
HOW CAN A STRANGER TELL IF TWO PEOPLE ARE MARRIED?
You might have to guess, based on whether they seem to be yelling at the same kids. - Derrick, age 8
WHAT DO YOU THINK YOUR MOM AND DAD HAVE IN COMMON?
Both don't want any more kids. - Lori, age 8
WHAT DO MOST PEOPLE DO ON A DATE?
Dates are for having fun, and people should use them to get to know each other. Even boys have something to say if you listen long enough. - Lynnette, age 8
WHEN IS IT OKAY TO KISS SOMEONE?
When they're rich. - Pam, age 7
IS IT BETTER TO BE SINGLE OR MARRIED?
It's better for girls to be single but not for boys. Boys need someone to clean up after them. - Anita, age 9
HOW WOULD THE WORLD BE DIFFERENT IF PEOPLE DIDN'T GET MARRIED?
There sure would be a lot of kids to explain, wouldn't there? - Kelvin, age 8
HOW WOULD YOU MAKE A MARRIAGE WORK?
Tell your wife that she looks pretty even if she looks like a truck.- Ricky, age 10
#joke
The real reason that we can't
The real reason that we can't have the Ten Commandments posted in a courthouse is this:
You cannot post "Thou Shalt Not Steal," "Thou Shalt Not Commit Adultery," and "Thou Shall Not Lie" in a building full of lawyers, judges and politicians...
It creates a hostile work environment.
How many did you catch...
A kind-hearted fellow was walking through Central Park in New York and was astonished to see an old man, fishing rod in hand, fishing over a beautiful bed of lillies.
"Tch Tch!" said the passerby to himself. "What a sad sight. That poor old man is fishing over a bed of flowers. I'll see if I can help."
So the kind fellow walked up to the old man and asked, "What are you doing, my friend?"
"Fishin', sir."
"Fishin', eh. Well how would you like to come have a drink with me?"
The old man stood up, put his rod away and followed the kind stranger to the corner bar. He ordered a large glass of beer and a fine cigar.
His host, the kind fellow, felt good about helping the old man, and he asked, "Tell me, old friend, how many did you catch this morning?"
The old fellow took a long drag on the cigar, blew a careful smoke ring and replied, "You are the sixth today, sir!"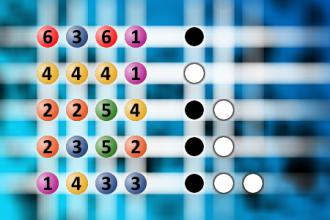 Which is a winning combination of digits?
The computer chose a secret code (sequence of 4 digits from 1 to 6). Your goal is to find that code. Black circles indicate the number of hits on the right spot. White circles indicate the number of hits on the wrong spot.
Slogans....
A class professor was giving a lecture on company slogans and was asking his students if they were familiar with them.
"Joe," he asked, "which company has the slogan, 'come fly the friendly skies'?"
Joe answered the correct airline.
"Brenda, can you tell me which company has the slogan, "Don't leave home without it?"
Brenda answered the correct credit card company with no difficulty.
"Now John, Tell me which company bears the slogan, 'Just do it'?"
And John answered, "Mom...."
#joke
A wealthy merchant of 84 marri
A wealthy merchant of 84 married a 25 year old fashion model. They had a wonderful honeymoon in Aruba but, unfortunately, the old boy suffered a coronary and was hospitalized.
When his young wife came to see him, the old man said, "Sweetheart, your future has been taken care of regardless of what happens to me. You will have an income of $250,000 a year, my home in Palm Springs, my ranch in Texas, my Mercedes. You'll never need to worry about money."
"Oh, sweetheart, please don't talk that way," his young wife exclaimed. "You've been so good to me already. If you go, I'll be devastated. Oh, there must be something I can do to help you. Please, tell me what I can do?"
"Well," the old man gasped, "you can quit pinching the inlet tube to my oxygen supply for starters."
#joke
They Call Me the Computer
My boss calls me "the computer"...
Nothing to do with intelligence, I go to sleep if left unattended for 15 minutes.
Pray Before Eating
Everyone was seated around the table as the food was being served. When little Logan received his plate, he started eating right away.
"Logan, wait until we say our prayer," his mother reminded him.
"I don't have to," the little boy replied.
"Of course you do," his mother insisted, "we say a prayer before eating at our house."
"That's at our house," Logan explained, "but this is Grandma's house and she knows how to cook."
#joke
Designated Drunk
One night at a local bar frequented by a bunch of deer hunters who were waiting for the opening day of deer season, the local sheriff scoped out the joint for possible drunk drivers.
As he waited, eventually a patron stumbled out of the bar, fumbled for his keys, tried them in three different cars until he finally found his, got inside and rested his head on the steering wheel. The deputy knew he had his drunk driver, so now all he had to do was wait for him to start his engine and pull out of the lot.
A few hours passed by and most of the other deer hunters had left by then, when the patron abruptly lifted his head, cranked the car up and drove out of the lot like a bat out of hell. The deputy followed him and stopped him promptly. He administered the breath-o-lizer test and it read 0.00.
Confused, the deputy asked the driver what the hell was going on. The driver looked at him innocently and said, "Well, tonight I'm the designated decoy."
#joke
How Old?
When a new child visited our Sunday school, the teacher greeted him and asked his age. The little boy held up four fingers.
"Oh, you're four," said the teacher. "And when will you be 5?"
The child stared at her and after a few seconds replied, "When I hold up the other finger."
#joke