The latest mergers...
Are your investments in order? Below are some of the latest rumors from Wall Street. In the wake of the AOL/Time Warner deal, here are the latest mergers we can expect to see:
Hale Business Systems, Mary Kay Cosmetics, Fuller Brush, and W.R. Grace Company merge to become Hale Mary Fuller Grace.
Polygram Records, Warner Brothers, and Keebler Crackers merge to become Polly-Warner-Cracker.
3M and Goodyear merge to become MMMGood.
John Deere and Abitibi-Price merge to become Deere Abi.
Zippo Manufacturing, Audi Motors, Dofasco, and Dakota Mining merge to become Zip Audi Do Da.
Honeywell, Imasco, and Home Oil merge to become Honey I'm Home.
Denison Mines, and Alliance and Metal Mining merge to become Mine All Mine.
Federal Express and UPS merge to become FED UP.
Xerox and Wurlitzer will merge and begin manufacturing reproductive organs.
Fairchild Electronics and Honeywell Computers will merge and become Fairwell Honeychild.
3M, J.C. Penney and the Canadian Opera Company will merge and become 3 Penney Opera.
Knott's Berry Farm & National Organization of Women will merge and become Knott NOW!
#joke
Out Of This World Learning
Why didn't the sun go to college?
Because it already had a million degrees!
Have you ever noticed that whe
Have you ever noticed that when you're of a certain age, everything seems uphill from where you are? Stairs are steeper. Groceries are heavier. And, everything is farther away. Yesterday I walked to the corner and I was dumbfounded to discover how long our street had become!
And, you know, people are less considerate now, especially the young ones. They speak in whispers all the time! If you ask them to speak up they just keep repeating themselves, endlessly mouthing the same silent message until they're red in the face! What do they think I am, a lip reader?
I also think they are much younger than I was at the same age. On the other hand, people my own age are so much older than I am. I ran into an old friend the other day and she has aged so much that she didn't even recognize me.
I got to thinking about the poor dear while I was combing my hair this morning, and in doing so, I glanced at my own reflection........Well, REALLY NOW, even mirrors are not made the way they used to be!
Another thing, everyone drives so fast today! You're risking life and limb if you just happen to pull onto the freeway in front of them. All I can say is, their brakes must wear out awfully fast, the way I see them screech and swerve in my rear view mirror.
Clothing manufacturers are less civilized these days. Why else would they suddenly start labeling a size 10 or 12 dress as 18 or 20? Do they think no one notices that these things no longer fit around the waist, hips, thighs, and bosom?
The people who make bathroom scales are pulling the same prank, but in reverse. Do they think I actually "believe" the number I see on that dial? HA! I would never let myself weigh that much! Just who do these people think they're fooling?
I'd like to call up someone in authority to report what's going on -- but the telephone company is in on the conspiracy, too. They've printed the phone books in such small type that no one could ever find a number in here!
All I can do is pass along this warning: Maturity is under attack! Unless something drastic happens, pretty soon "everyone" will have to suffer these awful indignities.
#joke #prank
Rain Rain Go Away
It's been raining for days now and my husband seems very depressed by it...
He keeps standing by the window, staring. If it continues, I'm going to have to let him in.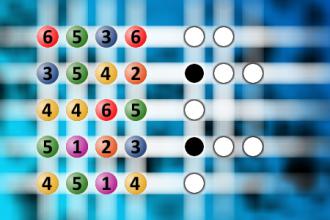 Which is a winning combination of digits?
The computer chose a secret code (sequence of 4 digits from 1 to 6). Your goal is to find that code. Black circles indicate the number of hits on the right spot. White circles indicate the number of hits on the wrong spot.
How's Norma?
A sweet grandmother telephoned St. Joseph 's Hospital. She timidly asked,
'Is it possible to speak to someone who can tell me how a patient is doing?'
The operator said, 'I'll be glad to help, dear. What's the name and room number?'
The grandmother, in her weak tremulous voice said, ''Norma Findlay, Room 302.'
The operator replied, 'Let me place you on hold while I check with her nurse.'
After a few minutes the operator returned to the phone and said, 'Oh, I have good news. Her nurse told me that Norma is doing very well.. Her blood pressure is fine; her blood work is normal and her physician, Dr. Cohen, has scheduled her to be discharged on Tuesday.'
The grandmother said, 'Thank you. That's wonderful! I was so worried! God bless you for the good news.'
The operator replied, 'You're more than welcome. Is Norma your daughter?'
The grandmother said, 'No, I'm Norma Findlay in 302. No one tells me s**t.'
Found on https://allnurses.com/norma-t270187/, posted on Mar 22, 2009 by HeartsOpenWide.
#joke
Where Are You From?
The cowboy lay sprawled across three entire seats in the posh Amarillo theatre. When the usher came by and noticed this he whispered to the cowboy, "Sorry, sir, but you're only allowed one seat." The cowboy groaned but didn't budge. The usher became more impatient. "Sir, if you don't get up from there, I'm going to have to call the manager. The cowboy just groaned.
The usher marched briskly back up the aisle. In a moment he returned with the manager. Together the two of them tried repeatedly to move the cowboy, but with no success. Finally, they summoned the police. The cop surveyed the situation briefly then asked, "All right buddy, what's you're name?"
"Sam," the cowboy moaned.
"Where ya from, Sam?"
With pain in his voice Sam replied.... "The balcony."
#joke
A diner was agitated that the
A diner was agitated that the waiter had brought him no spoon with his coffee. "This coffee," he said loud enough for most of the other patrons to hear, "is going to be pretty hot to stir with my fingers."
The waiter reddened, made a hasty retreat to the kitchen and returned shortly with another cup of coffee.
"This one isn't so hot, sir," he beamed.
#joke
Michael and his wife live in M
Michael and his wife live in Minnesota. One winter morning while listening to WCCO, they hear the announcer say, "We are going to have 8 to 10 inches of snow today. You must park your car on the even numbered side of the street, so the snowplow can get through." Michael's wife goes out and moves her car.
A week later, while they were eating breakfast, the radio announcer says, "We are expecting 10 to 12 inches of snow today. You must park your car on the odd numbered side of the street so the snowplow can get through." Michael's wife goes out and moves her car again.
The next week they are having breakfast again, when the radio announcer says, "We are expecting 12 to 14 inches of snow today. You must park......", then the electric power goes out. Michael's wife is very upset and, with a worried look on her face, she says, "Honey, I don' know what to do. Which side of the street do I need to park on so the plow can get through?"
With the love and understanding in Michael's voice, like all the men who are married to blondes exhibit, Michael says, "Why don't you just leave it in the garage this time.
A woman walks into a bank in N
A woman walks into a bank in New York City and asks for the loan officer. She says she's going to Europe on business for two weeks and needs to borrow $5,000. The bank officer tells her that the bank will need some kind of security for such a loan, so the woman hands over the keys to a new Rolls Royce that's parked on the street in front of the bank.
Everything checks out, and the bank agrees to accept the car as collateral for the loan. An employee drives the Rolls Royce into the bank's underground garage and parks it there.
Two weeks later, the woman returns, repays the $5,000 and the interest, which comes to $15.41. The loan officer approaches her and says:
"We are very happy to have had your business, and this transaction has worked out very nicely, but we're a little puzzled. While you were away, we checked out your accounts and found that you were a multimillionaire. What puzzles us is why would you bother to borrow $5,000?"
"Well, where else in Manhattan can I park my car for two weeks for fifteen bucks?"
#joke