A guy walks into a post office...
A guy walks into a post office one day to see a middle-aged, balding man standing at the counter methodically placing ''Love'' stamps on bright pink envelopes with hearts all over them. He then takes out a perfume bottle and starts spraying scent all over them. His curiosity gets the better of him and he goes up to the balding man and asks him what he is doing.
"I'm sending out 1,000 Valentine cards signed, 'Guess who?'"
"But why?'' asks the man.
"I'm a divorce lawyer."
Revised Salary
HR: "This is your revised salary. We recommend you keep it confidential."
Employee: "Don't worry, I'm equally ashamed of it."
The Good, the bad and the ugly
1. Good: Your wife is pregnant.
Bad: It's triplets.
Ugly: You had a vasectomy five years ago.
2. Good: Your wife's not talking to you.
Bad: She wants a divorce.
Ugly: She's a lawyer.
3. Good: Your son is finally maturing.
Bad: He's involved with the Woman next door.
Ugly: So are you.
4. Good: Your son studies a lot in his room..
Bad: You find several porn movies hidden there.
Ugly: You're in them.
5. Good: Your hubby and you agree, no more kids.
Bad: You can't find your birth control pills.
Ugly: Your 13 year old daughter borrowed them.
6. Good: Your husband understands fashion.
Bad: He's a cross-dresser.
Ugly: He looks better than you.
7. Good: You give the "birds and bees" talk to your daughter.
Bad: She keeps interrupting.
Ugly: With corrections.
8. Good: The postman's early.
Bad: He's wearing fatigues and carrying a shotgun.
Ugly: You gave him nothing for Christmas.
9. Good: Your son is dating someone new.
Bad: It's another man.
Ugly: He's your best friend.
10. Good: Your daughter got a new job
Bad: As a hooker.
Ugly: Your coworkers are her best clients
Way ugly: She makes more money than you do.
Free Haircuts
A barber gave a haircut to a priest one day. The priest tried to pay for the haircut, but the barber refused, saying, "you do God's work." The next morning the barber found a dozen bibles at the door to his shop.
A policeman came to the barber for a haircut, and again the barber refused to pay, saying, "you protect the public." The next morning the barber found a dozen doughnuts at the door to his shop.
A lawyer came to the barber for a haircut, and again the barber refused payment, saying, "you serve the justice system." The next morning the barber found a dozen lawyers waiting for a free haircut.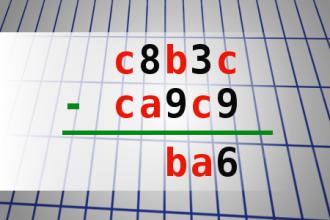 Find number abc
If c8b3c - ca9c9 = ba6 find number abc. Multiple solutions may exist.
A farmer wanted to have his he
A farmer wanted to have his hens serviced, so he went to the market looking for a rooster. He was hoping he could get a special rooster - one that would service all of his many hens.
When he told this to the market vendor, the vendor replied, "I have just the rooster for you. Henry here is the horniest rooster you will ever see!"
So the farmer took Henry back to the farm. Before setting him loose in the hen house though, he gave Henry a little pep talk. "Henry", he said, "I'm counting on you to do your stuff." And without a word, Henry then strutted into the hen house.
Henry was as fast as he was furious, mounting each hen like a thunderbolt. There was much squawking and many feathers flying, till Henry had finished having his way with each hen. But Henry didn't stop there, he went in to the barn and mounted all the horses, one by one and still at the same frantic pace. Then he went to the pig house where he did the same.
The farmer, watching all of this with disbelief, cried out, "Stop, Henry, you'll kill yourself." But Henry continued, seeking out each farm animal in the same manner.
Well the next morning, the farmer looked out and saw Henry lying there on his lawn. His legs were up in the air, his eyes rolled back, and his long tongue hanging out. A buzzard was already circling above Henry.
The farmer walked up to Henry saying, "Oh you poor thing, look what you did, you've gone and killed yourself. I warned you big buddy."
"Shhhhh," Henry whispered, "The buzzard is getting closer."
#joke
A fisherman from the city was
A fisherman from the city was out fishing on a lake in a small boat. He noticed another man in a small boat open his tackle box and take out a mirror. Being curious, the man rowed over and asked, "What is the mirror for?"
"That's my secret way to catch fish," said the other man. "Shine the mirror on the top of the water. The fish notice the spot of sun on the water above and they swim to the surface. Then I just reach down and net them and pull them into the boat."
"Wow! Does that really work?"
"You bet it does."
"Would you be interested in selling that mirror? I'll give you $30 for it."
"Well, okay."
After the money was transferred, the city fisherman asked, "By the way, how many fish have you caught this week?"
"You're the sixth," he said.
#joke
Chemistry Is Boring
IT'S OFFICIAL : CHEMISTRY LECTURES ARE A YAWN.
October 9, 1995
A scientist has come up with proof of something students have known for years -- chemistry lectures are boring. In an article published in the current issue of Chemistry in Britain, a university chemistry lecturer introduced a guest lecturer to a class of 50 doctoral candidates.
Then, he and his colleagues studied variations in what he calls the HTFDR -- "head-to-floor distance reduction." After about an hour , the average HTFDR dropped from 135cm to 121cm, said the author of the study, who preferred to remain anonymous.
The HTFDR immediately bounced back to normal when the speaker uttered the magic words: "And in conclusion . . ."
Slowest Man on the Job
The foreman on a contracted job started bawling out one of the men, "I've had slow men on jobs before but you are the slowest I've ever seen. Is there anything you are quick with?"
"Well," yawned the workman, "nobody can get tired as quick as I can."
#joke
Good dentist
A guy and a girl meet at a bar. They get along so well that they decide togo to the girl's place.
A few drinks later, the guy takes off his shirt and then washes his hands.
He then takes of his trousers and washes his hands again.
The girl has been watching him and says, "You must be a dentist."
The guy, surprised, says "Yes! How did you figure that out?"
"Easy," she replied, "you keep washing your hands."
One thing led to another and they make love.
After they have done, the girl says, "You must be a good dentist."
The guy, now with a boosted ego says, "Sure, I'm a good dentist, How didyou figure that out?"
"Didn't feel a thing!"
#joke
Insurance Assurance
A man phoned to find out whether he could get insurance if the nearby volcano erupted...
They assured him he would be covered.